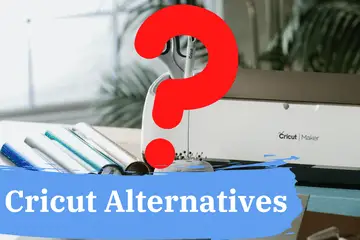 Welcome to the best Cricut alternatives page!
After spending more than 22 hours researching and eliminating a bunch of lookalike products, I've finally found the perfect four Cricut alternatives. To tell you the truth, this was as long as researching and writing a Ph.D. paper.
I love crafting so much that I live and breathe it. Whenever I need something personalized or organized, my trusted electric cutter is ready and fired up.
Look:
If for some reason, you are looking for an alternative to Cricut – maybe you found out that Cricut isn't compatible with your device – and that is perfectly fine. Here, I've gathered the very best options that you can go with. No matter if you want to do stickers, small or large format vinyl, decals, or greeting cards, there's something on this list for you.
I'm ranking these 4 cutting machines based on the number of materials they can use, their speed, and the accuracy of their cuts and cutting surfaces. By picking one from this list, you will be left in safe hands.
Let's see which Cricut Alternative is the right fit for you.
Read our related article, What Can You Make with a Cricut Joy? We share our favorite craft ideas to try with your Cricut!
PRODUCT
DETAILS
PRICE 

Editor's Choice

Silhouette Cameo 4

3x Faster: A fast machine with triple the cutting speed of the Cameo 3 for vinyl, paper, and HTV (30cm/sec!). It saved me a lot of time, and I heard that loud cutting noise 3x less (Thank god!).
Simple to Use: It's the easiest commercial grade printer out there. I hate wasting hours just trying to figure out how to print. The demo project was more than enough to get me up to speed.
Professional Grade Software: Silhouette Studio 4 is a big upgrade over version 3. More intuitive and way more customization options for designs.
20x Cutting Power: This is a heavy duty workhorse of a vinyl cutter. 5000g and 12" x 10-foot cutting size. It's a full 20x stronger than the Cameo 3. I cut burlap, acetate, and craft foam like butter. Now if only it could cut my cat's hair.

Best for small business

USCutter MH Series

Perfect for Home Business: Sell your products online or at fairs, and you can make your investment back in a month easily
Excellent Beginner Machine: Great for home use with vinyl and paper. I made awesome signs, banners, graphics, and heat transfers for t-shirts.
Works Straight Out of the Box: Requires minimal setup. I was ready in less than 20 minutes.
Tugboat Power!: This model is tiny, but it's got 350g of force and, Cutting Size: 30.5″ x 8 Feet

Best with a scanner

Brother ScannCut

Whisper-Quiet: It's almost noiseless. No more annoying noises or headaches.
Idiot-proof: Simple software and Auto-Blade make it almost impossible to mess up. Even for me!
The Only Built-in Scanner: Brother ScannCut is the only model with a built-in scanner that directly scans your drawings into a cut file. Just scan the drawing and let it do the cutting.
Powerful Enough for Most Home Projects: The cutting power of: 350g, cutting  and size of: 12 x 24 inches gives it plenty of oomph for home crafts.
It's the strongest vinyl cutter on the market today.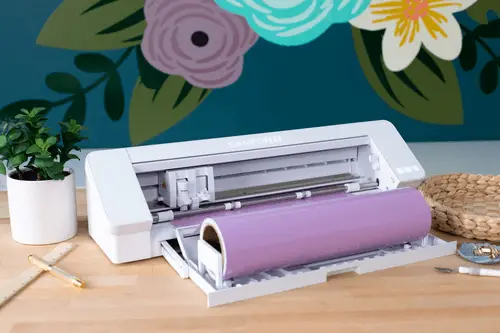 Cricut Maker was the reigning champion for many years. Now Silhouette came out with the Cameo 4 and may take the title.
The maker used to be the strongest cutting machine with 4000g of force. Now the Cameo 4 has outdone it by having 5000g of cutting power. No matter your project, the Cameo will be good enough.
The Cameo 4 is by far the most comparable machine to Cricut but cheaper.
With the new Cameo, you get some extra bonuses. First of all, there's a built in roller feeder. While the Cricut is limited to 24" with the Cameo, you can work up to 10 feet. This means that you can take on bigger projects where the profits are higher.
On the back, there's a cross cutter with the Cameo. This will help you easily cut down the excess material and minimizing losses.
Sadly the Silhouette Cameo 4 isn't perfect either. First of all, they messed up the loading and unloading. It's the other way around. Also, the accessories are higher priced than the Maker. We shouldn't forget that the design software has a steep learning curve.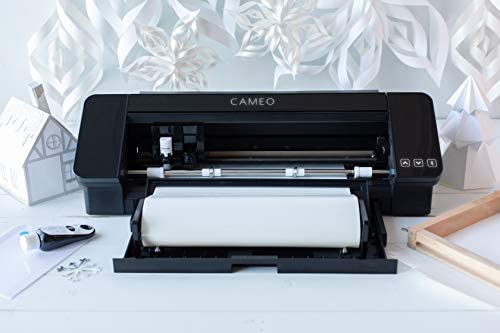 This is the major difference between the Maker and Cameo. While the Cricut Design Space is great for beginners, it's pretty basic. The Silhouette software is a bit more difficult to learn, and it allows you to do way more.
There were two major improvements between the Cameo 3 and 4. The Cameo 4 is faster, and it's not that loud as the earlier version.
Overall the Silhouette Cameo 4 is the best alternative for the Cricut Maker. It's slightly cheaper, and it can do the same thing. It's good to keep in mind that they have top-notch support, which can help you if you ever get stuck.
With the Cameo 4, you're getting access to over 100+ materials. You can work with the thinnest to the toughest only by changing the blades. Now the Cameo has dedicated blades for fabric and thicker materials.
If you're looking to expand your craft, the Silhouette Cameo 4 is the right choice. Lately, the stocks were running low, so make sure you get it as soon as possible.
Check Latest Price
#2 Brother ScanNCut SDX125E – Best Choice if you're doing cards, custom drawings
With the built in scanner, you can easily cut custom drawings for cards.
The Brother ScanNCut SDX125 is a great alternative for specialized crafters. If you're bored of the same old stock images and designs, then Brother can help you out.
You see, this machine has a built in scanner. This will allow you to cut and multiply custom shapes and drawings. The other day a fellow crafter asked me which one I would recommend for custom card creations.
The choice was evident. Brother is the best choice. With the Maker, it's a lot harder. You have to take a photo, then upload it into the software and fiddle around a lot. With the Brother, it is simple. You place your design on the mat. You let it run the scanning process, and you're done.
I loved the new facelift what the Brother ScanNCut SDX125 got. It's not just another vinyl cutter. It's the quietest one on the market today. It's so quiet that you can safely work in the night without waking anyone.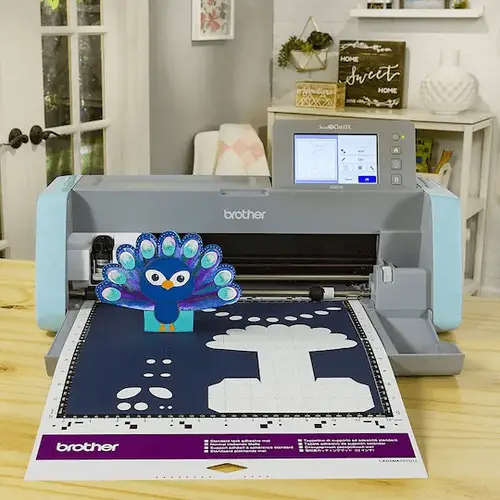 Many crafter moms only have time in the night after they have put down their little ones. The Brother machine is perfect for this.
A few things that I didn't like about the cutting machine were that the accessories are the priciest on the market. You will have to hike your prices accordingly, so you're left with some profits. It only has one carriage. With the maker, you can work with two tools at the same time. So the process might be slower if you have to draw and cut at the same time. Not to mention you have to be close by to switch tools.
With the Brother, you'll be getting the Auto Blade. This is a huge time and money saver. You don't have to worry about wasting material because of incorrect depth settings. This is a biggie for many crafters.
As you can see, the Brother ScanNCut SDX125 is a great and cheaper alternative for the Maker if you want something quiet and make custom designs.
A few weeks back, Brother was out of stock. At the moment, they seem to fix the issue; however, don't risk it. Get it right now if you feel that this is the right choice for your needs. With 682 built-in designs, 100 quilting patterns, and 9 fonts, it's the perfect time to start working on your awesome vinyl projects.
Check Latest Price
A series vinyl cutter that can handle bigger volumes of work.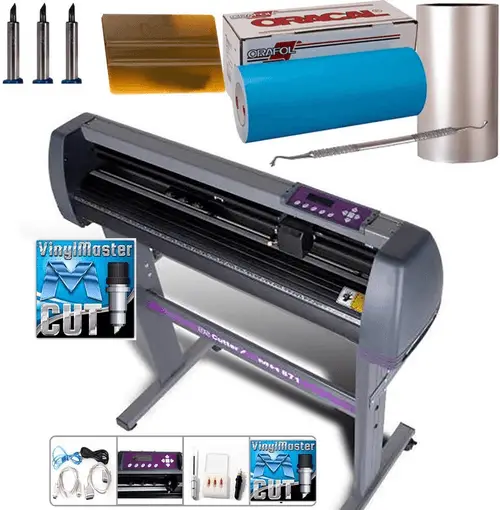 If you're tired of using mats and want to do the matless vinyl cutting, then the UsCutter MH 28 machine will be ideal. The MH not only supports matless cutting it also allows us to work with feet of material, not inches.
As we all know, the big bucks are in the large designs. The thing is, the Cricut Maker's biggest cutting size is 12 inches by 24 inches. With this MH series, you're getting 28 inches to several feet. These vinyl plotters are quick. I mean 39 inches/second.
This electric cutter is not just for vinyl. It can handle paper as well. The machine has a cutting force of 350g, which is more than enough for vinyl and paper.
Here's a helpful tip. Use different blades for paper and vinyl. Paper tends to dull out the blades faster. You don't want to end up with a dull blade right before a major project.
The truth is that this MH series cutter is old. The software is old, and everything else is ancient. Still, it's affordable and does a great job with vinyl.
There's one major drawback with the machine. It only has a 90-day warranty. A dog chew toy typically has a longer warranty. Many crafters have been using it for years, and nothing happened. The only thing that had to be replaced was the blade.
You need some room with this machine. Since it cut 28" wide, makes sure there's more than enough space for it.
For bigger vinyl projects, it's the perfect alternative against the Cricut Maker. The price is quite reasonable. Industrial grade vinyl cutters come with 3-5x multipliers. It's a great machine to start working with.
If you feel that this is the perfect alternative for you, then take action. For some reason, the stocks are low, so you might end up without one if you are on the fence for too long.
Check Latest Price
#4 Silhouette Curio – Affordable alternative for heavy-duty stuff (DISCONTINUED)
When you want to stipple and etch on a budget, this is the best choice.

If you want to cut thicker and stronger materials or stipple, score, deboss on a budget, this is the best alternative for it.
The Silhouette Curio is a nifty little thing that can do almost anything. The emphasis is on the word almost. This might've been a cash grab from Silhouette. Anyways what it does, it does it well.
The Cricut Maker is almost double the price of Curio. If you want to work with balsa wood and chipboard, you can get a great deal working with the Curio.
Keep in mind that the Curio is smaller than the rest (Cameo and Maker). The maximum width is just 8.5 inches. Still, you can create some amazing designs with it.
I feel that the 210g of cutting force is a bit shy. Even though it can handle materials 5mm thick, the 210g won't be enough with stronger materials. I mean, 5mm balsa wood won't be cut though you can etch it.
Compared to the Maker, it's louder and slower. Still, when you're on a budget, some compromises have to be made. Also, the Curio can be a great starter machine for beginners.
What I personally love about the Curio is that you can create custom dog tags with it. In most cases, people whack it with a hammer, and that's not precise. With the Curio, you can cut the dog tag's shape out from foam. Then you place the dog tag and etch it. It's that simple. The foam has to be done only once.
If you're working in this field (working with tougher materials), then the Silhouette Curio will be a great and affordable alternative.
Is the Silhouette Curio Discontinued? Unfortunately, Yes the Curio has been discontinued by Silhouette America. However, you can still buy accessories for it.
Cricut Competitors
As you can see, Cricut has several competitors. The only 1-on-1 competition is the Silhouette Cameo 4. This machine can match everything that the Maker can do and then some.
Your name what the Cricut can do; there's a competitor out there that can make it better. With the Cameo 4, the Maker's reign of being the strongest cutting machines has ended. Now the Cameo 4 is the strongest machine with 5000g of cutting power.
Not only that, the Cameo comes with a built in roll feeder so you can work on bigger projects up to 20 feet long. The Cricut Maker is limited to 12 x 24 inches. Finally, Silhouette came out with some specialty blades. Now you can easily cut fabrics with the rotary blade. Also, there's the Kraft blade for tougher materials.
Another Cricut Maker competitor would be the Brother ScanNCut SDX125. The Cricut tries to be the one that fits all shapes and sizes. The Brother, on the other hand, is a specialty cutter. It has a built scanner, so if you're creating your own shapes and designs, you can easily cut it and multiply it.
The big plus for the Brother cutter is that it's quiet. This means you will be able to work through the night without disturbing anybody. This is a major selling point for many moms. They can only work when the house is quiet, and this only happens during the night.
So if you value a quiet machine and you're into custom designs, the Brother ScanNCut SDX125 is a worthy competitor for Cricut.
The final big competitor comes from those who want to work with vinyl. The UsCutter MH 28 can outdo the Maker. First of all, there are no mats. This means that your operational costs will be lower. Plus, you won't waste time trying to perfectly stick the vinyl to the mat.
This machine is bigger, like 28 inches wide, so you will need some space for it. We should keep in mind that it's lightning-fast 39 inches/second is no small feat.
As you can see, the market is filled with great competitors. Now it's your turn to choose. Depending on the work you'll be doing, you have great alternatives.
Read More: How to Make Banners With Cricut. Spruce up your next event using our DIY banner guide!
Conclusions for Cricut Alternatives
We have reached the end of this article. I hope by now you know which the best alternative is for you.
If you know what you want to work with, then the choice is a lot easier. If you're just testing the waters, then it's better to go with a starter machine. If you love the craft, then you can upgrade to a specialty machine.
Suppose you happen to have questions or tips, comment below. See you next time.
Until then…
Happy Crafting!
Frequently Asked Questions (FAQ):
What is comparable to Cricut?
The best comparable to Cricut and cheap vinyl cutters are:
Cricut Cuttlebug
Silhouette Curio (DISCONTINUED)
Read More: How to Make Stamps With Cricut. Stamps are a fun DIY craft that can be used on a variety of projects! We show you how to make stamps with Cricut.
Is there a cheaper alternative to Cricut?
It's true that Cricut isn't the cheapest cutter. A cheaper alternative would be the Silhouette Cameo or even the Cricut Joy.
What can I use if I don't have a Cricut mat?
You can use the Cricut without the mat. This typically applies to vinyl.
Is the Silhouette Cameo better than Cricut?
For a more detailed answer check out my Cricut vs Silhouette post. The short answer is that the Silhouette cameo is stronger than Cricut maker 5000g compared to 4000g. Plus the Silhouette cameo cutting machine has a built in roll feeder so it can cut up to 10 feet while the Cricut Maker cutting machine is limited to 24 feet. The rest is almost the same. The Cricut Maker accessories are cheaper than Silhouette.
What happened with the Silhouette Cameo 3 die cut cutting machine?
The Silhouette Cameo 3 die cut cutting machine was a good alternative for the cricut explore air 2, however it got retied. Recently they have released the silhouette cameo 4 electronic cutting machine. You can't but the silhouette cameo 3 cutting machines anymore. The new silhouette cameo cutting machines are user friendly and it will be the ideal replacement in your craft room. Accessories can be easily found in craft stores. The Silhouette cameo 4 is able to cut the same wide variety of materials as the Cameo 3 plus it's easy to use.
Which would be a great alternative for a die cutting machine?
The best alternative for a die cutting machine depends on your needs. If you want to cut fabric or do heat transfer then you will have your work cut out finding a good replacement for Cricut machines.
Both Silhouette and Brother die cutting machines are great choices. Maybe you're looking for a portable die cut cutting machine then a great choice would be the Silhouette Portrait. They support heat transfer and can't cut fabric.
Typically craft stores are the place to find the best supplies and you can stock your craft room to the brim. The cutting area varies from one die cut cutting machines to the next. In most cases the cutting area is at least 12 inches by 12 inches.
Read More: How to Cut Felt With the Cricut Explore Air 2. Cutting felt can be tricky – but we make it easy!
Can you cut without a cutting mat?
Yes you can cut without a cutting mat. You need a bit of experience though.
It's also highly recommended to use vinyl as a starter when you're working without a cutting mat. By eliminating the pesky cutting mat you will be saving money in the long run. The die cut machine can cut thicker materials and a variety of materials.
What would be a good Cricut Joy Alternative?
The best thing about this die-cut machine it's easy to use there's no need to buy a cutting mat.
The best alternative would be the silhouette portrait 3 die cut machine. The craft room will be small with these portable die cut machines and you need to buy a cutting mat.
Read More: Difference Between Sizzix and Cricut. We compare these die-cutting machines and discuss how they're used so you can see which is right for you!
What is the best Cricut alternative overall?
The best Cricut alternative is the Cameo 4 as we said above!
Are there machines like cricut but cheaper?
A cheaper alternative to Cricut is the Cameo 4, but accessories are more expensive. It's a decent product for the price. However, you can do so much more with a Cricut.
Our article above has many other alternatives as well.
Which vinyl cutting machines (machines like cricut) are the best cricut alternatives?
The best cricut competitors are: Silhouette Cameo 4, Brother ScanNCut Series and UsCutter MH 28 series.
Which Cricut competitor should I buy if I'm looking for a budget vinyl cutter?
The best budget machine like Cricut is the Silhouette Curio.
Does Silhouette Studio have a big design library?
Silhouette Studio has an impressive design library with so many templates, fonts, and images to choose from.
Can I create custom cards with the Silhouette Cameo 4 vinyl cutting machine?
Absolutely! The Silhouette Cameo 4 is ideal for crafting custom cards and other paper projects.
Is there anything better than a Cricut?
The Silhouette Cameo 4 is the strongest competitor! It's easy to use, and it gives you the ability to make customized projects.
No matter what kind of project you're doing, chances are that the Cameo has everything you need.
Is the Silhouette Cameo better than Cricut?
I've owned both, and the Cameo 4 is better for me. I use the machine to cut vinyl decals, letters, scrapbook paper, and other materials.