Welcome to the Best Die Cutting Machine Awards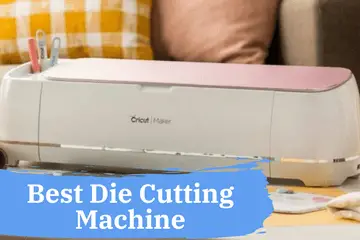 After spending the last 11 days on trying and testing these die-cut machines and skipping on house chores (sorry, honey…), I'm ready to reveal to you the best 7 die cutters.
Look:
Finding your perfect die cutter comes down to your budget and your needs. As soon as you know these, it will be easy to find the perfect fit.

Over the past few years, I've given up my corporate job and turned into a stay-at-home mom. I always loved making things, so crafting came naturally to me. So no wonder I had such a blast testing these 7 die cut machines.
During my testing phase, I have customized everything around the house, even my hubby's favorite mug (he wasn't too happy about that). No matter which one you will choose, you can rest assured that it will be a winner. Best of all, if you're going with an electric one, you won't have to rent a storage unit to keep your different sized dies.
Let's make some dies already!
In A Hurry? Here Is Our Top 3 Recommended Die Cutting Machine


Beginner-friendly: The ultimate vinyl cutter for beginners, hobbyists, and home business


For True Artisans: The only choice for artisans and tinkerers needing total creative freedom with any material

For Commercial Use: A game-changer for professionals. Fast, powerful, and accurate – handles projects up to 10-feet.
#1 Cricut Maker – The Best Die Cutting Machine
When you want to do a bit more…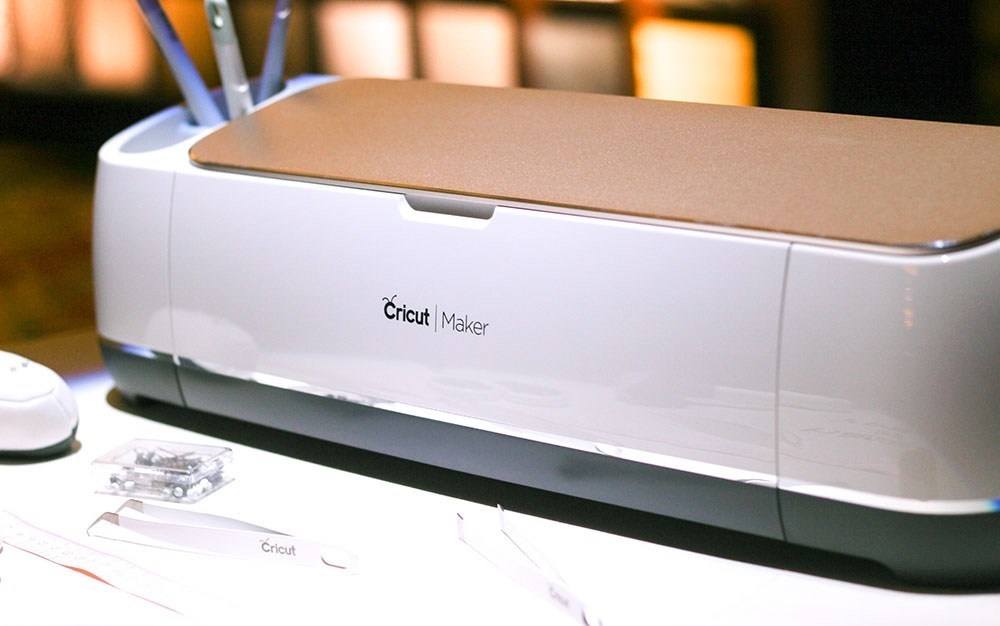 There are two big drawbacks of traditional die-cutting machines.
You need a lot of elbow grease to get the shapes cut out. The second drawback is the limits on what you can do. You need a different die for every dimension. If you want a circle that is 5 inches wide, you need to buy a die for that.
If you need a 3" circle, you have to buy that too. You have a few options. You can either limit yourself to a few designs or build a shed to house all the dies. You might as well hire an intern who will sort through them every time you need a die from the pile.
This is where electronic cutting machines shine. Everything is digital, and you can adjust the size with just a few mouse clicks.
The Cricut Maker won the best die cutting machine award. You can not only cut and emboss a few materials, but you can draw, score. With the Maker, you can work with 300+ different materials. It's one of the strongest machines out there with a cutting power of 4000g.
Bring on balsa wood or chipboard. It can handle them with speed. Besides these features, it comes with a turbo boost and quiet motors.
If you want to upgrade and work with more materials, you can get the rotary blade and the knife blade. Thanks to the rotary blade, you can make great art with fabrics. The knife blade is like an x-acto knife designed for thicker and stronger materials.
Maybe you find it hard to design things. Fear no more because the Cricut has the easiest and intuitive software out there. Plus, you can get access to more than 100,000 designs if you get a subscription.
The Cricut Maker deserves the best die cutting machine award.
Now it's an open secret that Cricut had some supply issues in the past months. So if you believe that this is the right choice jump on the chance if they are in stock. If not you might have to wait weeks.
Read More: Cricut Maker vs AccuQuilt. We take a look at the Cricut Maker and AccuQuilt to see which is best for embroidery and quilts!
Pros
With 4000g of cutting power, it can cut through anything in your craft room.
It's the fastest electric cutting machine you can buy.
Accessories cost less so you can make higher profits.
Cons
Design Space software is mostly online only.
It's on the pricier side.
#2 Silhouette Cameo 4 – The Best Electronic Cutting Machine
When you need a one size fits all solution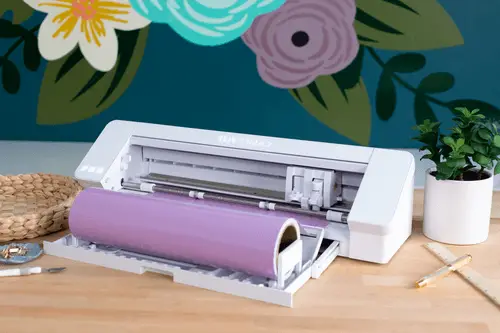 The Silhouette Cameo 4 won the best electronic cutting machine award because it can do so many things. Many crafters wanted to see a manually operated machine.
Well, those have a few advantages and many disadvantages. For instance, if you want to cut a bigger shape, you have to order and wait until it arrives. With the Cameo 4, everything is adjusted in the software. There are no dies in use. You pick the shape you want to cut and adjust the size, and you're done.
In the long run, the Cameo 4 comes out ahead in costs. Plus, it gives you peace of mind. You don't have to store hundreds of dies just in case you will need them someday.
Everything can be stored digitally, so you don't need a spare room for dies. It has a cutting force of 5000g, which is enough to cut through thicker and harder objects.
You can easily emboss, not just cut. This machine can handle over 100+ materials. All in all, this is the perfect machine for someone who wants to expand their horizons.
It's a preferred vinyl cutting tool as well. It comes with a roll feeder built in. The Cameo 3, which was the previous model, this roll feeder was an additional purchase. Not with the Cameo 4, it's built in, and you can cut up to 10 feet long.
Being an electric cutting machine is sufficiently wide for any job. The widest material which can be cut is 12". With this Silhouette Cameo 4, you're getting a cross cutter in the back. This allows you to neatly trim the material without wasting it.
Plus, there have been some serious speed improvements compared to the Cameo 3. It's a fast machine, and it has become a quitter. It still makes noise when making cuts, and it's less than it used to be.
Some specialized blades can handle tougher materials. There's also the rotary blade that can cut fabrics. For all these reasons the Cameo 4 won the best electronic cutting machine award.
If you feel that the Cameo 4 is the right choice for you, then get it fast. The stocks were running low, and you want to avoid waiting until they fill it up.
Pros
The most versatile vinyl cutter ever made with 5000g can cut up to 3mm thick.
Built in roller feeder which allows handling big projects up to 10 feet long.
Blade detection system which avoids messing up projects.
Cons
The loading and unloading arrows are reversed.
If you want to export designs, you have to upgrade from the standard license.
#3 Cricut Explore Air 2 – The Best Die Cutting Machine for Beginners
It's so easy and intuitive that you will get it right every time.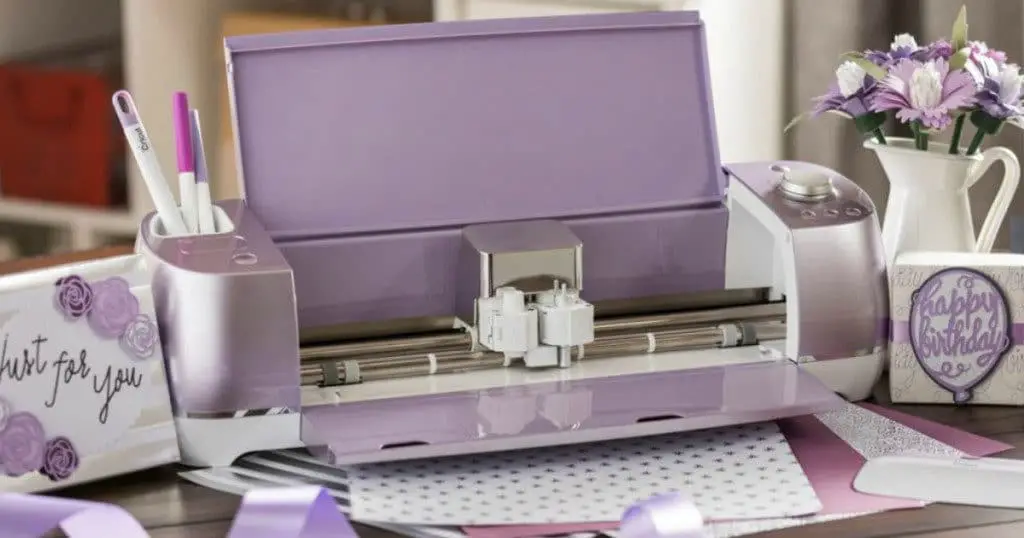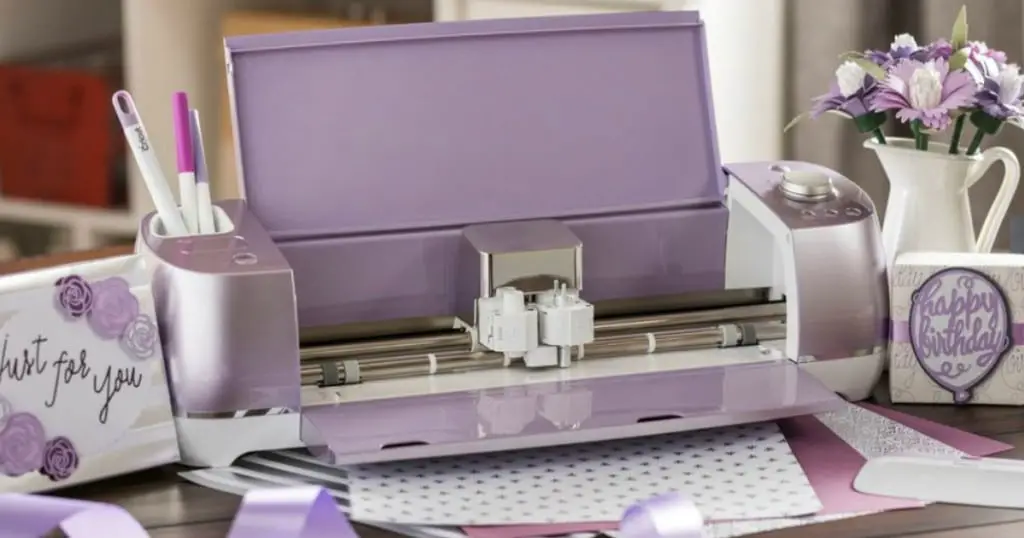 There's one big problem with these die cutters. They are way too complicated if you have only used scissors before.
This issue is solved with the Cricut Explore Air 2. No wonder it won the best die cutting machine for beginners award.
If you haven't heard about Cricut, here's what they stand for: affordable crafting with intuition. Their software is the easiest to use. While other die cutters have a steep learning curve with the Explore Air 2, it's pure fun.
Maybe you're not the one who likes to create shapes and designs. No worries. There's an affordable subscription that allows you to download a fair number of designs.
The Cricut Explore Air 2 is a multi-tool as well. It can handle more than 100+ materials. It's an older machine, and it has been battle-tested for many years, and it delivers.
The cutting force is 350g, which is more than enough to cut and emboss. What I love about Cricut is that the accessories are very affordable. As a matter of fact, they are the cheapest ones on the market. This translates to more profits for you.
The Cricut Design Space is easy to use. Forget about getting different size dies. Everything can be adjusted with just a few mouse clicks. Best of all, you don't have to store any dies and later go searching for them.
The Explore Air 2 is ideal for kids. It's true that the blades are sharp; however, if they can handle a normal kitchen knife, they will be safe around Cricut.
When you get this die cutter, there will be a demo project which will get you up to speed. For beginners, this is the best machine. It can do so much.
For all this and more, the Cricut Explore Air 2 won the best die cutting machine for beginners award.
Cricut has been suffering from product shortages. So if you feel that this is the right choice, go for it. You don't want to miss out on it.
Read our related article, 'Can You Emboss With a Cricut Explore Air 2?' to see how to emboss your projects!
Pros
It's an affordable vinyl cutter that many great things under the hood.
It has dual carriage so that it can speed up the workflow.
It's easy to get started so that beginners will feel right at home.
Cons
It's a bit outdated machine, still a regular workhorse.
It doesn't have specialized blades like the Rotary or Knife.
#4 Brother ScanNCut SDX125 – The Best Electronic Die Cut Machine for Schools
No computer is needed, and comes with built in designs perfect for kids.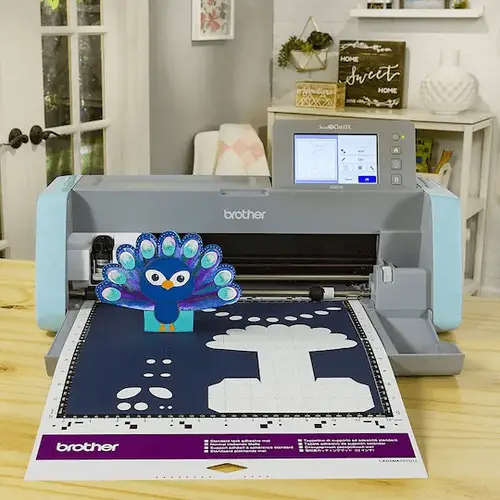 The Brother ScanNCut SDX125 won the best electronic die cut machine for schools award.
Here's an undisputed fact about kids. They don't have patients, so when they want something, they want it in that second. The Brother ScanNCut is fast but not that fast. It gets close, though.
The main reason why this die cut machine won is because of the sturdy materials used. Not only that, it has a built in scanner which helps cut out different shapes.
Best of all, no phones or any software is needed. Everything can be edited on the Brother die cutter itself.
The Brother ScanNCut SDX125 is a pricy machine, and it's worth every penny. It comes with a new auto blade which removes errors and wasted materials. It detects the material used, and it will use the correct pressure to make accurate cuts.
This machine can cut and draw as well. Kids' creativity can be easily unleashed and multiplied, thanks to this die cutting machine.
With the ScanNcut, you're getting hundreds of designs in the memory. There's no need for a PC or laptop because everything can be adjusted on the touch screen.
It's one of the quietest die cut machines I had the pleasure of working with. It can be left running during the class, and it won't distract pupils.
For all these reasons, the Brother ScanNCut SDX125 won the best electronic die cut machine for schools award.
The last time I've checked, the stocks were low with the Brother. If you feel that this is the right fit, get ASAP. You don't want to wait weeks until they resupply.
Pros
Thanks to the built in scanner, you can cut custom stamps and drawings.
It's super quiet so you can work during the night and it won't bother anyone.
The Auto blade adjusts settings, so no more ruined material and mat.
Cons
There's a learning curve to get started, nothing that kids can't handle.
Accessories prices are the highest compared to any other brand.
#5 USCutter 28" Titan 3 – The Best Commercial Digital Die Cutting Machine
It gets the job done fast and quiet.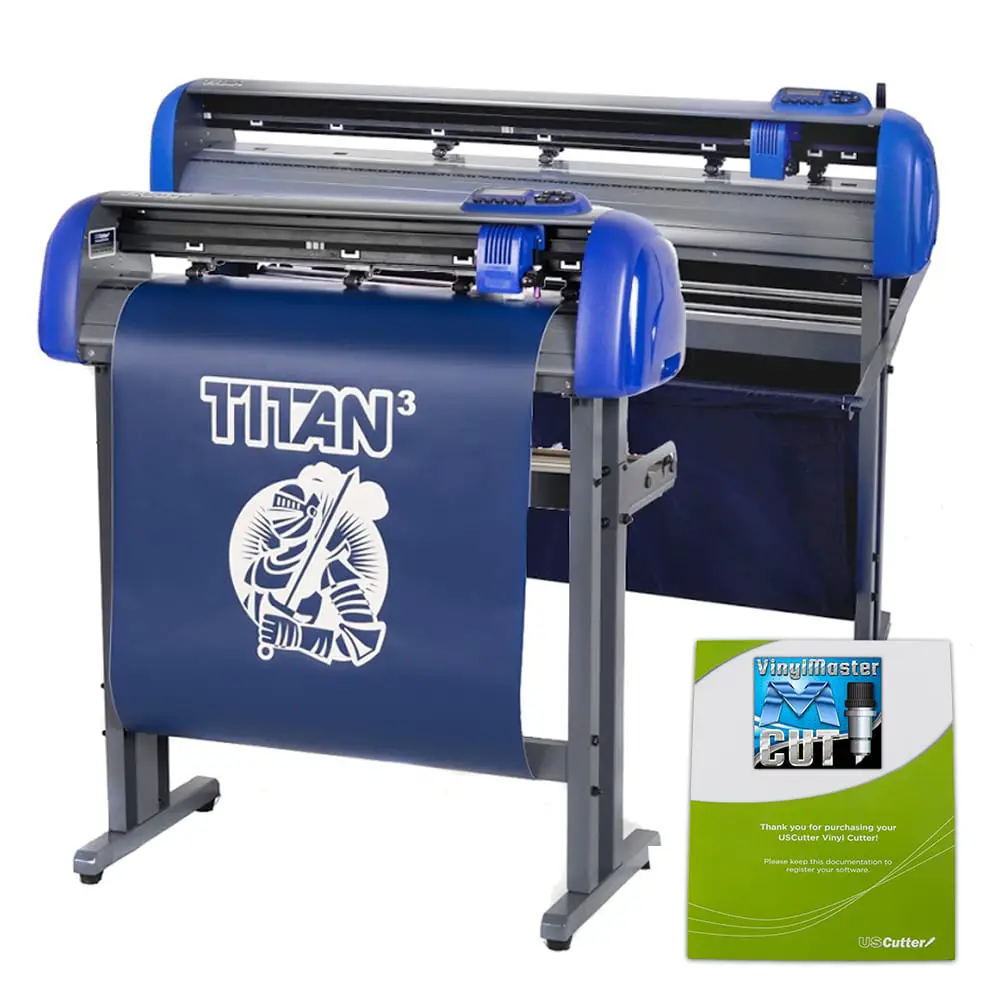 The USCutter Titan 3 won the best commercial digital die cutting machine award. When you're working on a big project, you don't have time for elbow grease or stack die cutters.
This is why a professional die cutting machine is an absolute must. With the Titan 3, you're getting everything you need. This die cutting machine works with paper and vinyl.
It's super-fast. It can cut 37 inches in a second. It's precise and a quiet machine at that. If you're familiar with desktop die cutting machines, you know that you have to use a mat with them.
With the Titan 3, you won't need it. This machine starts at 28" wide and goes up from there. The cutting length is not limited to a few inches. It can cut many feet of materials with ease. The machine has a built in vacuum suction which keeps the material in place.
The Titan 3 isn't the perfect machine. It has some flaws. Here's the full picture, so you know what you're getting into.
Being a commercial machine, you will need a lot of space. If you get the basket, then you don't have to worry about debris. It will be caught, and you can easily dispose of it. The biggie with this machine is the blade calibration. It takes some time to get the right pressure after that; it's smooth sailing.
For some, this will be the ideal professional die cutting machine. For those who know this, it's time to take action. The sooner you order it, the faster you can crank out your projects. Plus, there were out of stock a few times, so don't delay get it.
Pros
It's one of the quickest and quietest commercial cutters you can get
It comes with a vacuum hold, so your material will be held down, plus no time and money wasted on mats.
Thanks to its speed, you will be able to finish bulk projects in record time.
Cons
Blade calibration could be long and tedious.
You will need a lot of space to work with this machine.
#6 AccuQuilt GO – The Best Fabric Die Cutter
If you have back pain or joint pain and love quilting, this machine is the solution.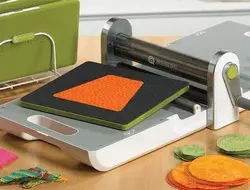 Many crafters love quilting and dread it at the same time. You know that it takes a lot of time to create something extraordinary.
In most cases you are working in uncomfortable positions for hours at a time. I have many friends with back and shoulder pain, and they almost gave up quilting because they couldn't stand the pain.
Then comes AccuQuilt GO, its hand down the best fabric die cutter on the market. If nothing else, get it for the time; it will save you.
This die cutter is small and portable. It's not lightweight, though, which is a good thing because they used quality parts. It's also an affordable machine. This fabric cutter comes in two versions. You can choose the hand-cranked one or the full electric one.
The full-electric one comes with a steep price. If you charge high prices, then the choice is simple. Go with the one that saves you the most time.
If you have a friend or spouse with this machine, you will have an easy time with gifts. Get them dies; they are the best gifts for them.
Here's a secret to saving money with the AccuQuilt GO. Get some friends together and buy it as a group. It's so much fun to quilt together. Everybody can buy their dies, and then they can be shared.
Hot tip: to get the most out of the mat, use both sides so you can reduce operating costs.
Concerning all this, no wonder AccuQuilt GO won the best die cutter award.
Pros
It's a huge time saver.
Once someone has it, you can easily find the perfect gifts for them.
It's foldable, so the space required is minimal.
Cons
It does waste fabric and not as much as hand cutting.
The dies have to be bought separately even if you want one 1" bigger or smaller.
Check Latest Price
#7 Cricut Cuttlebug Die Cutter for Scrapbooking
If you don't mind the elbow grease, it's great for scrapbooking.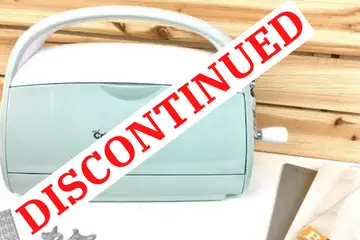 The Cuttlebug is not available anymore. For stickers, scrapbooking and portable vinyl cutter check out my Cricut Joy Review.
It's the cutest die cutter ever made. It's a true gem.
Besides the great looks, let's peek under the hood a bit, shall we?
This cutter is ideal for those who are on the go and travel a lot. It takes up only minimal space, and it can cut everything you will need. It's easy to use.
As a matter of fact, it's so easy the four and five-year-olds can safely have a blast. My nephews routinely use it when they are in a creative mood. The Cuttlebug won the best die cutter for the scrapbooking award.
Here's why: with the right dies, you can cut out any shape you want so you will have the most amazing scrapbook. Besides cutting, it can emboss so card makers (card making) can consider it as their portable die cutter.
Most crafters who are using the Cuttlebug didn't even bother with the instructions. It was that simple. You can compare the whole process to sandwich making. You stack your plates, material, die, and crank it through the machine. You are done.
Read our related article, How to Emboss With My Cricut Maker if you're new to embossing projects! This step-by-step guide will definitely help you out.
How easy is that?
Here's the bad news. The Cricut Cuttlebug has been out of stock for some time now. Interestingly it has disappeared from the main Cricut shop. Maybe they are retiring it. It's not a bad idea to either upgrade to a different Cricut product like Cricut Joy if you want portability or the Cricut Maker if you want to do everything.
Also, you can choose any machine listed above. The only exception would be the AccuQuilt Go since that only works with fabric.
Pros
It's a small cute, and portable die cut machine.
It's ideal for card making.
4 and 5 years can safely use it to create amazing crafts.
Cons
It's discontinued it's better to go with the Cricut Joy.
A wider machine would be even better.
You will have to change your place frequently which costs extra money.
Conclusions for the Best Die Cutting Machines
We have reached the end of this article. I've spent many months and tested all these die cutters for you. There are many products on the market, and most didn't make it on the list.
There were way too many things wrong with them, or they are too outdated.
By now you already know which the best choice is for you. I'm glad that I could help to make your crafting journey faster and easier.
If you have questions or tips, feel free to contact me.
Catch you next time,
Until then,
Happy Crafting!
Frequently Asked Questions (FAQ):
What can you do with a die cut machine?
With die cutting machines you can do so much. With die cutting you can create stickers, cards, gifts. The die cutting machine speeds up the work of many crafters. Also a die cut machine is a great addition to any classroom.
Is the Silhouette Cameo better than Cricut?
If you're interested in Silhouette Cameo vs Cricut Maker I have a dedicated review for that. With the Silhouette Cameo you can cut up to 10 feet while the Cricut Maker is limited to 24 inches. Also the Cameo 4 has a built in roll feeder. However Cricut has the lowest priced accessories.
Can you die cut without a machine?
Yes you can die cut without a machine. You will need a lot of elbow grease and you have to make sure you use even pressure on the die. It's possible and it's much faster and convenient if you use a die cutter.
What about the sizzix big shot plus electric die cutting machine?
The sizzix big shot plus machine didn't make it on my list. However the big shot cutting machine is a great runner up. Here's the deal with the big shot machine it's a hand crank cutting machine. The main benefit of the big shot plus is that you can work on a variety of materials when the power is out.  Typically manual die cutting machines If there's enough interest I will create a post about the best manual die cutting machines and die cutting machine reviews.
Read More: Difference Between Sizzix and Cricut. See how these die-cutting machines compare, how they're used, and discover which is right for you in this guide!
Which are the best die cut machines on the market today?
Here's a list of the best die cut machines:
Best Overall: Silhouette Cameo 4
Best for Beginners: Cricut Explore Air 2
Best Portable: Cricut Joy
Best Electronic: Cricut Maker
Best for Schools: Brother ScanNCut sdx125
Best for Fabric: AccuQuilt GO!
Best Runner Up: Sizzix Big Shot
Which die cutting embossing machine didn't make it on the list?
There are a few die cutting and embossing machine which didn't make it on my list. These didn't make the cut: sizzix big shot plus manual die cutter, silhouette portrait 2 die cut machines, sizzix vagabond 2 multipurpose platform, spellbinders platinum heavy duty embossing and die cutting wireless cutting machine. Also I tend to ignore manual die cutting machines since they are not my type of gizmo and I prefer the electronic die cutting machine. The silhouette portrait 2 electronic die cutting machines has been discontinued. A good choice would be the silhouette portrait 3 die cutting machines. And other manual machines didn't get on my list.
What should you check out when looking at best die cutting machines?
With die cut machines solid steel core construction is preferred. That gives heavy duty types of machines their value. The cutting plate makes things happen you can even cut through multiple layers with the right die cut machines. These manual die cutter machines should handle thicker materials like balsa wood and a variety of materials including multi layers of fabric, cutting plates. One of the best manual die cutting machine option would be the sizzix which is also the best manual die cutting machine available on the market. After getting the cutting embossing machine there are accessories which are sold separately. You need to consider how many metal dies, models of die, embossing folders and dies and pair of cutting pads you will need. You should consider getting a thin die adapter, an additional cutting mat and cutting plates.
What's the best design software for a heavy duty die cut machines?
The market is filled with cutting embossing machine options. No wonder why the best die cutting machines is in such demand. Each and every  of these best die cutting machines come with their own design software. Some require constant internet connection while other work offline. For more information you can check out the die cutting machine reviews i've written. Always read the machine manual first. Soon I will create a comparison chart to see things through all the pros and materials cons. The best value machine can cut multiple dies with the steel rule.
What types of machines can you choose from when it comes to die cut machines?
When it comes to die cut machines you can choose from manual die cutting machines (hand crank powered) or electronic ones. The best budget manual die cutting machines are in the same price range as the electronic ones. The typical cutting mat comes with 12 x 12 inch cutting area. If you want to go over 12 x 12 inches wide you will need a large platform embossing mat. In most cases a hand crank machine best to be avoided. The embossing folders provide a wide range of options. With these wide range of options you can make serious money.
What's so special about the brother die cut machines?
With these die cut machines you're getting a 300 dpi scanner plus 12 x 12 cutting mat. It's great for card making because it has a touch screen and allows multiple types of die at the same time. The touch screen is 5 inches wide and it can replace any pc or phone. The machine comes with a 300 dpi scanner. It's also capable of cutting materials like paper and vinyl.
What do you need to get started?
There are multiple types of machines to choose from. For card makers they will need: scoring tool, embossing tools, embossing folder, steel rule dies and embossing folders. Big format cutters allow multi layers in a single go. The machines work is faster than the human one. If have the silhouette or the cricut you can use the deep cut blade on different types of folders and dies. You get access to a wide range of opportunities.
What does the Sizzix Big Shot do?
The Sizzix Big Shot is a die-cutting and embossing machine. It cuts paper, fabric, and many other materials using dies.
Which is the best die cut machine overall?
The most popular die cut machines are the Cricut Explore Air 2, Silhouette Cameo 4 and the Cricut Maker.
What is the best die cutting and embossing machine?
The best die cutting and embossing machine is the Sizzix Big Shot because it's easy to use and versatile. It has a lot of features and is very easy to use.
Which is the best electric die cutting machine?
The best electric die cutting machine is the Cricut Maker.
Which is the best embossing machine?
The best embossing machine is the Sizzix Big Shot. It's reliable, affordable, and easy to use!
What are craft cutting machine used for?
Craft cutting machines can cut through many different materials, including paper, plastics metal and wood.