All bloggers have missed this about the Cricut Explore Air 2 Review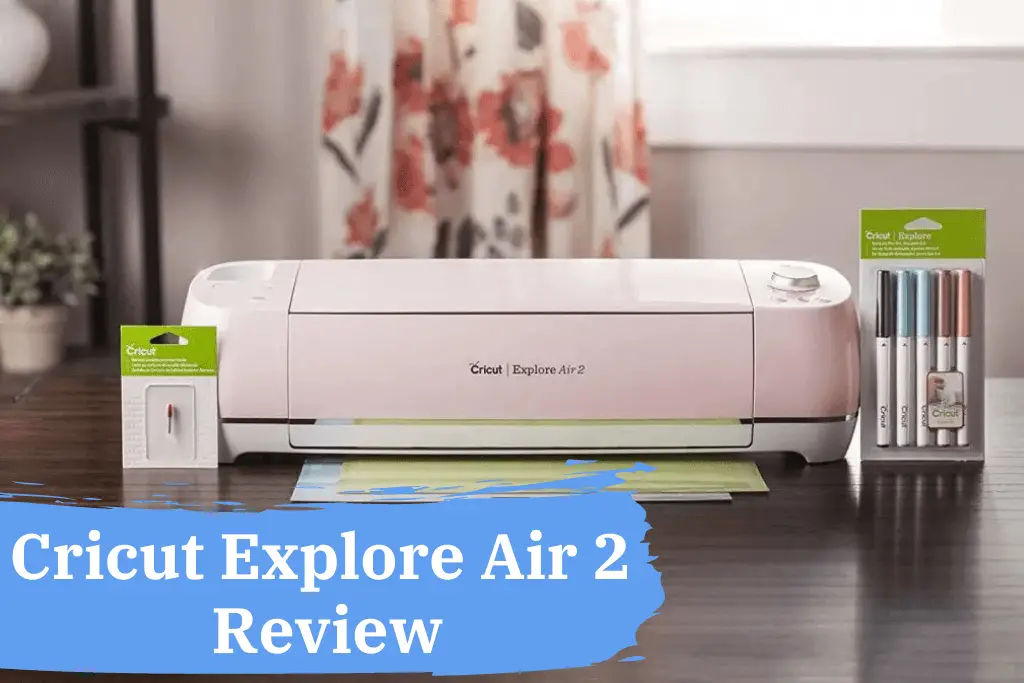 Click Image to see Reviews and Latest Price
Many crafters ignore this cutting machine…
Some call it old. Some never even heard about the Explore product line. This is why I'm writing a complete and exhaustive Cricut Explore Air 2 Review.
You might have read a few of my reviews and comparisons, and you are familiar with my style. If you are new to this site, let me assure you I'm not afraid to point out mistakes and shortcomings.  For some, I may seem too harsh that's perfectly fine. I'm through being vanilla and trying to appeal to everyone.
Let's get started with this Cricut Explore Air 2 Review

The first thing that pops into my mind when I hear Cricut is the slick design. They did an awesome job in the design department. Just take a look at the competition Silhouette machines are too boxy, and the Brother's LCD screen sticks out like a sore thumb.
Look and Feel
I never get bored with how the machine opens. The doors open with a bit of delay. On many occasions, I've caught my kids opening and closing the machine. I can't blame them it's a cool feature, and you want to see it over and over again.
If you check out the product iterations, they are different. From time to time they make some design changes, but the difference happens under the hood. Every time they launch a new machine, something got significantly better.
The first machine that came out was the Cricut Explore One. It put the Cricut on the map. After that came Cricut Explore Air. As you have seen, there wasn't a significant change in the design, but they added Dual Carriage (double tool holder) and Wireless communication.
Double Speed
Then came the Cricut Explore Air 2 it brought double speed (aka fast mode). As a crafter who works on many complicated projects, 2x speed was a god send. It's not easy to go back to normal as in snail speed.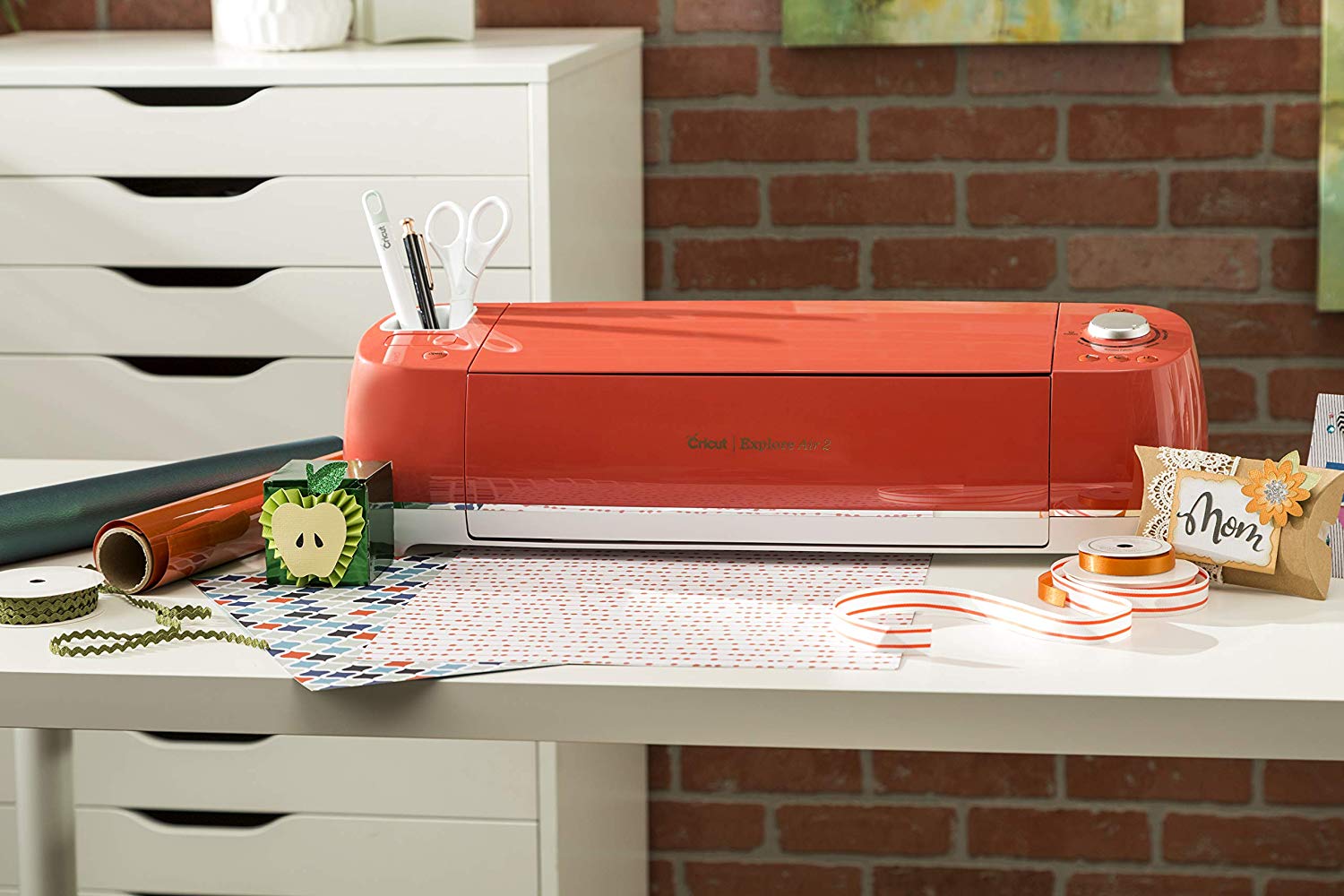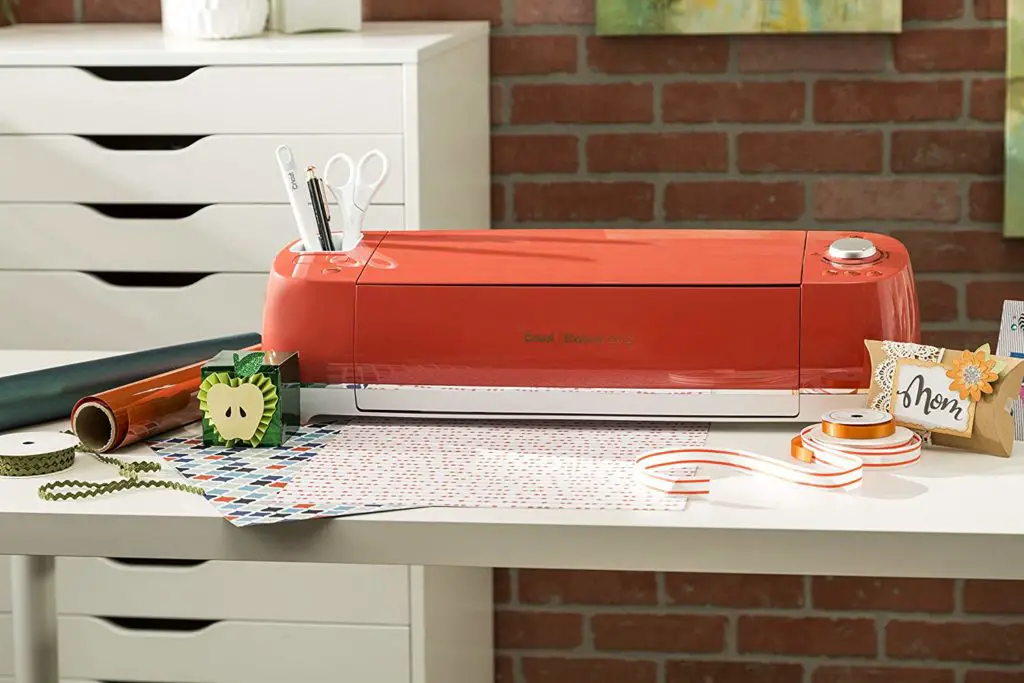 New Cricut Explore Air 2 Machine in Red
The final product is the flagship Cricut Maker. This machine has created its very own category. It has 4000g of cutting power. (Just for reference other machines are in the 210-350g range). Maybe in 2019 Silhouette will manage to catch up announcing their Cameo 4 having 5000g of cutting power.
With a machine so powerful a new world opens up for crafters. Harder, tougher, and thicker materials can be used with these machines. It means more creation capabilities which can be automated.
Let's return to our Cricut Explore Air 2 Review
Size and Weight
It's a decent sized machine and has significant weight to it. Make sure you use a sturdy workbench. Many crafters have a designated spot for their tools. If you don't have it than mind the weight. Moving it around left and right may be difficult.
Another thing I've noticed is that Cricut machines tend to lean towards the heavier side. I've done a bunch of reviews and comparisons and Cricut have outweighed them all. Maybe they use better quality parts. I have no clue about it.
Cricut Explore Air 2 isn't just a basic cutting machine. Yes, many competitors can cut and draw. Explore offers more.
Cricut Design Space Software
Typically every brand has its own software, and 3rd party tools are not allowed. For Cricut, the managing software is called Cricut Design Space. It's online software. This has numerous benefits and one major drawback.
First of all, you don't need to install anything or worry if it's up to date or not. Secondly, it works on any device anytime without compatibility issues. Since it's cloud-based, you need internet access to it. This means that if you have dodgy or no internet, you can't communicate with your Cricut.
Yes, they have tried fixing this by releasing an IOS app, but it's not the real deal. Hopefully an Android app will be released soon. Since we have started talking about Cricut Design Space, let's continue with it.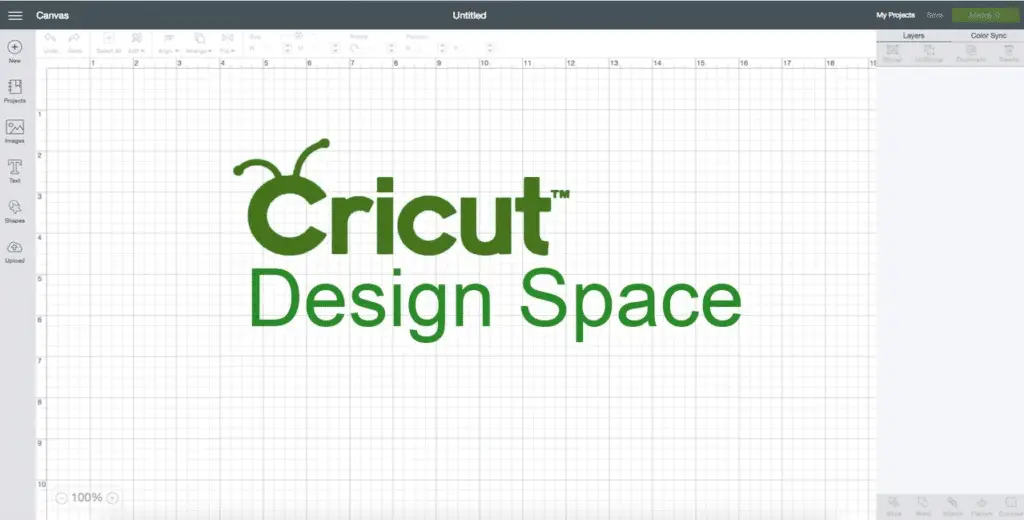 It's by far the most easiest to learn software on the market. It's intuitive by nature and very user-friendly. You can use SVG files without any hassle or any extra payments what so ever. Thanks to the global online presence, it's hard to protect your own works. Even here Cricut is different, it offers good privacy settings.
There was another complaint about the software. It tends to shrink designs a bit. I haven't been able to confirm it. The simplest thing would be to test it for yourself. Set the parameters in the software and measure the results after the project is finished.
If the end result is smaller than try to adjust the dimensions accordingly, this would only be an issue if you need something very specific. We're not done there's more to come with this Cricut Explore Air 2 Review.
Thanks to the Cricut Design Space software, you can any handmade drawing and transform it into a digital one. Once that's done you just replicate as many time you want to. For this all you need is a digital camera since everybody has a smartphone in their pocket it's no issue at all.
After you have finished your design, all you have to do is photograph it and upload it to Design Space. And you're done. After that, the design behaves like any other design that you have or bought.
Click Image to see Reviews and Latest Price
Cutting Force
What sets Cricut Explore Air 2 aside from the other is its cutting force. Most machines are limited to 210g of cutting power. The only machine that matches Cricut's power is Brother's Scan and Cut, which is set to 350g as well. Other than that big brother Cricut Maker is 4000g strong.
As you can see, it stands above the rest. The more cutting power a machine has, the more easily it cuts materials. Also, it can cut tougher and thicker materials as well. This is why it can handle more than 100+ materials. But more on this later.
The cutting size is fair 11.5 X 23.5 inches. This is ample space for most crafters.
Dual Carriage
One of the features that I dearly love is the Dual Carriage one. It has been introduced already in the first generation of Explore Air products.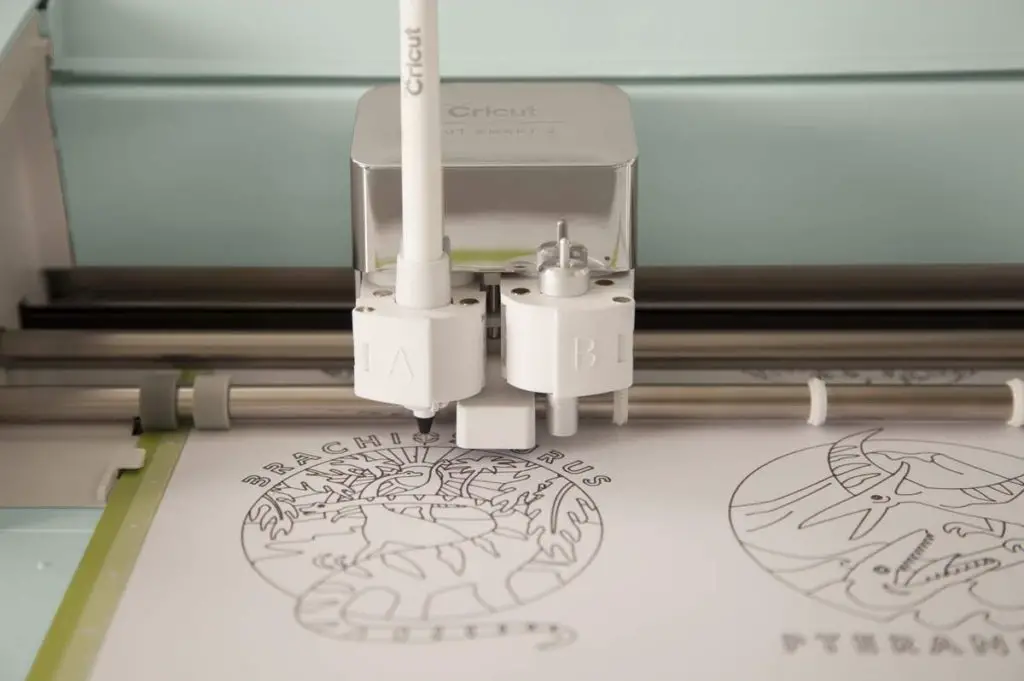 Cricut Explore Air 2 Machine Dual Carriage in Action (pen tool and cutting  tool)
This means that you can use two tools at the same time. You can easily draw and cut. All you have to do is set up the machine and let it do its job. Meanwhile, you can do different tasks, and you don't have to babysit the machine wasting time.
Be prepared if you get used to this feature you won't be able to live without it.
Blades and Cutting Depth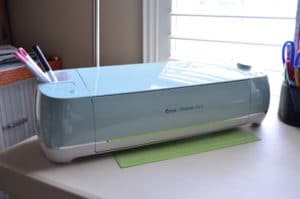 The material thickness size is decent. 2mm is the standard for these machines. Warnings don't confuse this number with cutting depth. For example, Silhouette Cameo has a cutting depth of 1.2mm and Cricut Maker 2.4mm. For the Silhouette, the material thickness is set to 2mm as well. Is Silhouette better than Maker you can read my comparison on this page.
In both machines, quality blades are used made out of German carbide. If you haven't heard of them before the German carbide steel is ultra resistant.
You can connect to the device wirelessly. This means that by having Bluetooth technology, you can connect and control your Cricut machine. I just love cordless connectivity; it reduces accidents. This is important if you have kids in the house.
If you get tangled in wires, you can easily pull on the machine maybe even breaking it. So I give a bonus point for cordless connectivity.
Now the marketing material mentions that it can work with 100+ material. Well, it's not a lie. After testing it over and over the best materials to use the Cricut Explore Air 2 is paper, vinyl, and cardboard. Sure it can cut multiple materials, but there's a huge learning curve for those. It takes a lot of patience to get it right. This is why I recommend the use of these 3 materials.
Noise Level
Before I bought my own Cricut, I had a major hang-up. These machines are usually loud. If you get yourself a Cricut rest assured it's not true. The noise level is acceptable; other brands are much louder than the Cricut. Maybe this is where the heavier parts come into play.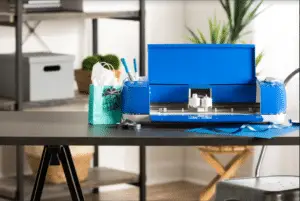 Biggest upgrade since the first Explore Air is speed. You can select the double speed (fast mode) for your project. This saves a lot of time, and you can get used to it. Sometimes it's hard to use the machine in normal mode because it gives the impression that it's working in slow motion.
Warning! By activating the 2x, you are forfeiting the low noise level. The faster the machine moves the more sound it creates. Also, it's a good idea to check your design first. If it's a complicated design you might want to leave it on normal speed, so the cut is as perfect, it can be.
One of the biggest problems with these machines is the cost of ownership. For example, Brother charges sky-high prices for their accessories, and some crafters reported that they need to change tools frequently.
This is not the case for Cricut. The accessories are the cheapest on the market. They tend to work for long hours.
Tips and Tricks
Here's a hot tip for you. If you find your cutting mat extremely sticky, put a T-shirt on and whola it's done. The cutting mat will be less sticky and easier to use.
The price a bit high but thinks about the savings you are making with cheaper accessories.
I'm about to wrap up my Cricut Explore Air 2 review. Let's see what we have learned so far.
Cricut Explore Air 2 Machine Specs
First things first, the bird's eye view.

Cricut Explore Air 2 Cons?
The biggest issue that I could find is with the Design Space software. It doesn't work without an online connection. It tends to shrink designs. Last but not least, there's a subscription model for the designs. $4.99 and $9.99 by paying this monthly fee you get access to over 60,000 designs.
In a way, it's forced, and I don't like that part.
These are the negatives I could find with Cricut Explore Air 2.
There's already a newer Cricut product on the market. It's called the Cricut Maker.  It's a great machine, but with its 4000g cutting power, you will be tempted to try and test multiple materials. You might waste time and not focus on your business.
If you have the tendency like me looking for shiny objects, then Explore Air 2 will be just a fine choice for you.
It has a big analog switch which helps you select the material you are working on. If you are using the same material over and over, you don't need to move the switch.  This saves time because in the software you need to select every time on what are you working on.
Color Options
It's a slick design, and it comes in 8 different colors (like baby blue). They maybe went overboard because the Maker only has 4.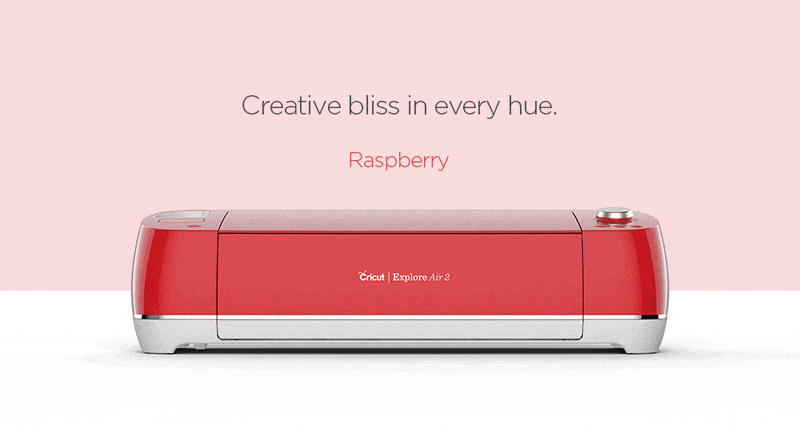 Cricut Explore Air 2 Machine Full-color spectrum
Cricut Explore Air 2 Review Final Thoughts
It's a great tool and a reliable at that. It's easy to get started, and you can get your first sales super-fast.
It's an excellent machine if you're working with paper, vinyl, and cardboard. It can work with other materials, but it's much harder. I would suggest mastering these first and then move on to the exotic ones.
The price is ok, and the accessories are the lowest priced ones on the market. And these babies last for a long time. It's simple and easy to use thanks to the intuitive software. There's nothing else to add to this review.

The Cricut Explore Air 2 made it in my best of the best article. Check it out at Best Electronic Cutting Machine post.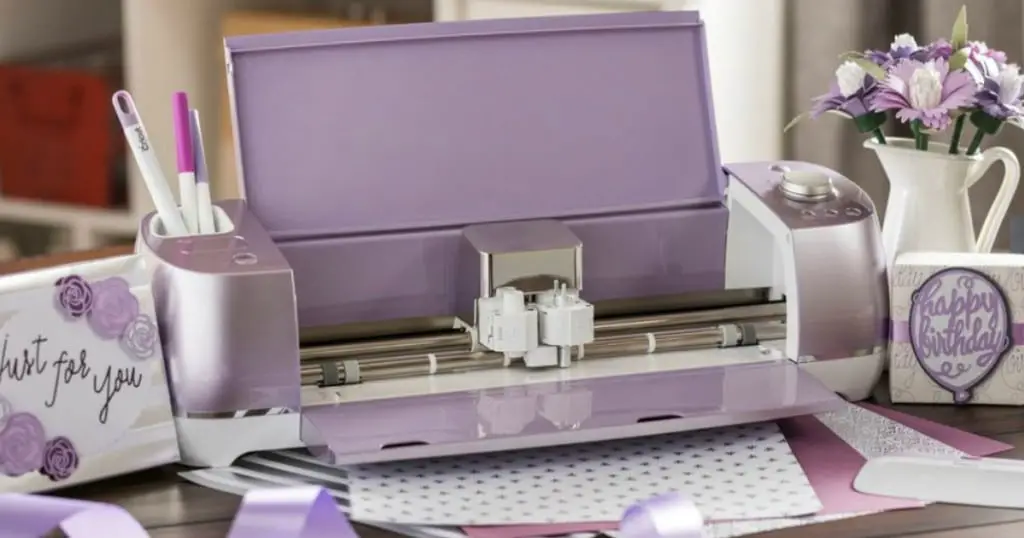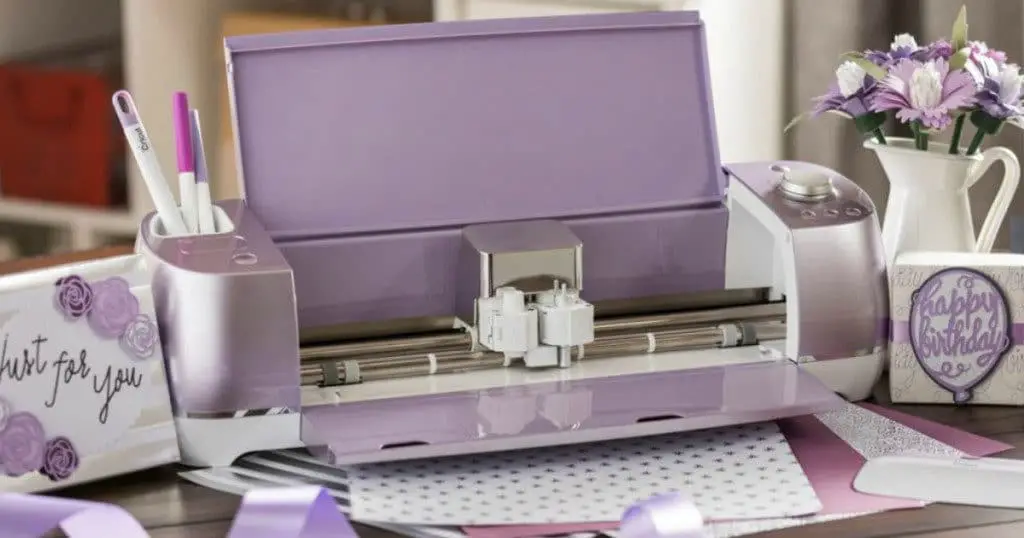 This concludes my circut explore air 2 review. If you want to learn more there's the official page.
Happy Tinkering!
If you have feedback or question, please ask them below.
Frequent questions from our readers (FAQ):
Is the Cricut explore AIR 2 worth it?
The Cricut explore AIR 2 is worth it. If you want to learn the ropes without investing a ton of money than the Explore air 2 craft cutting machine will be a great choice. To extend your abilities you can also check out a heat press like the Cricut Easy Press 2 for iron on vinyl
What can I do with Cricut explore AIR 2?
With the Cricut explore AIR 2 you can cut so many different materials that you won't believe. With the deep point blade you're looking to cut different materials such as: vinyl iron, bonded fabric, heat transfer vinyl, vinyl decals, pattern paper, glitter paper, poster boards and spider webs or thick materials like leather, balsa wood cherry blossom.
What is better the Cricut AIR 2 or Cricut maker?
There's no doubt that between the two cricut machines the cricut maker is better than the cricut explore air 2. It's newer and it offers a wide range of options. It can cut more than a hundred materials. Plus it comes with cutting tools for your craft room: deep point blade, deep cut blade, rotary blade. There are no cartridge packs and more than enough storage compartment. However it's not always in stock. The last time I had to wait more than two months and the support was clueless when they will get a new shipment.
Does Cricut Explore AIR 2 cut vinyl?
Yes Cricut Explore Air 2 cuts vinyl with ease. Plus it has 2x speed so it's faster than other machines as well.
How do I connect my Cricut explore AIR 2 to my computer?
You have two options to connect your computer to the Cricut Explore Air 2. You can connect via USB cable or through Bluetooth. It's simple straight forward process. The internet connection is must because the design features are only available there. For extra graphic design options you can go with adobe illustrator. Once you have internet connection you can use internet explorer or any other browser.
Can I use my Cricut without a subscription?
Yes you can it's free to use the Cricut and its software. You only have to pay if you want to use Cricut's library for fonts and designs.
How do I connect my Cricut explore AIR 2 to my laptop?
The same way as described above for the computer. You either choose the USB cord or the Bluetooth option. The rest is done by the software wizard.
How do I connect my Cricut explore AIR 2 to my computer via Bluetooth?
It's simple all you need to do is to power on Cricut Explore Air 2 then in your laptop settings find Bluetooth and find the device. Pair and you are done. Just in case if it asks for a password use 0000. After the connection is made you will need internet connection to finish the procedure. Even with a test project you will need internet connection. This cricut machine is simply amazing. There's an ios app for it as well. If you're looking to cut different materials and value printing power and design flexibility the cricut air 2 will serve you great.
How much does Cricut design space cost?
If you choose the monthly subscription then it's $9.99 if you go for the annual onetime payment than it will be $7.99 ($95.88 yearly) and if you choose the Premium than $9.99 ($119.88 yearly). Check you the perks below.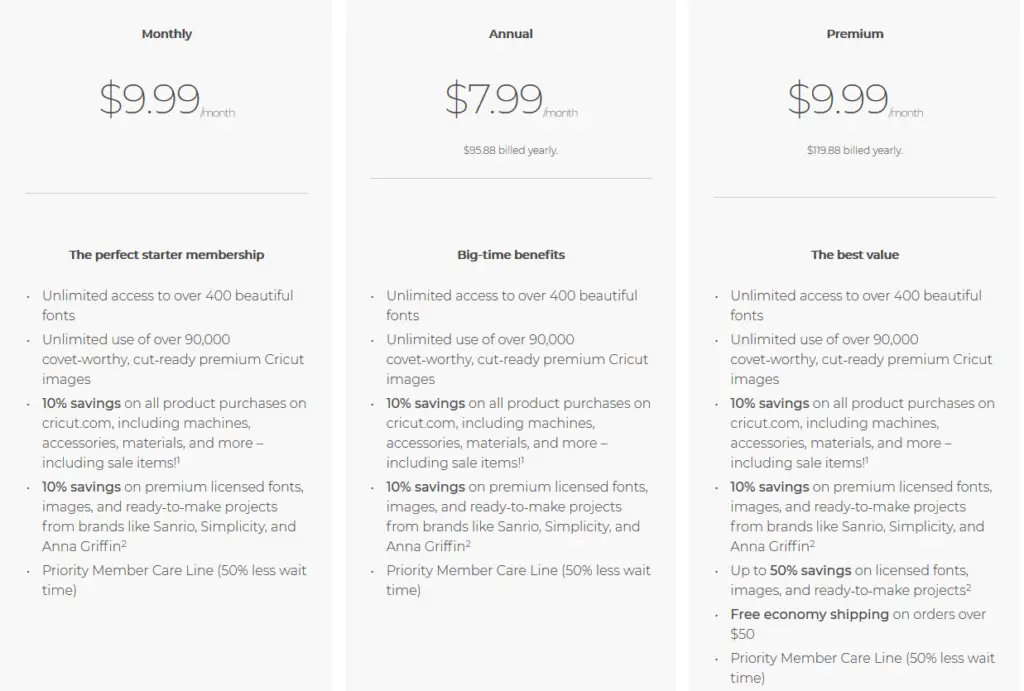 What's the size of a standard grip cutting mat?
It's 12 inches by 24 inches.
How many materials can you cut using the Cricut access cutter?
These Cricut Cutting machines can cut over 100 different materials thanks to its german carbide premium blade. You won't believe the types of materials it can cut. Just check out the machine reviews. All this without Cricut cartridges.
Does this machine comes with a getting started guide?
Yes, this machine comes with one to help you start on the right foot with all those different types of materials.
What is a smart set dial for this cutting machine?
This Cricut cutting machine comes with a smart set dial. This will help you select the right settings with the material you're working with. Plus once you've set the smart set dial it stays that way.
What are the main features of this Cricut cutting machine?
First of all, it's easy to use no learning curve. The smart set dial sets the right parameters for the cut. This machine comes with a double tool holder and smart cutting enabled. It has print then cut feature with a scoring stylus. The design software is easy to use. You can online design free images. It can cut all types of materials like poster board and cardstock sample. Explore air machines are also known as craft cutting machines.
Is the Cricut a smart cutting machine?
Yes, all Cricuts are smart cutting machines. I would love for the power cord to be longer.
Is Cricut Explore AIR 2 worth it?
Yes, the Cricut Explore AIR 2 is a great cutter for beginners. It's fast and fairly easy to use. They use carbide premium blade which means that they will last a long time it's one of the few vinyl cutter machines that do it.

What can the Cricut explore AIR 2 do?
The Cricut explore AIR 2 can cut over 100 materials.
Is Cricut explore AIR 2 easy to use?
Yes, it's one of the easiest to use vinyl cutting machine. If you're looking for ease of use you have found the perfect cricut machine. It looks like it can cut a hundred different materials.
What are the best uses for the air 2 tool holder?
The tool holder as the name suggests it hold all your cutting tools: deep point blade, bonded fabric blade, deep cut blade. The cut settings are easy to master. With a test project you can make vinyl decals. It looks like that to cut thick materials you'll need a cricut machine like the air 2. One of the most popular color option is the baby blue. You can set up your test project in a jiffy.
Which Cricut is best?
The Cricut Maker is the best overall, but for beginners in our opinion the Cricut Explore Air 2 is a great choice for design flexibility.
Last Updated on November 11, 2020 by Emily