Silhouette Vs Cricut: Which is the Right Choice for You?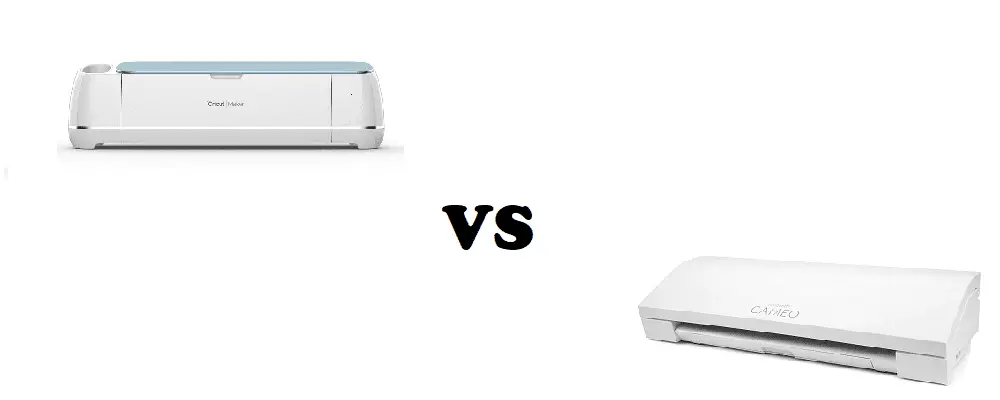 Cricut vs. Cameo, finally, Cameo will force Maker into a corner?
Your time is precious. This is why you don't have to look through over 50 machines hoping to find the best fit.
Both Cricut and Silhouette have many products under their brand.  To save you time and get you crafting as soon as possible, I've picked the very best machine from Silhouette and the very best from Cricut.
You get the simplified version in this comparison.
The very best machine that Silhouette can offer is Cameo. The very best machine Cricut can offer is the Maker. These are the best of the best, and they will be compared to you. This will save you a lot of time in research.
Between the Silhouette Cameo and Cricut Maker, the winner is the Silhouette Cameo 4. Here's why:
Look:
Previously Silhouette Cameo was out of Cricut Makers league. It looked like Average Joe taking on Mike Tyson. Sure Joe might get lucky and KO Tyson, but I wouldn't bet on that.
Recently Silhouette came out with Cameo 4. Many crafters thought that it would be the Maker killer. Well, reading this comparison to the end, you will find out if that's true.
Comparison of the Cricut Maker and Silhouette Cameo
Details
Price

It's a user friendly cutter so an average mom to get in the game with ease.
This is the secret tool of many Etsy sellers. Stickers come out nice and sharp.
With a bit of experience under your belt you will be able to make some money by crafting with tougher materials like leather.

The software is insanely easy to learn it's so intuitive.
This cutter is a miniaturist's dream come through. It lowers your production costs and increases profits.
You will be able to corner the market with Flowers and Bows made out of felt. A great side hustle opportunity.
cutting machines
in parallel, so you will know if the difference between the two is important or not.
Comparing the look and feel (size, weight)
Let's look at their size first. It's obvious that the Silhouette cutter is a bit smaller and a bit lighter than its counterpart. This can be good news and bad news as well. The good news would be that you can operate in a smaller space. And being lighter it means you can easily move it around.
Click Image to see Reviews and Latest Price
The bad news would be they might have used lighter, more inferior materials in the construction. Luckily it's not the case. Both machines are durable and real workhorses.
If you are only making a decision on the size and weight than factor this into the equation, are you moving it frequently? There are many crafters who attend tradeshows and fairs. My idea of fun isn't hauling around huge and heavy machines.
Both cutting machines can cut and draw at the same time. Yes, the Silhouette family made a cheap shot with the Silhouette Curio (that machine can't cut paper and vinyl, so it's not the best vinyl option, but it can etch and emboss).
If you are interested in other vinyl cutters, take a look at our best vinyl cutting machine page.
For what will you use these machines?
If it's for paper and vinyl than both machines will work perfectly. The Cricut cutting machine goes above and beyond these simple tasks, and you can use it for more crafting ideas.
Both cricut and silhouette machines have the ability to transform pictures and drawings into designs. For cricut and silhouette, you will need a smartphone or something similar to take photos. The rest is done in their software.
Here comes the biggie. Silhouette finally has upgraded the cutting force and actually managed to outdo Cricut. Let's take into consideration that the Silhouette Cameo 4 has been released recently. The raining champion was Cricut with its 4000g cutting force. Now Silhouette has taken the crown with 5000g of power. Previously the Silhouette Cameo 3 had just 210g of power.
Cricut Explore Air 2 had already 350g of cutting power. This means that the previous Cricut generation was 50% more powerful than Cameo. To be fair it would be better to compare Silhoutte Cameo 3 to maker's little brother (Cricut Explore Air 2). If you want to see what it can do against Silhouette follow this link.
With 4000g and 5000g of cutting power a new world opens up for you. You can cut thicker and stronger materials as well. The Silhouette Cameo has 20% more power but can you make use of it?
Machine Specs:
Cutting size put to the test
The cutting size is decent for both machines. Cricut Maker's standard cutting size is 12×24 inches. And Silhouette Cameo works up to 10 feet with the help of the built in feed roller. Yes, there's no typo there I really meant ten feet.
Click Image to see Reviews and Latest Price
Auto Blade
Now Silhouette has a nifty feature called Auto Blade. This is a great tool that helps you take out the guesswork from your cuts. The Auto Blade can detect on its own the material used so it will adjust the cutting force accordingly.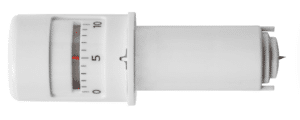 If you're using the Maker, you will have to set it up in the Cricut Design Space software manually. This point goes to the Silhouette machine.
Cross Cutter
The next feature which I will talk about is the Cross Cutter. Cricut doesn't have this one either. This feature comes handy when you want to cut something down to size.  With the Cross Cutter, all you have to do is pull the blade horizontally, and you're done. You don't need scissors or anything.
Dual Carriage
The biggest feature which is present in both machines is the Dual Carriage. Once you get used to this feature, you just simply can't live without it. It speeds up the production time. Plus it gives you free time, so you don't have to babysit your machine.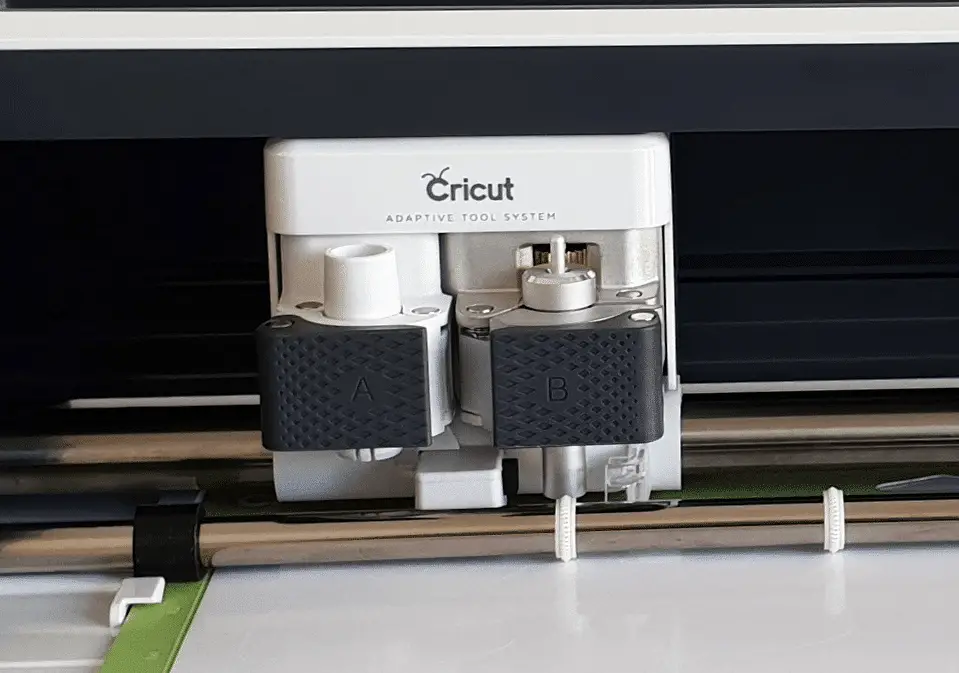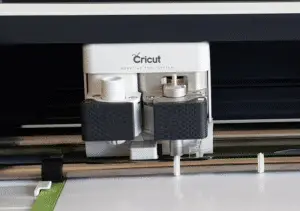 The Dual Carriage features mean that the machine is capable of doing two steps at once. Sorry to burst your bubble it can only do it sequentially and not in parallel. You can set the machine to draw and then cut. Or use two drawing steps or two cutting steps. Once you programmed the machine, it will do its job while you don't have to do any type of babysitting.
This is the point where the needle is starting to lean towards Cricut's favor.
Embossing etching cutting stronger, more resilient materials?
Yes, it all can be done with Cricut Maker. This is where its 4000g cutting force really shines.
The Maker's Knife blade looks like an X-Acto knife. This strong blade linked with the big cutting force leads to cutting matboard and balsa wood with ease. (Of course, the thickness shouldn't be bigger than 2.4mm).
Can Cameo do all this? This is the place where the hype starts to fade. I mean it can cut a few thicker materials, but you need to do a lot of trial and error to get it right. Plus you need to do multiple passes just to get one simple design out.
Multiple crafters have confirmed that Cameo is good at cutting paper and vinyl for embossing and scoring you will have to buy the Silhouette Curio separately.
Rotary Blade
For example, Cricut Maker has the Rotary Blade. If you are working with fabrics, this is a must-have. It cuts through materials without damaging or wrinkling it. I bet you will be instantly hooked and will be wondering where this tool has been all your life.
Cricut Maker has a washable fabric pen. This means you can make markings on the fabric, and after you have done the necessary adjustments, you can simply wash it out with water.
With the new Silhoutte Cameo 4 you're getting a rotary blade as well. So they have managed to level the playing field.
Cutting Dept
When we look at the max material thickness that each machine can process, there's a small yet big difference. Silhouette Cameo can handle materials up to 3mm thick. Thanks to the 5000g of cutting power it can handle thicker materials.
The Cricut Maker is different. It can cut through 2.4mm material.
Both machines brag that they can handle 100+ materials. I have no doubt about Cricut. And with the recent Cameo update my doubts have dissipated. Finally you can get access to 100+ materials with the Silhouette as well.
Noise Levels Measured and Tested
Let's switch gears. How loud or noisy are the machines? If you have heard one working Silhouette machine, then you have heard them all. Every machine in the family is loud. So forget about working through the night to finish a job if you have people sleeping around you.
With Cricut, things are slightly better. It's not a loud machine, yet it has an acceptable noise level.
There are numerous speed tests done between Cricut Silhouette Cameo Machines. Each and every time Cricut comes out on top. It works at double speed compared to Cricut's competitors. When you use the 2x speed, you are sacrificing noise levels.
Once you have tasted 2x, you can't go back. This speed boost works perfectly with basic designs. It's doable, with more intricate ones as well but it might mess up the cut. Test it out first before you commit.
According to the brochure the Silhouette Cameo can reach up to 30 cm/s. Though when I've tested it with the Cameo 3 the same design was finished at the same time and both cutters were at maximum speed.
Click Image to see Reviews and Latest Price
Let's talk about pricing and accessories as you can see Cricut costs more than Cameo. But here's the kicker. The accessories are cheaper.
This is an important point that many reviewers miss. I believe it was crucial to add in my Cricut Maker Vs Silhouette Cameo comparison.
What's the cost of ownership?
Blades go dull, and mats lose the stickiness, and they need replacement. By far, Cricut Maker's accessories are the cheapest. Cameo's are in the normal range. And if you have a Brother Scan and Cut machine, I feel for you (they have the most inflated prices among all the machines). I've recently done a comparison between Brother Scan and Cut Vs Silhouette Cameo check it out here.
If you're only looking at price, then yes Cricut is more expensive, and it enables you to unlock different materials without you needing to buy another machine. Also, accessories and supplies are cheaper. Thus, the cost of ownership is lower than any other Cricut competitor.
Last but not least, looking at both machines, the Cricut looks more stylish. The edges aren't that sharp, and it's slicker. Also, it has a mobile docking station. Here you can put your phone or tablet and watch something while the machine works and you can charge your device from the Maker's USB port.
Design Software Face off (Cricut Design Space vs Silhouette Studio)
Before I get to the negatives, let me touch base on the software. Let's see how Cricut Design Space and Silhouette's Design Studio Software fair against each other.
First of all, let's see the Cricut Design Space. It's online only. This means you can access it from any device with any system installed. Secondly, you don't have to update it ever. It's simple and intuitive you can master it fast.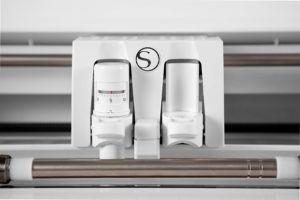 Silhouette Design Studio Software is free. As in free if you are not doing anything important. If you need to use SVG files, you need to get the paid version. The software arrives on a CD. Now you can use that, or you can download it from the web which contains the newest version.  This software has a steep learning curve. It's much harder to master than Cricut's.
Cricut vs Silhouette Machine Specs Side by Side
Take a look at the chart below, and you will see the clear difference between Silhouette and Cricut.

| | Silhouette Cameo 4 | Cricut Maker |
| --- | --- | --- |
| | | |
| Size | 7.87 x 22.44 x 6.69 inches | 10.2 x 25.8 x 10.4 inches |
| Weight | 13.77 pounds | 23.08 pounds |
| Cutting Feature | | |
| Drawing Feature | | |
| Transform Images to Design | PixScan Software | Cricut Design Space |
| Cutting force | 5000g | 4000g |
| Cutting Size | 12 inches x 10 feet | 12 x 24 inches |
| Auto Blade | | |
| Cross Cutter | | |
| Dual Carriage | | |
| Max Material Thickness | 3mm | 2.4mm |
| Number of materials | 100+ | 100+ |
| Noise Level | Noisy | Acceptable |
| Speed | Normal | Fast |
| Accessory Costs | $$ | $ |
| Price | | |
What Are the Shortcomings for Cricut Maker?
Now let's talk about the negatives, first up it's Cricut. The only negative thing that I can find with it is the software. It's online only. Yes if you don't have internet access, you can't use your machine. There's an offline version for IOS, but that is not doing justice.
If you are in a bad spot where the internet is dodgy, you might want to reconsider if you have opted for Cricut. If you are exhibiting in fairs and trade shows, make sure you have backups for the internet. There's nothing worse than getting orders and the machine calls it quits because there are internet issues.
One thing left a bad taste in my mouth with Cricut. To get access to their design database, you have to pay a monthly fee. I know, I know $9.99 is not the end of the world, but still, something free is always highly valued by me.
What Are the Drawbacks of Silhouette Cameo?
With the recent update Silhouette finally matches up to Cricut. Yet they still want to milk you for every dollar just like the Silhouette Cameo 3. They rolled out the Silhouette Curio for some cash grab. If you want to do embossing and scoring you have to buy it. This means you will need two machines and two devices to manage them. The investment overshoots Cricut's costs.
The biggest issue with Silhouette Cameo 3 was the Bluetooth connectivity. It didn't work. Finally they have managed to fix it.
It's loud and hard to master. Silhouette Studio Software has a big learning curve. And if you want to use SVG files you have to upgrade from free to a paid account. With the free software you won't be able to do that.
Which is better Cricut or Cameo?
It depends on what you are using the machine for. With the new update they can do almost the same thing. If you want to do embossing and scoring next to paper and vinyl cutting then it's more economical if you go with the Cricut.
Click Image to see Reviews and Latest Price
This about wraps up my Cricut Maker Vs Silhouette Cameo post.
If you want me to compare other machines or review them, just ask me below. The main Silhouette Site has additional info if you need it.
Until then, Happy Tinkering!

Silhouette Cameo 4 with Bluetooth, 12x12 Cutting Mat, Autoblade 2, 100 Designs and Silhouette Studio Software - White Edition
The silhouette Cameo 4 is the evolution in desktop cutting. The sleek Backlit touch panel lets you load, unload, and pause your projects in style. Conveniently stored in the machine's compact pull-out drawer is a new built in roll feeder for quickly cutting vinyl and heat transfer material directly from a roll. On the back of the Cameo 4 You will find a built in cross cutter allowing for a clean straight edge cut on your vinyl roll for your next project.
The Cameo unique dual carriage allows for tool Type detection. The machine's ultra-smart system uses tool sensor technology that detects what tool you are using which then triggers the silhouette Studio software to adjust cut settings automatically.
The Cameo 4 stands apart from previous models with the new dual motor system, which allows you to cut in two distinct ways. Carriage one provides the Cameo 4 with unparalleled speed. It is operated from a solenoid motor that gives makers smooth and intricate cuts. Cameo 4 can cut or sketch up to 3x faster than previous models without sacrificing accuracy. Carriage two is operated by an entirely different style of motor that allows for unprecedented power.
Sale
Cricut Maker, Champagne
[CREATE MORE] Cricut Maker gives you the freedom to make everything from paper crafts, iron ons, and vinyl decals to sewing projects, leather crafts, and balsa models
[ENDLESS PROJECT POSSIBILITIES] Expandable suite of tools. With its powerful blades, pens, and scoring tool, Cricut Maker grows with you as you learn each new craft
[NEW ROTARY BLADE FOR FABRICS] With its gliding, rolling action, this blade cuts through virtually any fabric quickly and accurately – without backing material
Silhouette Cameo Vs Cricut Maker (FAQ):
Which is better Cricut Maker vs Silhouette Cameo?

By reading my review you probably got to this conclusion. Cricut Maker is the better machine. It can do much more than the Cameo and it costs less to maintain even though the upfront cost is higher. Also from my perspective Cameo is half the machine than Maker is.
What is the difference between a cameo and a Cricut?
This is why I've created the review. The main difference is in cutting force which opens up a new world for Cricut. Then the lifetime cost which is lower if you choose Cricut. Finally, Cameo is way louder than Cricut.
Is the Silhouette Cameo better than Cricut?
If you refer to Cameo than it isn't but pretty soon Cameo 4 will be launched and it will force Cricut to innovate or lose their dominance. If you would like to check out my upcoming article which will show the differences between Silhouette Cameo 4 and Cricut Machines and cutting machines.
Can you use Cricut design space without a subscription?
Yes, you can because it's free. You only need a subscription if you want to use custom fonts and designs.
Can I use my own images with Cricut?
Yes, you can use your own images with Cricut. Design space allows you to use your own images plus SVG files as well.
Can the Cameo cut 10 feet long material?
Yes, the Cameo can cut a 10 feet long material. But to achieve that you need to modify your silhouette cameo. You need to get an additional feed roller and then you can safely cut vinyl or any material that's 10 feet long.
Will there be a Cameo 3 vs Cameo 4 article?
Yes, the Cameo 3 vs Cameo 4  is coming soon.
What about Cameo 4 vs Cricut Maker?
Yes, it's in the works. I will create a Cameo 4 vs Cricut Maker article as soon as possible.
Do I need an internet connection with my silhouette studio design software or Cricut maker cutting machines software?
The internet connection is only mandatory with the Cricut Maker cutting machine. Silhouette studio design software works well offline. Actually, the Silhouette Studio design space software comes with a CD. If you would like you can download it from the web.
What's so special about the Cricut Machines?
First of all the Cricut Maker cutting machine can handle easily thicker materials and cut fabric as well. It's a versatile cutting machine that delivers on all fronts.
Can the cameo cut thicker materials and cutting fabric?
Well, in theory, the cameo can cut thicker materials and cutting fabric but not that well. But it can cut materials which are thinner well. It can easily cut faux leather so no wonder it's a game-changer cutting machine.
What is the adaptive tool system for the Cricut Maker cutting machine?
These cutting machines us the adaptive tool system so it can fit multiple blades into one holster. For example, you can mount the knife blade and the rotary blade in the same slot. With the rotary blade, you can cut fabric and the knife blade helps you cut harder and thicker materials. This is why I love the Cricut Maker cutting machine.
Are there any vs cameo or vs Cricut maker articles?
Yes I've created a few vs article. I have compared the most popular machines around. The next upcoming article will be cameo 4 vs Cricut maker. Also, I'm planning to a Silhouette Studio vs Cricut Maker Design Space Studio comparison. I would like to get it done ASAP.  Cricut cutting machines can only be controlled through design space. On the other hand cameo, 4 and other silhouette machines work with the studio software.
Is the Silhouette Studio Software Program Free?
Yes the Silhouette Software program is free it comes with the package. Now there's also the Silhouette design store. Here you can buy different designs. Not everyone has the time to create drawings so why not pay a few dollars on the silhouette store and get it in a second. Both the cricut and silhouette and have a free version of their software. Even the can use it.
Silhouette Cameo vs Cricut maker (silhouette vs maker) which one does a better job with heat transfer material?

The two machines can handle heat transfer vinyl quite well. The cutting mat is sticky so you won't have any problems. Many people go with either of them.
Do I need a home printer if I get the Silhouette Cameo or the Cricut Maker?
The cutting machine does the cutting. The printing is done by the printer. So you will need one if you're looking at the cricut and silhouette.
How can you control the Silhouette Cameo?
The Silhouette Cameo can be easily controlled thanks to the Bluetooth technology. No matter if you have a laptop or a mobile device you can control it through it. If you're stuck there's always the touch screen menu or customer service for this vinyl cutter.
What is Cricut Access?
Cricut Access is a premium service. The design space software works with cricut explore as well.
What can you do with the Cricut Maker?
Well, you can choose the template material or you can do papercraft also you can cut craft foam and do die-cutting. Since it has Bluetooth technology you can control it from anywhere. This is one of Cricut makers pros.
Does the Silhouette Cameo have a storage compartment?

Yes the Silhouette Cameo has a storage compartment. Plus in the package, you will find the power cord. With the help of design apps, you can do die-cutting. With the new upgrade you can use silhouette storage compartment on the side. Many people choose that to carry  their tools.

Who wins the Silhouette vs Cricut battle (cricut vs silhouette)?
In our opinion the end result from cricut vs silhouette, the best vinyl cutter for the money is the Cricut Maker. The silhouette studio is harder to use while the cricut software design space is easier. Also the design space is much more intuitive than silhouette studio. The cricut machines are known for their reliability to cut materials which are thicker. It looks like the cricut machines are doing a great job. Although many people use silhouette machines  they would love to also use free software to machine cut files. With cricut and silhouette you can cut materials that are thicker than ever before. The previous generation cricut explore and silhouette machines didn't manage to do that.

Which brand is the better choice Silhouette or Cricut, if I need to work with multiple materials?
We suggest the Cricut Maker machine if you want to work easily with multiple materials.
What is the right choice for beginners Cricut or Silhouette?
For beginners, most people find the Cricut Design Space easier to use compared to the Silhouette Studio software. The cricut software software design space it's intuitive and with less of a learning curve. Many people use silhouette for more complex jobs and cut materials that cricut explore can't do. So cricut and silhouette a both good machines to go with.
Last Updated on November 11, 2020 by Emily