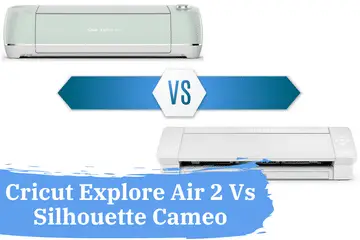 Welcome to the Cricut Explore Air 2 vs Silhouette Cameo 4 comparison!
After 11 hours of testing and cutting, I have finally found which is the right pick between these two.
These vinyl cutters are noisy, so every night, I snuck down to the basement to test them. Meanwhile, I was rehearsing my "Honey, it's not what you think…" speech.
Look:
For the past few years, I've dedicated myself to become a professional with paper and vinyl crafts. I said goodbye to the corporate world and started living my dream. Both Cricut and Silhouette are great companies, so I decided to put these two machines head to head.
In this comparison, I've tested everything from their cutting speed, accuracy, noise level, and ease of use. After reading it, you will know exactly which is the best choice for you.
Not sure if Cricut will work with your device? Check out my guide, Is Cricut Compatible With Chromebook?
Let's get this Cricut Explore Air 2 vs Silhouette Cameo comparison started.
Between the Cricut Explore Air 2 and the Silhouette Cameo 4, the winner is the Cricut Explore Air 2.
Read our related article, What Can You Make with a Cricut Joy? Not sure where to start? We share our favorite ideas!
Here's why:
PRODUCT
DETAILS
PRICE 

Editor's Choice

Cricut Explore Air 2

So easy I could use it: Insert material, attach pen, choose design, press the button. It's seriously easier than using my home espresso machine.
Perfect for home hobbyists: It cuts perfect stickers, decals, cards, and other home crafts in minutes with 0 headaches. Perfect for home businesses and etsy shops!
Brain-Dead Simple: I LOVE Design Space. It's the easiest designing software on the market. Almost 0 learning curve.
Cuts Hobby Material Instantly: 400g of cutting force is way more than most entry-level models. I had 0 issues with vinyl, paper, cardstock, or any other light hobby material.

Check on Cricut.com

Best Value

Silhouette Cameo 4

3x Faster: A fast machine with triple the cutting speed of the Cameo 3 for vinyl, paper, and HTV (30cm/sec!). It saved me a lot of time, and I heard that loud cutting noise 3x less (Thank god!).
Simple to Use: It's the easiest commercial grade printer out there. I hate wasting hours just trying to figure out how to print. The demo project was more than enough to get me up to speed.
Professional Grade Software: Silhouette Studio 4 is a big upgrade over version 3. More intuitive and way more customization options for designs.
20x Cutting Power: This is a heavy duty workhorse of a vinyl cutter. 5000g and 12" x 10-foot cutting size. It's a full 20x stronger than the Cameo 3. I cut burlap, acetate, and craft foam like butter. Now if only it could cut my cat's hair.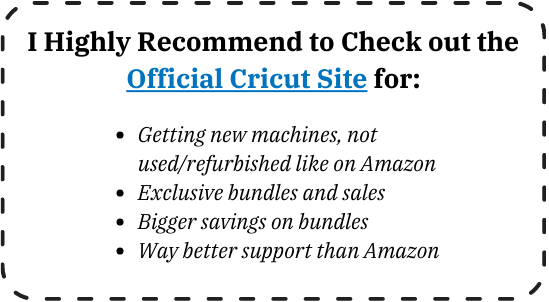 *Don't forget to check the price on both websites as they may be running exclusive discounts.
Before we get into the details, here's the bird's eye view of the Cricut Explore Air 2 Vs the Silhouette Cameo comparison.
Silhouette Cameo 4 Vs Cricut Explore Air 2 machine specs
| | Cricut Explore Air 2 | Silhouette Cameo |
| --- | --- | --- |
| | | |
| Size | 24 x 9.5 x 9.5 inches | 22.44 x 7.87 x 6.69 inches |
| Weight | 17.3 pounds | 13.7 pounds |
| Cutting Feature | | |
| Drawing Feature | | |
| Embossing Feature | | |
| Etching Feature | | |
| Cutting Force | 350g | 5000 grams |
| Cutting Size | 11.5 X 23.5 inches | 12 inches x 10 feet |
| Auto Blade | | |
| Cross Cutter | | |
| Dual Carriage | | |
| Max Material Thickness | 2mm | 3mm |
| Accessory Costs | $ | $$ |
| Noise Level | Acceptable | Acceptable |
| User Friendliness | | |
| Affordability | $ | $$ |
| Price | | |
Look and feel of both cutting machines
Let's look at the design of these cutting machines. I personally like the Cricut because it's much more stylish. The Cameo looks more like a with sharp corners. I guess this is how the Model-T looked like.
The funny thing is that there are not that many differences, design-wise, between the Explore and the Explore Air 2. It's the same slick looking machine, though they have created 8 different color variations.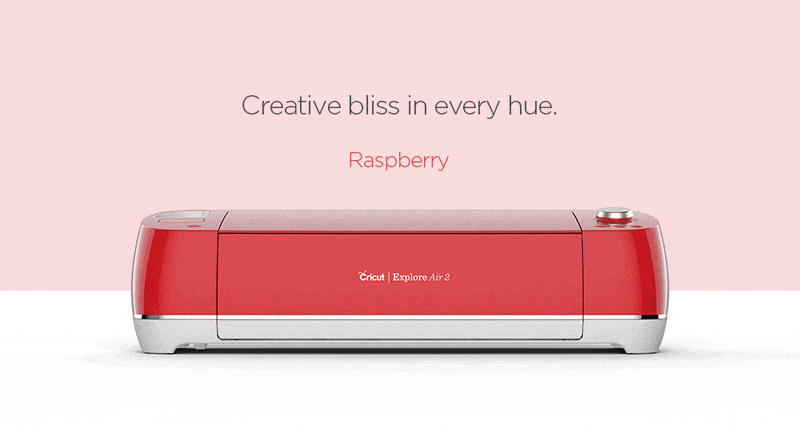 Click Image to see Reviews and Latest Price
On the other hand, Silhouette made some changes on their latest machine. First, they have removed the LCD screen. There were numerous complaints that it wasn't covered and it cracked if something has fallen on it.
The design has changed a bit, it has a more sleek and minimalist look to it. Ok, then what's under the hood?
Are there any differences?
Keep reading, and you will find out.
In the meantime, if you're interested in other vinyl cutters, check out our best vinyl cutting machines page.
Look and feel of both machines (size, weight)
Looking at the sizes, it looks like the Cameo 4 is a bit smaller than the Cricut. Most workbenches will accommodate nicely on either machine. So, the size doesn't make any difference.
If you look at the weight, however, the Explore is almost 4 lbs. heavier. Now, this reminds me of a funny story. People have the pre-conceived notion that if something is heavier, it is of better quality.
This theory was tested not long ago at an electronics shop, where the seller rigged a few remotes by adding some lead weights to them. It was the same brand, the same remote, only one had lead weight, and the other didn't. Most customers said that the heaviest remotes were of superior quality than the lightest ones. Interesting, and makes me giggle.
Either way, let's continue our comparison.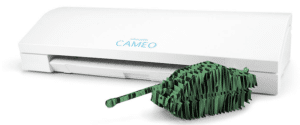 Weight is normally not an issue if you don't have to move it around much. If you don't have a regular workbench, and you have to move the machine a lot, then you might want to pick the lighter one. Also, keep in mind that if you are going to exhibitions and sell outside of your house, somebody has to carry that heavy machine.
Overall, both machines are excellently created to cut and draw. If this is your interest, then you have found the best machines for the job. But which one should you choose? I will tell you in a bit.
There are different pen tools and blades for you to use. This really comes down to the job that you want to do.
Silhouette Design Studio Vs. Cricut Design Space
Both brands have created a good design software, and both of them have pros and cons. Let's dig deeper, and see which is the best fit for you.
The operating software is different on the two machines. First of all, Silhouette Studio is an offline software, while Cricut Design Space is an online one. In this modern age, you will get a CD with your Silhouette machine, although most laptops and desktops nowadays don't even come with a CD-ROM reader.
Typically, the design software that comes with the package is outdated, and you have to update it through their website either way. So, if you are like me and don't have a CD-ROM reader, then don't worry about it. Just go online, and download the latest version.
On the other hand, Cricut Design Space is cloud-based and is accessible on any device. You don't have to install or update anything. It's done for you through the cloud.
Can you digitize handmade design patterns? Yes, and for this, you need a digital camera. This shouldn't be a problem since nowadays, everybody has a smartphone. Once you have finished your design, just take a photo, and upload it to your software. After that, the machine can do its bidding.
Since we are already talking about the design software, let's dig deeper. After thoroughly testing both, it's safe to say that Cricut Design Space is the best one. As in Design Studio is easier and more user-friendly.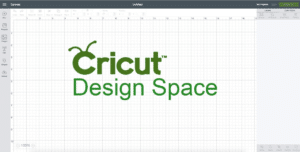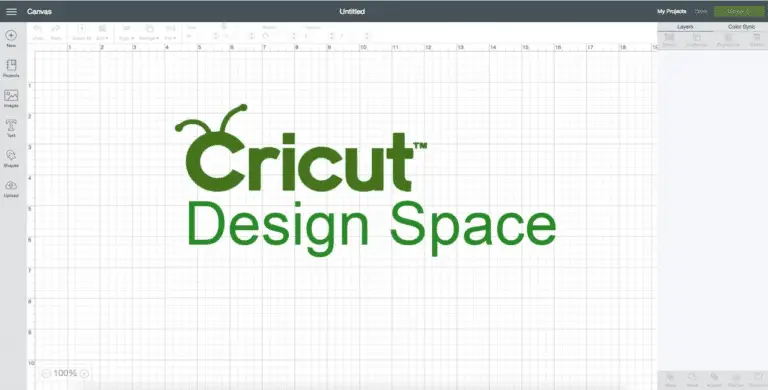 The main problem with Silhouette Studio Software is that the learning curve is big. You need to go through a lot of trials and errors before you get it right. On the other hand, Silhouette Design Studio feels intuitive. You get the ropes almost instantly.
It seems like Silhouette Design Studio is the best… Or is it?
With all the convenience and ease to use, there's a part that most reviewers leave out. You need a constant internet connection to manage your machine. Yes, if you don't have internet access, you can't control your machine nor create designs.
Even though the internet is widespread, make sure you check the place where you're going to exhibit. If you don't, you might get a nasty surprise. There's nothing worse than receiving order after order, and not being able to execute them because of a bad or no internet connection at all.
This is a serious point to consider.
Do you know what's the true test of power when it comes to electric cutting machines?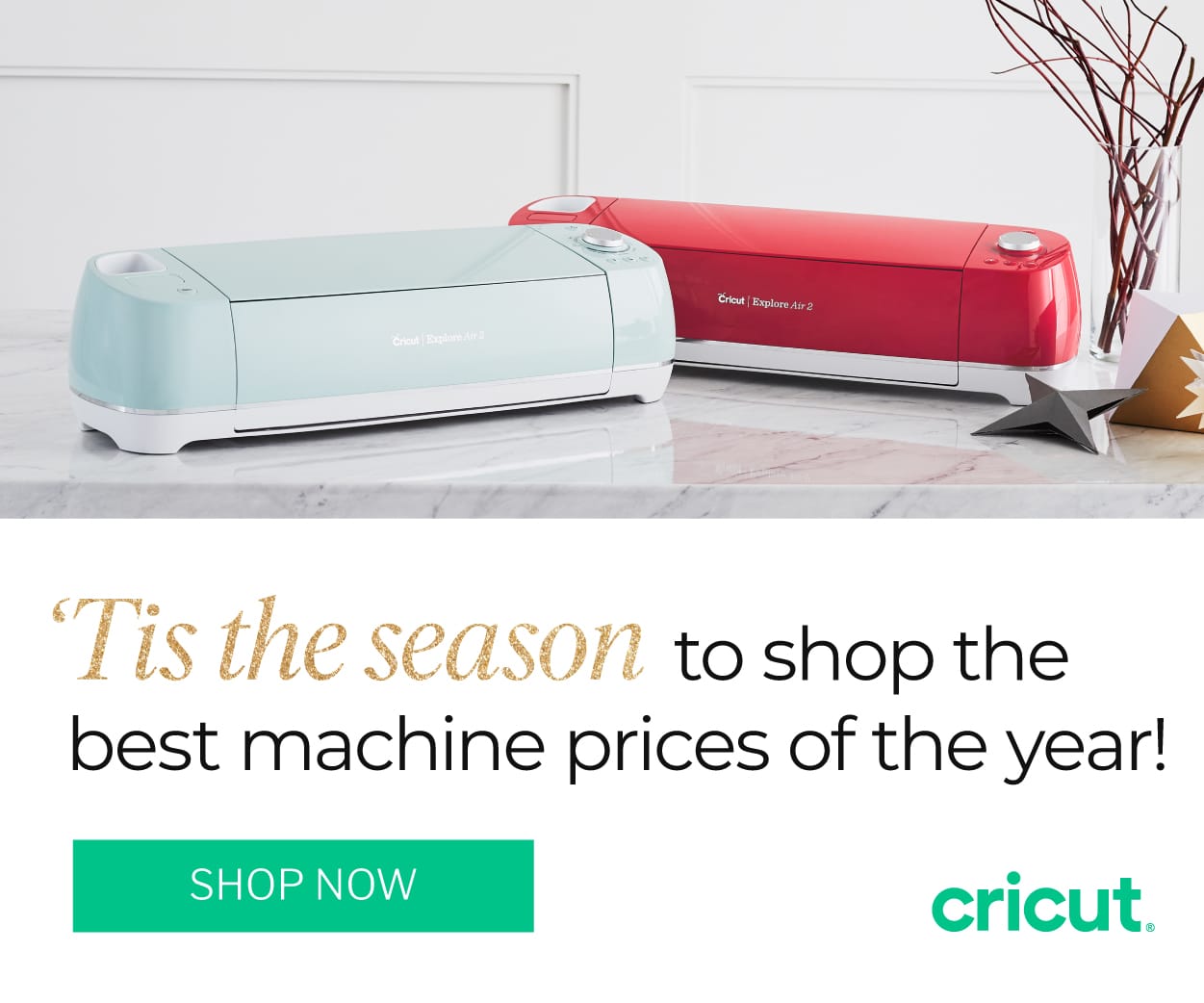 Vinyl cutting machine capabilities compared
What is the difference in cutting force?
The Cricut has 350g of cutting force, while the Silhouette has 5000g. Silhouette has finally not only caught up, but surpass Cricut. The Cameo 3 only had 210g of cutting force. The current flagship machine of Cricut is the Maker and it has 4000g of cutting force.
The Silhouette Cameo is finally in the lead.
The math is simple; the higher the cutting power, the better the cutting jobs. Plus, it can cut deeper, and can tackle different materials, like balsa wood or leather.
Read our related article, Can a Cameo 4 Cut Wood? for a complete guide to wood cutting and materials.
Before the latest version the Cameo and the Curio had the same cutting strength. The Curio was certified to work with thicker and stronger materials. How does that make any sense?
Just as a comparison, the Cricut Maker's flagship product has a cutting force of 4000g. This machine blows the competition out of the water. It's about time that Silhouette innovates.
Related: Best Cricut bundle
Do you want to see how Cameo compares to the Big Brother? Check it out here.
Cutting capabilities
Let's take a look at the cutting size. The Cricut Explore has a smaller cutting size by half an inch. On the other hand, Silhouette has a built in feeder which can handle up to 10 feet of material. This is… Wow! 10 feet is long.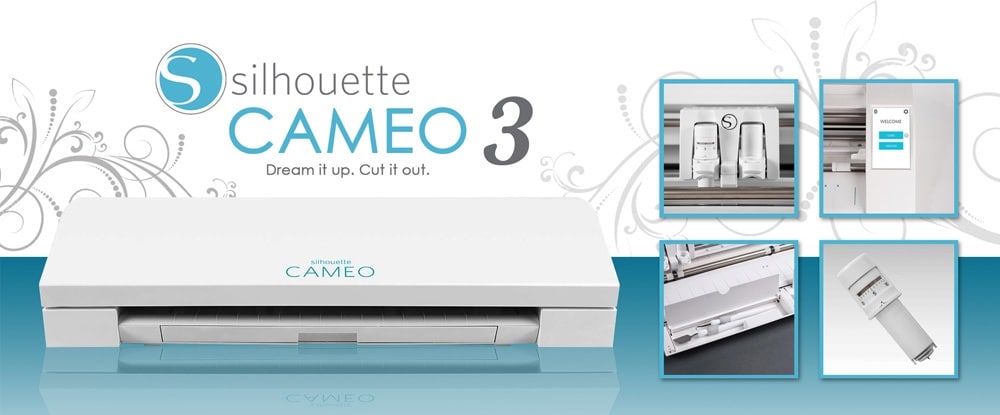 Click Image to see Reviews and Latest Price
Dual Carriage
I absolutely love this feature; it's called the Dual Carriage. It allows you to handle two steps at once. Both machines have this feature, and it's a real time saver. The machines can draw and cut at the same time. Once you set up the steps, you can let the machine do its thing, and go do something else. That way, you don't have to babysit your machine and waste time getting the next step started.
Once you get used to this feature, you can't go back. It's as simple as that.
Auto Blade
Now, the Silhouette Cameo 4 has two features that the Cricut Explore Air 2 doesn't have. The first one is the Auto Blade. The software can figure out what kind of material you are using, so it will automatically use the right pressure for it. In Cricut's case, you have to manually select it.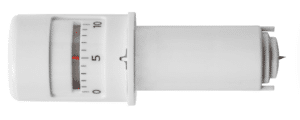 If you're working with the same material, then all you have to do is set the dial to the right option, and it will remain that way until you move it.
Cross Cut
The second feature is the Cross Cut. This is a simple blade that can horizontally cut paper, vinyl, etc. It's fast and clean; way better than using scissors.
The Cameo can cut deeper by 1mm. The Explore Air 2 has a cutting depth of 2mm while the Cameo is 3mm. As you know, crafters tend to push the limits. Certain materials are soft enough to cut through, even if it's thicker than 2mm.
So, forget about cutting thicker, harder materials. You are risking damaging your machine, and I'm not sure if the warranty covers these tests.
Wireless connection setup and issues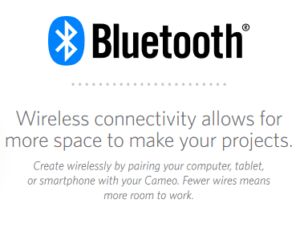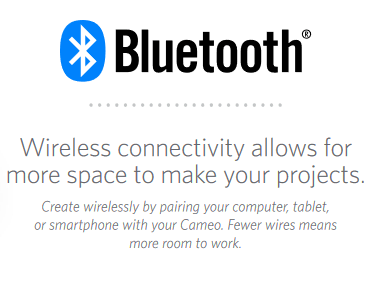 The Cricut Explore Air 2 and the Silhouette Cameo are advertised as cordless machines. Thanks to Bluetooth connection, you can communicate with your machine. This looks fine and dandy in the brochure, but does it actually work? With the Cameo 3 Silhouette has dropped the ball.
Finally they have managed to fix the wireless issues in the Cameo 4.
What about Cricut? It simply works, so you don't have to be afraid of tripping over wires and such.
Both cutting machines advertise that they can cut 100+ materials. Here are the facts. The best things to cut with the Silhouette Cameo are paper, vinyl and harder stuff. And the best things to cut with the Cricut Explore are paper, vinyl, and cardboard.
This doesn't mean that you can't cut other materials; it just means that you will be more successful if you focus on these. For harder materials, you will need to do your own tests and learn from your mistakes. Once you have gotten through the learning curve, you will know for sure what can and can't be cut.
Noise levels compared
This is the bane of all Silhouette machines; they are loud. There's nothing to do besides having a shed or soundproofing. This has been fixed as well with the Cameo 4. Now this machine is as quiet as the Cricut.
Cricut, on the other hand, makes some noise, but it's much more acceptable. The best thing to compare the sound level to is an old printer.
With the Cricut Explore Air 2, they have enabled double speed. Although, this comes with a sacrifice. When the Cricut machine works at 2x speed, it's louder than at normal speed.
It's advised to use 2x speed with easy designs. With intricate ones however, the cut might be too superficial. I haven't experienced that so far though. It cuts great, and it saves time.
Accessories and replacement pricing matched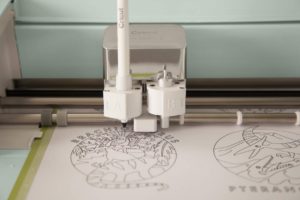 The last subject I will touch base on is accessories pricing. You always want to know what the cost of ownership is. Well, Cricut accessories are the cheapest ones on the market, so I consider this one as the best tool. Meanwhile, Silhouette is priced averagely. So, if you are on a budget, Cricut is a safe bet.
However, the price difference is minimal, but you need a constant internet connection with Cricut. Since the Explore Air 2 isn't the latest generation, you might be interested in how it compares to the flagship model.
Now, let's talk about the negatives. Without negatives, this wouldn't be a real Cricut Explore Air 2 vs. Silhouette Cameo comparison.
First up is Cricut. The major disappointment with this machine is the constant need for internet connection. Even though there's an offline iOS app, it doesn't do it justice.
The other negative is Cricut Design Space Software; you have to pay a monthly fee to get access to fonts and designs. Normally, it wouldn't matter, but it's forced upon you, which I don't like.
Silhouette Cameo 4 Shortcomings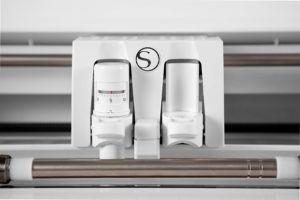 With Silhouette Cameo there has been rise of complaints. I've heard from multiple sources that the machine doesn't last that long. Plus there are countless issues to fix or replace.
Plus, there's some sneakiness with Silhouette Studio as well. The software is free, up to a certain point. Indeed, if you want to handle SVG files, you need to get a paid business license.
Closing thoughts on Silhouette Cameo 4 Vs Cricut Explore Air 2
This comparison is coming to an end. Let's review the pros and cons that have we learned about these two machines.
The Cricut Explore Air 2 has nothing new on the surface, but under the hood… Wow! It has Dual Carriage, cordless connection, 2x speed, and more cutting force.
On the other hand, the Silhouette Cameo4 had a nice facelift, bigger cutting power and it got a lot more quiet. The biggest issue is that the machine is not reliable. Sure they have fixed many problems, but if it breaks after a few months then what?
The Cricut Explore Air 2 has been battle tested for many years and it works flawlessly. Many crafters go with the Cricut because it's user friendly. The learning curve is minimal and you can get into crafting with ease.
Now you know everything there's about these two vinyl cutters. By now you should know exactly which machine is the right fit.
Warning! Amazon has been known to do some funny business. Many crafters complained that they got used or refurbished products even if they paid full price. So it's a good idea to check out the official site.
There were shortages reported. So make sure you get it as soon as possible or you might have to wait weeks until the stocks get replenished.
PRODUCT
DETAILS
PRICE 

Editor's Choice

Cricut Explore Air 2

It's an easy to use cutting machine, which eliminates the painfully slow manual cutting process.
The Explore Air 2 does a great job with paper, vinyl, and other materials. The simplest things to create are stickers and cards.
Design Space is brain-dead simple to use with a minimal learning curve.

Check on Cricut.com
Silhouette Cameo 4 

The Cameo 4 is super simple to use, and the demo project gets you up to speed.
It's a fast machine that can handle paper, vinyl, HTV, and other materials with ease.
The Silhouette Studio offers many customization options. Thus, it has a bit of a learning curve; nothing that you can't handle after a few projects.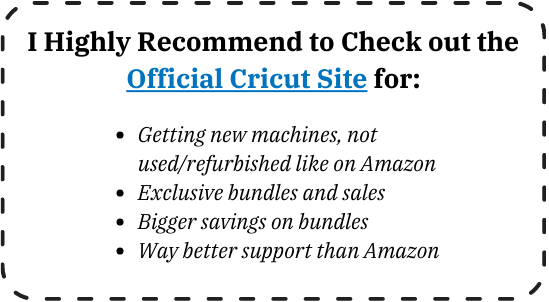 *Don't forget to check the price on both as they may be running exclusive discounts.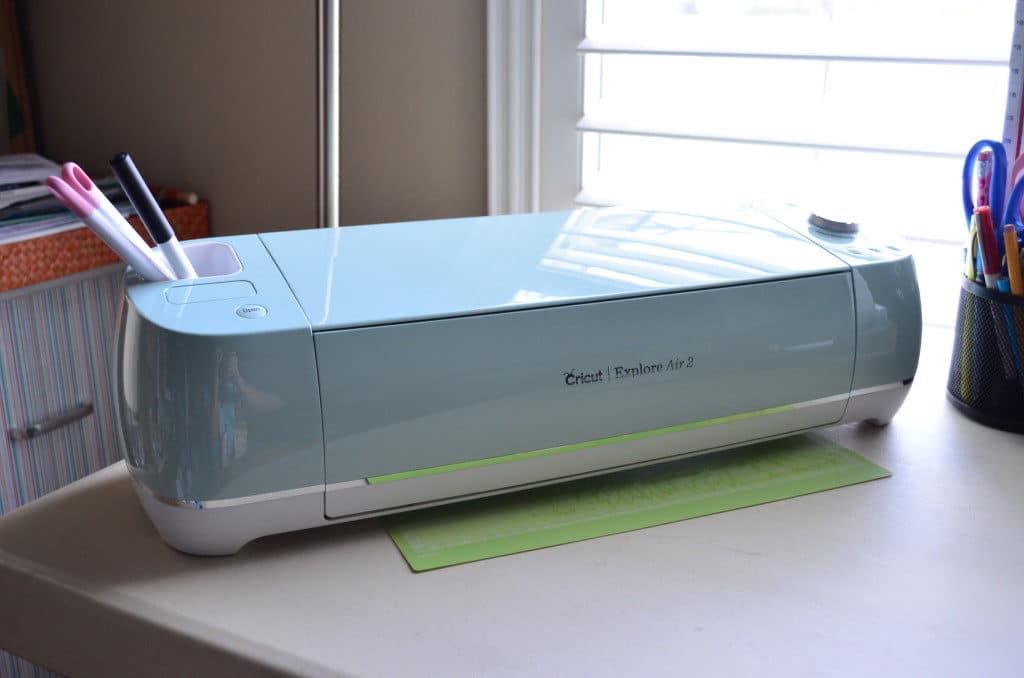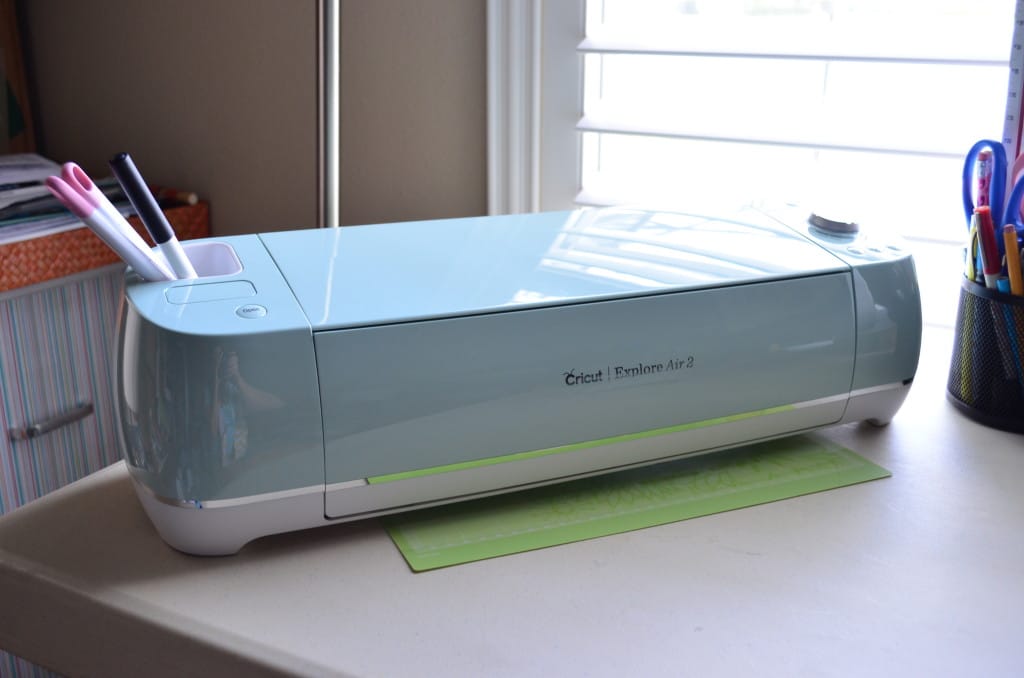 Click Image to see Reviews and Latest Price
This is the ending for the Cricut Explore Air 2 Vs Silhouette Cameo 4 comparison. My last gift for you 165 new design ideas for Explore Air 2, found to Pinterest.
Happy tinkering!

Cricut Explore Air 2 - A DIY Cutting Machine for all Crafts, Create Customized Cards, Home Decor & More, Bluetooth Connectivity, Compatible with iOS, Android, Windows & Mac, Mint
ART AND CRAFT CUTTING MADE SIMPLE, EVEN FOR BEGINNERS - Designed with simplicity and value in mind, bust out your DIY dreams and create fresh styles for your T-shirts, home decor, and more with the Cricut Explore Air 2 classic cutting machine
CUTS 100+ MATERIALS WITH EASE – The included Premium Fine-Point Blade lets crafters make precise, intricate cuts from a variety of popular materials like cardstock, vinyl decal, HTV iron-on and more. Also works with glitter paper, cork, and Infusible Ink
APP BASED CRAFTING TOOL WITH WIRELESS-BLUETOOTH CONNECTIVITY - With just a few clicks, create personalized and custom designs using the cloud-based Design Space app that works on mobile phones and laptops (iOS, Android, Windows, and Mac)
Sale
Frequent questions from our readers (FAQ):
Can I use silhouette vinyl on Cricut?
Since vinyl is universal no matter which machine you have bought it for it's ok to use it with Cricut. Also you can use Cricut vinyl in the Silhouette machine.
Can Cricut vinyl go in the dishwasher?
At the moment there is no dishwasher safe vinyl. Even Cricut's premium vinyl isn't dishwasher safe. So the answer is no on the cricut vinyl.
Are Cricut and Silhouette supplies interchangeable?
A cutting mat is a cutting mat so that's easy to interchange. Now for the rest, you should always check the warranty. After that see if the blades are the same size.
Can you cut without a mat on Cricut?
Yes, it's possible to cut without a mat on a Cricut machine. And quite easy if you are using vinyl even Cricut Explore Air 2 supports it. You need to put it in the right settings.  After that make sure that the exterior rollers hold the vinyl down tight. Also, take into consideration that you will be using around 1 inch of material since there's no mat to compensate.
Is the Cricut Maker also a good alternative?
Yes, I've written a Cricut vs Cameo post about it.
Does Cricut make permanent vinyl?
Yes, Cricut creates their very own premium vinyl called: Cricut Premium Permanent Vinyl.
Yes, you can read my Silhouette Cameo 4 review on my website.
What happened with the Silhouette Cameo 3?
The Silhouette Cameo 3 has been discontinued. It was a buggy Silhouette machine from the get go. The new Silhouette Cameo 4 has taken it's place. This is why I've compared the Silhouette Cameo 4 to the Cricut Explore Air 2 and not the Cameo 3.