How fair is to do a Cricut Maker Vs Cricut Explore Air 2 comparison?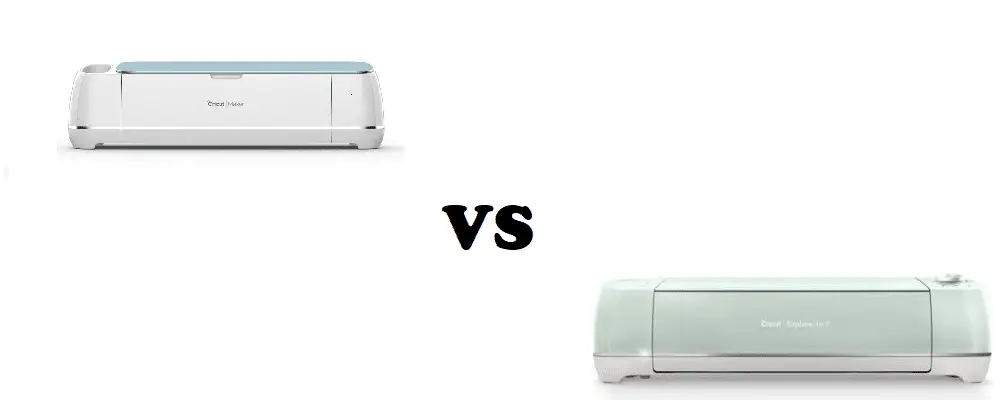 Family rivalry tends to be messy…
You can rest assured that I won't hold back. I will tell everything there is to know about these electric cutting machines.
Before we get into the nitty-gritty, let's look at the bird's eye view and see how does Cricut Maker Vs Cricut Explore Air 2 compare to each other.

Cricut Maker Vs Cricut Explore Air 2 Machine Specs
Do you know what's interesting when it comes to comparing vinyl cutting machines in the same family? The weaknesses are the same. Years and years pass by between releases and they either don't or can't correct the drawbacks.
Before Explore Air and Maker, there were other iterations from the Cricut brand. The first ever cutting machine was the Cricut One. After this, they have released Cricut Explore Air. Then came Explore Air 2 and finally the flagship product, which is Cricut Maker. If you are looking for a more in-depth review of Cricut Maker check out this post.
With every new model, something got a bit better. For instance, Cricut Explore Air has cordless connection (that works from the get-go, not like Silhouette Cameo 3). It also features the Dual Carriage option.
What's New with Cricut Explore Air 2?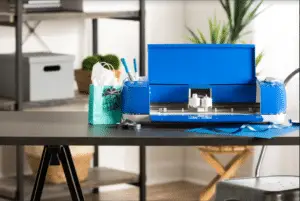 They took it up a notch when they have released Cricut Explore Air 2. The major upgrade is the 2x speed. This machine works lightning fast. Most competitors didn't manage to come even close to this speed. The cutting force has been slightly upgraded as well (50% bump). So it's excellent for thicker materials.
Finally, the flagship product the Cricut Maker has been released. The major difference between Maker and Explore Air 2 is the cutting force. As you have seen above, it's more than 10x. This opens the world for new materials. An extra benefit would be the Adaptive Tool System (a rotary blade, knife blade, etc.). This will allow for your Cricut machine to be compatible with future tools that will be released.
Ok, we got a bit sidetracked. Let's leave history behind and let's get this Cricut Explore Air 2 Vs Cricut Maker comparison started.
The Size and Weight
Let's look at the size and weight. The Cricut Maker is slightly bigger than the Cricut Explore Air 2. There's an inch difference here and there. This isn't significant because both of the machines will fit neatly on your workbench.
As you have seen the weight, there's a big difference. The Air is lighter (who would've guessed) by 6 pounds. This is significant if you have to move the machine every day than you will grow tired of it and might not use it to its full potential.
The second thing you should consider is if you are going to exhibits. Carrying around 20+ pounds is not an easy task. Sometimes lighter is better.
Both machines can cut and draw. Here's a little hint. The pens are interchangeable between the machines and most of the blades as well. The Cricut Maker's Adaptive Tool System won't fit in Explore Air though. Even though the rotary blade won't fit the knife blade will.
Cricut Design Space Software
The cutting machines are controlled from Cricut Design Space Software. In a little bit, I will tell you all about Design Space. Don't but either of these machines until you know a major weakness.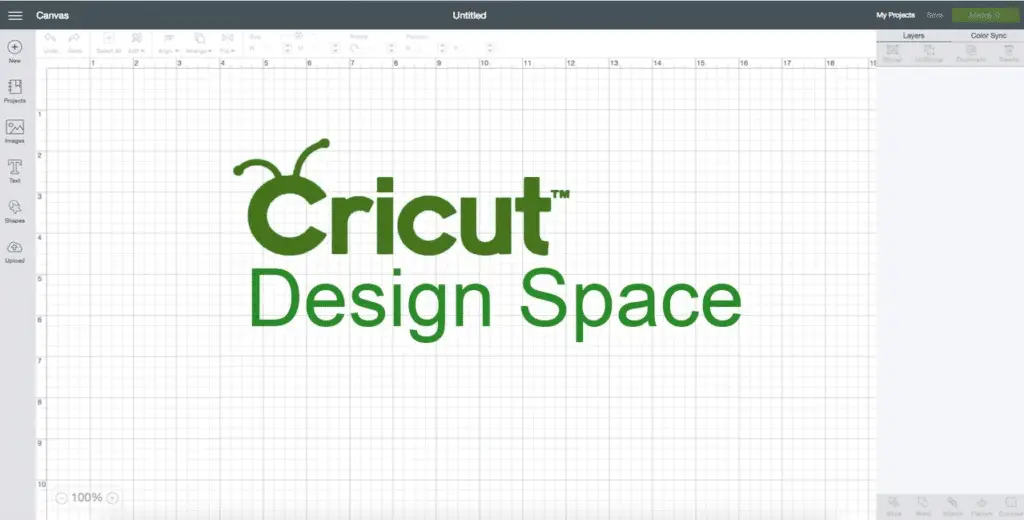 There's a big difference between Explore Air and Maker when it comes to controls. Maker is mostly digital, and Explore is mostly analog. Explore Air has physical buttons where you can select what kind of material you want to work with.
Now there are crafters who only work with just one thing, let it be paper, vinyl or cardboard. They turn the dial to the right material, and it will be set. On the other hand, digital controls need to be set each and every time before the start of the job.
In other words, if you are a master of one material, you can save time with the analog button. If you would like a more detailed review of Cricut Explore Air 2 check this out.
Now both machines say that they can work with 100+ materials. This is true and not really in a way. Everything comes down to cutting force. The higher the machine's cutting power, the more and tougher materials it can handle.
This is why Cricut Maker is the winner in this category. And it rains as a champion in the whole industry. For now, that is. I've got the news that the new Silhouette Cameo 4 will have a cutting power of 5000g. But we have to wait until the machine is released.
Cutting force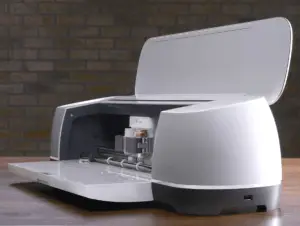 Cricut Explore Air 2 has a cutting force of 350g. This is quite ok, actually. If you take a look at other machines in the same category only Brother's Scan and Cut has 350g. The rest of the machines are rated at 210g.
When they design the Explore Air, they were thinking ahead. But when they released the Maker, they just hit out of the park. Matter of fact, they have created a new category altogether.
I believe that having 4000g of cutting force you can use different and stronger materials. So if you are working with balsa wood and matboard, you can rest assured that it will cut them with ease.
As I've told you the short history of the Cricut family, you know that the first generation of Explore Air had the Dual Carriage option. But what is it?
Dual Carriage
The Dual Carriage feature lets you use two tools at the same time. By using this feature, you can speed up production time plus you can eliminate human error.
For example, you want to draw something and then cut it, what do you do? First, you tinker in the program and set it up to draw. After that, you either babysit the program to finish, or you come back the right time and start the cutting process.
Now there are numerous studies showing that work interruption causes delays and errors.
On the other hand, if you have the Dual Carriage option, you tinker once in the software press the start button and both the drawing and cutting jobs will be done. No more babysitting the machine.
Material thickness has been upgraded from 2mm to 2.4mm. Here's what many people get wrong the material thickness does not equal the cutting depth. For example, the Cricut Maker can cut 2.4mm deep, and on the other hand, the Silhouette Cameo 3 can only cut 1.2mm deep even though it's advertised that it can handle materials up to 2mm thick.
Be careful which machine you choose if the cutting depth is important for your job. The more power a machine has the thicker materials it can cut through.
Wireless Connectivity and Other Features
Do you love wireless technology? Do you hate cords running left and right? Maybe you have tripped over and yanked on the machine? Well, here's some good news. Both cutters have Bluetooth technology enabled. So you can easily and cordlessly communicate with your Cricut machine.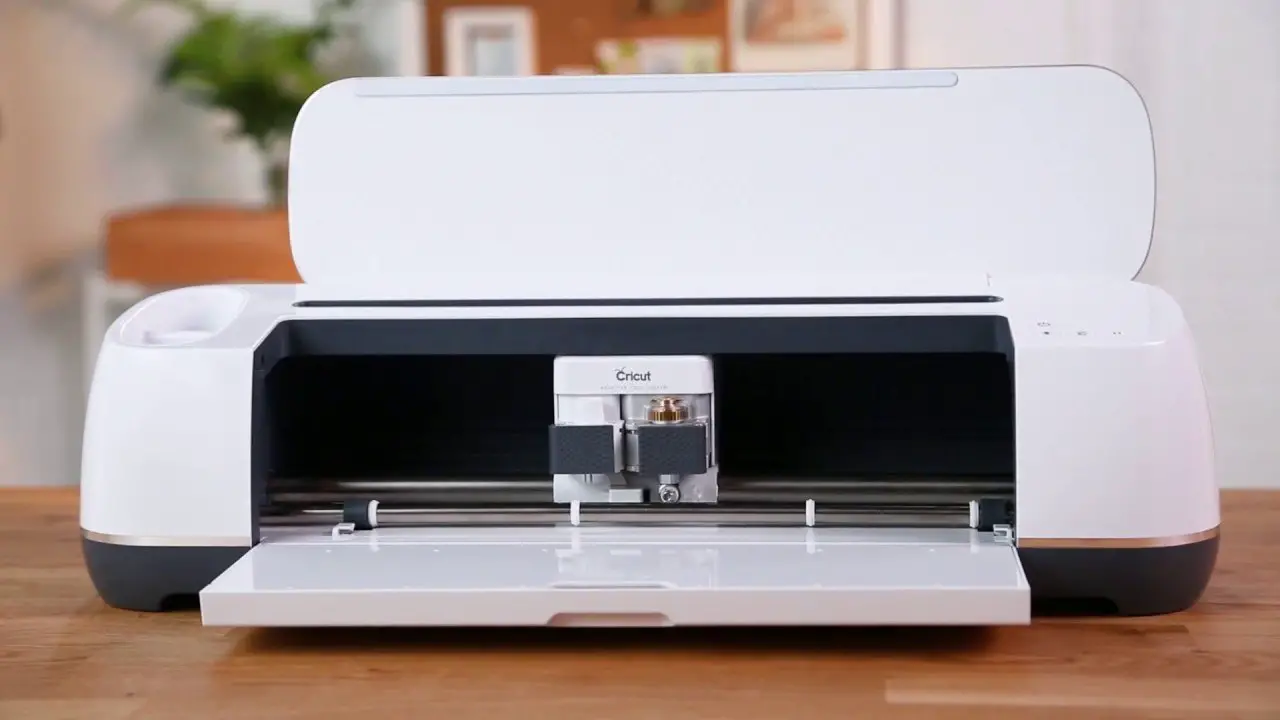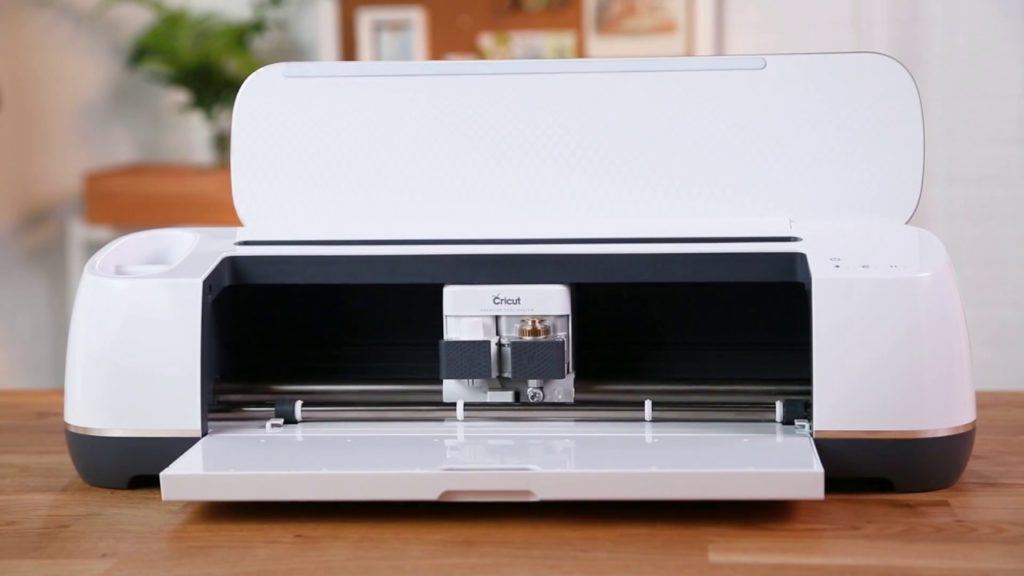 Click Image to see Reviews and Latest Price
Surprisingly both machines have an acceptable working sound level though this goes out the window if you are using 2x speed.
If you take a look at Brother or the Silhouette brand, their machines are loud by default. This means that you won't be able to work over the night if people are sleeping nearby.
If you have to work during the evening, I would recommend sticking to normal speed. The machine is much quieter. Also, if you are creating complex designs, it might be a great idea to sticking with normal speed.
With the 2x speed Cricut beats the competition once again. None of the other cutting machines come even close to this.
Cost of Ownership
I've learned this lesson way back: it doesn't count how much the machine costs upfront; what's the maintenance cost? I got screwed over with printers big time. Before I even check any price tag, I look at the cost of ownership.
If you are weighing towards Cricut, then you are in luck. The Cricut accessories are the most affordable on the market. If you are a big fan of Brother's Scan and Cut I feel for you because those accessories cost 3x more and they might not last as long as Cricut or Silhouette.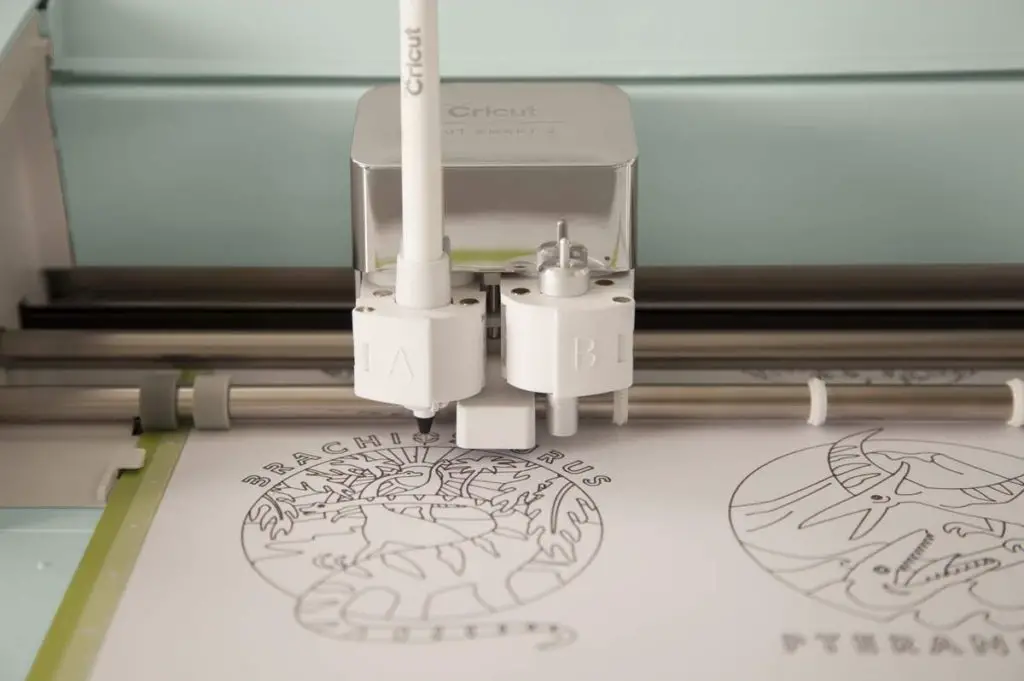 Here's a hot tip for you. Usually, the cutting mats are extremely sticky, and it's wise to wear it down a bit. Here's a simple solution. Put a T-shirt on the sticky side, and you're done.
I have to admit I'm leaning towards the Cricut machine because of the design. These electronic cutters are simply beautiful.
The Cricut Maker features a mobile docking station where you can put your device. Plus you can charge this device through the Maker's USB port.
If you look at price well Maker is the newest, so it's no surprise that it costs more. Is it worth it? I will tell you all about once I cover the negatives. Yes, both machines have negatives. Only showing the positives this wouldn't be a real Cricut Maker Vs Cricut Explore Air 2 comparison.
I promised you a bit back that I will talk to you about Cricut Design Space Software. Well, this is the perfect time to cover it.
First thing you need to know is that it's online only software. This is its biggest strength and also its biggest weakness.  If your internet is not working, you can't control the machine.
Cricut Explore Air 2 Pros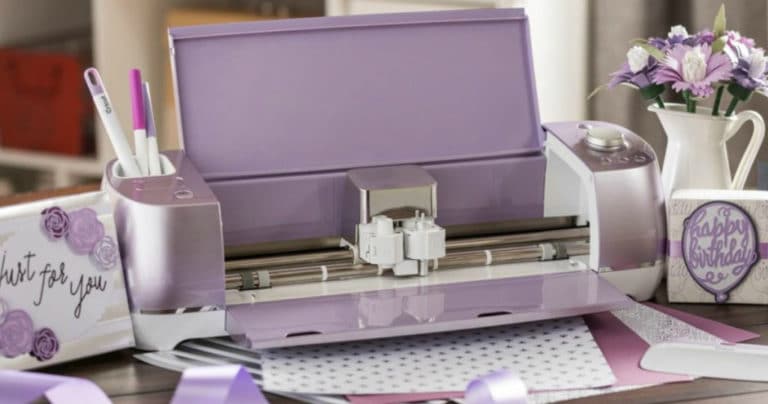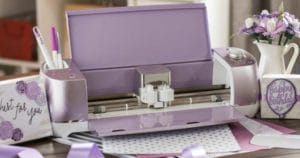 Let's look at the pros. You don't need anything special. All you have to do is login and start tinkering. Then you send the commands to the machine. So no CD's, no outdated software, no nothing. Plus it works on every device.
By far, it is the most user-friendly software out there. It's intuitive and easy to learn. I mean you get up to speed in no time.
Plus there are numerous designs you can use (for this you will need a monthly subscription). Since both machines are using the same software, I can't differentiate. A major plus using Cricut Design Space is that you can handle SVG files easily and for free.
If you have proprietary designs, you can rest assured they will be kept safe.
When it comes to customer support wow it almost reaches Apple.
Cricut Explore Air 2 Cons
Now let's see the negatives of these machines. As I mentioned in the beginning since both machines are in the same family, they have the same weaknesses. And this comes down to the Design Studio software. It's online only. Yes, there's an IOS version that gives you partial offline control, but that's not enough.
I'm also clear that nowadays there is internet wherever you go. For me, this still remains as a negative experience. What if something happens and there's no internet in my home or at the fair where I'm selling?
Another shocker is the subscription. This is where they make their money. Even though it's just $4.99 and $9.99, this is forced upon you. And I don't tolerate force.
You can access over 60,000+ designs and fonts for a bit of money.
If they would fix these two issues, then it would be the dream machine which is flawless.
Who's the Cricut Explore Air 2 Pros For?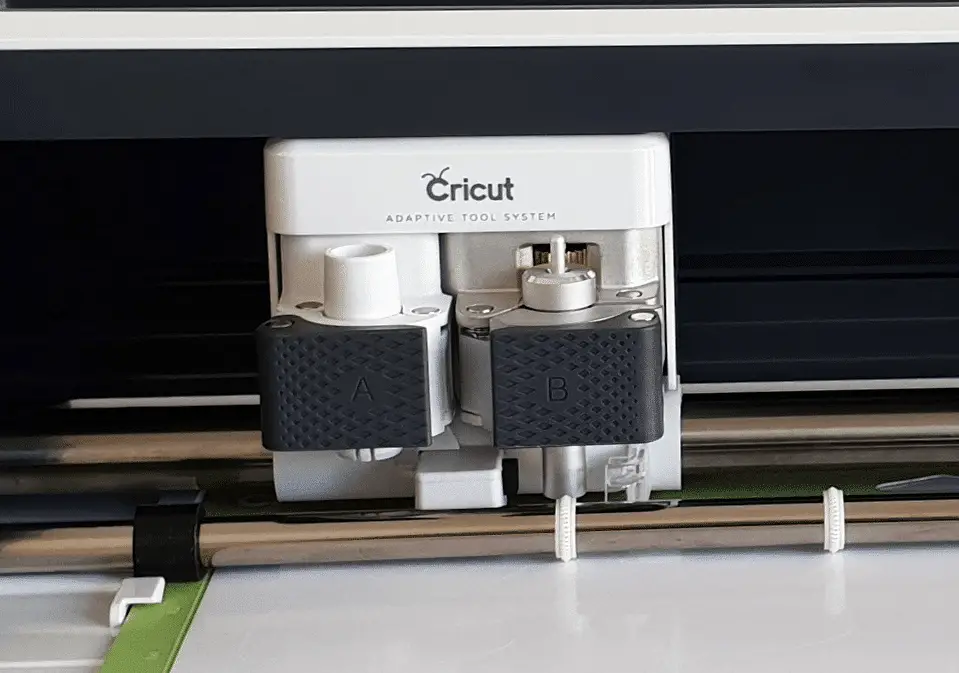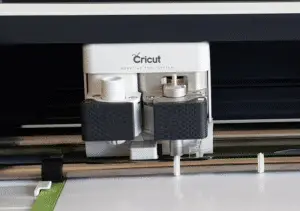 Now who should choose the Cricut Maker and who would opt for the Cricut Explore Air 2? If you are strapped with the budget and you only want to work with paper and vinyl eventually cardboard than the Cricut Explore Air 2 will be your best choice.
On the other hand, if you want access to a number of materials and can spare the cash Cricut Maker is almost the ultimate machine for it. It has the rotary blade if you are working with sewing patterns plus the knife blade and the deep cut blade.
Here's a warning: pick one material and master it since Cricut Maker can work with so many materials you might tend to jump from one to the next and neglect the business side. These machines are only an investment if they are generating you money.
Cricut Explore Air 2 vs Cricut Maker Final Thoughts
It's time to wrap this comparison up. I like both of the machines. No wonder the Cricut Maker is the flagship product it can do so many things. Plus both machines are beautiful and come in different colors.
By now you know everything there's to know about these cutting machines. It's up to you to choose the right machine for your purpose.
Click Image to see Reviews and Latest Price
This concludes my comparison between Cricut Maker Vs Cricut Explore Air 2. The home site of the brand contains more info if you request it.
Happy Tinkering!

Frequent questions from our readers (FAQ):
What can a Cricut explore AIR 2 cut cutting machine?
With its 350g cutting force it can safely cut anything that you can throw at him. Paper and vinyl and cardboard will be easy to cut.
What is the best software to use with Cricut cutting machine?
There's only one software that works with Cricut. This is the Cricut Design Space. To my knowledge no 3rd party software is compatible with it.
Is there a monthly fee for Cricut cutting machine?
You don't have a monthly fee with Cricut. The software is free. Now if you opt for a membership free you get acesss to designs and fonts for free while without membership it would cost you a ton.
What does the adaptive tool system mean for cricut maker vs explore cutting machine?
For the cricut maker vs explore the adaptive tool system means that future blades will be compatible. This includes the knife blade and the cut blade. The knife blade is the best.
Can it handle bonded fabric?
Yes both of them can handle bonded fabric. Thanks to the rotary blade cutting fabric becomes easy. Make sure that the fabric is buttoned down tight. Don't forget to use the fine point pen to mark the fabric for the stitching. The cut smart tech is for this purpose it allows you to cut bonded fabric. The blade cut deep or shallow depending how you set it.
Is the new Cricut maker machine is right choice for you?
Check out this comparison article and you will find out.
What's the difference between Cricut Machines and Explore Machines?
The main difference between Cricut Machines and Explore Machines is that the maker is the new generation and has new tools at disposal
What can you do with the fine point pen?
With the fine point pen you can easily draw. Both the maker and the cricut explore can use this tool system.
What can these machines cut?
They can cut materials like: wood and fabric and materials like: vinyl and even toilet paper.
How can you cut fabric?
To cut fabric you have to use the rotary blade.
What I make for my craft business?
These two machines are quite versatile so you can make wood signs, quilting patterns, home decor elements, any type of paper crafts like cake toppers, you can do sewing projects, vinyl decals and die cutting to name a few. Best of all you can control it from your mobile device.
What kind of materials can you work with?
This is why I've created this cricut maker vs explore air 2 so you know. So you can use materials like: bonded fabric, white paper, backing material, crepe paper, tissue paper, tracing paper.
What comes typically with the package?
You will typically get everything you need like: perforation blade, bonded fabric blade, storage space, weeding tools, engraving tip, point blade, cartridge slot, debossing tip, cartridge adapter, scoring wheel, tool holder
What can the bonded fabric blade do?
The blade allows you to cut all types of fabric materials. The point blade on the other hand works with harder materials. Score lines are made with the scoring wheel. Press the open button and you're set. The score lines will appear in a few seconds.
What is cricut access?
Cricut access is a premium service.
What is the smart dial (material dial)?
The smart dial helps you select automatically the correct settings for the chosen material. Make sure that you check the dial before you start the job. If you want to make paper craft you need to cut with paper settings. Thanks to the cut smart tech the scoring lines are visible. Plus the machine can trace the seam allowances.
Last Updated on November 11, 2020 by Emily