As you probably know by now, I'm a harsh critique, and this time won't be any different. The Brother Scan and Cut 2 will get what it deserves. I won't sugar-coat stuff; I will tell you how it is. There are no perfect machines; only perfect reviews.
For some, the Brother Scan n Cut 2 will be a great fit. And for some, it would be a disastrous investment. That's why you're here; to know whether it's for you or not. I would do you a disservice if I followed in the footstep of so-called "pros," who hype up products just to get a commission.
This Scan & Cut machine has flaws, and you will learn everything there's to know.
At first glimpse, it looks like it can do two things well: drawing on paper, and cutting paper and vinyl. The price is exaggerated for only two options, don't you think? What about the competition, like the Cricut Explore Air and the Silhouette Cameo? You will learn everything about it by reading until the end.
All this and more will be revealed
First, I will give you the bird's eye view of the Brother Cut and Scan machine. After that, I will dive deep into the features, so you will get the reassurance whether this machine is right for you. Last but not least, I will talk about the negatives.
For future references, when I mention Brother ScannCut, I'm referring to the second version. The first one might've been discontinued, but some models are still laying around on eBay and such.
Let's get this Brother Scan and Cut review started!
Details
Price

It's the only vinyl cutting machine with a built-in scanner. You don't have to buy shapes when you can hand create them.
It's an excellent choice for birthday gift cards and stickers to customize your car or laptop.
It's easy to get started, and it has no difficult learning curve, like with other CNC machines.
Brother Scan and Cut 2 overview
Product
Brother Scan and Cut 2
Size
10.25 x 23 x 10.5 inches
Weight
8.6 pounds
Cutting Feature
Drawing Feature
Transform Images to Design
Built in Scanner
Cutting force
350g
Cutting Size
12 x 12 inches
(additional 24 inch add-on available)
Dual-Carriage
Max Material Thickness
2mm
Computer Needed
Edit Images on Screen
Number of materials
<20
Noise Level
Noisy
Accessory Costs
$$$
Price
When you open the box, you will be greeted with a small and light machine. And the first thing that pops out is the LCD screen.
It is the size of a smartphone. The touch screen has been increased by 30% from the first generation Brother die cutter.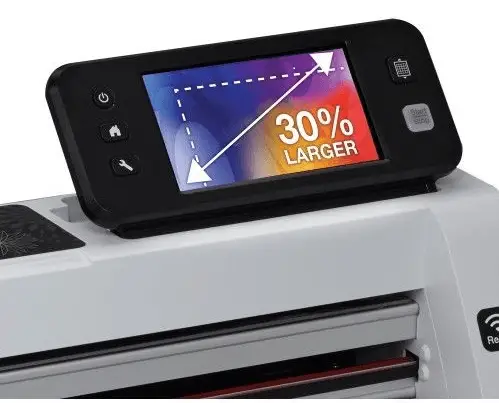 Brother Scanncut Larger Touch Screen
Everything you need to know about the machine
Look and feel of the Brother Scan and Cut 2
It's so light that you can easily carry it with you wherever you go. This means fairs and trade-shows are less of a nuisance.
The Brother Scan and Cut machine can draw and cut. Of course, it can scan as well, hence the name. I will get into bigger details about the scanning aspects of it, because it's one of the main selling points.
All you have to do is insert either a pen or a cutter, and you are off to the races! It cuts and draws flawlessly.
It is advertised as a one-stop-shop machine. You can create custom drawings, then scan and cut them with ease. Best of all, you don't need any other device to manage it. No device means no connection issues, cords, nor extra power outlets. Do you see what I mean by one-stop-shop?
How to use the built-in scanner
You can use a device, but you don't have to. Everything can be managed through the Brother Scan n Cut machine's LCD. You can navigate the screen either with your fingers or with the designer pen that comes with it.
The Brother Scan and Cut machine bolsters with a 300dpi built-in scanner.
Simply place your paper on the mat, and feed it to the machine. Hit "scan," and everything else will be done for you. You have two choices for scanning: monochrome and color.
Hot tip: whatever you're scanning, make sure you are using strong contrast between the background and the pattern. If you don't, you might have some trouble getting the scanning part right.
Now, when you are scanning in color, you can increase the amount of colors used by the machine to get the most accurate scan possible.
There's some learning curve for the scanning process, and you will have to retry a couple of times with complex designs.
Cutting force
The cutting force of the Brother Scan and the Cut machine is a whopping 350g. Most die cutting machines are within the 210-250g range. It might seem like a bit of an overkill. Brother's machine is 50% stronger than the competition, though there's the Cricut Maker which is in a whole different league with its 4000g cutting power. (More info on Cricut Maker Review visit the link)
As for the cutting size, it's 12 X 12 inches, which is what you get by default. Now, you can upgrade to a bigger cutting mat (12 X 24 inches) for a small price. Only buy this if you know that you will be working on bigger projects. If you didn't know yet, here's the thing: Brother's accessories tend to be expensive.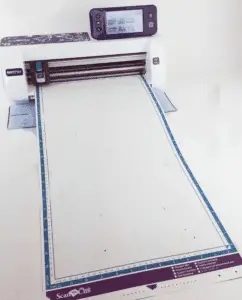 Brother Scanncut Long Cutting Mat
Read More: Can Cricut Explore Air 2 Scan and Cut? The Explore Air CAN scan and cut, and we show you how to use it here!
Dual Carriage
Here's one feature that I dearly miss from the Brother Scan n Cut; the Dual-Carriage. If you don't know what Dual-Carriage is, it means that the cutting machine can use two tools at the same time. It's a godsend on big projects because it saves you a lot of time. You can program the machine to do two jobs simultaneously. Thus, you don't need to babysit your machine, freeing you up to do different things. Secondly, it reduces human error.
However, Brother only has one tool that it can holster. This means that you either cut or draw. Maybe, in a future addition, they will add the Dual-Carriage feature.
Additionally, the 2mm clearance seems to be the industry standard, though this doesn't mean it will cut 2mm deep. It means that you can work with materials that are that thick. There are different machines that can handle up to 5mm thick materials, though they have been built with other purposes than drawing and cutting paper.
This is the major selling point for the Brother Cut n Scan. Every operation can be easily done on the LCD screen. You don't necessarily need a computer or any device to manage it.
As I mentioned earlier, it's light to carry, and you need just one power outlet, and you're in business. No wires are running left and right, and no computer updates are slowing you down. You power up the machine, take orders, and get paid. It's as simple as that.
Thanks to the big LCD screen, you can easily manipulate objects and options on the screen. You can use your pen or your finger to do it. The truth is that this approach works ok, but sometimes, it takes time for the machine to process commands. Plus, there are some accuracy issues as well.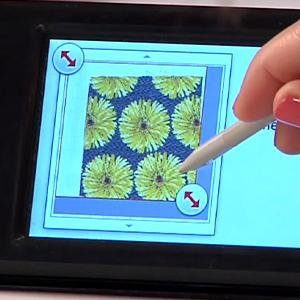 Brother Scanncut Screen Manupilation Through a Pen
There's a Brother Scan and Cut software, called Canvas Workspace. This will help you a lot if you want to work on a computer.
To my knowledge, the Brother Scan and Cut machine can only work with a handful of materials. My best guess would be less than 20.
Here's another interesting subject to touch base on; the noise level. Spoiler alert: it's noisy. Don't get me wrong, it's not like Silhouette machines, which are loud. (If you are looking for something different, here's the Silhouette Curio review). It's just simply noisy. So, be very careful if you want to work at night; you might bother people with the noise.
The Brother Scan n Cut brags about having 600+ pre-loaded designs and fonts. You will be provided with an activation card, which will help you get access to them. It sounds impressive, doesn't it? It is until you look under the hood. Most of the patterns are basic. Don't get me wrong, it's good to have them, but you won't win an artistic award if that's what you're aiming for. Make sure you check the package for the activation card. If you don't have it, contact the seller.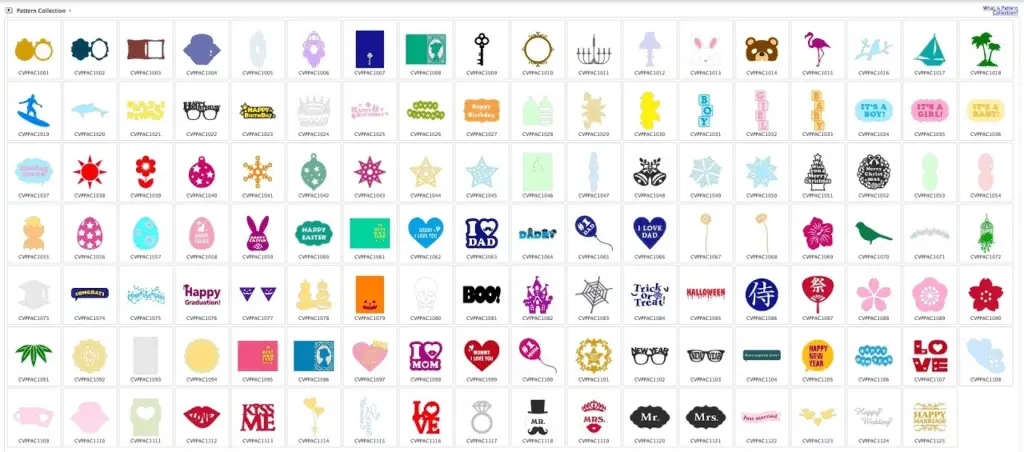 Brother Scanncut Design Templates
Outrageous accessories pricing
Now, here's the real painful point of the Brother machine. The accessories costs are sky high. It's like daylight robbery. These accessories cost 3x more than Cricut's.
Plus, several crafters complained that the mats lose stickiness fast. This means that you need to buy those mats frequently, adding to the company's bottom line. I just couldn't leave this out of my review.
Finally, the machine's price tag is on the upper end. There isn't a more expensive machine in this category than Brother's.
Cutting speed detailed
Last but not least, I want to touch base on speed. It's not the fastest machine on the market. There was a comparison done between Cricut and Brother with a complex design, and Brother lost by a minute and then some.
Brother's cutting machine is a good one if you're into stamping. And if you don't mind shelling out a premium price, then go for it. If you do, then choose a machine that fits in your budget.
Now, let's get to the nitty-gritty part.
What are the negatives of the Brother Scan and Cut 2 machine?
First of all, there's a steep learning curve to master the machine. File transfer is clunky, and it takes way too much time for my comfort.
Then, the scanner isn't that accurate. You get a bunch of hits but mostly misses. This means you lose valuable time trying to rescan pages. There are occasions when you have to physically move the object you want to scan for a better angle.
When the machine works as advertised, then it's amazing. But the rest of the time, you need to spend a lot of time to work out the kinks.
How much does it cost to own and operate?
Too much, that's what I'll say. First of all, you are paying a premium price for it. Then, the accessories are priced into the stratosphere. I bet this is where they are making their money. If your mat loses its stickiness, well, you need to buy another overpriced one.
The differences in pricing are huge. For example, accessories for the Cricut machines are three times cheaper than Brother's. Your pocket will feel the difference.
Plus, since it's not required to connect it to a device, they didn't include a USB cable. I wonder if that saving has paid off for them?
Last but not least, the Brother Machine is loud.
Final thoughts
That's about it for the Brother Scan and Cut review. You have probably seen and read different Brother Scan n Cut reviews, but this is the only one that highlights its major flaws.
For me, it seems like it's a premium-priced product. There are cheaper ones out there (like the Cricut Explore Air or the Silhouette Cameo), but without a fancy touch screen. Certainly, it doesn't conjure up the palm pilot days. If you are using the included pen, then you will feel like you're back in that era.
All things considered, the Brother Scan and Cut 2 made it in my best of the best article. Check out my Best Paper/Vinyl-Cutting Machine post.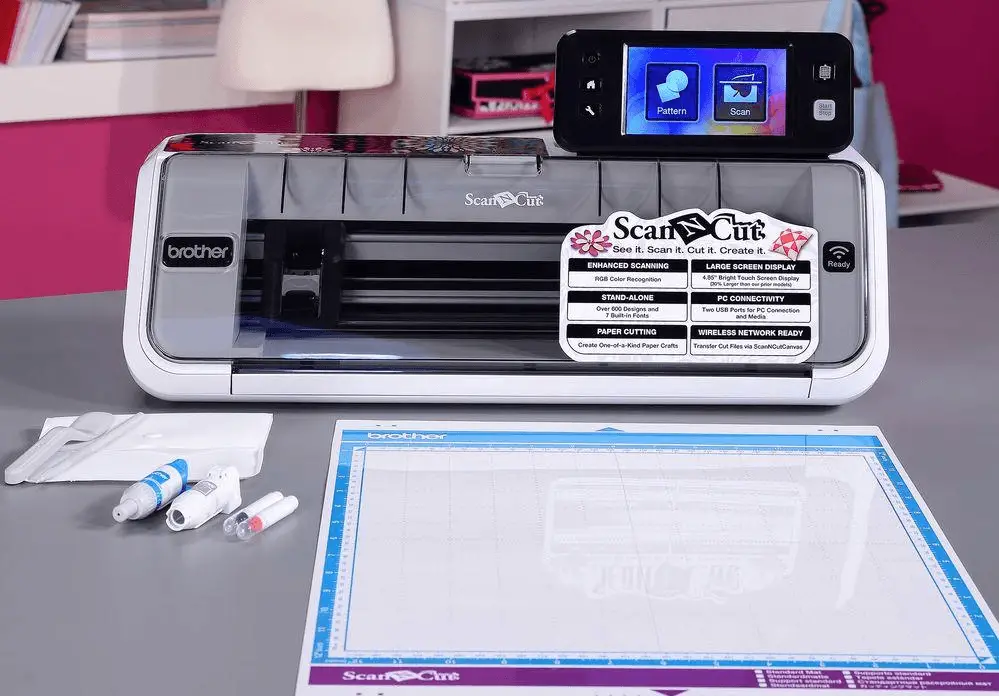 Brother Scanncut in all its beauty
This concludes my Brother Scan and Cut Review. If you have questions and suggestions, feel free to ask in the comments below.
If you want to know more about Brother and their machines here's a great roundup link.
Frequent questions from our readers (FAQ):
Can you use Cricut vinyl with brother scan and cut?
Yes, Cricut has created their very own premium vinyl. Since it's a vinyl cutter it's compatible with the Brother Scan and cut.
What does the scan and cut do?
The scan and cut does exactly what the name suggests. You can add your own design and the built in scanner digitizes it. After that, you can create duplicates with ease.
How much does a vinyl cutter cost?
The price range is big. From a few hundred dollars to a few thousand you can find vinyl cutting machines. Before you get to the budget part make sure you nail down what kind of vinyl projects will you be doing. There's no need to buy some top of the line machine breaking your budget when you don't even use it for the fullest.
How does the Brother compare to Cricut Maker?
You can read the brother scan and cut vs cricut page to learn more about that.