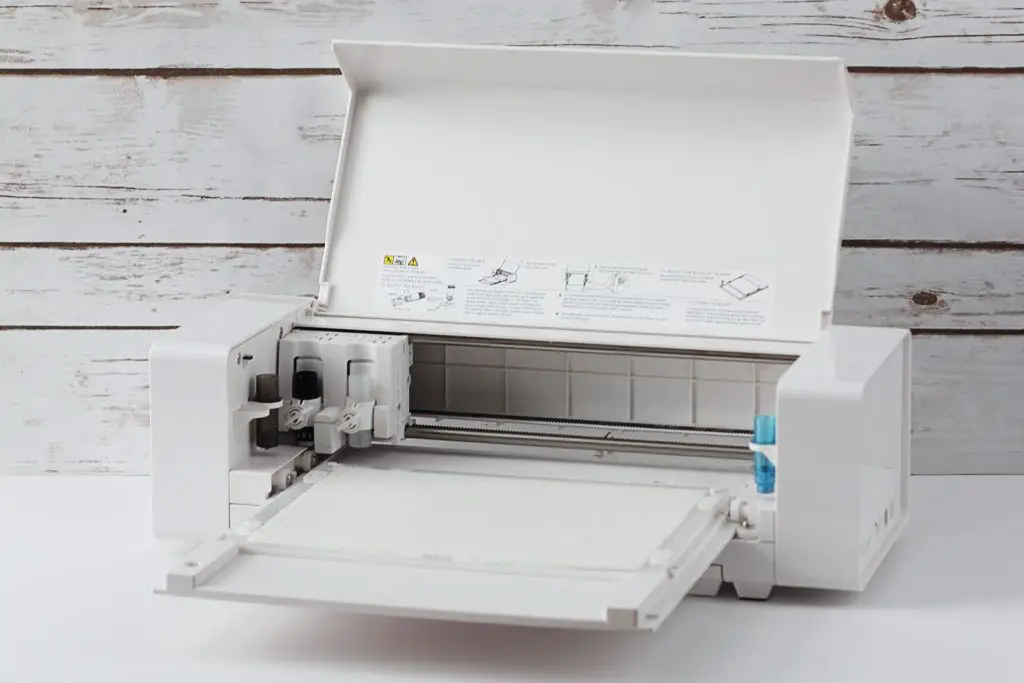 I won't keep you on the edge of your seat any longer, I will tell you everything about the Silhouette Curio. I'm talking about dog tags. You can now easily customize dog tags and oddly shaped pendants with the Curio.
Before this machine, you got your trusted marking stamps and your hammer, and you whacked it. You prayed for alignment, and added the next letter. Well, not anymore. Now, everything can be automated. All this and more, I will cover in this review.
By now, you are probably accustomed to my style. I level with you when I'm doing reviews. I will tell you the good and the bad, and of course, the ugly part of these machines.
Many reviewers are squeamish about this because they are afraid that they will lose commissions, so they only talk about the positive stuff.
Details
Price

So much fun to craft with this machine great tool for kids as well.
If you want to cut costs for the wedding with this cutter you can dopersonalized bridesmaid gifts, invitation addressing etc.
You can start a simple side business with etching pendants and other jewelery.
If all you want is feel-good, touchy-feely stuff, you're at the wrong place. I will lay everything out for you; what works and what doesn't, and after that, you can decide if the Silhouette Curio is the right fit for you.
As you got accustomed, I will do the bird's eye view first, and then I will get into the details. As we all know, the devil is in the details. Lastly, I will tell you exactly how you can etch dog tags as well.
Let's see what this cutting machine has in store for us.
Silhouette Curio specs
| Product | Silhouette Curio |
| --- | --- |
| | |
| Size | 17.2 x 5.5 x 7 inches |
| Weight | 7.5 pounds |
| Cutting Feature | |
| Drawing Feature | |
| Embossing Feature (Emboss Deboss) | |
| Etching Feature | |
| Scoring Feature | |
| Stipple | |
| PixScan Technology | |
| Cutting force | 210 grams |
| Cutting Size (cutting capacity) | 8.5 x 6 inches Upgrade Available 12 inches |
| Auto Blade | |
| Dual Carriage | |
| Max Material Thickness | 5mm |
| Computer Connection Needed | |
| Noise Level | Loud |
| Price | |
The Silhouette family has several machines. Many people wonder if the Curio is a replacement for the Silhouette 3; the answer is no. It's an extension of the Cameo 3. It's convenient for the company to sell you two machines rather than one. The profits are greater. By selling more cutting machines, they are selling more accessories as well.
It's not so advantageous for you, though. If you don't want to buy two machines, then the best option would be choosing the Cricut Maker. It does everything in one machine. If you're interested, I have already reviewed Cricut Maker.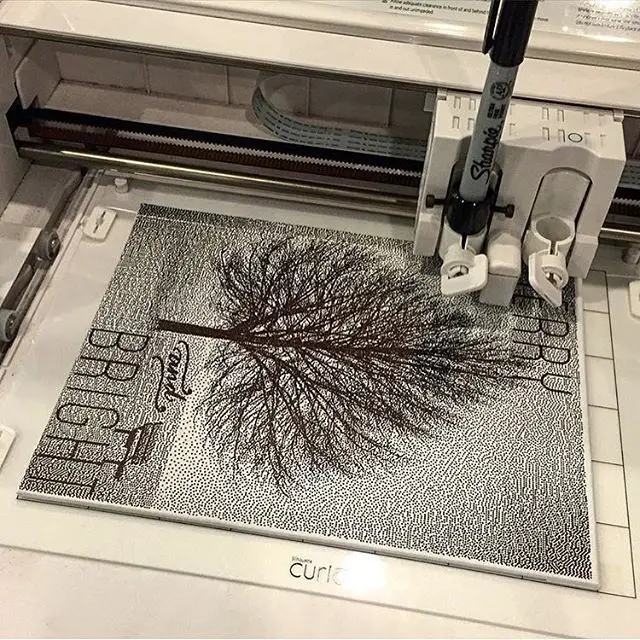 Why does the Silhouette Curio exist?
Let's get back to our review. Why is it an extension? Because it can do embossing, etching, and stippling. Sadly, it can't cut vinyl nor paper (when I used the term embossing, I referred both to emboss-deboss operations). Cutting vinyl and paper is the job of the Cameo 3. How convenient, you may say! But let's not judge the book by its cover… hm, the machine by its casing.
I have already done a comparison between the Silhouette Cameo 3 and the Silhouette Curio. This post is dedicated to the Curio machine only.
Silhouette Curio's machine capabilities
Curio's size and weight detailed
It's an OK-sized machine. It's a bit smaller than the Cameo, and a lot lighter as well. If you are using both machines, you will need a big enough table for them. Hopefully, when you're doing field work, one machine is enough. It's not easy to carry two machines around, plus a device that helps you control those (maybe even two separate ones, so you can be more efficient?).
With its 7.5 pounds, it's a light machine, yet it can do so many things. The Silhouette Cameo is advertised to work with 100 different materials. My review on it was harsh, I have to admit that, but nonetheless, it was true. I believe that with the Curio, you can finally achieve working with 100+ materials. Sadly, it took several years and a second machine to serve justice to the marketing message.
With the Curio, you can both cut and draw. For example, the dog tags need to be cut out of strong cardboard, but more on this later. As I mentioned earlier, it cannot cut paper and vinyl. So, here is what sets it apart.
With the help of embossing, etching, and stippling, scoring new materials are unlocked. These include wood, and soft metals (aluminum, copper, or brass). With these options, you can increase your arsenal. More things to create means more more money you can make.
PixScan technology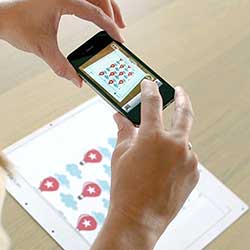 If you have already used any machine from the Silhouette family, you are familiar with the PixScan software. This helps you digitize your artwork, so you can multiply it.
For example, you have a particular handmade design; all you have to do is take a picture with your smartphone, then you have to upload it onto the software, where you make the necessary changes.
The PixScan technology helps you scan and cut your pattern with ease
Cutting force
The cutting force was a serious disappointment for me. It's the same as on the Cameo: 210 grams. Most machines are working within this range. The only exception would be the Brother Scan and Cut 2, which has a cutting force of 350g. And then, there's also the Cricut Maker, with an astonishing 4000g. There's no typo; there are indeed three zeros after the four.
However, it's interesting to see that with just 210 grams of power, it can work such a variety of materials.
Cutting capacity
Now, let's talk about cutting size (cutting capacity). The standard one is 8.5 X 6 inches. This is pretty small if you are used to the 8-inch format. But don't worry, you can work up to 12 inches. For a price that is. If you decide to purchase the Silhouette Curio's large base, then you can work with an 8.5 X 12-inch surface. That's enough cutting capacity for most projects.
As you can see, these guys are trying to milk every ounce of profit from this machine. It's like intentionally handicapping the machine, so you can unlock different features against cold hard cash.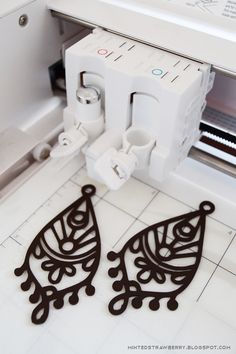 Auto blade
The Auto blade is a great feature. Sadly, it wasn't imported into the Curio. It allows you to automatically set the blade depth, thus saving you time and eliminating human error. Since this feature is not available, you have to do it manually, and double check so you don't make any mistakes.
Dual Carriage
The Curio has Dual Carriage. Finally, something to be happy about! This means that you can insert up to two tools into the machine, meaning you can do two tasks in your project simultaneously. This saves you time. After getting used to dual carriage, I can't imagine life without it.
Imagine this. You are working on a complex project which requires you to use four different tools. This means that you set everything up in the software and let it do its thing. After the first two tasks are completed, you can program the next two. In just two moves, you have finished four tasks. This drastically cuts down human error.
Cutting depth and clearance levels
The Silhouette Curio has been upgraded because it can work with materials that are up to 5mm thick. Important: This doesn't mean it can cut 5mm. It just means you can work with materials that are this thick.
The actual cutting depth is set to 2mm, and it has a maximum 5mm clearance. No, it doesn't cut metal; for that, you'll need a laser or something with more power.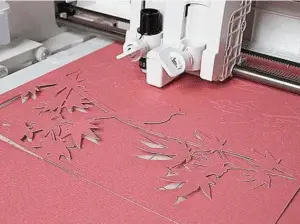 Now, let's talk about the Silhouette Curio's cutting tool. In your basic package, you're only getting a standard blade. It's limited. You see where I'm heading, right? If you want to access more materials, you need to buy a deep cut blade separately. It's a good idea to bundle your purchases, so you save money on shipping. Whenever your deep-cut blade goes dull, it's a good idea to buy a mat as well.
Even though the Silhouette Cameo has Bluetooth technology, the Curio doesn't support wireless connection. So you will have to deal with cords running left and right.
Curio's noise levels
Now, here's the bane of the Silhouette family. These machines are loud. The Silhouette Curio inherited this bad trait from its older siblings. Some people say that it's not that loud; I beg to differ. Just watch a few YouTube videos, and you'll quickly understand why most videos are muted while the machine is working.
But there's hope! I've had a glimpse at the Silhouette Cameo 4, and it is quiet. You can leave your sleeping baby in the room with the machine working, and it won't wake them up. But until that's released, we need to deal with this noise. Working during late-evening hours is out of the question, because it will disturb those around you.
Finally, the price is so-so. It's not the cheapest, nor the most expensive either. It's somewhat in the middle. The same goes for accessories. They're in the middle price range, although you need to buy a lot of them if you want to use the Curio to its full potential.
Installation of the powerful Silhouette Studio Software
Now, let's discuss the Silhouette Curio software that the company has created. Once you open the box, you find this sort of frisbee, packaged in paper. What is it? A CD? In today's packaging? What if I don't have a CD-ROM player?
From my point of view, you don't need the CD either way. You will most likely need to update it, because they ship you the older version. With the recent software updates, you can unlock much, much more. So, relax if you don't have a CD player. You can find the software's latest version online.
Here's another nuisance; there is no wireless connectivity. You need to use a cord to connect to the Silhouette Curio cutting machine. Hey if you like cords running left and right, no biggie! Personally, I got used to cleaning working environment without messy cords dangling everywhere.
So, once you have installed the software and connected the Curio to your device, you're off to the race. Well, not quite… Now, you need to learn how to use the software.
Read More: How to Cut Felt With Silhouette Cameo. Cutting felt is made easy with the Cameo! We cover how to get started in this step-by-step guide.
How to start embossing and stippling
If you have used the Silhouette Studio Software before, you will notice that you have a few new options. This enables us to do embossing and stippling.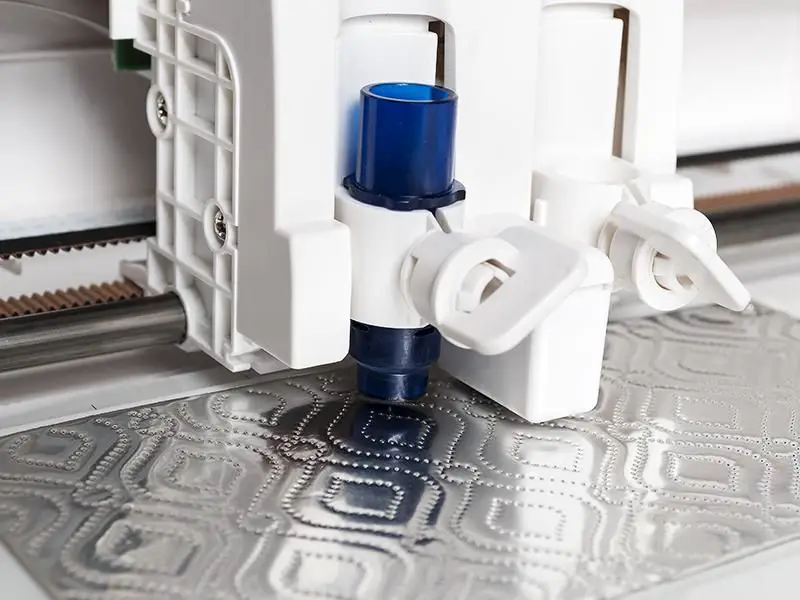 Brace yourself, the learning curve is steep if you want to master stippling and etching. Even veteran Studio users had a hard time using it on the first try. It seems like there are way too many operations needed to get the embossing feature activated. Several crafters have complained that they couldn't get the embossing started.
Once you get the hang of it, the smooth sailing starts…
In case you were wondering what to do about designs, well, there's the Silhouette Design Store, from where you can purchase patterns and designs against some cold hard cash. You have a huge variety to choose from since there are over 100,000 items in the shop. This is the one thing that helped me over the fence.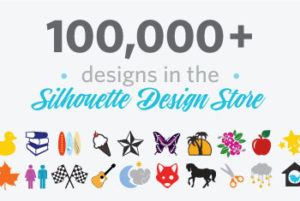 Just in case you forget to donate them money, they will remind you periodically with additional purchasing suggestions.
One of the crafters noticed that the tools that the Curio has fit neatly into the Cameo 3. So, guess what? The company opposes tool swapping between the machines. Why? Because it cuts into their profits. At the time, use it at your own risk.
Read our related article, How to Emboss With My Cricut Maker. If you have a Cricut, here's how to get started embossing!
Silhouette Curio and wood projects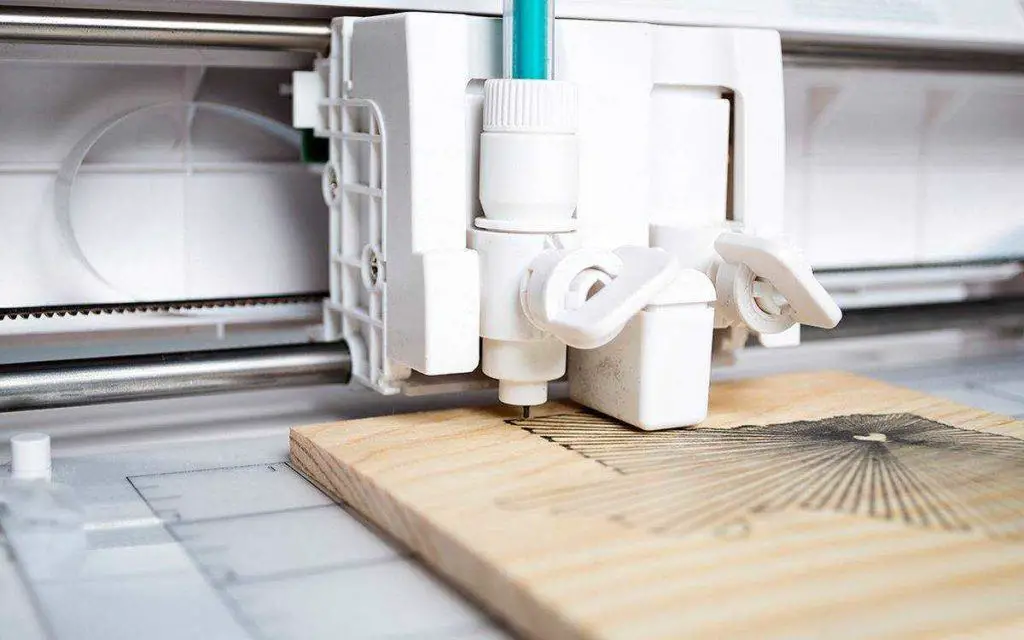 Since the Curio has a clearance of 5mm, you can work with thicker materials, like wood. One of the best ways to personalize wood pieces is with sketching. You can create beautiful awards with a marker or a pen. Also, when you are working with wood, make sure that the piece is extra sturdy by using tape to fix the edges. Don't forget it takes some time to get used to thicker materials. Be patient with yourself.
Here's a hot tip for you if you want to cut different objects. Stay away from models that are smaller than a ¾ inch, because it might break them or harm your cutting mat.
Are you ready for this? Now, I will tell you how to emboss dog tags and other odd-shaped items, like pendants. It's a good thing that this machine can handle them.
First, you need chipboard or heavy cardstock; these will be important a bit later. Also get a piece of paper and a dark pen. Make sure there's a big contrast between them. Place the dog tag on the paper, and draw around it. Then, take the dog tags, and snap a picture with your smartphone. Upload the image to Silhouette studio. Then, use either chipboard or heavy cardstock to cut out the shape with the Silhouette Curio.
Read More: How to Cut Chipboard With Cricut Maker. Discover what you need to know to cut Chipboard with cricut, including ideas to get started on!
Wait, there's more!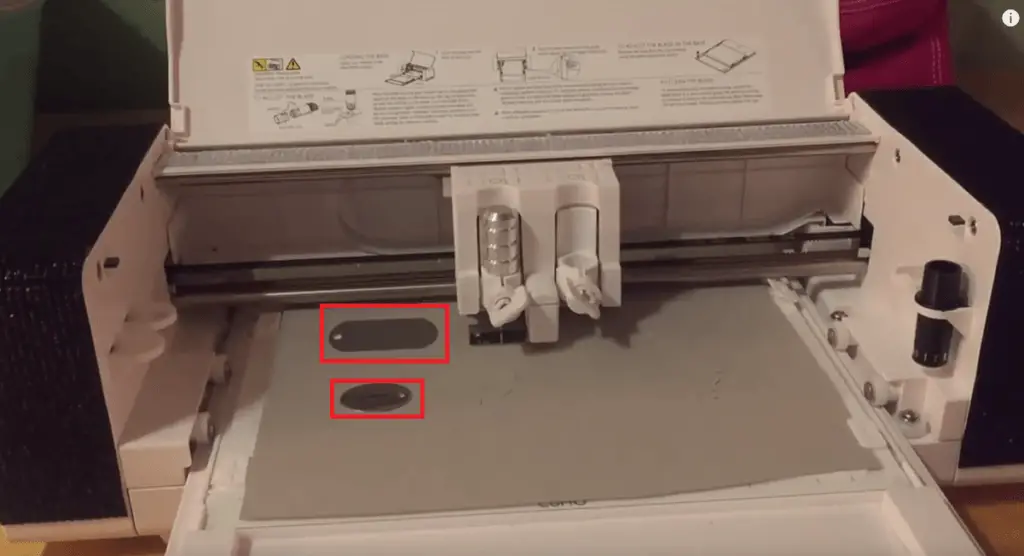 Once you have cut out the form, put in your original dog tag, so it's nice and snug. After this, you can start the etching process. I know, at first, this seems to be a lot of work. But look at the bright side: you only need to do it once. You can reuse this template over and over again.
This is how you can easily personalize dog tags or other odd shaped items with the Silhouette Curio.
Here's a frequent question from people. Can you do embossing with the Silhouette Cameo? No, this is why the Curio exists.
The last point which I will be talking about is Silhouette Curio's embossing. This is one of the machine's main selling points. Yet, it leaves an unsatisfied feeling. When it comes to Silhouette embossing, it tends to work best with thinner materials than thicker ones. Also, besides embossing, you can do debossing.
The software manages everything for you. Just remember which side you are putting down. There are many steps to master this in the software. I know it's hard, but once you got the hang of it, you can emboss like a boss.
Cheaper alternatives?
Some crafters complained that the Silhouette Curio's embossing isn't that good, and that some much cheaper machines can do a better job. However, these are all manually operated.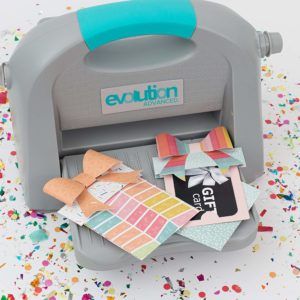 Silhouette Curio's drawbacks
Here are the negatives about the Silhouette Curio. I'm not a product hyper, and any Silhouette Curio review should contain this.
First of all, it seems like the company intentionally has made this product as an extension. It's another purchase for us, crafters, which entitles more accessories. Certain features are inaccessible until you invest in more tools.
They are increasing their bottom line, that's it.
Plus, the learning curve is steep. It feels like it's easier to get a master's degree in molecular physics than mastering the embossing process.
Additionally, the machine is noisy, and this tendency is running in the Silhouette family. The accessories are priced in the average range; they are not too expensive nor cheap, but you need to factor in that you need to buy accessories for two machines. 
The Curio also doesn't have a wireless connection, so you need to use a cord to connect it. If you are doing expos and fairs, you are carrying both machines, and maybe two devices to manage them. That's a lot to carry.
Another issue is that the cutting pressure hasn't been updated. It's the same as on the Cameo 3. But if you purchase the right tools, you can unlock different features. They have also purposefully banned the use of cutting paper and vinyl, so the company isn't cannibalizing sales from the Cameo 3.
Finally, the workspace is small, but if you shove out some money, you can get an upgrade as well.
Last but not least, some cheap manual embossers might do a better and faster job than the Silhouette Curio.
Silhouette Curio Review Final Thoughts
All in all, it's an ok — and by ok, I mean "average" — machine. Hopefully, this error and cash grab are corrected with the Silhouette Cameo 4, which has just been released.
Take a look at the Silhouette Cameo 4 review to find out more. With all this information, by now, you probably made an accurate assessment whether this is the right machine for your craft.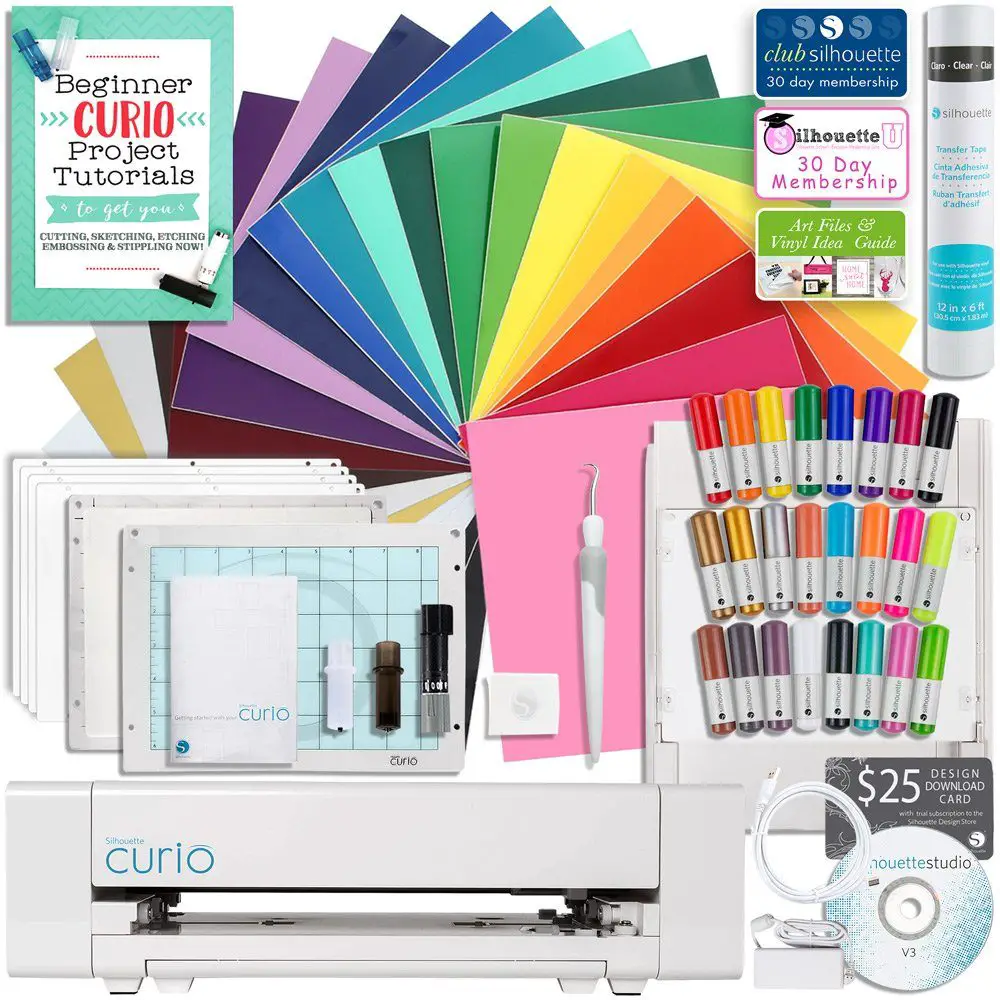 Silhouette Curio Machine Bundle with 1 Year Warranty
8.5 in. X 12 in. cutting width Base (includes four platforms), 8.5 inches by 12 inch Cutting Mat, 8.5 inches by 12-inch Embossing Mat, 8.5 in. X 6 in. base (includes four platforms), 8.5 inches by 6 inch Cutting Mat, 8.5 inches by 6-inch Embossing Mat
Deep Cut Blade, Fine Emboss Tool, Wide Emboss Tool, Stippling & Etching Tool, Cutting Blade, Basics Pen Pack – Black, Red, Pink, Green, Yellow, Purple, Blue, Orange, Metallic Pen Pack, Silver, Gold, Copper, White, and Glitter Pen Pack – Teal, Pink, Green, Black
Metal Etching Sheets – 3 pack (5 Inch by 7 Inch), Stippling Sheets – 6 pack (5 Inch by 7 Inch), Embossing Paper – 10 pack (8 Inch by 11.5 Inch), Embossing Paper – 10 pack (5 Inch by 7 Inch)
Curio Starter Guide by Silhouette Guru Melissa Viscount, Software and Power Cord, One month to the Silhouette design store worth $25 in downloads, 50 exclusive downloadable designs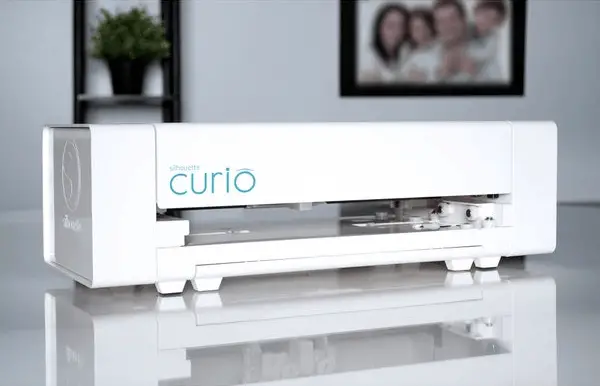 This concludes my Silhouette Curio Review. If you like what you have read you can easily buy this cutting machine. If I've missed something or you have questions post them below.

Silhouette America, Inc Cutting Machine, 10, White
The Curio is taking giant leaps forward with its new features; Along with the new stippling and etching functions, Silhouette is proud to introduce three types of embossing methods-Path Emboss, Score & Emboss, and Print & Emboss
With Curio, you can now cut thicker material. When used with Silhouette's new deep-cut blade, you can cut up to 2mm thick materials; The Curio boasts a 5mm clearance, which allows you to feed thicker materials through the machine
It's all driven by powerful Silhouette Studio software and the Silhouette Design Store. The Curio is the only machine that can unlock the embossing, stippling, and etching, and dual carriage options that will now be available in Silhouette Studio
Have you heard about Ken? He's working on his channel called Ken's Kreations. You can find a lot of helpful
videos here
.
Also check out: The Ultimate Showdown Silhouette Cameo Vs Curio comparison
Frequently asked questions (FAQ):
Can the Silhouette Curio cut wood?
The Silhouette Curio can cut wood. But don't forget since the machine has only 210g cutting force only thin materials can be cut. The Curio's maximum cutting depth is 1.2 mm.
Does the Silhouette Curio cut vinyl?
Sadly Silhouette Curio can't cut vinyl. It's a corporate decision so if you want to cut vinyl and paper you are forced to buy Silhouette Cameo 3 or Silhouette Portrait.
Is the Silhouette Curio Bluetooth?
Silhouette Curios doesn't have Bluetooth connectivity option. You need the good old USB cable for communication. This is the one thing that I don't like about it.
Is the Silhouette Cameo or Cricut better?
This depends on what are you using the machine for. Cricut is better because it's simply the best machine on the market today. Cameo can only handle soft materials like paper and vinyl. If you want to cut harder materials or emboss you best bet is with the Cricut Maker. No matter which Cricut machine you pick they will all outrank this Silhouette machine. Let's take a look at the last generation crafting machine called Cricut Explore Air. Even though Cricut Explore Air was released way back in 2016 it has more capabilities than Silhouette Curio.
Can the Silhouette America Curio Crafting Machine cut acrylic?
Silhouette Curio can't cut acrylic. But you can etch on it. It can't cut thicker materials. It has a 5mm clearance rate. This means it can't cut thicker materials than a few mm.
Read our related article, Can You Cut Acrylic With Cricut? YES! (and here's how you do it)
Can I emboss with Silhouette Cameo?
With the Silhouette Cameo you can't emboss. It was a corporate decision (as in cash grab) the Cameo is only good for paper and Vinyl. If you want to emboss you need to buy the Silhouette Curio..
What are the new features of this machine?
It comes with many new features like: emboss, deboss and embossing and stippling. And we shouldn't forget the multiple ink projects that can be done with it. The cutting blade is made out of tungsten alloy. If you didn't know the tungsten alloy is one of the toughest material on this planet. You can easily buy a cutting blade when you're getting supplies. It has 210 grams of force and 5mm clearance.
Should you invest in a starter kit for this Silhouette Machine?
The starter kit was designed to help you get started right away. I highly support the idea. One thing I liked was that it comes everything you need. Good thing that they have thought of these bundles.
What is the Silhouette Curio release date?
The release date was set to 2015 Late Summer / Early Fall.
Do I need anything else besides the powerful Silhouette Studio?
All you need is the Silhouette studio and you're ready to go. If you want to emboss, deboss or embossing, stippling it can be done through the software. Brace yourself that there's a learning curve to mastery. It's a good thing that there are tutorials to help.
Is Silhouette Curio vinyl cutting a thing?
Sadly it can't cut vinyl by design. Only the Cameo 3 can do it and the Silhouette Portrait.
Are any Silhouette America Curio Crafting Machine tutorials to help me get started?
Of course there are Silhouette America Curio Crafting Machine tutorials. The best source for tutorials would be YouTube. It's free, and you get exactly what you want. That's the good thing because the learning curve is steep.
What are the Silhouette America Curio Crafting Machine reviews saying?
I've checked several Amazon products, and their star rating is between 3.7 up to 4.1. Which means that the Silhouette America Curio Crafting Machine is good product.
What's included in the Silhouette Curios Bundle?
Well, this differs from one seller to the next. To get the best Silhouette America Curios bundle check out Amazon.com.
How frequently do I need to change my Silhouette Curio Cutting tool's cutting mat?
Well the cutting mat has to be change when it has stopped sticking. You can save a bundle if you learn how to clean your cutting mat or actually you can restick the cutting mat.
Is it the best Vinyl Cutter?
Sadly the title for the best Vinyl cutter goes to someone else. This machine is like a sidekick just like Robin from Batman. The Silhouette Curio cutting machine is left in the shadows.
What's the cutting width of the Silhouette Curio Cutting tool?
The cutting width is 8.5 x 6 inches.
What is a Silhouette Curio?
The Silhouette Curio is one of the best budget vinyl cutting machines.