Which Silhouette machine is the best choice for you? Silhouette Cameo 3 vs Curio

These two crafting machines are the top tier products of the Silhouette family. In house rivalry leads to improvement so who will be the winner the fight is starting Silhouette Curio vs Cameo 3.
There's a $50 price gap between them. So which is the best cutting machine?
Which one should you choose?
It's not as simple as one would think. First of all the machines weren't created to replace each other. They were envisioned to improve crafting abilities. It's not like Cameo 3 is better than Cameo 2, so the choice would be easy.
If you're in the right niche, you will need both machines. But before you make the decision read on and see if either cameo or curio is a better fit.
Cameo 3 is the newest addition to the Silhouette Cameo family. This is why I've picked it to compare it with Silhouette Curio.
Silhouette Cameo vs Silhouette Curio comparison chart
| | | |
| --- | --- | --- |
| | Silhouette Cameo | Silhouette Curio |
| Size | 22.5 x 6 x 8.5 inches | 17.2 x 5.5 x 7 inches |
| Weight | 13.95 pounds | 7.5 pounds |
| Cutting Feature | Yes | Yes |
| Drawing Feature | Yes | Yes |
| Embossing Feature | No | Yes |
| Etching Feature | No | Yes |
| Scoring Feature | No | Yes |
| Stipple | No | Yes |
| PixScan Technology | Yes | Yes |
| Cutting force | 210g | 210g |
| Cutting Size | 12 inches x 10 feet | 8.5 x 6 inches |
| Auto Blade | Yes | No |
| Cross Cutter | Yes | No |
| Dual Carriage | Yes | Yes |
| Max Material Thickness | 2mm | 5mm |
| Computer Connection Needed | Yes | No |
| Noise Level | Loud | Loud |
| User Friendliness | No | Yes |
| Recommended Retail Price | $299.99 | $249.99 |
This table was the bird's eye view. As you can see the scale is tipping towards favoring Silhouette Curio. As you know the devil is in the details.
Machine Specs Tested:
So let's check out those details, shall we?
The size and weight are straight forward. One is bigger so sit means it's heavier as well. Hopefully, you have a big and sturdy table to put them on. Also if you are traveling to different exhibits, the excess weight might present some challenges.
Both Silhouette craft machines have a cutting feature. This means you insert the blade and it will make the precision cuts needed. I highly recommend to use the Deep Cut Blade for thicker materials. It's so satisfying to see the deep cut blade in action. It goes through paper like hot knife through butter. Also, both of them can draw. This is a nice way to copy different fonts to simulate handwriting.
How to digitize your own creations? It's simple you use the Pixscan technology. What you do is the following. You put your design on the mat and take a picture with your smartphone or camera. Then you upload it into Silhouette Studio.
Some might call it perfectionism but for many people, these last minute details matter a lot.
This is why Silhouette Curio shines over Cameo 3. Curio has these additional features: embossing, etching, scoring, and stippling.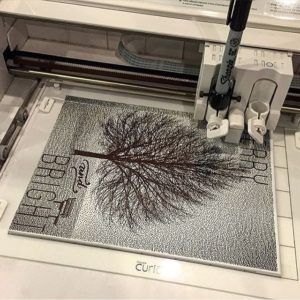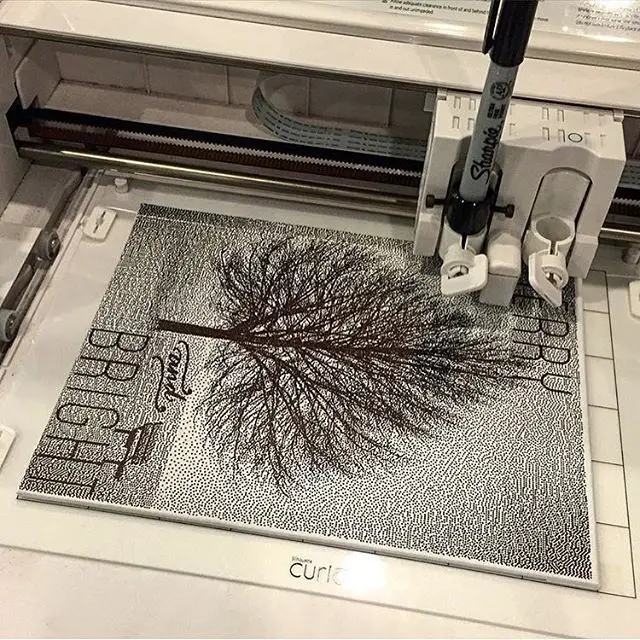 Cameo is limited to only thin and easy to work with materials. While on the other hand Curio can work with foam, leather, metal, wood and many other materials as well (of course not all of them can be cut).
Are you a designer who is hand etching different surfaces?
Then Silhouette Curio is here to save you some precious time. It can do wonders with soft metals like aluminum, copper, brass.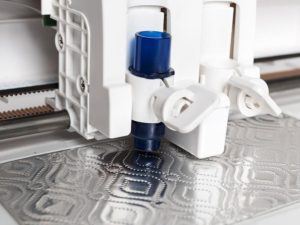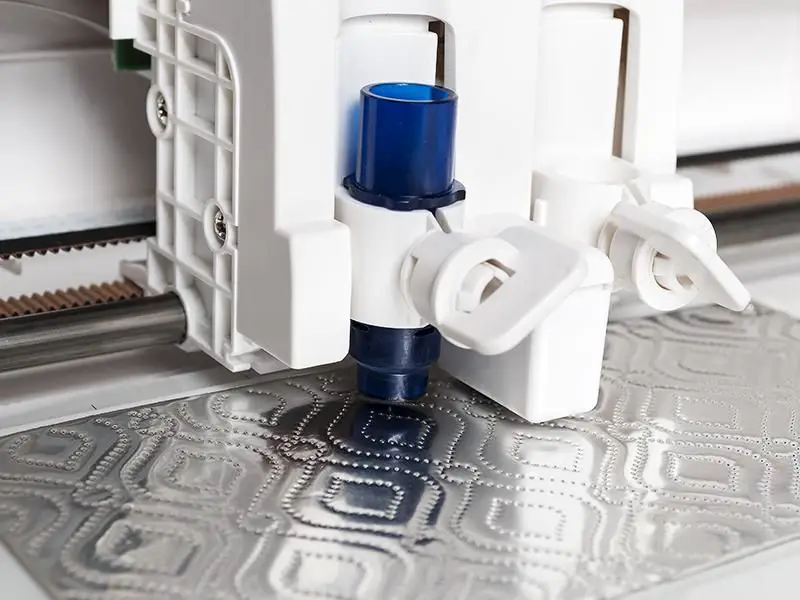 On Etsy, I've found a lady creating customized jewelry (even from silver) with the help of the Curio crafting machine. From her line up I've seen that she is even making rings and 3D object. (Here's the secret how she does it: first, she etches them while they are flat then with the help of heat transforms them to the desired shape).
No Difference in Cutting Force?
The biggest disappointment for me was the cutting force power. It's the same for both machines being 210g. Curio can work with a 5mm thick material and Cameo 3 only with a 2mm one, you would assume that it has more power yet it doesn't.
Here's an important takeaway. 5mm isn't the cutting depth. The Curio machine can't cut through a 5mm thick metal plate. For that performance certain high powered lasers are required. The 5mm means that you can put in a material which is that.
With thicker materials, you risk damaging your cutting machine. This is the main difference between the two devices. The Cameo 3 has a much shallow cut compared to Curio.
What it lacks in power makes up in the surface. As you can see with Curio, you can only work on a small surface which is 8.5 X 6 inches. On the other hand Cameo 3 has an amazing surface of 12 inches and by using an auto feeding system. This is where Cameo shines; you can work on huge projects with ease.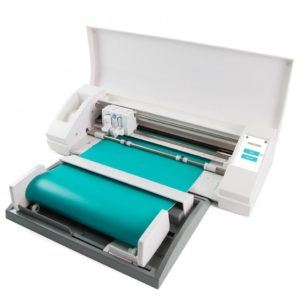 Auto Blade
The Auto Blade feature is a nice one to have which helps you automatically set the blade penetration thickness depending on the material you are working with. Sadly Curio doesn't have this feature, so you have to set it up manually for every job.
Cross Cutter
Cameo also has a Cross Cutter function. This is again a handy tool when you need to make clean cuts. It's much faster and cleaner than working with scissors. With Curio, you will be missing out on this feature.
Silhouette Cameo 3 has one major feature that outdoes Curio. It can work on projects without cords. All you need is a device that has Bluetooth connectivity. This comes handy when you are traveling to expos. You can easily create on your phone and connect to the Cameo via Bluetooth.
Though hauling a 14-pound machine around isn't exactly a picnic either. For the Silhouette Curio, you need a constant computer connection. A more detailed review of Silhouette Curio can be found here.
Dual Carriage
The Dual Carriage is simply a Godsend. At the same pass, you can do two things at once. You can use two different colored pencils. Or you could draw and cut. Other options would be cut and emboss and so on. By having two tools at your disposal, you can cut down on production time. It's like a cellphone after you got used to dual carriage you can't imagine life without it.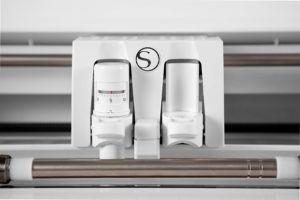 Are they noisy or silent? Noise levels compared
Noise levels are sadly high. If you think that you can craft in the evening after the kids are asleep, then you will either need a soundproofed room or work deep in the basement. These machines are noisy.
Last but not least I will cover user-friendliness. The Curios is way easier to use than the Cameo 3 (but check out the negatives and you will learn all about Curio's drawbacks).
Both machines are operated by the Silhouette Studio software. As far as I know, there isn't any other 3rd party software to use. Silhouette Studio does everything you need. When you it up depending on your machine you will have different features. For example, Silhouette Studio for the Curio has embossing feature. If you don't have that machine you won't even notice that some things are left out. Here's some food for thought the Silhouette Studio that arrives with the package is most likely outdated so go online and grab the latest version. If you are interested more in Silhouette Studio let me know and I will make a separate article of that.
Have you made your decision? Which one is the best fit for you? Is it the Cameo Cutter or Curio Machine?
Now here are the negatives. No true Brother Scan and Cut vs Cricut Maker comparison would be complete without them.
Drawbacks of Using Silhouette Cameo
It's not a user-friendly machine. Many people had connection issues with Bluetooth. This is one of its best features so no wonder it got some flak for it. Every manual can only be found online.
Certain users complained that you couldn't use the full 12-inch length. The issues arise on one side where the blade can't cut deep enough. We'll see if this is an issue after some firmware updates.
If you are planning to use certain materials like Acetate makes sure you run the process at least two times, so you know for sure that it has cut through. Another user reported that after four passes he still couldn't cut through shrinky dinks paper. If you plan to work with leather, just forget about it.
The noise is bothersome as well. But the loud noise runs in the whole Silhouette family.
Drawbacks of Using Silhouette Curio
Let's see what is negative about Silhouette Curio:
The main complaints happened with embossing. It's a three-step process, and you need a lot of practice to get it right. There are certain cheaper competitors that can do it faster.
Also, the embossing results weren't that great. And for some reason, it didn't cut Vinyl that entire well. Some users claimed that you are better off with a $50 embosser.
Again the noise was an issue. Hopefully, the next generation will be quieter.
The Comparison Results
Here are the results of this versus challenge (Silhouette Curio and Cameo).
The Silhouette Cameo 3 is the ultimate DIY machine. It's cheap and does what it's advertised to do. It works well for small things and (supposedly) for bigger ones as well. It's a great fit for people in the home décor industry and event planners.
The Silhouette Curio is the little brother of Cameo. It has certain features that are impossible to do with Cameo even with the 3rd version. If you need embossing or you have to work with soft metals and wood, then Curios is the best choice for you. If you are a jeweler, you can do amazing things with this machine.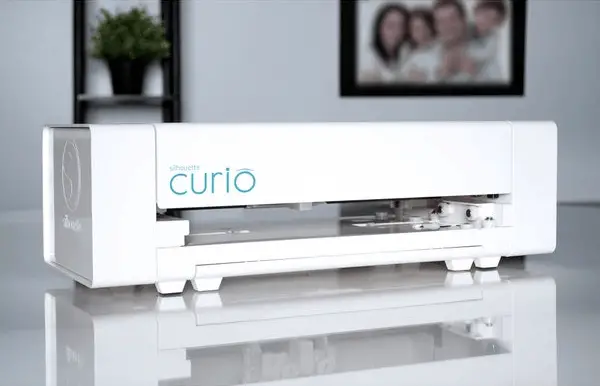 When Silhouette released the Curio, it didn't kill the Cameo product line. This was the plan all to extend capabilities. How convenient isn't it?
Yet for certain people both of the machines are needed. There are successful crafters who want to increase their market share by offering new products. For them, both Curio and Cameo 3 will be a perfect fit.
Final Conclusions
This is the end of the Silhouette Curio Vs Cameo article. This is how I have compared the Silhouette cutting machines. As you can see it was an unbiased opinion since both of the devices have flaws, and I've listed them fully. I tried staying objective to give you the best information possible.
Now the choice is up to you. You can choose one or both cutting machines. Now you have a solid foundation on what you can your decision.
Happy tinkering!
What else can you create? Check out this hot pin.
Frequent Questions from our readers (FAQ):
Can the Silhouette Cameo emboss?
Sadly the Silhouette Cameo can't emboss. For that you need to buy either the Silhouette Curio or the Cricut Maker.
Can my Silhouette Cameo cut wood?
No it can't. For that you need to buy the Silhouette Curio or the Cricut Maker.
Can you cut vinyl with Silhouette Curio?
No you can't. Paper and Vinyl is not supported By the Silhouette Curio. For that you will need the Silhouette Cameo.
Last Updated on: