My newest toy…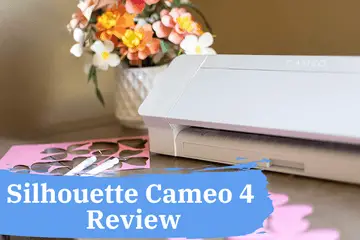 Silhouette came out with a brand new toy, the Silhouette Cameo 4. As you know, they create some of the best vinyl-cutting machines out there.
Silhouette America has outdone themselves with this cutting machine. With the Cameo 4, you can easily cut over 100 different materials. This means that whether you're a beginner or a professional, this machine will help you create great, cool stuff.
Look:
Not only will you have a huge selection of materials to work with, but they also have top-notch support services. So if you're stuck, they can help you out.
Before we get any further, let me give you a quick preview.
In my book, the Cameo 4 has become the #1 cutting machine you can choose. It has the most powerful cutter that you can work with. The 5000g cutting force can easily slice through 3mm-thick materials.
There's a built-in roll feeder as well, which helps you finish tasks up to 10-feet long. Plus, you can use the rotary blade when you're creating fabric designs. The kraft blade can handle harder and thicker materials. Also, there's the auto blade, which means no more guesswork; Silhouette takes care of the settings for you.
Now, let's get this Silhouette Cameo 4 review started. If you stick with me until the end, I will tell you the pros and cons. Some of them are unexpected, to say the least.
PRODUCT
DETAILS
PRICE 
Silhouette Cameo 4

It's a fast machine that can handle paper, vinyl, HTV, and other materials with ease.
The Cameo 4 is super simple to use, and the demo project gets you up to speed.
The Silhouette Studio offers many customization options. Thus, it has a bit of a learning curve; nothing that you can't handle after a few projects.
Cutting Power: 5000g, Cutting Size: 12″ x 10 feet
Who is the Silhouette Cameo 4 vinyl cutter for?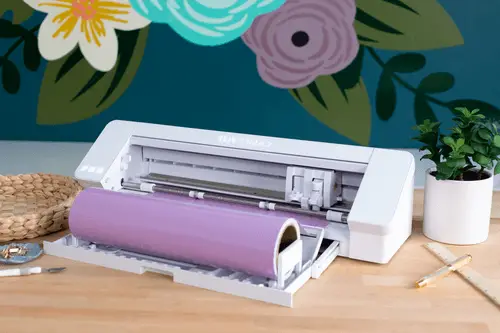 The beauty of the Silhouette Cameo 4 is that it caters to both beginners and professionals.
If you're just starting, then this Cameo vinyl cutter is a great way to learn crafting. There are over 100 possible materials to cut. Once, you have mastered one, you can expand your creations.
The Cameo 4 is a great option for advanced users as well. Since it can work with so many materials, you can easily integrate it into your current workflow.
Maybe you have the Cameo 3, and wonder if it's a good idea to upgrade to the Cameo 4?
There are two major differences between the two. First of all, there's a major improvement in the cutting force, from 210g to 5000g. The latest version also comes with a built-in feeder system to handle bigger projects.
The Cameo 4 is ideal for kids as well. When I'm not using it, my kids are typically creating something for themselves. Sometimes, when I'm stuck, I also ask for their help because they are fast learners. They can solve problems faster than I can contact customer support.
With the Silhouette Cameo 4, the kids can learn many skills that they can use later in life. As I previously mentioned, they learn fast. They solve problems, and create original designs. A few more years, and I bet they will be selling them online. It sure beats all the theories that they have to remember in school.
Overall, this machine is great for beginners, professionals, and kids.
Read our related article on How to Cut Felt With Silhouette Cameo. New to cutting felt? This guide is a great place to start!
What can the Silhouette Cameo 4 vinyl cutting machine do for you?
With all the improvements on the Silhouette Cameo 4, you can spice up your creations.
The Cameo 4 has become a lot smarter. Now, it can detect what kind of blade you're using. This means it can warn you if something is not right. By doing so, you can avoid costly mistakes.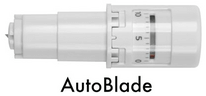 The Auto blade got a facelift as well. I have fallen in love with this feature. All you have to do is select the material you're working with, and the Cameo will set the right cutting depth. This simplifies the learning curve a lot. This will be the most used blade in your arsenal. It's good that it's made out of durable Sintered Tungsten Alloy. This blade is perfect for cutting vinyl and paper up to 0.1 mm thick.
The Kraft blade also is one of a kind. With this one, you can easily cut 3mm deep. Also, it can handle tougher materials.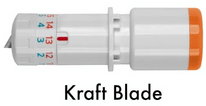 The Kraft blade (knife blade) looks like an x-acto blade, and is made out of stainless steel. Depending on how use you use it, you might have to change it quite often. To use this blade, you will have to adjust the blade length manually.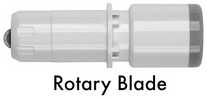 The Rotary blade is a long-awaited blade for anyone who is working with fabrics. Before, there wasn't any good tool for fabrics because they tend to wrinkle the material, but the rotary blade changed everything. This blade is made out of Tungsten carbide. It's the ideal choice if you're working with cotton fabrics, leather, felt, or wool.
For you to make a great design, do consider getting the Strong Tack cutting mat, so the material won't slide or wrinkle.
Finally, the last blade in the arsenal is the Punch tool.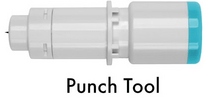 It has the purpose of making your life easier. It will create weeding points for vinyl and heat transfer material. When the job is done, you can easily weed out the excess material. They thought of everything!
However, and I hope this won't burst your bubble, only the Auto blade is included in the package. If you want to use the Kraft blade, the rotary blade, or the punch tool, you must buy them separately.
If you're familiar with the Silhouette family, you know that they come with a cross cutter. It might look insignificant, but let tell you, it's a handy tool. You can easily cut your material down to size. This will save you both time and material. They really thought about everything.
Read our related article on the Best Way to Cut Felt With Cricut Maker. Use your Cricut effectively with our tips and tricks for cutting through felt!
Silhouette Cameo 4 shortcomings
As you know, the perfect vinyl cutter doesn't exist. However, the Silhouette Cameo 4 came a long way since the third version. Still, it has bugs and glitches. I will be upfront with you, so you know these things ahead of time.
The biggest annoyance with the Cameo 4 is that they have managed to mess up the loading and unloading arrows. It's done in reverse. With the Cameo 3, it was OK, but now it takes a while to get used to.
At first, I thought I might've missed something, and then I went onto YouTube to check out a few unboxing videos.
And guess what?
Everyone had the same reaction as me. The arrows are messed up.
Plus, there's no LCD screen anymore. It's been replaced with a white backlight. This minimalist design makes it $100 cheaper than the Cricut Maker.
Sadly, with this price optimization, something got left behind. Indeed, there's no repeat option anymore. You have to go back to the software and do the whole process all over again. With the Cameo 3, you had the repeat option, which was handy with small repetitive jobs.
Another issue with the Silhouette brand is Silhouette Studio software. It's not the most intuitive one out there. There's a definite learning curve to it. However, this is balanced out with the excellent support they provide.
One last thing I have to mention about Silhouette, — and this isn't related to the Cameo 4, —  is also about Silhouette's Studio software. First of all, there's a free-standard license. Now, if you want more capabilities, you will have to upgrade to a monthly plan.
The biggest limitation of the free plan is that you can't export SVG files. Plus, if you want to export in PNG or JPG, you might get different colors.
So, you have two choices. You can either upgrade to a paid plan, or learn to use a third party software for the design part.
It is also important to mention that the accessories aren't the cheapest ones on the market. You need to factor that into your pricing.
The last issue is not common anymore; still, I have to mention it. When the Silhouette Cameo 4 was launched in 2019, the extra blades, like the rotary and kraft blades, were not available. This has pissed off many people. Luckily, the situation is remedied now.
As you can see, there are some issues with the Cameo 4. Now, it's for you to decide if they are a deal-breaker for you.
How to get the most out of Silhouette Cameo 4 vinyl cutter?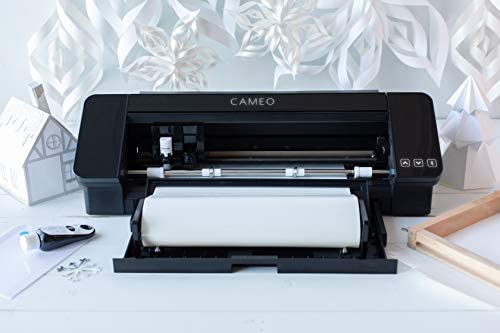 To get you up and running as soon as possible, you will need a couple of things. First of all, unbox your machine, and make sure you remove all the tapes, even from the inside.
After that, you have to register your machine on the official website and download the Silhouette Design Studio. I highly recommend installing the Bluetooth connection, so you don't have to mess with the wires. If you have kids playing around, Bluetooth is definitely your best option.
To shorten the learning curve, it's a great idea to do the demo design. This will help you with the software and the cutter setup. After that, you can start creating your own designs. As you know, the Silhouette Studio houses over 100,000 designs. You get a few free initially, and you can purchase the rest. There's a monthly subscription service for it. If you don't want to pay for it, then you have to learn to use some kinds of design software.
Maybe you want to save on material costs as well; then, it's a great idea to learn how to cut without a cutting matt. As you know, they don't come cheap and tend to wear out quickly.
As with any new tool, the more you practice, the better you get at it. Start with the simplest material first. It might be vinyl or paper. And gradually, you can increase your skills with other materials.
Hot tip:
Keep in mind that paper tends to dull the blades the fastest.
Finally, the best thing about Silhouette is its unmatched support system. Whenever you're stuck, just give them a call. Also, there are many great tutorials on YouTube to get you started.
Read our related article, How Long Do Cricut Blades Last? for more information on keeping your blades around for longer!
Is it worth to upgrade from Silhouette Cameo 3 to Silhouette Cameo 4?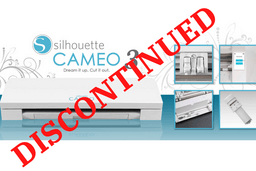 As of this writing, the Silhouette Cameo 3 has been discontinued, and you can't buy it anymore. For all those who have it, let me share with you whether it's a good choice to upgrade or not.
First, Silhouette has finally fixed the Bluetooth connectivity issues. Now, you can enjoy working with your vinyl cutter without dangling wires left and right.
Second, if you haven't purchased the roll feeder, then you're in luck. With the Silhouette Cameo 4, you have it built-in. There's no additional purchase required.
The biggest upgrade comes from the cutting force. While the Cameo 3 was limited to 210g of force, the Cameo 4's upper limit is 5000g. A new world opens up with this amount of force. Now, you can cut harder and thicker materials with ease.
Finally, I want to mention that the Cameo 4 is way faster than the Cameo 3. Also, it's quieter. No more alien ships are doing a crash landing while you're working on a job.
So, is it worth the upgrade?
Well, it depends. If you're happy with your Cameo 3 and don't want to expend your designs, then it might not be worth upgrading.
On the other hand, if you want to work with thicker and harder materials, and also you want to do the scoring, then the upgrade is a must. Your only other choice is buying the Silhouette Curio, although that's limited to 210g of cutting force as well.
Pros
It's the most versatile vinyl cutter ever made. With 5000g of cutting force, it can cut up to 3mm thick.
It has a built-in roller feeder, which allows handling big projects up to 10-feet long.
Its blade detection system avoids messing up projects.
Cons
Design Space software is mostly online only.
If you want to export designs, you have to upgrade from the standard license.
Conclusion for the Silhouette Cameo 4 Review
We have reached the end of this Silhouette Cameo 4 review. Silhouette has truly outdone themselves with this new vinyl cutter. You can cut over 100 different materials, and the cutting force upgrade makes it the strongest vinyl cutter on the market today.
It's versatile, and there has been a significant speed improvement as well. Plus, the built-in roll feeder makes longer jobs a breeze now.
Note that if you want this cutter, you should get it as soon as possible, because the last time I've checked, the stocks were running low.
Happy Crafting!
Is the Silhouette Cameo 4 worth it?
The Silhouette Cameo 4 is a great vinyl cutter to own. It's worth it because it can cut a variety of materials, it's strong and it's fast. You will be able to create and sell anything what your heart desires.
Which is better Silhouette Cameo 4 or Cricut Maker?
Both the Silhouette Cameo 4 and the Cricut Maker are excellent vinyl cutters to short list. From the two the Silhouette Cameo 4 is stronger having 5000g of cutting force while the Cricut Maker has 4000g. The Cricut Maker is limited to 24 inches in length while the Cameo reaches 60 feet. The only thing that's better with the Cricut Maker is the cutting speed. Even though the cameo 4 can cut faster it doesn't match with the Maker superior speed. The cameo 4 silhouette wins by a wide margin it's also cheaper.
What can I do with a silhouette cameo 4?
The new features of the Cameo 4 include desktop cutting, matless cutting. This machine cuts materials such as card stock, balsa wood toys, craft foam. It also comes with new tools like kraft blade and rotary blade plus there's the punch tool. The new features like the dual carriage (dual motor system), built in cross cutter and tool detection makes it easy to use. It is able to cut three times faster than previous models. The user friendly touch panel is known for the ease of use. If the puzzle board thin enough you can cut that as well.
Read our related article, Can a Cameo 4 Cut Wood? for a how-to guide and all you need to know about cutting wood with your Cameo!
Can the Silhouette Cameo 4 cut fabric?
Yes the Silhouette Cameo 4 can cut fabric. The new silhouette rotary blade helps you cut sharp designs without wrinkling the fabric. With the rotary blade you will be able to master the most finicky materials as well.
What are the main pros for the New Silhouette Cameo 4?
These are the Pros Silhouette Cameo 4: First of all it's the strongest cutter on the market today. The downward force is 20% more than Cricut Maker and 200% (20 times) more than Silhouette Cameo 3. The New Cameo 4 comes with speed upgrade as well which is 3x faster than the Cameo 3. For more detailed information read the above silhouette cameo 4 review.
What other accessories will I need?
You will need tools like silhouette machines and heat press.
What's the difference between the silhouette cameo plus and the cameo pro?
There's a small difference between the cameo plus and the cameo pro. Besides the price the difference is in the cutting width. The Cameo plus can cut 15 inches and the cameo pro 20 inches. The standard can cut 12 inch (12 inches) in width. These machines can hold up to 150 feet of material.
Are there any comparisons coming along?
Yes, I'm working on quite a few of them. For example, in the coming days, I will publish the Silhouette cameo 3 vs cameo 4 and the cameo 4 vs cricut maker. I'm also considering doing a comparison with the cricut explore air 2. Although it's a previous generation. Maybe i will do a comparison between Silhouette Cameo and Cricut Explore Air 2. Also, check out my best Cricut comparison articles as well.
Where can I get additional info about the cameo 4 machine?
Well, you can always check silhouette school or swing design. There's one thing you should know the best silhouette cameo 4 cut settings.
What kind of options should I look at when buying the cameo 4?
It's a great idea for going with cameo 4 bundles they save you a ton of money. The new machine comes in two color options white black. Doing a software update is an absolute must with the best user experience for the base machine. The cutting speed is three times faster than older silhouette models. When a blade goes dull you need to replace it with a suitable one. The Cameo 4 comes with many pros and cons. You can check out the pros and cons above. And it's easy to use.
What are the new features of the Cameo 4?
The new features include the following things: automatic tool detection, mat Bluetooth connectivity, single tap auto blade, tool type detection. It can work with special tools like craft blade, tool adapters, vinyl roll feeder. The roll feeder is built-in and you don't have to buy it separately. You need to know that it's easier to use and it's easier to getting started than cameo 3 silhouette machine. The silhouette studio has tool detection built in and dual carriage. It's easy to navigate thanks to the touch interface. Many crafters said that the touch interface is the most intuitive from them all. When you're doing the project setup make sure you ad registration marks at the blade settings menu. The package comes with power cables and USB cable. There are some new tools at your disposal: deep cut blade, scoring wheel, crafting blade. The new tools are purchased separately. The intuitive cut settings will help adjust cutting width, it enables cutting thicker material like balsa wood. As you know not many vinyl cutters can handle balsa wood, media cuts, mat board. Besides harder materials it can handle materials like leather and simple cut fabric. The retractable lid hides the storage area. The business edition of the silhouette software design store allows you to export AI and SVG file formats. The dual tool carriage helps you finish complex craft projects faster in your craft room. The tool carriage is managed by the motor system. The usb input is always there if you have issues with the wireless connection. The ability to cut materials like felt and balsa wood is priceless. The silhouette tools are great for things like 4 cameo single tap blade holder.