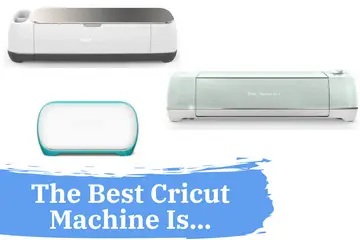 The Cricut brand is full of surprises!
Recently they just launched their latest machine called the Cricut Joy. There are way too many choices to go with.
No wonder it's hard to pick the right one.
Look:
If you want to make the right choice, then you have found the right article. This is the reason why I've created the best Cricut Machine article. By reading it to the end, you will know exactly which one is the best fit for you.
As I mentioned, there are many machines to choose from. So here's a quick preview of what's going to come.
Read More: What Does Flatten Mean On Cricut? If you're new to Cricut, learning different terms and tricks can be helpful!
The list is short because I've only picked the very best and those still in production. The list contains the Cricut Maker, Cricut Explore Air 2, and Cricut Joy.
By clicking on the images below, you will get to the right machine instantly. You will also find out why it's the best and who does it fit the most.
#1 Cricut Maker – Best Cricut Machine for Making Shirts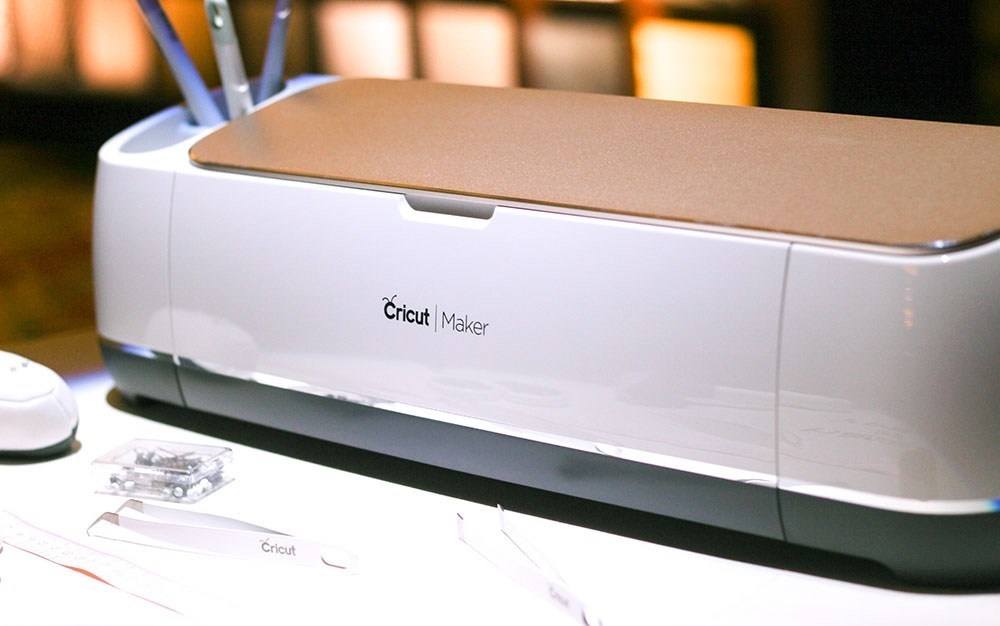 By far, the best Cricut Machine ever made is the Cricut Maker. It has the biggest potential because you can work with over 100+ different materials.
With the maker, you're getting the complete package. From paper and vinyl cutting all the way up to engraving and debossing, you can let your creativity go wild.
Now it's not only the best Cricut machine, but it's also the best Cricut for making shirts as well. It does a fabulous job with iron-on vinyl.
It's one of the most powerful vinyl cutters on the market today. It used to be the strongest, and Silhouette released the Cameo 4, and it became the one with the most force. You see, the Cricut Maker has a cutting force of 4000g. The Cameo 4 has outdone Cricut by having 5000g of cutting force.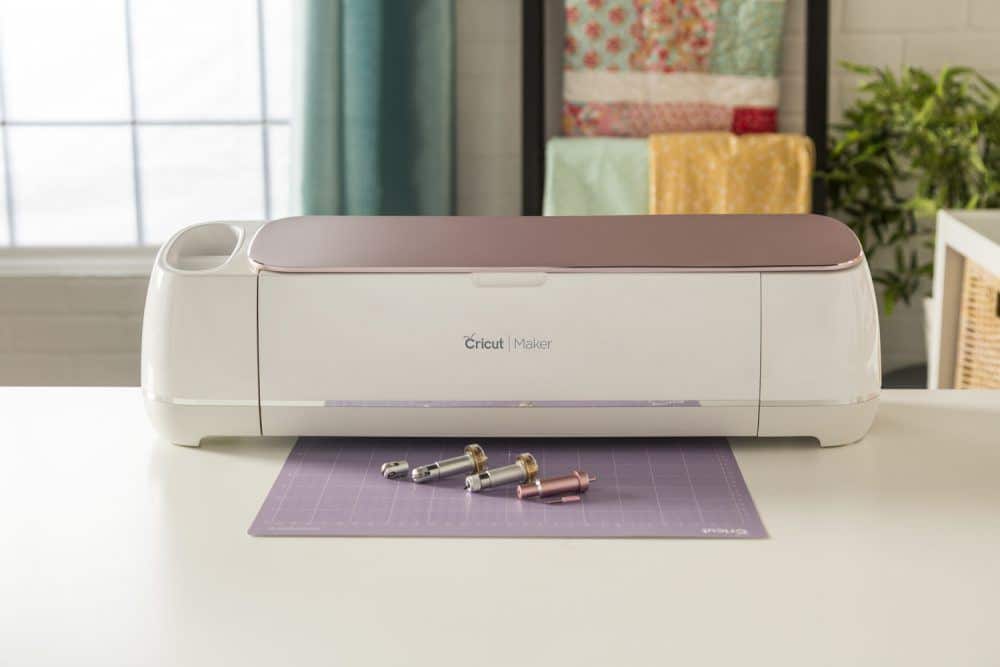 Even though it was beaten, the 4000g is more than enough to engrave or punch through thicker materials. From all the Cricut machines, this is the best because it has two holsters for tools. For example, you can draw and cut in one move without tinkering with the program.
This reduces human error. The Maker got a turbo boost. It's one of the fastest vinyl cutters on the market. The only drawback of the speed is that it gets a bit louder. Other than that, it's one of the quietest machines.
Here's a side note. If you're in the shirt business or planning to be, make sure you get the Cricut Easypress 2 with the big mat. This will help you speed up the process of a big time. If you want to know more about why the Cricut Easypress is the best iron, then read my review.
Lately, Cricut has been experiencing huge demand, and they ran out of stock. So if you feel that this is the right fit, get it because the stocks are low.
Read our related article on How to Make Shirts With Cricut Infusible Ink! We show what you need to know to get started.
Pros
With 4000g of cutting power it can cut through anything in your craft room
It's fastest electric cutting machine you can buys
Accessories cost less so you can make higher profits
Cons
Design Space software is mostly online
It's on the pricier side
Check Latest Price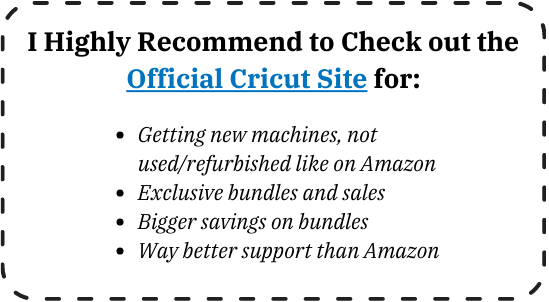 BEST FOR: Crafters who want to push their creativity limit. With the dedicated Rotary blade, you will be able to create amazing fabric designs. The Deep Cut blade will cut through thicker and harder materials with ease. The Maker is the skeleton key for crafters who want versatility.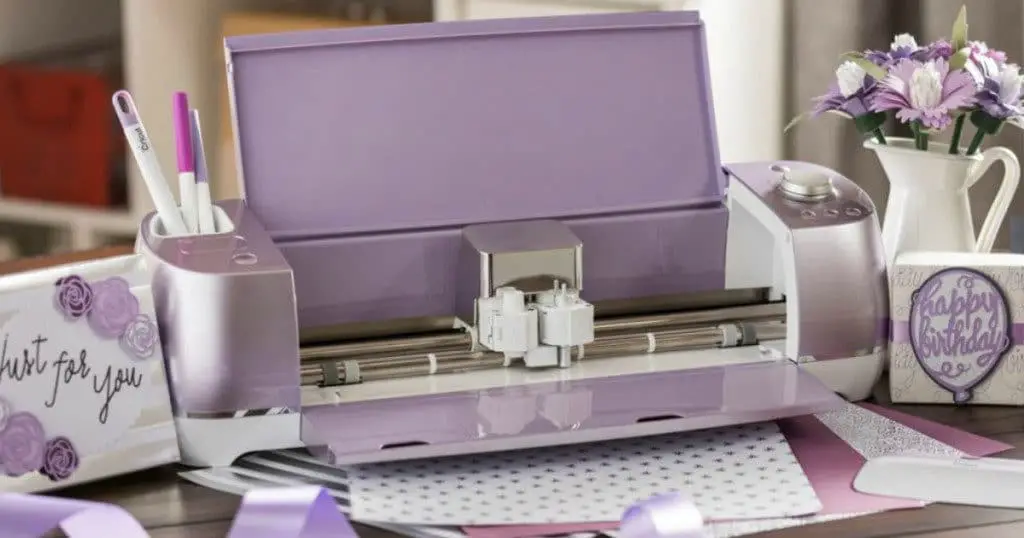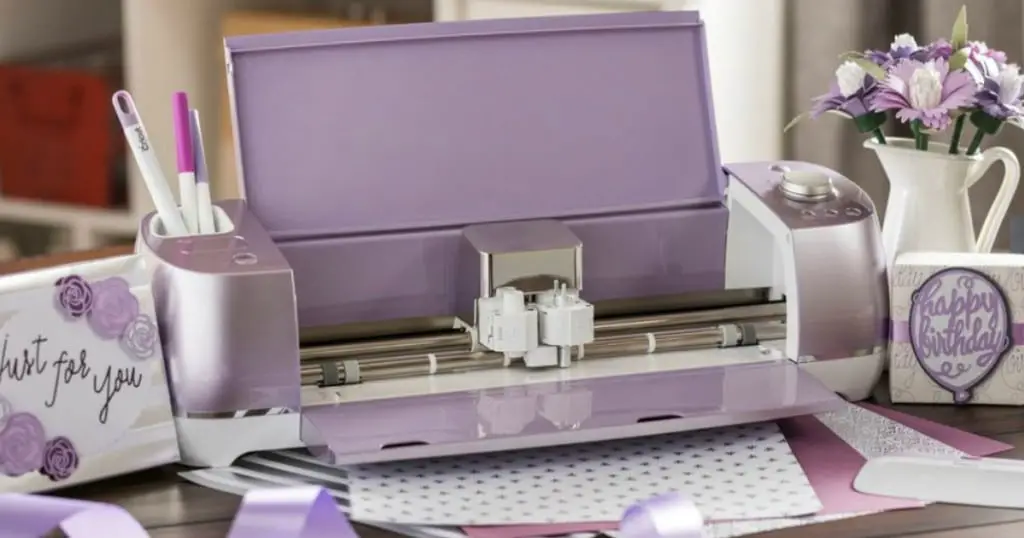 Crafting can be intimidating…
This is why it's a good choice to start with the simplest machine possible.
By far, the Cricut Explore Air 2 is the best Cricut Machine for beginners. It's not overwhelming, and still, it can handle 100+ materials. Access to these materials means you will find your favorite one with ease.
What's important for beginners? The software, I presume. Well, Cricut has outdone themselves with the Cricut Design Space. It's so easy and intuitive that there's only a small learning curve. Compared to other vinyl cutters, the Explore Air 2 is a walk in the park.
With the Cricut Explore Air 2, you're getting a great cutting size, which is 11.5 inches x 23.5 inches. Also, this machine comes with dual carriage so you will be able to draw and cut simultaneously.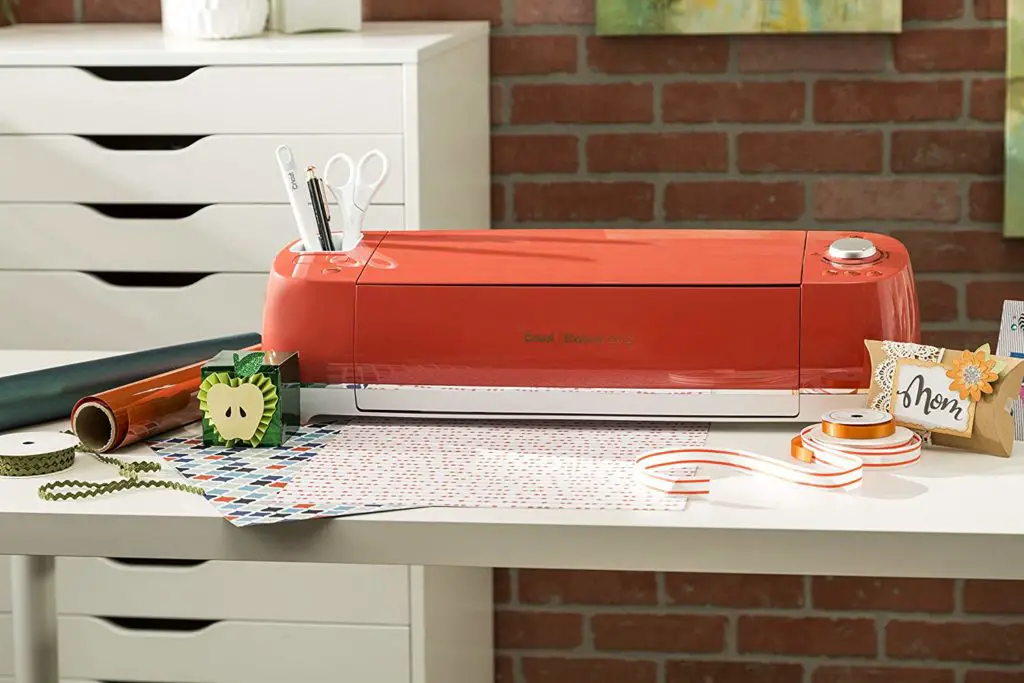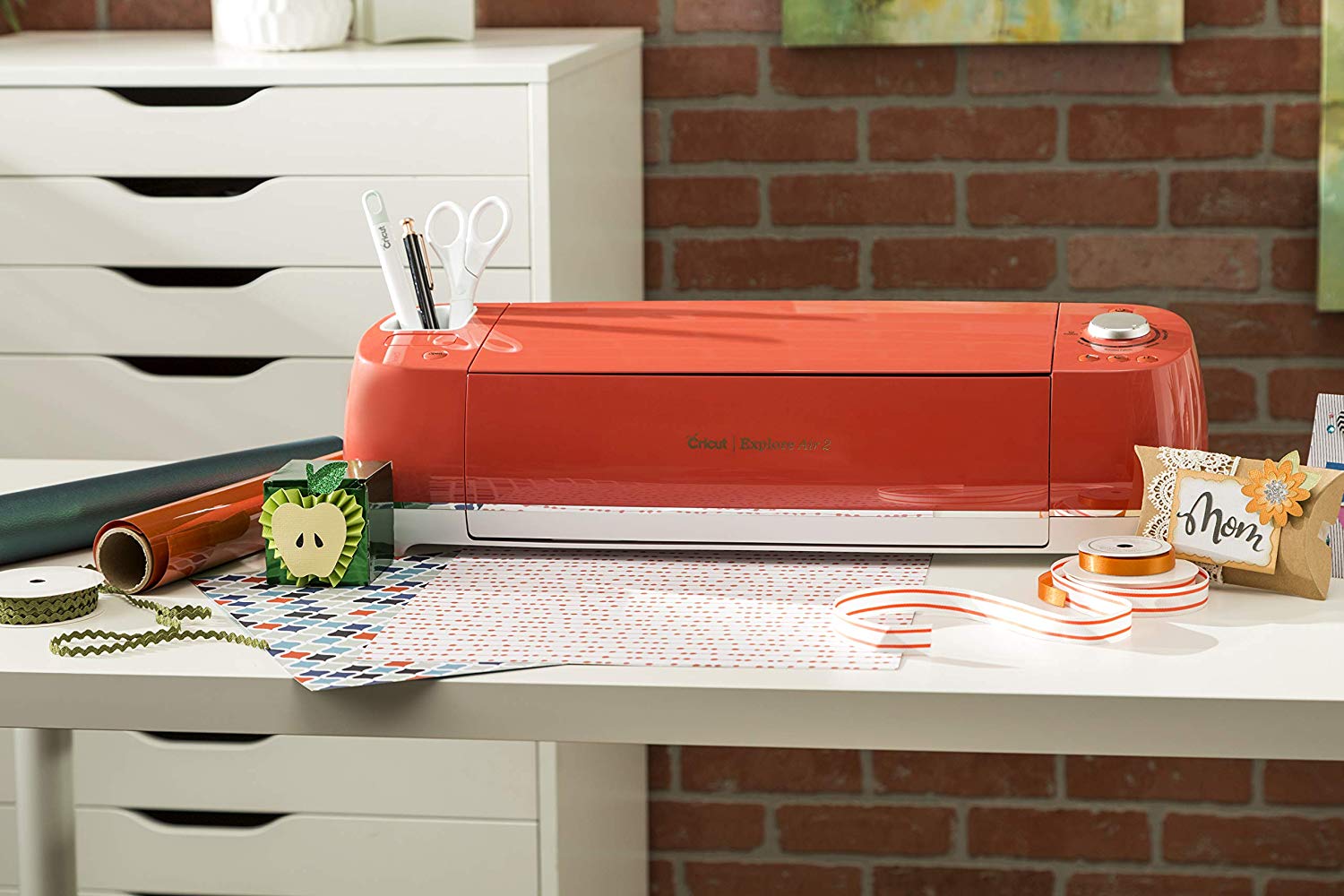 The Explore vinyl cutter is great for beginners, and it doesn't mean that it's only for beginners. The price is in the OK range. The Explore 2 is very similar to the Maker. If you want to read the full comparison, you can check out my Maker vs. Explore post.
Besides the Explore Air 2 can do everything that the Maker can. The only difference is that the Maker has dedicated tools that make the job easier and sharper.
The Cricut Explore Air 2 is a real workhorse. Many other Cricut products were retired, and the Explore still holds its ground.
With its 350g of cutting force, it will cut through all basic materials. If you're new to crafting, this will be the ideal starter machine. It's easy to use and control. Also, it allows you to extend your capabilities down the road.
If you feel that the Cricut Explore Air 2 is the right choice, then take action now because the last time I've checked, stocks were running low. You don't want to wait weeks until they have it again.
Pros
It's an affordable vinyl cutter that many great things under the hood
It has dual carriage so it can speed up the workflow
It's easy to get started so beginners will feel right at home
Cons
It's a bit outdated machine, still a regular workhorse
It doesn't have specialized blades like the Rotary or Kraft
Check Latest Price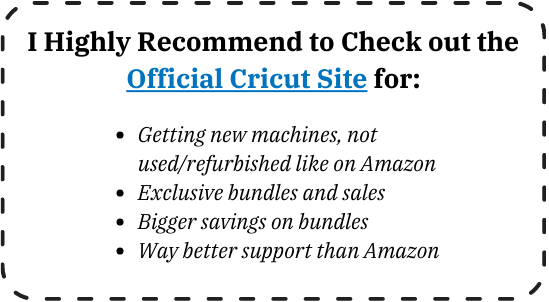 BEST FOR: The Cricut Explore Air 2 is the ideal vinyl cutter for beginners and not only for them. The simple to use the machine and intuitive design space makes it fast and easy to learn.
You can have a blast cutting vinyl and paper. The Explore Air 2 isn't just limited to these. With 350g of cutting force, it can cut thicker materials.
#3 Cricut Joy – Best Cricut Machine for Vinyl Lettering
Are you looking for the best vinyl lettering Cricut Machine?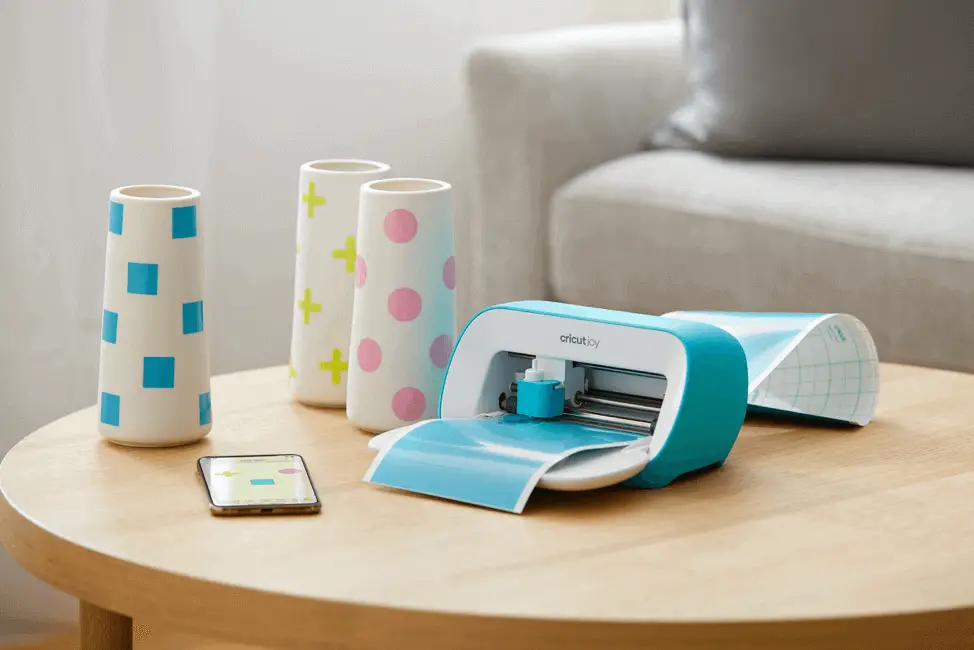 You have just found it. This tiny and cute thing is hard to believe that it's a vinyl cutter.
It's the smallest vinyl cutter in the Cricut family. It's the latest machine released, and it's called Joy. For some, this will be the perfect machine.
And others will take a pass on it. Here's what's wrong with the Joy. It's overpriced, and the materials are expensive. The only way to save money is to buy either a cricut bundle or cutting them down to size.
All other Cricut machines are limited to 24 inches. This little one is limited to 20 feet. Yes, you read it right. Those are feet and not inches.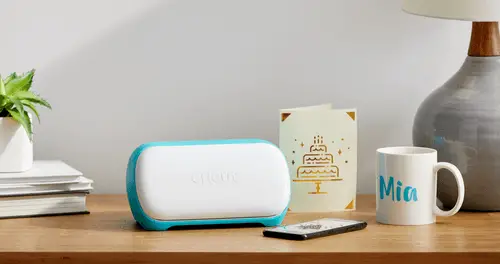 The Cricut Joy can be considered as a starter cutter. It's small and portable, plus it's not that intimidating like its bigger brothers. The only materials this cutter can work with are paper, vinyl and HTV.
The Cricut Joy comes with a brand new fine point blade. This will make cutting vinyl a breeze. Best of all, weeding is so simple no matter what kind of lettering you're creating.
It only comes with one holster, so you have to switch between tools in the middle of the job. If you can command higher prices, then this machine will be perfect for you. Otherwise, it's a pricey endeavor.
The Cricut Joy is so small that it can fit into a simple carrier bag. I have many friends who are intimidated by the Cricut Maker or Explore and have no problem working with the Cricut Joy. One of my friends made more designs in a  week than with the Maker in the past six months.
The Cricut Joy is perfect for introducing kids to crafting. Stickers and scrapbooking become almost effortless.
If you feel that the Cricut Joy ticks everything, get it now because the stocks are running low, and you don't want to miss out on it.
Read our related article, Why is My Cricut Not Cutting Through Vinyl? If your Cricut is having trouble cutting vinyl, check out our guide!
Pros
It's a great choice for kids and school crafting projects because it's so easy to use.
Lightweight and small great for people on the move.
You can get any project done in 15 minutes or less.
Cons
The accessories are overpriced.
Nor the blade or the cutting mat can be used in other Cricut machines./li>
Check Latest Price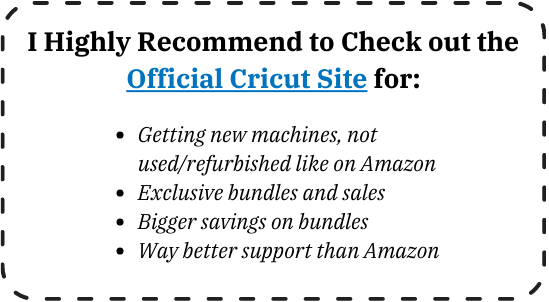 BEST FOR: The Cricut Joy is for people who are doing Vinyl lettering. Not only that, it's a perfect starter machine. If you're on the go and you like to organize and label stuff, look no further you have found the perfect machine.
Kids can have a blast with this tiny and cute machine
Buyer's Guide for Cricut Machines
As you have seen above, I've listed the very best what Cricut has to offer. These come in different shapes and sizes to different needs.
Let me help you make a choice clear for you.
If you the type of person who plans and has many ideas, then the Cricut Maker is your best choice. From thin and delicate materials, it can handle anything up to thick and tougher ones.
If you upgrade and get the Kraft blade, you can work with balsa wood and chipboard as well. By getting the rotary blade, you will be able to cut fabric with ease. It won't wrinkle or get damaged. It has a docking station, which makes the wait time all too comfortable.
If you just want to test the waters and see how hard or easy it is to craft, then your best choice is the Cricut Explore Air 2. It's not that complicated, and you won't be distracted by all the possibilities.
The truth is that the Cricut Explore Air 2 is an older model. Still, it holds the ground. Other older products by Cricut were already discontinued. What I've noticed is that there were minimal supply issues with this model. When most Cricut machines were out of stock, you still could buy the Explore.
Now the Cricut Explore Air 2 is almost as good as the Maker. There are things that it can do like fabrics, but it doesn't have a dedicated tool, so the finished product isn't that flush.
With the basic materials, it is as good as the Maker. It might be a tad bit slower. Also, the Explore Air 2 is more affordable than the Maker. While the Maker requires a serious investment, the Explore Air can do pretty much what the Maker can.
If you're going with shirts and T-shirt customization, the Cricut EasyPress is a must-have.
Cricut heat press or iron? Not even a question.
It beats hands down any home iron.
It's less expensive than an industrial heat press, and you can't compare the space savings. If you choose the biggest press from Cricut, you will be able to do a shirt in one go. If you go with a smaller one, you might need to do two or even four presses.
The last machine which I've recommended was Cricut Joy. Sadly Cricut has dropped the ball with this one. It's nothing more than a shameless cash grab. It's expensive from the get-go. Plus, the materials are overpriced. This is not what we're used to with Cricut machines.
This machine is ideal for those who are on the go. They can create designs on their smartphone and cut it out with the Cricut. If you can charge high prices, then it's worth the investment. Also, it's small and tiny so kids can get a taste of crafting.
Read our related article, How to Print On Fabric With Cricut for more information and helpful tips!
Conclusions for the best Cricut machines
We have reached the end of these Cricut machine comparisons. By now you should know which of these three Cricut machines fits your needs the best.
Now, if you have a winner, then get it as soon as possible. In the past months, Cricut experienced supply shortages. If it's stock, get it. If not, somebody else will get it, and you will miss out on it.
If you have any tips or questions, let me know in the comment section below.
Happy Crafting!
Read More: Difference Between Glowforge and Cricut. Not sure if the Glowforge or Cricut is right for you? We'll help you decide!
Frequently Asked Questions (FAQ):
What Is the Best Cricut Machine to Buy?
The best Cricut Machine to buy is a Maker. It gives the most options, and it's a real workhorse.
What is the difference between the Cricut machines?
The main difference between Cricut machines is the prices and their capabilities. For example, the Cricut Joy can only handle vinyl and paper. While the Explore Air 2 can handle thicker and stronger materials. Finally, the Maker can cut, deboss, engrave, and cut fabric as well. Since the Maker has been out of stock for weeks I highly getting the older version, it's cheaper and available if you want to find out more read my Cricut Explore Air 2 Review.
What computer is best for Cricut maker?
The best computer for the Cricut maker is the one that you can carry with yourself. So smartphones, tablets, and laptops are the best choices if you want to keep yourself mobile.
What Is the Newest Cricut Machine?
The newest Cricut machine and also the latest Cricut machine is the Cricut Joy.
Which Cricut Is the Best?
The best Cricut is by far the Maker. It's the flagship product that can work with over 300+ materials. It's fast and accurate and great value for the money.
What happened with the Cricut Cuttlebug and Cricut expression?
The Cricut cuttlebug and Cricut expression are part of the legacy electronic cutting machine family. If you need to buy it you need to search long and hard because these cutting machines have been discontinued or they will be soon. These Cricut cutting machines have served their purpose and got outdated. The cricut explore one was the first one to get the axe, however the cricut expression 2 is still going strong. If there's a need I will create a comparison chart about the right cricut machine like the one called circut explore air cricut explore one. By checking a few online sites I've found a cricut explore cutting machine one second hand at an affordable price.
Read More: What is a Cricut Imagine? We explore the Cricut Imagine to see what this machine can do!
What are the best Cricut Machines in [year]?
The best Cricut machines are:
The very best: Cricut Maker cutting machine
The easiest to use: Cricut Explore Air 2 cutting machine
The most portable: Cricut Joy
The best Cricut Heat Press: Cricut Easy Press 2 heat press
The best small die cutting machine: Cricut Cuttlebug die cutting machine
The best illumination board: Cricut Bright Pad
If you consider buying a Cricut cutting machine these would be the right choices.
The Cricut Easy Press is a heat press, not a cutting machine. The Cricut easy press just like the Cricut maker is. You will need a Cricut easy press if you want to cut infusible ink or htv.
Read our related article on How to Use Cricut Infusible Ink for a detailed step-by-step guide!
What is the cutting space with these cutting machines?
The cutting space is the same mostly. The early models were 12 x 12 inches and the later ones are 12 x 24 the only exception would be the Cricut Joy which is smaller. If you ask me 12 x 12 is a quite decent cutting space for die cutting and other variety of materials.
What kind of materials can you cut with these Cricut cutting machines?
Let it be the cricut maker or other cricut cutting machines they can handle anything you can throw at them. Materials including: greeting cards, faux leather, vinyl decals, it can cut paper, card mat, tissue paper, custom card, 3d projects.
How good are these cutting machines?
Cutting machines like the Cricut maker are easy to use and heavy-duty at the same time. They can do precise cutting. The latest generation comes with a double tool holder which means that this Cricut cutting machine can do cutting and writing or cutting and embossing at the same time. Not to mention the wide range (wide variety) of materials they can work with. What you need to know if you would access to the wide range of materials you will need special blades like: knife blade, fine point, rotary blade. These all use high quality tungsten steel as the blade. If you read a few machine reviews you will see that people love these produced machine cricut. The double tool holder makes the process faster. Most of them are bluetooth enabled. To buy cricut you just have to click a link above. These machines come with wireless connection via Bluetooth. With the wide range variety of materials no wonder machine cricut is the top pick for many crafters.
What does the basic cricut package include?
The basic cricut package includes the machine, scoring stylus, fine point blade and a few materials and a demo project. It doesn't include the knife blade and the rotary blade.
Is the cricut explore air 2 still a good choice as a vinyl cutter?
Yes, the Cricut Explore Air 2 is a great tool. It's made out of high-quality materials and this machine reviews are high. It has a smart dial for different material settings. It also has multiple storage compartments. The main uses are for projects including: paper crafts, sewing patterns. If you want to on the professional route you might need to invest in a craft room. Where you will find everything you need from cutting mats to the image library and design software. Sadly this cutter is not compatible with the knife blade. It's still easy to use. If you want to buy materials like vinyl there's a big selection for them. There's also a handy comparison chart to see everything at the same time. The Bluetooth adapter is working well. Nowadays I can't imagine a machine without a Bluetooth adapter. All in all, it's a high-quality machine which can cut a wide number of materials. The machine reviews are high.