With so many crafting machines on the market, it's important to know which ones are worth the buy.
Today, we'll compare the two leading brands of home crafting machines: Glowforge vs Cricut.
Both manufacturers are renowned in the crafting world and have produced high-quality products for years.
But which is the best machine for you?
Let's take a look at the main differences between the Glowforge and Cricut machines.
What is a Cricut Machine?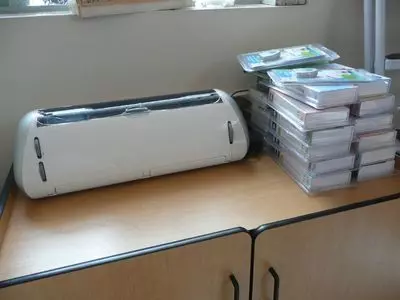 Cricut is one of the original inventors of the home crafters' market.
They originally started as a company that made industrial cutting machines that cut various types of paper, film, and plastic.
Cricut soon realized that their technology could also be used to create stunning craft projects.
Today, Cricut machines are sold worldwide in over 9,000 retail locations and they're able to create a multitude of designs.
The standard Cricut machine can cut basic shapes like hearts, stars, and clouds with various accessories, including stencils and templates.
It can also create complex projects like Cricut wedding invitations, magazine covers, or even family portraits.
Professional features include multiple blade options for different thicknesses or materials, deep engraving for intricate patterns, and specialty blades for working with metals or leathers.
A Cricut machine can be customized to include all your favorite tools to create designs that are intricate, personalized, and beautiful.
Read our related article on the Best Cricut for Beginners. This in-depth review and guide can help you pick the right machine for your needs!
What is a Glowforge?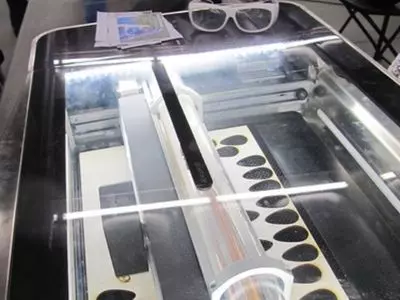 A Cricut competitor, Glowforge is a laser cutter that creates designs using a laser cutting method.
A Glowforge machine is a larger machine that's meant for creating more professional or larger-scale projects.
The Glowforge uses cutting-edge laser technology to cut powerful, fast, and precise cuts through materials up to 12 inches thick!
It replaces traditional metal cutting equipment with a new technology that is safer, more efficient, and more accurate.
Which One is Best for You?
These two machines offer everything you could ever want in a home machine: the software, the hardware design, and the variety of materials available.
The machines also offer an array of customization options and powerful features.
Both also have world-class customer service, which is becoming harder and harder to come by in an industry where companies are increasing.
Both machines offer great value for the money, but for different reasons.
The Cricut machine is great for creating basic projects and are great for beginners or at-home crafters.
Glowforge machines are more expensive and are used mainly for professional use.
The lasers of a Glowforge machine can cut thicker materials than Cricut's built-in blades, but Cricut offers some of the best quality material available on the market.
It's hard to go wrong with either one!
Read our related article, Is Cricut Joy Worth It? Learn all about the Cricut Joy, its features, pros, cons, uses, and MORE!
Glowforge vS Cricut Breakdown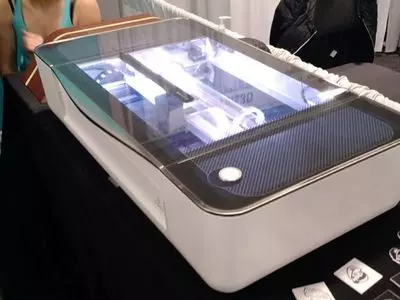 When choosing which machine is best for you, it really comes down to the details.
Knowing what you can and can't do or what you're looking for in a machine can help you choose the perfect one.
Cricut Machine:
Lightweight design
Cricut Design Space software needed
A computer or phone needed
Rotary blade cutting method
$399 price point
Over 5+ functions to use to design crafts such as writing, cutting, etc.
Perfect for at-home users and beginners
Glowforge:
Heavy design (up to 120 lbs)
Glowforge software needed
Laser cutting method
Functions include engraving, cutting, and scoring
The price point of $4,000 to $6,000
More for professional use
Consider these differences when choosing a machine perfect for your particular project, business, or design.
Read our related article where we compare the Cricut Maker vs Explore Air 2 to see which Cricut comes out on top!
FAQs
Q: What's the difference between "Cutting" and "Shaping"?
A: The main difference between cutting and shaping machines lies in how much control you have over what you're doing.
With shape tools (Cricut), users are immediately given complete control over their product's appearance.
With cutting machines, this is not the case.
Because they're designed to move as quickly as possible, Cricut machines are sometimes built better for cutting large amounts of stock material at once (such as paper).
With Cricut's Shape tools, shapes have a definite shape that cannot be changed after being cut out, meaning you cannot make your product smaller or larger than designed initially.
Q: What material is best for a Glowforge?
A: Glowforge has access to a tip-open design platform where users can create their tips and engravings with their software and then use these unique tips on different materials.
The material they are currently compatible with is A4 paper, acrylic, PETG plastic, and cardstock.
The plastic and acrylic can be cut into any combination of thicknesses. In contrast, paper can only be cut in one thickness.
However, users can purchase additional cutting wheels, which allow them to cut into different thicknesses than what comes with the Glowforge.
Q: How do I use my Glowforge to cut paper?
A: The easiest way to cut paper with your Glowforge is by using an adapter (not included) that screws into the bottom of your Glowforge.
This makes it easy to attach paper directly without opening the machine and using your computer as a cutting device.
The best setup for cutting paper is to have a clean surface that does not move and has nothing on it for the laser to get in its way.
Here's a video on how to cut paper using your Glowforge:
For best results, make sure you have no bumps or folds in your paper and that there are no shadows from things behind it blocking the laser from getting through.
Be sure to place your sticker face down on a hard flat surface when applying it, or you will have trouble making cuts later if you need them or have problems in some other way.
Read More: Can Cricut Explore Air 2 Cut Wood? We cover how to cut wood veneer with your Cricut in this step-by-step guide!
Final Words
In the end, the decision to invest in a laser-cutting machine is up to you. Both machines have a lot to offer.
They offer creative freedom with both traditional and digital materials. They will save you time and help you create products more quickly.