Are You Just Getting Started With Crafting? Then, Check Out This List Of The Very Best Cricut For Beginners!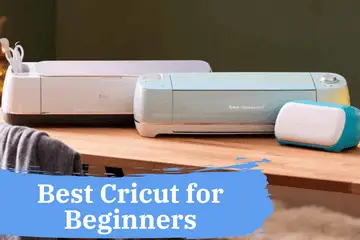 Welcome to the best Cricut for Beginners awards!
After spending the last 12 days designing, cutting, tweaking, weeding, and skipping on house chores (sorry, honey!), I've managed to put together the perfect list for beginners looking to get started with Cricut machines.
Look:
Finding the perfect vinyl cutter when you're a beginner comes down to two things: what you want to create and your budget. As soon as you've determined these, it will be easy to pick the right machine.
When I got started after becoming a mom and leaving my corporate life behind, there weren't guides like this one, so I had to learn the hard way. After many mistakes, I've gotten a firm grip on crafting, and I'm now supplementing my family's income quite nicely.
Therefore, the heavy lifting is already done for you. By picking any machine from this list, you can rest assured that it's a winner and is super easy to use.
Now, let's get to cutting already!
Check out this fun and easy tutorial on How to Make Koozies with Cricut! We show you what to do in this guide.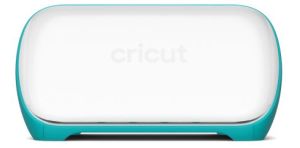 For Crafters on the Go: The perfect machine to create the WOW factor on birthday parties, baby showers, etc.


For artists in a rush: This machine is insanely fast and best of all you don't have to use a mat for your creations


For True Artisans: The only choice for artisans and tinkerers needing total creative freedom with any material
#1 Cricut Explore 3 – Best Overall
And we have a WINNER!
The Explore 3 is by far one of the best cutting machines I've ever had the pleasure to work with. Plus, it's beginner-friendly.
You have probably read that it can handle over 100 materials, which might seem overwhelming at first. Here's one tip that I live by and learned the hard way: pick a material and stick with it. Also, know that the easiest cuts are vinyl-related. If you value speed, some smart materials don't even require a mat, which means less time wasted and fewer opportunities for failure.
Since the software is available online, you only have to select the material you want to use and press "Cut." Everything else is handled by the software. That means you won't waste material because the cutting strength is automatically set to the right amount.
I don't know how Cricut does it, but the software is childlike simple. In most cases, it's so easy to grasp that you don't even need a tutorial.
Here's why it got the top spot:
Beginner-friendly and then some: Cricut is known for making the easiest-to-use cutters ever. Besides, the software is easy to grasp, and the whole process is almost effortless.
Plug and play: No software upgrade is ever needed because it's cloud-based. All you need is access to the internet, and you're ready to create fabulous creations.
Jack of all trades: This cutter can handle 300+ materials, so that you won't get bored anytime soon. From the softest fabric to thick chipboard, this machine can cut anything, making it perfect for starting and expanding later on.
The only drawbacks worth mentioning:
Although the design space is super easy to use, it works best while connected to the internet. If you have connection issues, you can always use your smartphone to add the necessary designs and then disconnect it.
In addition, this machine is on the pricy side, although it's all worth it since you're not limited to just one material. Indeed, whenever you feel adventurous, you can try and craft with any of the 300+ other materials.
This is by far the most beginner-friendly cutting machine on the market. The learning curve is minimal, and completing the first few demo projects gets you up to speed in no time.
However, if you want something portable and a bit cheaper, check out #2 below.
Pros
Are you fed up with mats? Good news, with this vinyl cutter, no need for sticking and unsticking, and of course, you can get the grind off thanks to smart materials
Its ludicrous speed of 8 inches per second is amazing!
Finally, it makes longer cuts that allow you to create bigger projects up to 12 feet long
Cons
The price jumped way too high for my liking
Its fast speed is limited to smart materials
#2 Cricut Joy – Best Affordable Cricut Machine for Beginners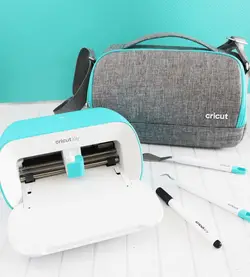 I have a real treat for you! I am talking about the Cricut Joy, one of the most compact and easy-to-use vinyl cutters. Even kids love this cutter, making it a great way to get them into scrapbooking.
The main reasons why this Cricut machine got on my list are that it's small enough to be portable and that you only need the power cord to operate it.
Besides, this machine is super simple to use, and the control software is even easier. Plus, you get a demo project to get you started. Cricut Design Space is easy to grasp. You can indeed master it in just a few projects.
After the tiny learning curve, you can get ready to master any material to your liking with ease, because even if you get stuck, there's a strong community ready to help you out of a jam.
Here's why it's worth buying:
Minimum learning curve: The software is so easy to grasp that kids pick it up as second nature, which means anyone can use it with a bit of practice.
Plug and play: You only need one wire, which is the power cord, and that's it! Everything is wireless and no-fuss use.
Fast live results: if you want to light up people's faces and shock them with your skills, it is the machine worth buying.
Although, there are a few drawbacks that I would like to mention:
I understand that this is a new machine, but the price is a bit steep for me. However, if you are constantly on the road and like to show off your skills in front of an audience, it's well worth the price.
Besides, materials' and accessories' costs are higher than they used to be, and these can't be interchanged with those of other Cricut machines.
Now, if you don't mind charging more for a high-quality job, the Cricut Joy is a winner. Kids love this machine and can safely use it. I bet they can even learn it faster than adults! If that sounds like the one for you, grab one while stocks last!
Pros
It's a great choice for kids and school crafting projects because it's so easy to use.
Lightweight and small great for people on the move.
You can get any project done in 15 minutes or less.
Cons
The accessories are overpriced.
Nor the blade or the cutting mat can be used in other Cricut machines.
#3 Cricut Explore Air 2 – Best Value Cricut Machine for Beginners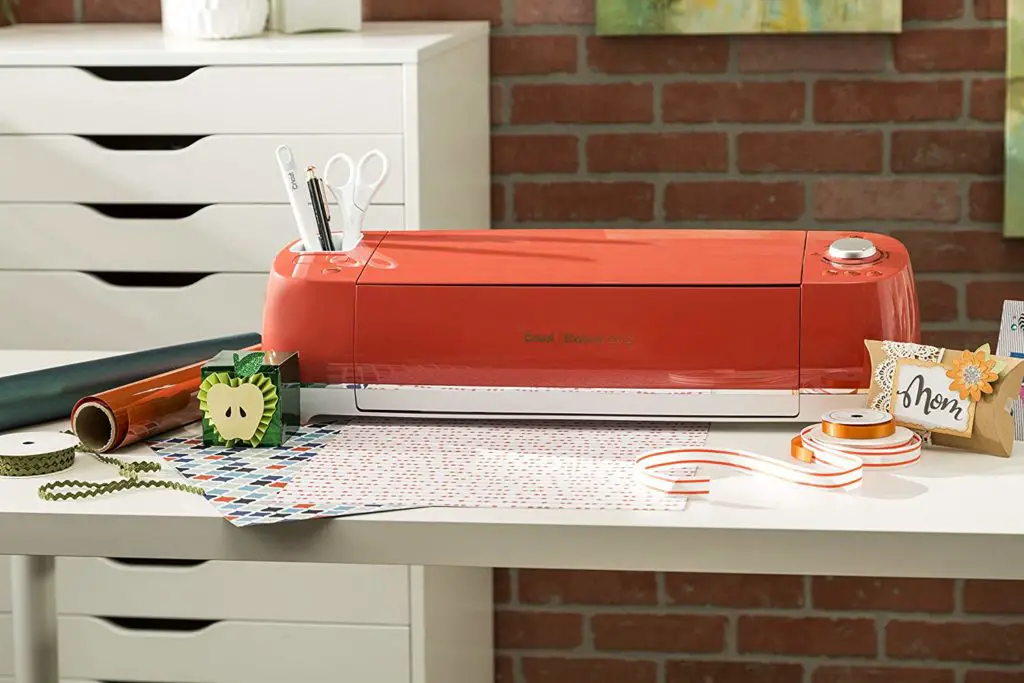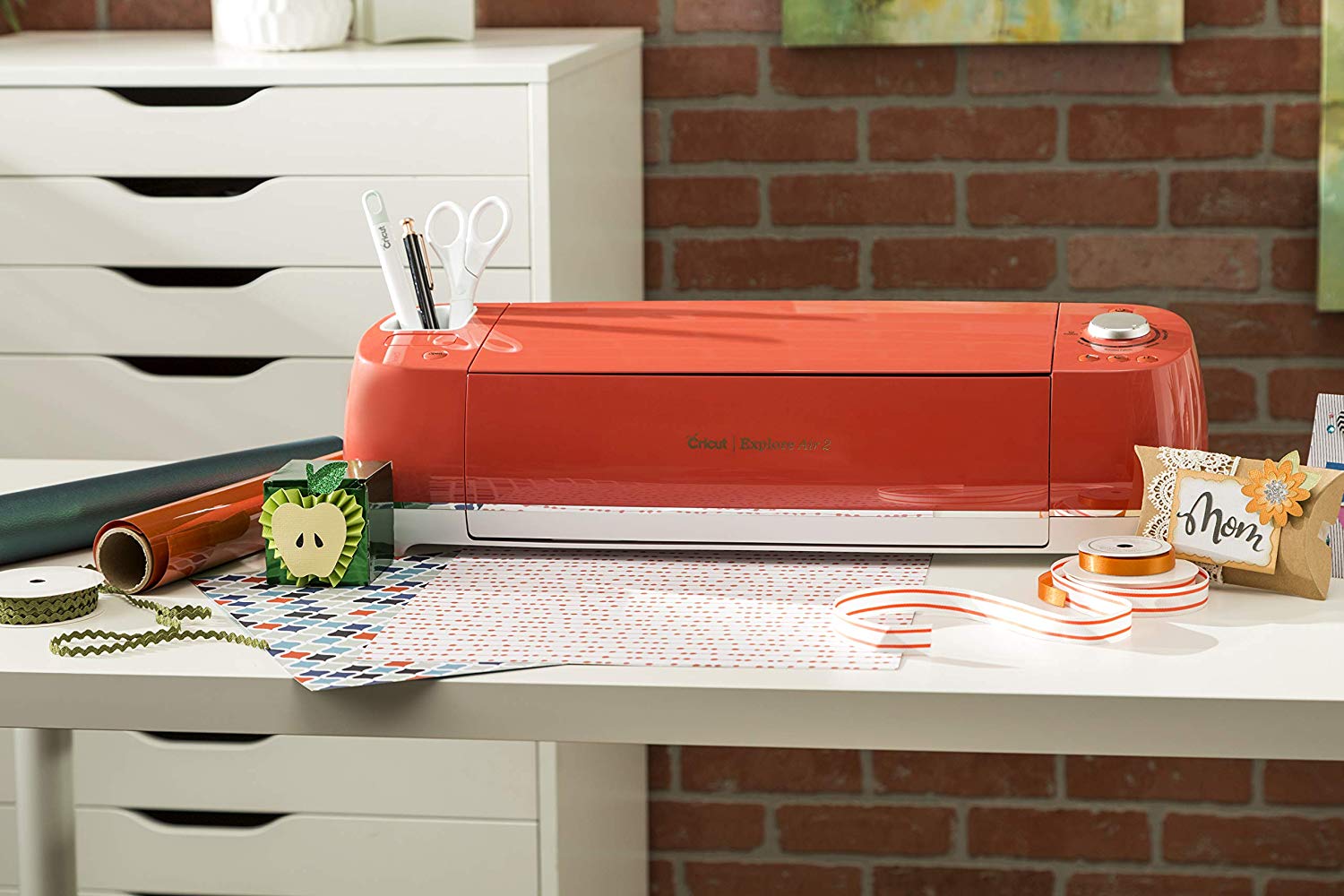 I know how hard it is to get used to new machines. Luckily, this workhorse is the best one ever made for beginners and is also very affordable.
If you're just starting out and don't want to spend way too much money on your first vinyl cutter, this one will be the perfect fit for you.
Plus, if you complete the demo cut, you will be up to speed for using the easy-to-grasp software and making perfect cuts.
What I love about this cutter is that it's limited to just 100 materials, while other machines can handle over 300. With the latter, I was always chasing the newest, easiest material without mastering any of them. Therefore, my best tip is to start with one material and master it before trying something else.
Here's why it's worth buying:
Grandma could use this with ease: There's only a minimal learning curve with this machine, which the demo will navigate you through.
Easy to grasp software: Cricut Design Space is so easy that even kids can pick it up in a matter of minutes. In most cases, all you have to do is drag and drop items.
As simple as 1,2,3: No rocket science is involved to load up the material; select the design, press "Cut," and you will be done in a matter of minutes.
However, there are a few drawbacks that I would like to mention:
The design software mainly works online. Although there's an offline version, you can't upload new designs on it, but only edit existing ones. The best solution for this would be to set up a hotspot with your smartphone.
There are some hidden fees for using the software. Luckily, these are optional.
The Explore Air 2 is a real workhorse. It has been tried and tested for many years, and it delivers excellent quality. It will serve you well for the years to come.
Pros
Can cut 300+ different materials. The Explore Air 2 does a great job with paper, vinyl, and other materials.
Easy to learn and easy to use
Design Space is brain-dead simple to use with a minimal learning curve.
Cons
Design software online only, doesn't work offline
Hidden fees when you use the software (optional purchase)
Read More: Difference Between Glowforge and Cricut. We explore the Glowforge and Cricut machines so you can make the right choice for your projects!
Conclusion
We have reached the end of this award show. By now, you should know which machine is the perfect fit for your needs. I made sure to keep my list short so you can start crafting without being on the fence for too long.
I've thought long and hard while testing the machines and organized them in a list. In the end, I've picked something that is a jack of all trades without breaking the bank and have chosen one that is small and portable. Also, I've added one item to the list that is a tested and approved workhorse. Finally, no matter which one you choose, the learning curve will be minimal.
One thing to note about Cricut is that they encountered supply issues in the past month. So, if there's a machine available, grab it before someone else does.
If you have questions or tips, hit the "Contact" button, and let's chat.
Frequently Asked Questions (FAQ):
Do you need internet connection to use cricut design space software?
To use cricut design space software to the fullest you will need internet connection. However Cricut has a desktop offline app that works but it can work with existing projects you can upload new files in offline mode. Also there's design space app for mobile phones. You can use the design software with your smartphone.
What is the best cricut machine that is portable?
The best cricut machine if you're on the go is the cricut Joy.
Is the cricut explore air 2 the best cricut machine for beginners?
Yes the cricut explore air 2 is the best machine for beginners. It's a cricut machine that delivers time and time again. Many other bloggers agree with me that cricut explore air 2 is the best cutting machine for newcomers.
Which cricut machines didn't make it on the list?
There are some old generation cricut machines like the cricut cuttle bug and cricut explore one that are dinosaurs so I didn't include them on m list of cricut machine for beginners. Also I've skipped over the cricut maker and the cricut maker 3 because it might be overwhelming for beginners.
What should I look for before buying a cricut machine?
When you are debating which cricut machine is the best fit for you needs check these things out. To get the most use out of your cricut cutting machine check the types of materials or variety of materials it can work with. Explore Air 2 can handle 100+ materials and the cricut maker can handle more than 300 types of materials. For al the different materials you can use the specialized tools set like the knife blade, rotary blade, fine point blade. The new generation of machines include storage departments. These storage departments are a great way to hide your knife blade, rotary blade. These latest tools do require the use of a cutting mat. The included storage departments will allow you to not loose any of your blades.
Can I cut without a cutting mat with my cutting machine?
Only a handful of machines allows you to cut without a cutting mat. Usually you don't need the mat with smart materials.
What happened with the cricut explore air 2 dial with the 3rd generation?
With Explore air 2 you can set dial so it makes the perfect cut with every material. The set dial feature has been removed from the explore 3 machine. It was quite handy because if you work with just one material like vinyl you set dial and forget about it
What kind of tools do I get with my cricut machine?
The standard tool is the fine point blade. Besides Cricut Joy and Cricut Explore One all the other cricut machines have dual tool holder. The dual tool holder means that you can draw and cut at the same time. Using the tool holder saves you time.
Do I need a heat press, specifically the cricut easypress?
Well this depends on what you're working with. If you're customizing shirts and bags the cricut easypress is your best bet. Even the best cricut machine can't make it stick.
What is the smart set dial with the 2 cricut explore air 2?
The smart set dial is that rotary wheel that allows selecting the materials by hand. With the latest cricut explore machine the smart set dial has been removed. Also cricut machines like the explore one and other cricut explore machines are not compatible with the knife blade and the rotary blade. For that you will need the cricut maker which is one of the best cricut machines ever made. I didn't include the cricut maker as the best cricut machine for beginners because it has way too many material settings so beginners could get lost. Anyways going with any of the cricut machines you will be able to enjoy wireless cutting through the bluetooth technology technology. Apparently there's a new cricut machine released every year.