Do you want to know how to make wedding invitations with Cricut? It can be a lot of fun, and it's a great way to save money on totally unique and custom invitations.
In this blog post, we'll walk you through the steps, and give you some tips on how to make them look their best.
How To Make Wedding Invitations With Cricut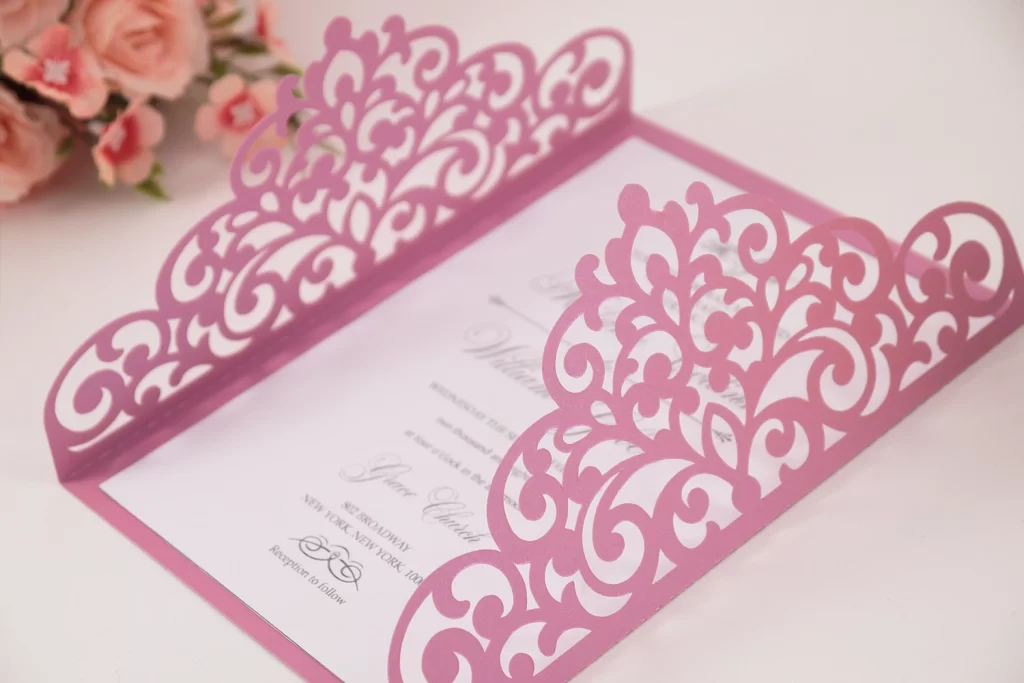 You can make wedding cards with your Cricut 2 ways.
Use the Cricut to create intricate card-holders for pre-printed cards, or print the cards yourself and use the Cricut for embellishment.
Purchase a wedding card template or design your own and send it to Cricut. Place your paper or thin cardstock on a regular green mat.
Cut the design and use Cricut to score the folds.
You can also print and cut the information and RSVP cards with Cricut using the "draw" option.
Assemble and fold the invitations. Address envelopes using the line draw option in Design Space.
Make unique Cricut wedding invitations using a Cricut by creating intricately cut-out sleves, bi-folds, tri-folds, or quad-folds to hold pre-printed invitation and RSVP cards.
Read More: How to Use Templates in Design Space. If you're new to templates, this is the place to start!
Choose Paper for Cricut Wedding Invitations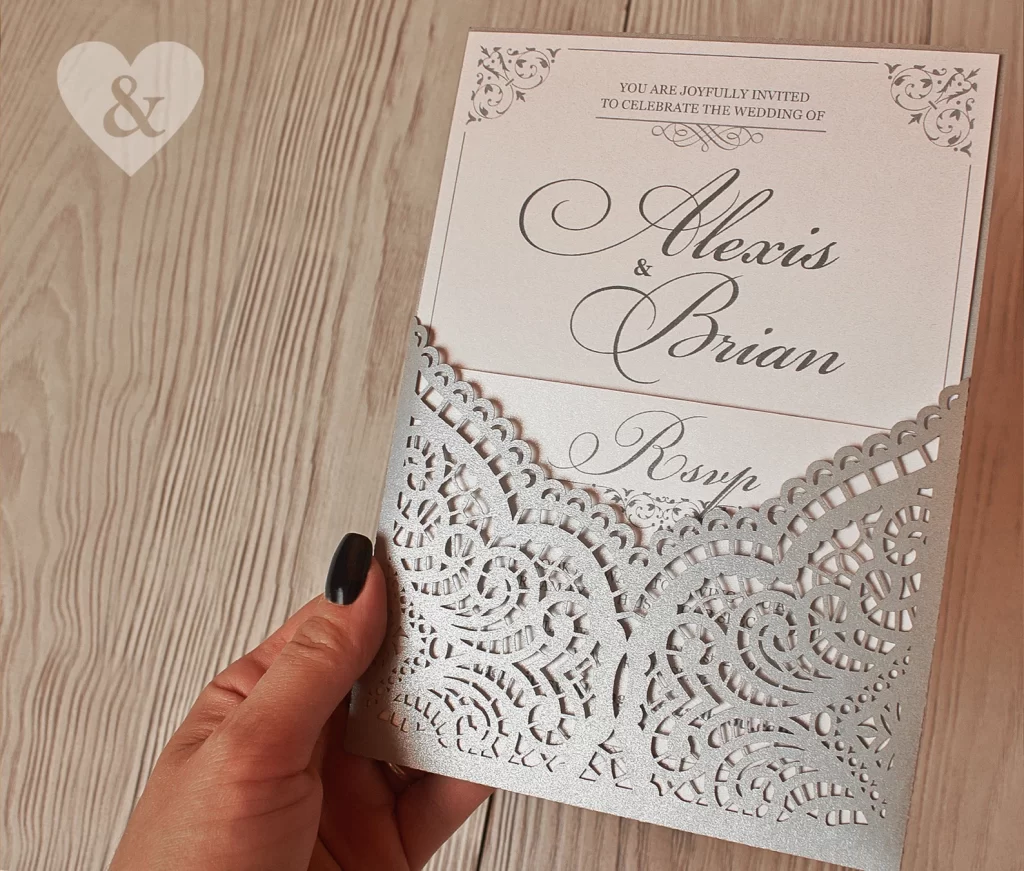 Cricut can cut cleanly through any type of paper including foil, cardstock, linen, and vellum. This leaves your possibilities for wedding invitations wide-open.
Consider using a lightweight linen cardstock as an outer invitation holder with a heavier weight cardstock printed invitation inside placed over a foil cutout.
Cover the invitation with vellum before folding the holder.
While the design is intricate, the most complicated cut is the card holder, while the 3-layer interior is quick to cut and assemble.
Your invitations can be as simple or intricate as you'd like. Thanks to Cricut's ability to write on paper, you can clamp in a pen and make each one as unique as your guests!
Use Design Space to customize each card or create a single design for your card set.
Keep in mind that Cricut has to cut them one at a time, so creating enough cards for a long guest list will take a long time.
Read our related article, How to Make an Invitation On Cricut Explore Air 2. Follow these easy steps to get started!
Tips for Creating Wedding Invitations With Cricut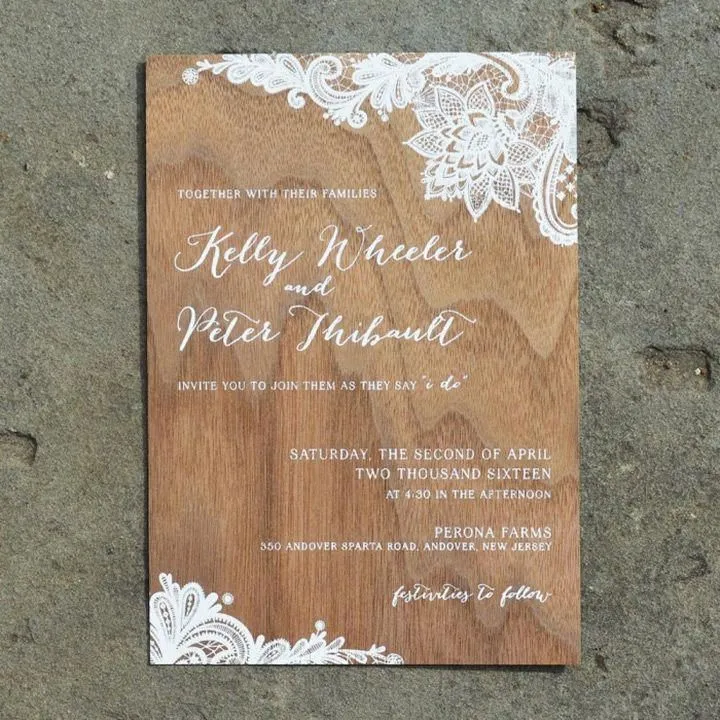 Once you start shopping for wedding invitations or looking into making your own, the possibilities seem endless.
There are so many lovely options, and choosing one can be terribly difficult.
Here are some things to consider when using a Cricut to make wedding invitations.
You can find free templates online or purchase lovely templates from places like Etsy.
Unique materials can be cut, embossed, and printed using the Cricut including foil paper, cardstock, cardboard, paperboard, chipboard, vinyl, wood veneer, fabric, and vellum.
Multiple layers may require additional postage, so keep this in mind when figuring out the cost of card production. One Forever stamp will send 1oz of mail in a regular-sized envelope.
If you want to include an engagement photo in the invitation, work it into your card holder design so it is held securely and not scratched in the mail.
Consider having some pieces professionally printed to avoid undue wear and tear on your machine while saving the more intricate and fun parts to cut yourself.
Keep an eye on the quality of cuts as you work cards through your machine. If edges begin to look rough, replace the blade to keep your cards looking professional.
In our photo example above, the invitation is made by applying Cricut vinyl to a precut piece of wood veneer.
If you have a Cricut Maker or Cricut Explore Air 2 you can cut your own wood invitations.
Read our related article on How to Make a Custom Card On Cricut Joy for more helpful info!
Is Cricut Wedding Invitations a Good Idea?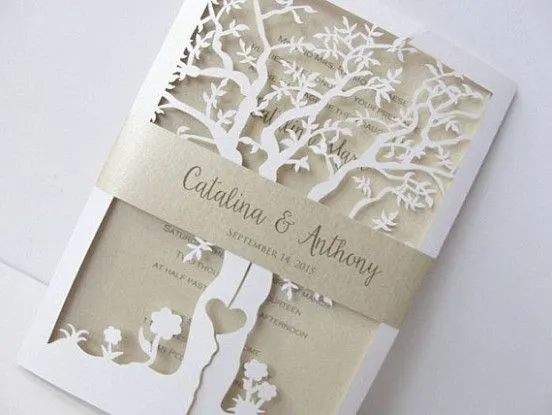 Is cutting wedding invitations with a Cricut a good idea? We think so!
After all, Cricut machines are not just any ordinary cutting machine – they offer precision and quality that is hard to match, especially when planning a wedding on a budget.
We love that once you've settled on your design, you can cut invitations for parties, events, thank-you cards, and even signs for the event using the same design.
This brings continuity to all event ephemera.
With cutting-edge technology and user-friendly graphics and design software, Cricut machines allow you to easily create detailed invites that are perfect for any style or theme.
If you have friends or family members with Cricut machines, consider splitting up the tasks into smaller parts with each person cutting pieces of the card or a certain number of cards.
Wrapping Up
We love to see what people come up with for wedding invitations, RSVP cards, banquet, dinner, and party invitations, and wedding signage that is all cut with Cricut machines!
These cards are unique and lovely.
Cricut makes it easy to design and cut things that were only available from a professional printer in the past. The creativity, design, and professional polish come home with Cricut.