If you're new to Cricut Design Space, you may not be familiar with templates.
Templates are a great way to create complex designs without starting from scratch or creating the designs completely freehanded.
This tutorial will show you how to use templates in Cricut Design Space to take your projects to the next level.
What are templates?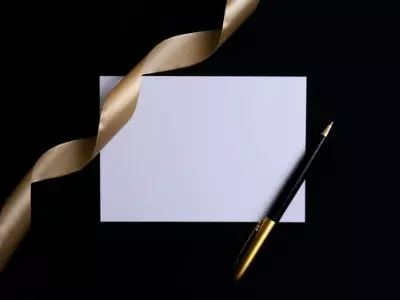 Templates are predesigned images that you can use in Cricut Design Space.
Many of these templates come with software and are designed for various crafting projects.
Essentially they are there to help ensure that your design will fit on your item as well as help you move it in the correct placement that you're looking for.
It is a great way to visualize what the final product may look like.
Templates can include items such as:
This list is just a few of the different templates available for you to create your design.
There's a lot more to choose from and there's basically a template for every type of project.
Read More: What is Kerned Fonts in Cricut? Here's what Kerning is and how to use it for your Cricut projects!
How to save your templates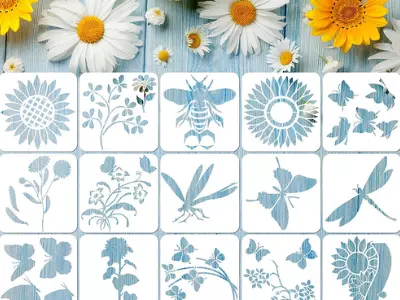 You can actually create and save your own template with Cricut.
Here's how to create your own templates:
Open up the image that you would like to keep, click "File"
Select "Save As Template."
You will then be prompted to enter a title and description for your new template.
This is great if you want to save your design so you can reuse it for many projects to come.
Read More: How Do You Make an Outline in Cricut Design Space? We show you how to create outlines for text, shapes, and more!
How can templates be used in Cricut Design Space?
There are a few ways that templates can be used in Cricut Design Space.
You can use an entire template as-is or use more minor elements from the template and combine them with other images or cutouts from your library.
Additionally, some templates include multiple layers that can be adjusted to suit your needs.
Here are a few reasons you might want to use a template:
You want to save your designs as a template themselves
You want to visualize how the design element will look on the product
You want to make sure that the design will fit properly
You run a business and make multiples of each design regularly
Read More: How to Make Water Bottle Labels with Cricut. Personalized water bottles require templates – and here's how you get started!
Why use a template?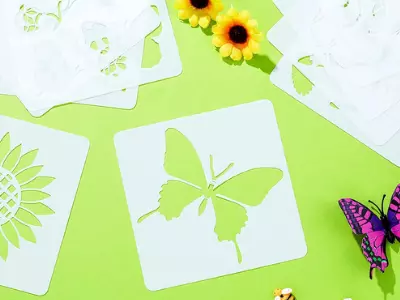 There are a few reasons why you might want to use a template in Cricut Design Space.
It Saves Time
One of the most common reasons is to save time.
If you have a complex design that you need to create, using a template can help you quickly and easily get the job done.
Good For Difficult Designs
Templates can be used to create designs that would be difficult to start from scratch.
Add Extra Detail
Templates can be a great way to add extra detail to your projects.
By combining different elements from various templates, you can create one-of-a-kind designs that will impress.
So, whether you're looking to save time or add an extra level of detail to your cricut machine projects, using templates in Cricut Design Space is a great way to go.
How do I find templates in Cricut Design Space?
One option is to browse through the pre-made templates included with the software, easily accessed by selecting "Template" from the main menu.
You can also search for templates in the Cricut Access Store or Design Space Market Place.
These online stores offer a wide range of templates created by Cricut and third-party designers.
If you have a design idea but aren't sure how to create it using templates, many online tutorials can help guide you step-by-step through the process.
How do I use a template in Cricut Design Space? 
First off, you must find the template that you want by browsing the options.
Once you find the template, you can insert it so it's added to your design canvas.
Then you can edit the template by changing colors, resizing it, rotating, and almost anything else you can think of to make it look how you'd like.
Once everything looks good, you can make the design. Click "make it" and your Cricut machine will start cutting out the design.
Read More: How Do You Make a Border On Cricut? We show you step-by-step how to create different borders on Cricut Design Space!
How To Use Part of a Template
If you want to use only part of a template, you can quickly isolate the element you need by selecting it and clicking "Detach" from the "Edit" menu.
This will allow you to move or delete the selected element without affecting the rest of the template.
Here's a short video showing how to use templates in the Cricut Design Space:
How can I make my templates in Cricut Design Space?
One option is to use the software's built-in drawing tools to make your designs from scratch.
Alternatively, you can use pre-made shapes and images included with the software or import files from other design programs like Adobe Illustrator or Photoshop.
You could also use a third-party tool like Canva or Inkscape to create your template designs.
These tools allow you to manipulate shapes and text quickly and other elements to create unique and professional-looking designs.
Once your template is finished, you can save it as a file that you can upload into Cricut Design Space for cutting.
things to keep in mind when using templates
When using templates in Cricut Design Space, it is essential to know that they are only meant to provide a starting point for your designs.  
While they can be instrumental, you may find that you need to make some changes or adjustments to the template before you can use it effectively.
You should also be aware that not all design elements within a template will be saved when you detach them from the main object.
So, if you plan on making any significant changes, it's best to start with a blank canvas rather than working with an existing template.
Final Thoughts
Templates can be great for convenience or if you're getting yourself into crafting but you might not be the most creative.
It's a great way to have a starting point and get the creative juices flowing.
We hope this helped you with figuring out how to use templates with your Cricut machine.