Wondering how to make personalized water bottles with Cricut? Making personalized water bottles with Cricut is a fun and easy way to show your creative side.
In this blog post, we will walk you through how to make personalized water bottles with your Cricut machine. 
They're a fun way to promote events, give as party favors, and gift to friends and family.
How to Make Personalized Water Bottles With Cricut – The Basics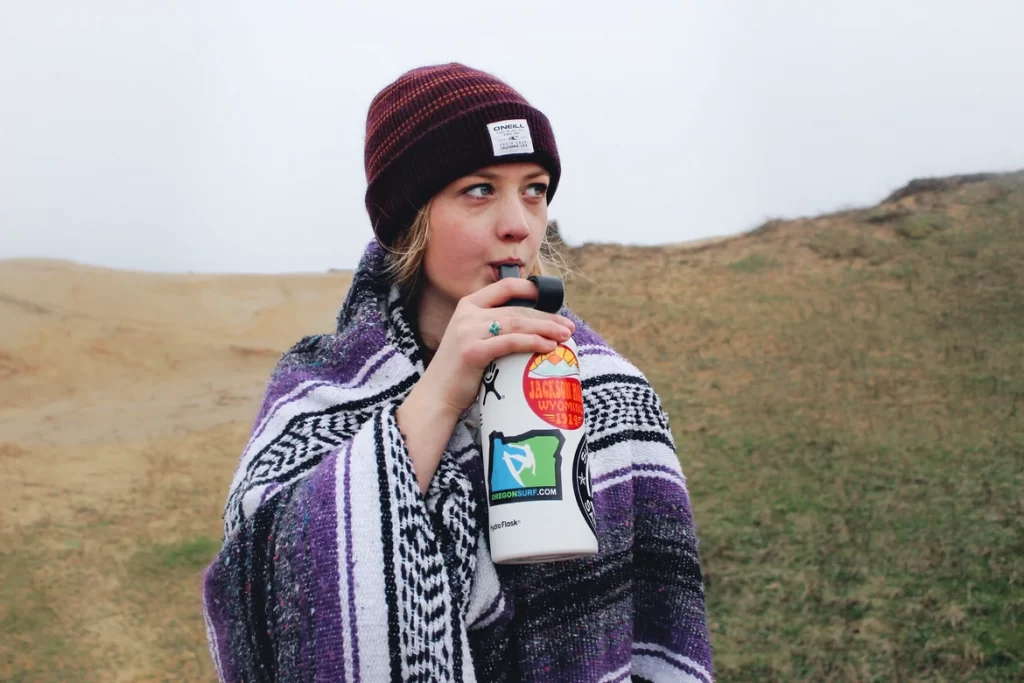 The easiest way to make personalized water bottles with Cricut is to cut the design you want from Cricut self-adhesive vinyl.
Load your image into Cricut and cut the design using the fine-cut blade.
After the image has been cut, weed away the negative space and apply transfer tape to the front of the image.
Peel away the backing from the vinyl design and place it on the water bottle.
Burnish the design onto the water bottle so it adheres well before removing the transfer tape.
Alternatively, you can cut your water bottle designs from vinyl sticker paper.
Simply peel the sticker off the backing and place it on the water bottle to customize it any way you like.
Read More: How to Make Paper Sunflowers With Cricut. Bring some sunshine no matter the time of year with Cricut sunflowers! Get started with our tutorial.
How to Make Personalized Water Bottles With Cricut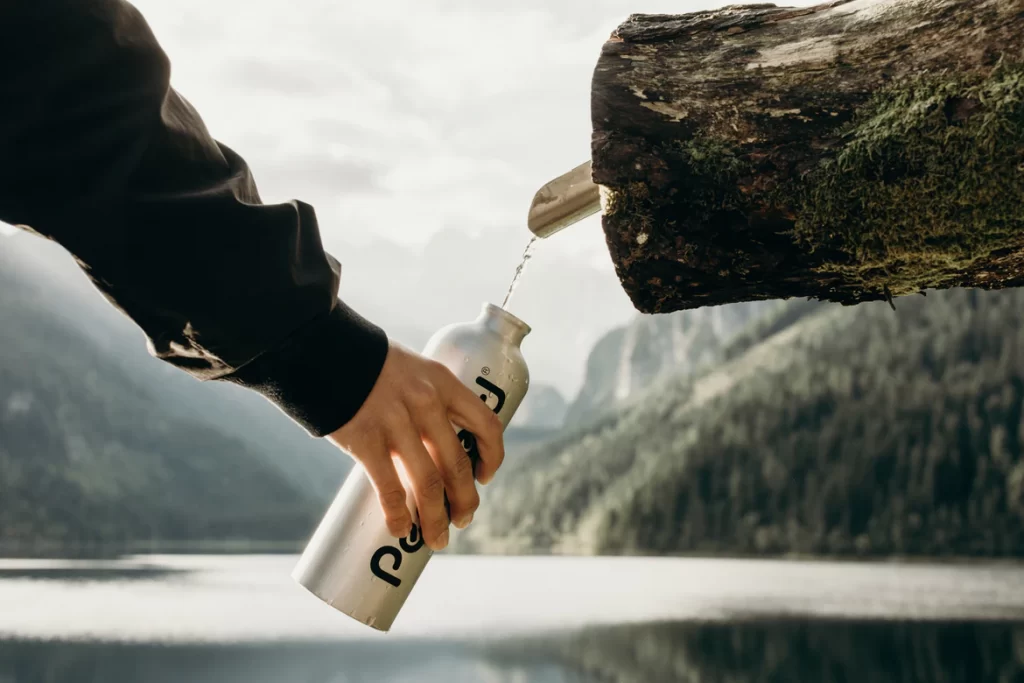 First, you will need to gather your supplies.
For this project, you will need:
Cricut machine
Water bottle template (you can find this online or in the Cricut Design Space)
Self-adhesive vinyl
Scissors
Weeding tool
Transfer tape
Waterbottle of your choice – clean and dry
Now that you have all of your supplies, it's time to get started!
Follow these easy steps to make personalized water bottles with Cricut.
Stop by our related review of the Best Cricut Sticker Maker machines! We did all the heavy lifting so you don't have to.
Open The Water Bottle Template In Cricut Design Space
The first step is to open the water bottle template in Cricut Design Space.
If you don't have a water bottle template, you can find one online for free or purchase one in a pack from an artisan.
Once the template is open, resize it to fit your water bottle. You can customize the label any way you want using Design Space drawing tools.
New to templates? Stop by our guide on How to Use Templates in Design Space.
Resize The Image To Fit Your Water Bottle
Measure the surface area on the water bottle that you want to cover with the vinyl design.
Use a fabric tape measure to do this so you can measure around the curve of the bottle.
Resize your chosen design to ensure it will fit the way you want it to when you apply it.
Read our related article on How to Bend an Image in Cricut Design Space. You may need to curve the image for your water bottle. Here's how to do it step-by-step!
Cut Out The Design Using Vinyl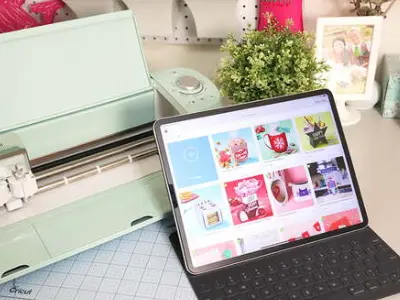 Place your vinyl sheet on a regular cutting mat and set the machine to cut vinyl with a fine tip blade.
Once the cuts are made, weed away the negative space in the design. Leave the design on the vinyl backing.
Apply Transfer Tape and Place the Design
Transfer Tape makes it possible for you to achieve the exact placement of your design by gripping the design from the front and giving you a grid for placement.
Stick the transfer tape to the front of the design then pull the backing off of the vinyl.
Use the transfer tape to place the vinyl where you want it.
Burnish the design firmly onto the water bottle, then peel off the transfer tape.
That's it! You've customized your water bottle, and the sky's the limit for design ideas.
Water bottles are a great way to show your personality and stay hydrated.
You can find water bottles in all sorts of colors, sizes, and designs, but sometimes it can be hard to find one that represents you.
That's where Cricut comes in! With Cricut, you can design and make your personalized water bottle perfect for you.
For more intricate designs you'll want to layer the vinyl on the bottle. It sounds hard, but it's super easy to do!
Learn how to layer vinyl and watch the process in this great video below.
What Are Some Uses for Personalized Water Bottles?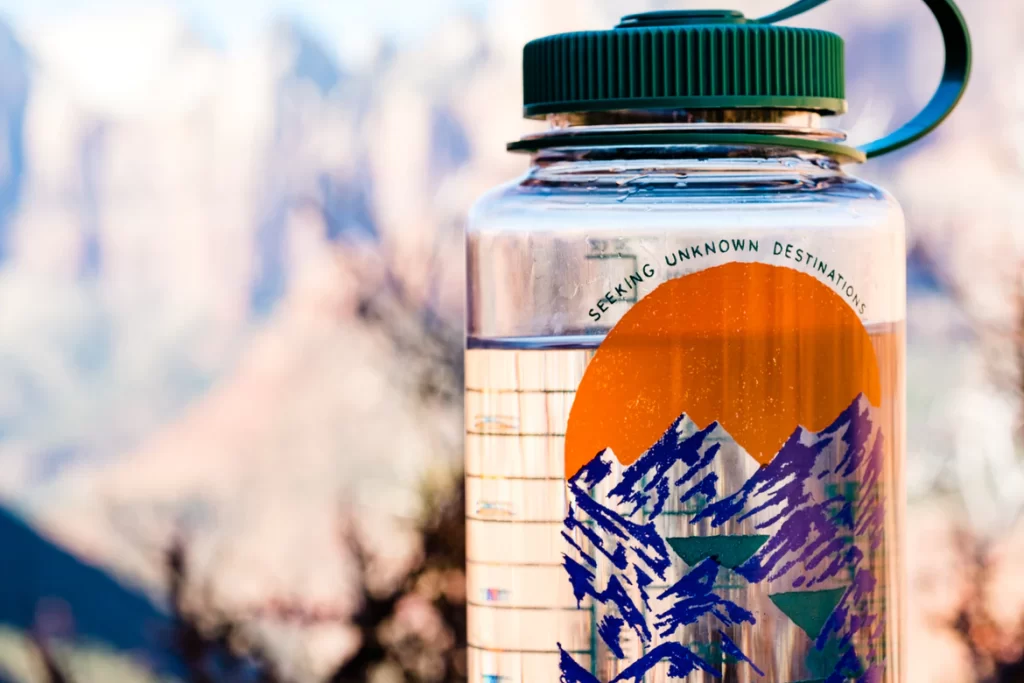 We love having personalized water bottles, and we apply some sort of personalization to every water bottle we buy.
Put each family member's name on a water bottle so they don't get mixed up.
Make a custom water bottle for each person in your exercise class.
Use rewritable vinyl to make water bottle labels that can be written on again and again.
Give student campers a customized water bottle to use and take home after camp.
Give students personalized water bottles that recognize class achievements.
Make water bottles for each member of a club.
Use water bottles as promotional materials for your small business.
Make and sell water bottles for income.
Customize water bottles and send them home with guests as party favors for a birthday party, bachelor/bachelorette party, wedding reception, or retirement gala.
Personalize a water bottle as a gift for a mom-to-be (you can also make Cricut Onesies to go along with it), family, friend, or coworker.
Welcome new employees to the company with a personalized water bottle.
Nearly everyone has a collection of water bottles because most of us aim to stay hydrated for health and vitality.
This means that custom water bottles are a welcome and practical gift for everyone.
Read More: Cricut Ideas to Sell. Here are more great Cricut crafts you can make money on!
Wrapping Up
Now that you know how to make personalized water bottles with Cricut, you can get creative and create your unique design.
With a bit of practice, you'll be able to create beautiful, one-of-a-kind water bottles that will stand out from the crowd.