Do you want to know how to make sunflowers with Cricut?
Making sunflowers with a Cricut machine is a fun and easy project that can be completed in just a few steps.
You will need some basic supplies, including cardstock, scissors, and a Cricut machine.
This tutorial will show you how to make sunflowers with Cricut Design Space software.
Let's get started!
How to Make Sunflowers With Cricut – The Simple Way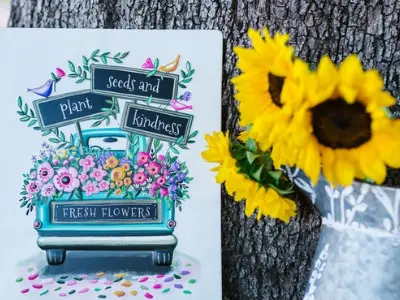 To make sunflowers with Cricut, choose a sunflower template in Design Space. Cut the petals out of yellow cardstock and glue them around a yellow center circle.
For fast assembly choose a template that cuts the petals on the outer edges only, leaving them connected in the middle.
Score the middles and bend them up to add a little realistic dimension.
Cut a brown center out of cardstock and glue it over the top of the petals where they meet in the middle.
Add a little pizzaz by gluing one large pompom or many mini pompoms in the center.
Why Are Sunflowers Special?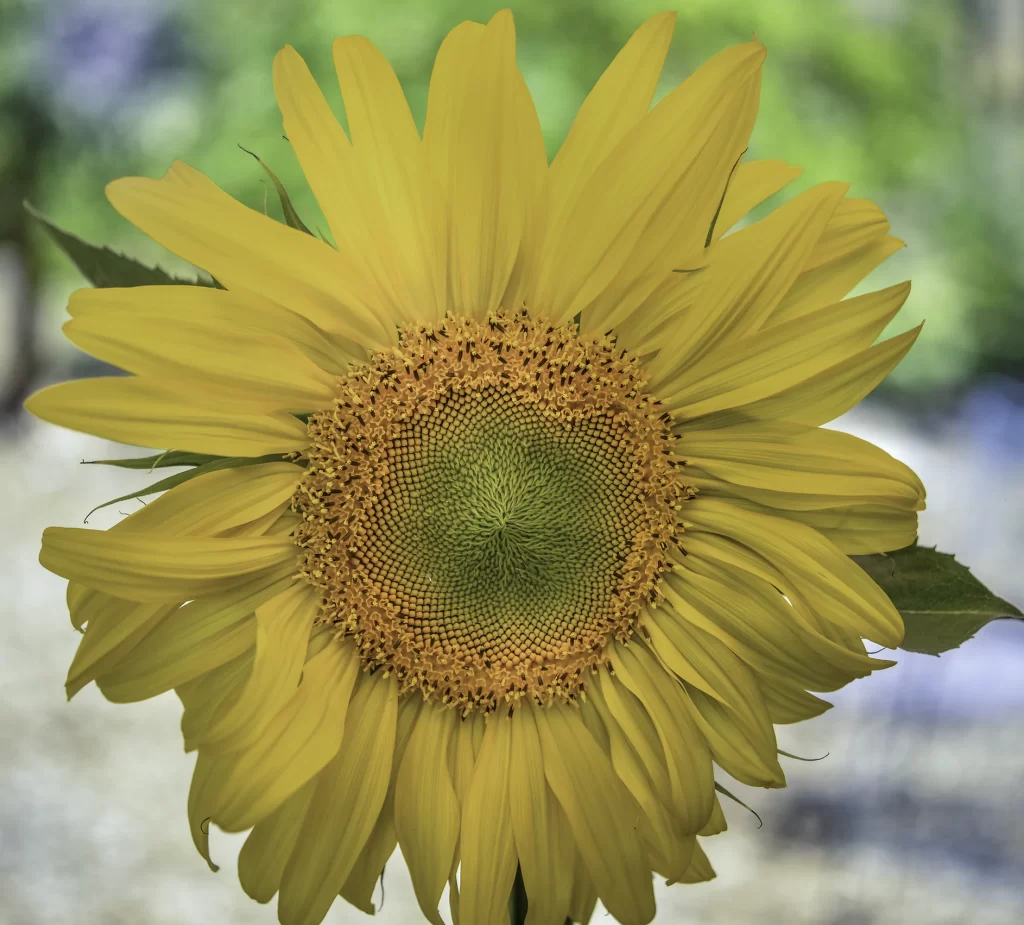 Sunflowers are one of the most beautiful flowers in the world. They have a very distinct shape and color that stand out from other flowers.
Sunflowers are annual plants that only live for one growing season. They typically grow to about 2 to 6 feet tall, although some varieties can grow up to 12 feet!
Sunflowers have a large central disc with small flowers surrounding it. The central disc is made up of hundreds of florets.
The most common type of sunflower is the yellow variety, but you can also find sunflowers in red, orange, and even multi-colored varieties.
Sunflowers follow the sun.
Not only do they rotate to keep their bright faces toward the sun during the day, but they rotate back to face the east during the night so they catch the morning rays!
Now that you know a bit about these flowers that seem synonymous with hazy summer days, let's learn how to make them with Cricut!
How to Make Sunflowers With Cricut – The Basics
For this project, we will use Cricut to create some beautiful sunflower cutouts.
We'll start by finding a sunflower image online that we can use as a design template.
Once we have our sunflower template, we'll use Cricut to cut it out of paper or cardstock.
After our sunflower is cut out, we'll assemble it by attaching the petals to the center disc. We can use glue, tape, or even staples to attach the petals.
Once our sunflower is assembled, we can add it to an arrangement, hang it on the wall, or add it to a handmade card or home decoration.
What You Will Need:
Cardstock (yellow and brown)
Glue or tape
Cricut machine
Cricut Design Space software
Brown pompoms (optional)
Read More: How to Make an Invitation On Cricut Explore Air 2. Follow these steps to create custom invites!
How to Make Sunflowers With Cricut – Step by Step Guide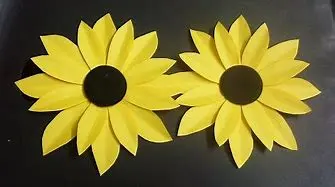 There are several ways to make paper sunflowers with your Cricut. The first one we'll go over is the easiest.
It's composed of cut petals glued together with a brown center. From there you can embellish as you wish.
After these basic steps, we'll give you some ideas for leveling up your sunflowers to make them as fancy and elaborate as you'd like.
Step One: Choose Your Design
The first step to making sunflowers with Cricut is to choose the design for your sunflower. You can either create your design or use a pre-made design.
If you make your design, you will need to use the Cricut Design Space software.
If you are using a pre-made design, you can find many sunflower designs online or in the Cricut Design Library.
Step Two: Cut Out Your Sunflower Pieces
Once you have chosen your design, it's time to cut out your sunflower pieces.
Simply load your cardstock into your Cricut machine and select the "Cut" setting.
Then, send your design to the Cricut machine and let it do its work.
Step Three: Assemble Your Sunflower
Assemble your sunflower petals according to the design you chose.
If you chose one with individual petals, give them a light crease down the middle to add dimension, then glue them in a circle on a yellow base.
Be sure to stagger the petals as you add layers so it looks dimensional like a real sunflower!
Step Four: Add The Center
To add a center to your sunflower you can either use your Cricut to cut out a perfect round and glue it to the center or you can use a fuzzy pompom to add dimension to your flower.
Step Five: Curling The Petals
To give your sunflowers a more realistic look, you can curl the outer petals back a little so they look just like real sunflowers.
Take a pen or round pencil and use it to roll the tip of some of the outer sunflower petals backward.
This will give them more dimension just like real sunflowers.
Read More: How to Sell Cricut Projects On Etsy. Thinking of turning your passion into profit? Here's how to start your Etsy Shop!
Step Six: Display Your Sunflowers
Now that your sunflowers are complete, you can display them proudly in your home or office!
These sunflowers are also excellent for making summertime door wreaths, adding to cards and invitations, and making cheerful wedding cards, decor, and ephemera.
Tips to Make Your Sunflowers Look Even More Amazing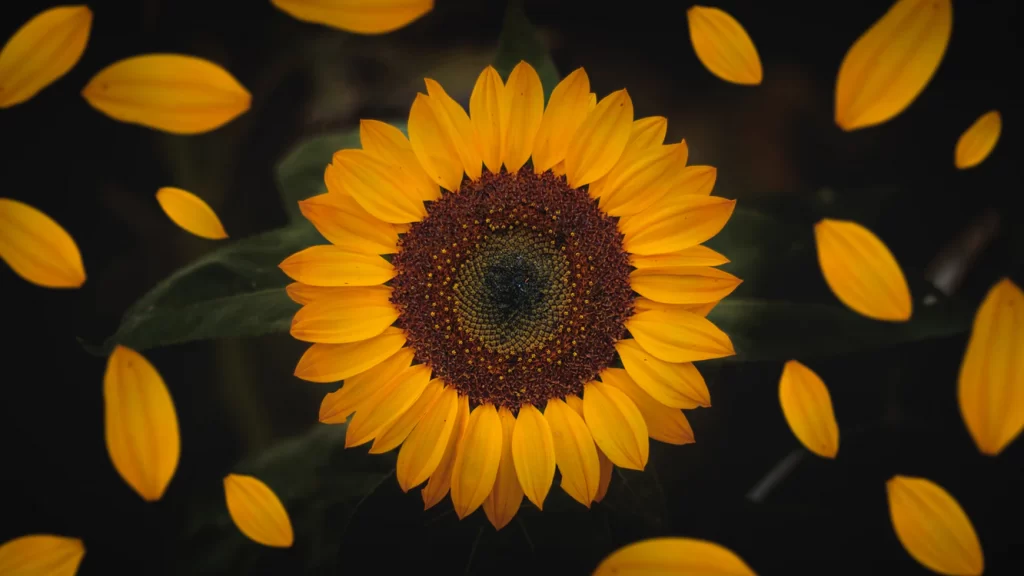 Here are our favorite tips to make your sunflowers look even more realistic.
Once you have the basic process down we recommend experimenting with these ideas to make them fabulous.
Use different colors of paper to make your sunflowers more vibrant. Try using a blend of yellow and orange or marbled paper to make your sunflowers pop.
Add some leaves to the stem of your flower for extra detail. Use floral wire and floral tape to turn your sunflowers into a pick for arrangements.
Try using different paper types to give your flowers a different look and feel. You can use cardstock for the back petals and then add a fairy-like appeal with yellow vellum for the front petals.
To make your sunflowers extremely dimensional, use the Cricut to cut individual petals with wide bases. Curl the bases into a tube and glue them together to make dozens of rolled petals. Then glue the petals around a yellow backing before applying an eye-catching brown center.
For fast sunflowers use the Cricut to cut several rings of connected petals, each smaller than the last. Use a scoring tool to create a little depth down the middle of each petal. Arrange them offset from each other before gluing them together and bending them to a more realistic shape.
Get creative with the centers! The fuzzy brown center of a sunflower turns into seeds in the fall. This is what makes the sunflower so unique and iconic. Use a fuzzy pompom or even a piece of a dark brown bristle brush to make your centers stand out.
If you can find mini pompoms, get a bunch in dark and light brown. The smaller, the better. When you glue them to the center of your sunflower they look like seeds!
You can take your sunflower project from average to extraordinary with just a few simple tips!
Do you have any favorite ways to make your paper sunflowers stand out? Let us know in the comments below!
FAQ: How to Make Sunflowers With Cricut
Q: Is It Difficult To Make Sunflowers With a Cricut Machine?
A: No, it's not complicated!
With the help of a Cricut cutting machine and some easy-to-use tools, you can create beautiful sunflowers in no time.
Is the Cricut Joy Worth It? Here are our honest thoughts and review of the Cricut Joy!
Q: How Long Does It Take To Make a Sunflower With a Cricut?
It usually takes around 15 minutes to make a sunflower with a Cricut machine.
If you choose to get more elaborate it will take longer, but sunflowers are quick and easy to make.
Q: Do I Need Any Special Materials To Make Sunflowers With My Cricut?
A: No, you don't need any unique materials. All you need is some cardstock or construction paper, scissors, and glue.
If you choose to get more elaborate with your paper or centers, then your supplies will get more diverse as well.
Q: What Size Should My Sunflowers Be?
A: That's the beauty of sunflowers!
There's no right or wrong answer to this question – it all depends on your personal preference!
You can make your sunflowers as small or as large as you like.
Cricut cuts them perfectly every time, whether you're making tiny ones to go on letterhead or giant ones for a wreath or photo op.
Q: Do I Have to Use Cardstock?
Definitely not!
Use any type of glitter paper or even glitter vinyl to create sunflowers that you can iron onto a pillow or shirt, or make one for a sunshiny car decal.
Read More: How to Cut Glitter Vinyl. We share a step-by-step guide on cutting glitter vinyl to make it easy!
Wrapping Up
After you have completed your sunflower, it's time to enjoy your beautiful creation!
Place your sunflower in a pot or vase and admire your handy work.
You can even add a few more flowers around it to create an arrangement if you want. Now that you know how to make sunflowers with Cricut, the sky is the limit!