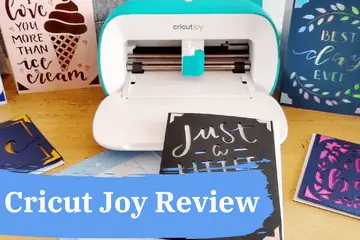 Such a cute gremlin ehum machine…
Cricut just launched its newest product. And it got mixed reviews. So I've decided to create my very own Cricut Joy Review.
There are two camps when it comes to reviews. First, some got their Cricut Joy machine for free. This means that they will leave a favorable review. On the other hand, some paid for it. They tell a different story.
Look:
I didn't get a product for review purposes. This means I can say anything that I like. If you know my style from my other reviews, you know I go out guns blazing.
Before we get any further, let me give you a quick preview.
There are many great things with this vinyl cutter, and there are quite a lot that is bad. It's small and portable, and it can handle around 50 materials. It's super easy to use, and kids could craft some amazing things.
It's pricey no matter which angle you're looking at it. It seems like a greedy money grab attempt for Cricut Joy.
The Cricut Joy is a small cute vinyl cutting machine. When we look at the price, it's very close to the Cricut Explore Air 2.
If you stick with me until the end, I will tell you the pros/cons. Some of them are unexpected, to say the least.
Let's get this Cricut Joy review started.
Who is the Cricut Joy Vinyl Cutter for?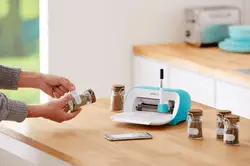 Before creating this review, I've talked with many crafters and asked for their opinions. The Cricut Joy is catering towards people who are on the go.
Also, it's a great option for kids to get them into crafting. A friend of mine who's a school teacher got this vinyl cutter just to show it to kids the world of possibilities of an electric cutting machine.
Another target audience who has fallen in love with this machine was who got intimidated by the bigger Cricut family. I know many who were discouraged or lazy to haul out their Maker or Explore Air 2. Ever since they have bought the Cricut Joy, they are constantly organizing either the garage or the rooms.
All you need is your phone, the material you're working with, and this cute little thing. Best of all, everything fits into one hand. It's that easy to let loose your creativity.
What can the Cricut Joy Vinyl Cutting Machine do for you?
The Cricut Joy caters to some specific people. As you have seen, it can handle around 50 types of materials. It's small and gentle, so you can't use anything thick or strong.
With the machine, you're getting the fine point blade and some markers. So the Cricut Joy can draw and cut. It doesn't have a double carrier, so you have to switch between tools in the middle of the job.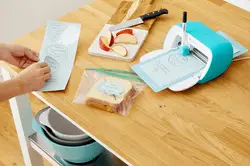 The best materials that you can work with are paper and vinyl. Of course, anything between them works well.
They have added a small security feature. Before they cut the Cricut Joy measures if there's enough material for the job. This can help eliminate errors and cut down on costs. Not many reviewers mention it, so I thought it's a good one.
Did you know you can do the matless cutting?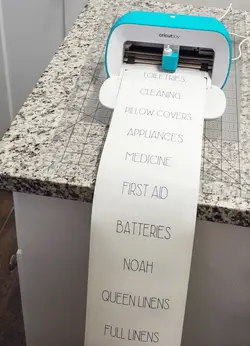 Yes, finally, you can cut without fearing if the mat losses its grip or when the next batch arrives. Cricut named this material "Smart." Even though it commands a hefty price, at least you don't have to order new mats.
Being a small machine like that, there's no room for cords. The connection is made via Bluetooth. This is why it's so easy to carry it wherever you go. You plug this baby in, and then everything can be done from your smartphone, tablet, or laptop.
Cricut made the Cricut Design Space simple and intuitive. From all the software out there, this is the easiest and fastest to learn. By cutting down on the learning curve, you are many steps closer to enjoying creating.
With the Cricut Joy, you can be a hit at any baby shower. Not to mention you can command high prices on a trade show or an expo. If you like to work from the comfort of your home, you can cut on demand by establishing your own Etsy store.
I highly recommend getting the Cricut EasyPress 2 if you don't have it just yet. With that iron, you will be able to do even more. Plus, there are special iron-on materials that will take your creativity to a whole other level.
Cricut Joy shortcomings
There's no easy way to say this. Cricut messed up with the Cricut Joy. For some reason, this is the most popular section of my article. By reading this, you will know if the Cricut Joy is the right fit for you. This vinyl cutter is indeed geared towards a certain niche. If you're not in it, then it's a better idea to go with another Cricut product.
This vinyl cutting machine isn't a market leader filled with new tech. Let me correct myself here. Every new thing about the Joy is to make money for the mother company.
Here's the big elephant in the room. The price is high. I mean, it's almost at the same level as the Cricut Explore Air 2. When we look at the capabilities, it's no way near to it. Also, the accessories are overpriced. I remember the days when Cricut used to be the most affordable accessories supplier. Not anymore!
With the Cricut Joy, you get a new set of blades. Sadly it's not interchangeable with the other machines. When they launched the Maker, the tools were designed to be compatible with future releases.
After countless tests, it showed that this little thing has difficulties with small fonts and intricate designs. Well, wasn't this the whole purpose of creating this cutter?
It lacks in the speed department as well. It's not that fast, plus it's noisy.
To enforce you to make profits for the company, the Cricut Design Space only has settings for their materials. Good luck finding the right settings for a 3rd party material. I've tried and tested different settings, and I still have difficulties working outside the Cricut material world.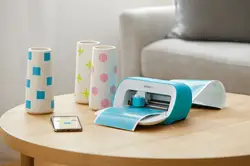 The biggest thing that they came up with was "Smart Material." It's a fancy way to say matless cutting.
The truth is matless cutting was available; only it wasn't advertised. Ehum, I mean, they couldn't make money off it. Now they can.
The Car Mat is hilarious. First of all, it will lose its stickiness after just 10 runs. And you have to pay for the card inserts. You have a choice to make. You either pay for the inserts, or you trim it down on your own, wasting time.
I'm not done yet. Bear with me…
The actual cutting size of Cricut Joy is 5.5" and 20 feet long. Nice marketing. Here's the truth. Most sample materials are just 4.5" wide. The software doesn't allow you to go past the 4 feet mark. So, in theory, you can cut 20 feet, and in practice, you have to reset the job once it reaches 4 feet.
These are things that we will never understand. Now you probably see why I've called it a money pit.
These would be the drawbacks of owning a Cricut Joy. For some, these are more than enough to choose another Cricut product. For others, it is not that bad, and go ahead and purchase it anyway. That's perfectly fine with me. I felt that it's my civic duty to share with you everything I've written above.
Hype and marketing didn't do justice to the Cricut Joy.
How To Get The Most Out Of Cricut Joy Vinyl Cutter?
Before you get down and dirty, make sure you read the instructional manual first. Also, do remove all the stickers, and one is placed on the inside.
The next step is setting up the Bluetooth connection with the device you will be working on. The Design Space is so simple that you can create amazing designs on your smartphone. There's a power cord, and that's it. No more dangling wires waiting to be pulled by inattentive kids.
After the setup is done, I highly recommend doing the test cuts. This will familiarize you with the settings. Once that's done, you are free to do what you please.
I know it's a pricey vinyl cutter. To save some money, it's a good idea to check out the bundles. Typically these will help you save some money.
With the Cricut Joy, you will be able to work on small projects. Sticker cutting and scrapbooking are my favorite. Also, it can easily cut paper and different types of vinyl. We shouldn't forget about HTV, either. You can iron on a design to onesies, and it's ready to wear.
Make sure that you turn the fabric inside out before washing to keep the design intact.
Very frequently, I'm asked this question.
Read More: Best Way to Cut Felt With Cricut Maker. Whether you're new to Cricut or you battle with felt, this guide is here to help!
If I own a Cricut Maker or Cricut Explore Air 2, should I get this?
In most cases, no. I know I'm talking against my interest, and it has to be stated. There are only two cases when it's a good idea to get the Cricut Joy if you already own one of the above products.
If you feel overwhelmed by the big machines and you want to test out something compact, and it's good at a few things and not meant to be tried and tested on 300 materials.
Or if you are constantly on the go and you don't want to weigh down. Also, keep in mind that you will be able to do only small stuff with the Joy.
These would be the best cases when it's a good idea to get this Cricut machine.
This would be the second most frequent question would be:
Is it worth the downgrade?
The short answer would be no. Yes, it's cheaper than all the bigger vinyl cutters, and you will pay for it in the long run. Since it has just been launched, nobody knows how long it will last.
Both the Maker and the Cricut Explore Air 2 were built to last. A great alternative for the Maker is the Explore series, it's not that overwhelming and it's affordable you can get more info after reading my Cricut Explore Air 2 review. They are as close to industrial use as possible. If one of these happens to break, it's better to go with the Maker than with the Joy. The accessories are priced way better.
Pros
It's a great choice for kids and school crafting projects because it's so easy to use.
Lightweight and small great for people on the move.
You can get any project done in 15 minutes or less.
Cons
The accessories are overpriced.
Nor the blade or the cutting mat can be used in other Cricut machines.
Conclusion for the Cricut Joy Review
We have reached the end of this Cricut Joy review. Now, as you have seen, the Cricut Joy isn't for everyone. It has a few positives and quite a lot of negatives as well.
Mostly the pricing has thrown crafters off. It's a small machine highly-priced, and the accessories are overpriced. This is not what we have known Cricut to stand for.
Other than that, it's small and portable. If you can justify your higher prices, then this cute little thing will do wonders. It's child's play.
Speaking of kids, this would be a great way to introduce them to craft. They would be able to make stickers and help with scrapbooking.
Now, if you feel that this Cricut Joy is the right choice, get it as soon as possible. The last time I've checked, the supplies were running low. Heck, a few months back, they were out of stock for many weeks. So if you see it, buy it because it might not be there tomorrow.
If you have any questions or tips, you can share it in the comment section below.
Until then…
Happy Crafting!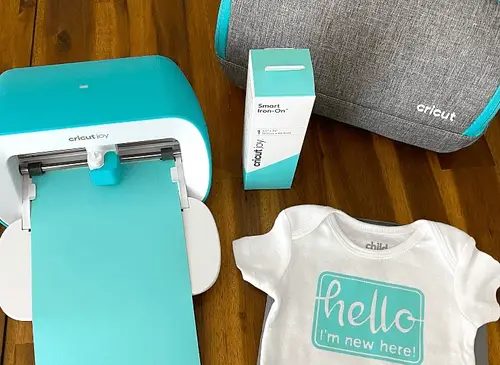 Frequently Asked Questions (FAQ):
Is the Cricut joy worth it?
The Cricut Joy is worth it for certain individuals. The accessories are overpriced so it's only worth it for those who can command higher prices for their finished products. It's worth it for those who value portability. It's light and easy to carry. Also it's the ideal cutting machine for those who are making greeting cards and custom cards and more. It's great for those who want to try out crafting without investing a lot of money into it.
Read our related article on How to Make a Custom Card On Cricut Joy to see how it's done!
What can the Cricut joy do?
The Cricut Joy is the first Cricut that supports matless cutting. Now you won't waste time and money on mats. Another feature is that it's compact machine, it's small cutting machine that it will fit on your kitchen counter
What is the difference between Cricut air and Cricut joy?
The main difference between Cricut Air 2 and Cricut Joy is the size. With the Cricut Air 2 you can cut larger materials. Also the Air 2 has dual carriage so two tools can be used at the same time. The Cricut Joy has the maximum cutting length set to 20 feet long while the Air 2 is limited to 24 inches. All in all the Cricut Air 2 gives you more opportunities while the Cricut Joy offers mobility and specialty.
Who's the Cricut Joy ideal for?
According to Tom Crisp, vice president of Industrial Design at Cricut it's made for those future crafters who are testing the waters. And it's for those who want to create amazing designs on the go. Best of all you won't need a full blown out craft room. This little machine is able to create a greeting card in matter of minutes thank to the card mat.
Which is a better choice the Silhouette Portrait 2 or the Cricut Joy?
While Silhouette Portrait 2 has a bigger cutting space it's super buggy. Also the Portrait 2 doesn't have Bluetooth connection which means you will have a bunch of dangling wires. Also the portrait 2 is being phased out since the silhouette portrait 3 was released. This portable machines is easier to use.
Can you make t shirt designs in cricut design space?
Yes you can create t shirt designs in design space however this new cricut machine is not the right choice. Other cricut machines like the cricut maker is more suited for shirt design. Bottom line is this new cricut crafting machine was a very narrow workspace. The only way to utilize it in design space is by either creating for onesies for babies or very small designs for regular t-shirts.
What is Cricut Access?
Cricut Access is different from design space. While cricut design space is where you create the designs the cricut access is the vault of created designs that you can access if you have a subscription.
What are those Cricut smart materials?
Smart materials are basically the ability to cut without a mat. Other cricut machines like the Cricut maker don't officially support smart materials or cutting without a mat. Although many Cricut Maker fans are using matless cutting. This makes these cricut machines the cheapest to own machine on the market. Also the Cricut Joy is the smallest machine on the market when it comes to making cards, vinyl decals, birthday banners, smart infusible ink, home decor and custom cards. Smart materials also include smart vinyl rolls and smart iron on materials. When you choose HTV or iron on materials make sure you get a transfer tape so the vinyl decals come out perfectly. Cutting machines such as the cricut maker don't support smart materials but you can use card mat, infusible ink, card stock and iron on materials and of course different materials for crafting.
Read our related article, What is Cricut Infusible Ink? Learn more about infusible ink in this nifty guide!
How can you use the Cricut Joy for card making?
Card making is possible by using the joy card mat. All you have to do is insert cards and let joy do it's job. You can do card making without a mat. No other cricut machines are capable of this. The card mat is super easy to use it's one of the smart materials. All you have to do is insert card into the joy card mat then use the cricut to cut it out. This cutting machine comes with a single tool holder. This tool holder can be used either to cut with the cutting blade or draw with gel pens.
What features does the Cricut Joy comes with?
The most valued feature is the card mat. With this card mat you can create your own custom cards. There are some fancy smart materials such as the iron on which doesn't use a mat. The fine point blade has been redesigned so it's not compatible with the maker anymore. This fine point is much smaller so it fits the cricut machine. Best of all there's just one wire needed for this machine and it's for the power source that's it the rest is wireless. You can use the cricut cutting machines to create amazing and creative designs.
Do I need a craft room for the Cricut Joy portable machine?
For the Cricut Joy portable machine you won't necessarily need a craft room. You can if you want to. With this cricut machine you get access to smart materials and other different materials. What's great about smart materials that you don't need a cutting mat. For more info about smart materials and cutting mat read my review. Also I'll be creating in the near future a few comparison articles like cricut joy vs cricut explore air 2; cricut maker vs cricut joy and maybe silhouette portrait 3 vs cricut joy. Check back later for everything that's cricut. The newest materials that Cricut can work with is the infusible ink. This is a brand new material and circut can make some amazing stuff with it.