Crafting is fun, and it can even be profitable if you choose one of the items out of my best Cricut projects for a side hustle!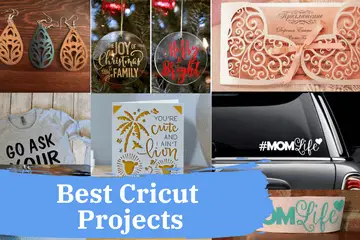 Welcome to the best Cricut projects top list!
After spending the last 11 days researching, testing, cutting, and selling projects while skipping out on the kids' bedtime stories (sorry honey!), I'm ready to reveal the very best projects that you can undertake with your Cricut machine for both fun and profit.
Look:
There's only one secret to the perfect Cricut project and its consistency. You might fail the first couple of times, but the more you keep going at it, the easier it will become. Please, don't do what I've done when I started. As soon as I hit a roadblock, I'd move on to another material.
For the past few years, I've been a stay-at-home mom, and to supplement our income, I've got involved in crafting. After getting over the learning curve, I've managed to set up my online shop, which now makes more than my corporate drone job. So, I've done the heavy lifting for you and picked the eight best projects, so you don't have to wonder whether or not a particular project will work for you.
Best of all, I've only listed projects that are fun, easy to make, and for which you can charge a lot.
Let's see that list already!
#1 Custom Decals for Cars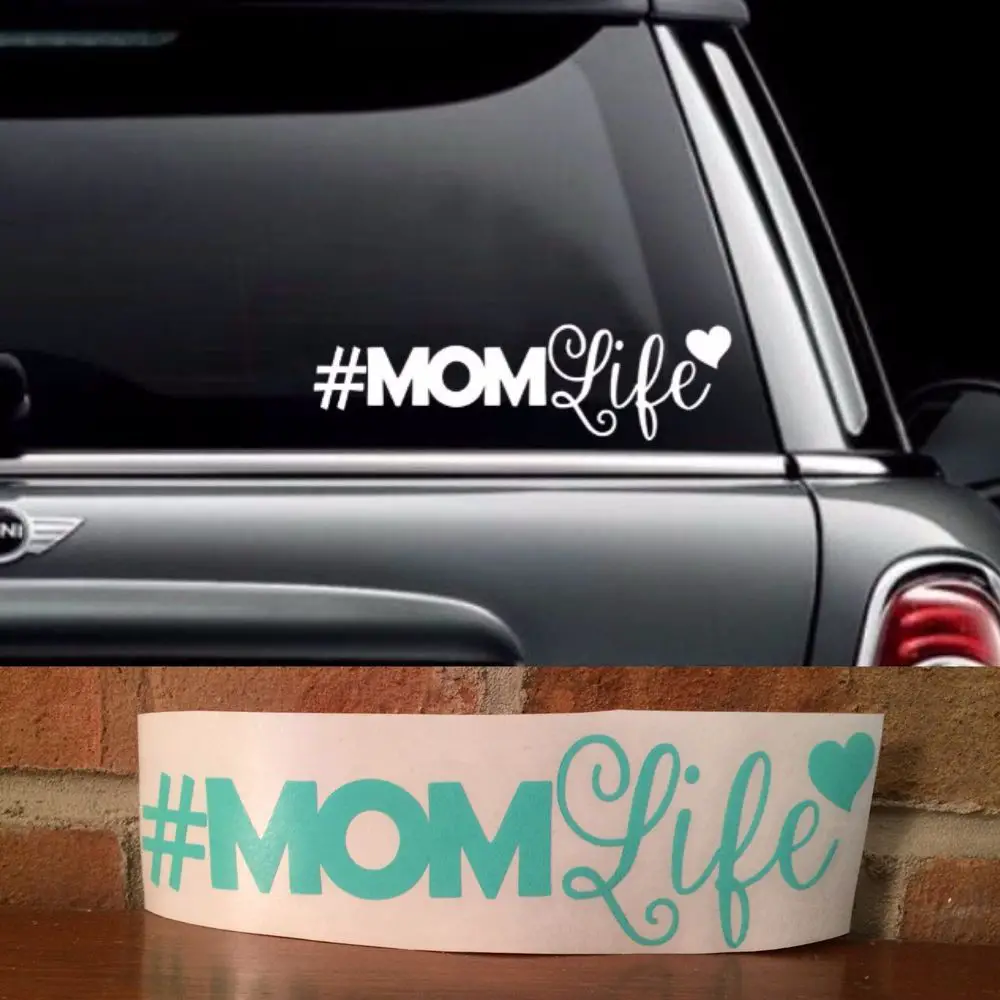 You will hear this quite a few times: the best place to make money is where people get emotional. And let me tell you that guys love their cars and are sentimental about them!
Creating a decal has become a no-brainer with the new Cricut machines. In case you missed it, the new Cricut Maker 3 and Explore 3 both work with smart materials, and these materials make decal creation a breeze. You can even take on bulk orders without breaking a sweat!
Best of all, you don't have to deal with a pesky mat since the smart materials allow you to cut matlessly. That means there's no sticking and unsticking wasting a lot of your time.
#2 Wall Art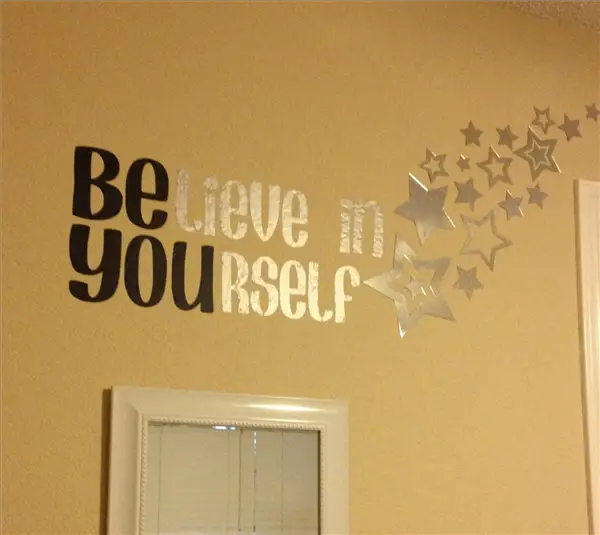 Now, this is a new one. Although you could already do wall art with the previous Cricut machines, you could only complete small-sized pieces and had to stitch them together. But not anymore!
With the third-generation Cricut vinyl cutters, you can cut up to 12 feet long. Isn't that cool? With these machines, you will be able to cut a beautiful wall art design in one sitting and ship it in one piece.
Here's a secret for making some extra money. If the order comes from your local area, you can offer to apply it yourself; that's a great way to upsell and earn more cash.
Wall art has become the hottest thing that people want in their homes. Personally, I'm more than happy to deliver, and besides, the demand keeps growing.
#3 Wedding Accessories
There's no more emotional event in our lives than a wedding. Remember the golden rule that says to go where the emotions are running high? Follow it, as brides and grooms don't look at the price.
It is as if Cricut vinyl cutters were made for crafting wedding accessories. From felt or paper flowers as decoration to cake decoration, the Cricut machines are up for the task.
What about wedding gifts, you might ask? By picking any Cricut machine, you will be able to personalize any item that you wish. My favorite ones are personalized mugs, glasses, and cutting boards.
You can also create custom boards on which you can either list the menu or itinerary.
Read our related article on How to Make Cupcake Toppers With Cricut for more ideas and a step-by-step guide!
#4 Custom Cards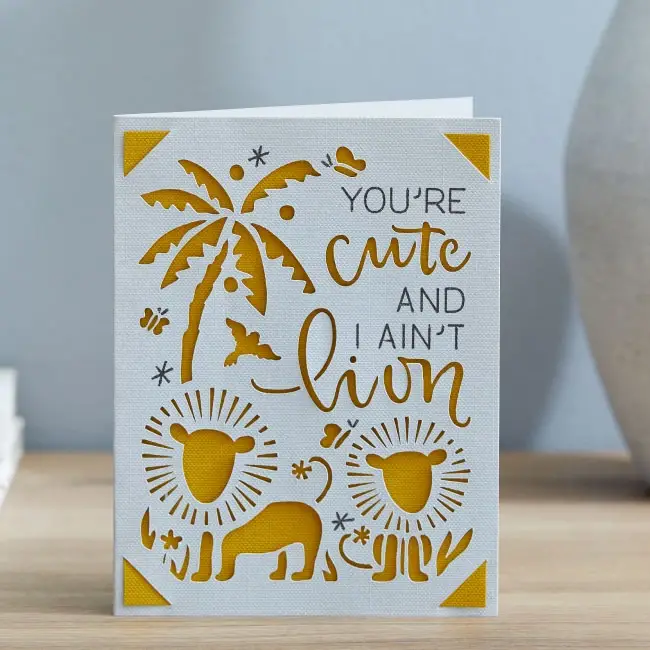 Besides wedding accessories, you can also create custom cards and invitations. The Cricut Joy is the best option for this because it has a card template for easy crafting.
Whether you want to do a few or make them in bulk, the Cricut Joy is there to help.
Thanks to this tiny machine, you can create the most breathtaking Cricut wedding invitations. It beats the standards one you can set in any bridal shop.
For their weddings and other events, people are looking for things that are unique and want to stand out. With a Cricut machine, you will be able to deliver and ask for a higher price.
Read our related article on How to Make an Invitation On Cricut Explore Air 2 to see how to make personalized invites for any occasion!
#5 Leather Earrings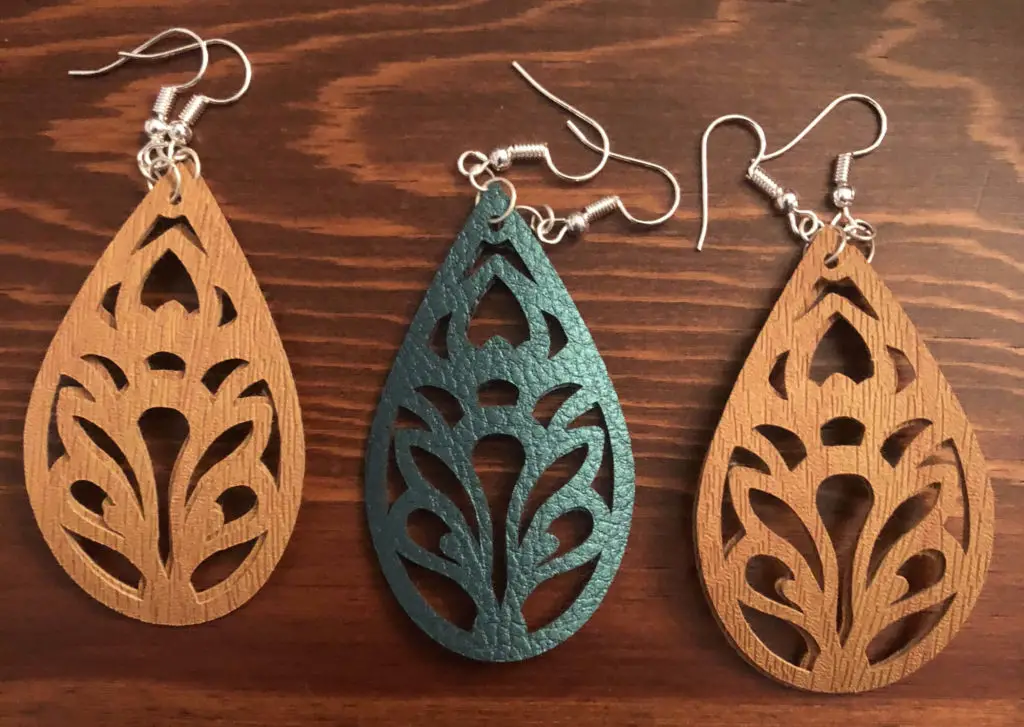 Those are some of my favorite items and are easy to make as well. Ladies love leather earrings, and do you know why? Because they weigh close to nothing. For example, a good friend of mine used to always get headaches when she was wearing earrings for too long. But ever since she has tried my leather earrings, she stopped having headaches when wearing earrings for entire days.
Best of all, it's so easy to make! The investment is minimal, and the materials are cheap. Plus, you can set your prices to your liking. Can you ask more than that?
There are tons of free designs on the internet to get your collection started.
Read our related articles on How to Make Wood Earrings With Cricut and How to Make Acrylic Earrings With Cricut for more ideas and step-by-step guides!
#6 Christmas Decorations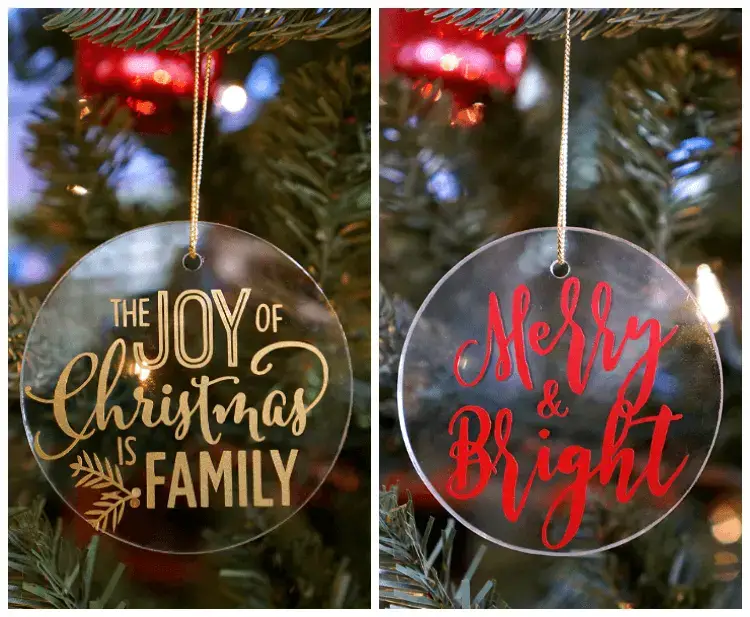 Christmas is the least rational holiday of them all. That means emotions are running wild, and people are buying like crazy. Therefore, it's the perfect season to make a killing with Cricut machines.
Ornaments are a big thing during this season. You have multiple options here. From customized globes to paper ornaments, there are so many things you can do! The only detail you have to be careful about is making sure you're not overwhelming potential customers.
The simplest ornament to create involves cutting out a circle and then a specific shape out of this paper background. Best of all, you can find designs for free online. It's that simple!
#7 Personalized T-Shirts on Demand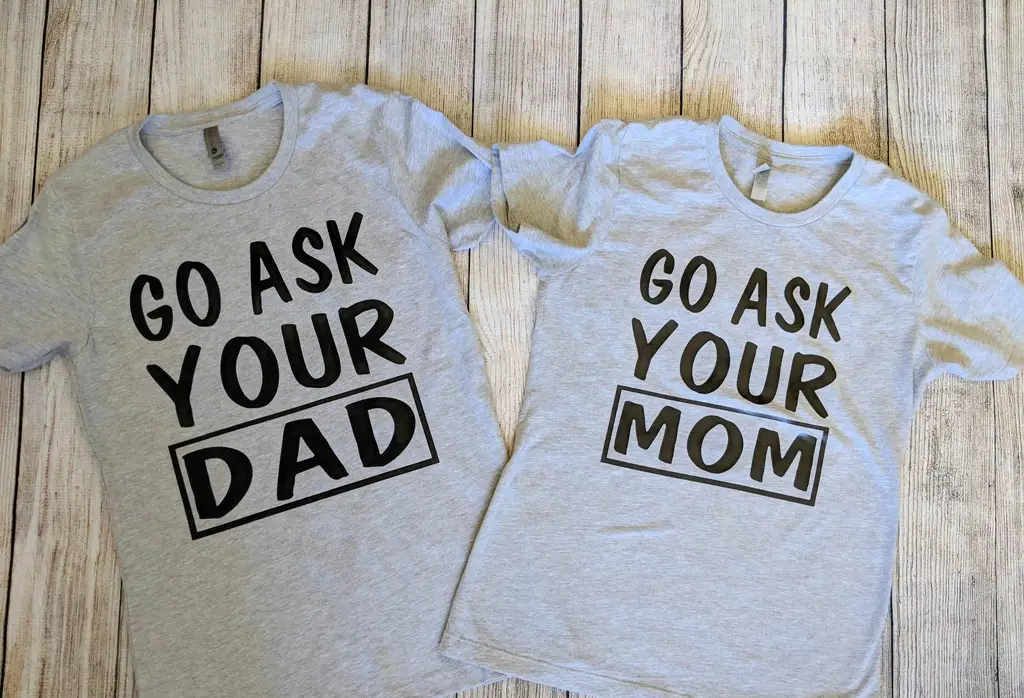 The t-shirt business is booming, and now, you can get a piece of that pie with ease.
To get into the t-shirt biz, you will need a vinyl cutter, the Maker 3, for instance, and a heat press, like the Cricut Easypress. With these two machines only, you can start a business from the ground.
And guess what? You don't have to sink a ton of money in inventory either! You can create on demand. A few years ago, t-spring was a big hit. Now, you can do exactly what they have done. The only difference is that you're keeping most of the money.
To start your t-shirt biz, you have to decide what kind of shirts you are making. Heat transfer vinyl is a great choice because the Maker 3 has it as its smart material, so you can get the cut done a lot faster without having a bottleneck with bulk orders.
#8 Personalized Laptop Decals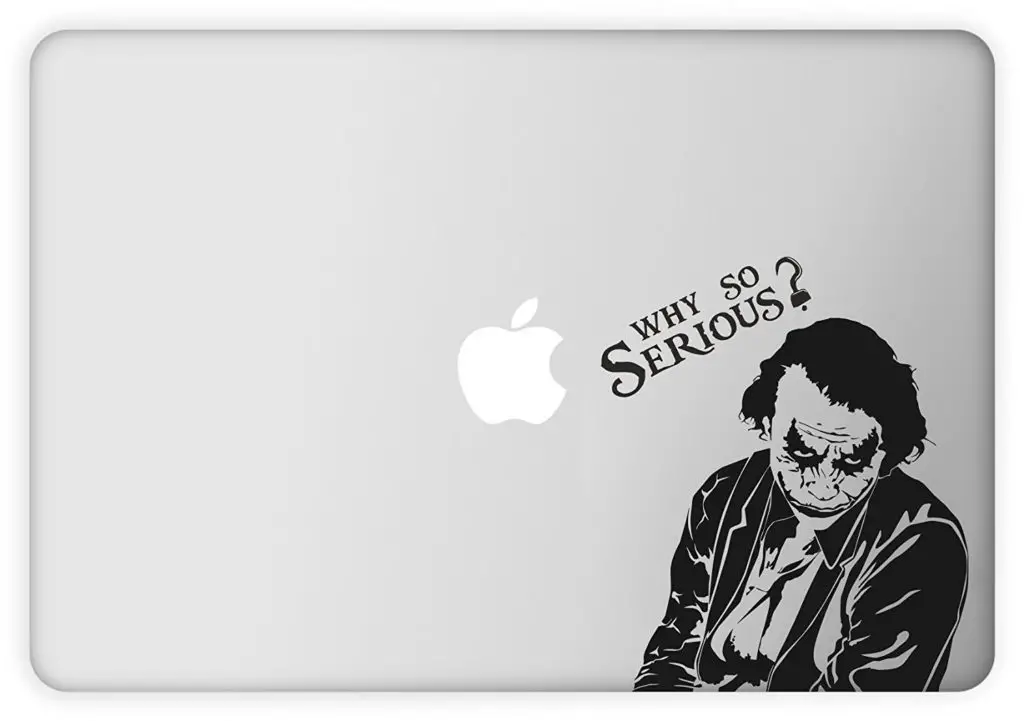 Last but not least, this is one of my favorite niches. Gamers are passionate people who like to showcase the games they are playing anywhere and everywhere. That is why you see laptops filled with decals in every coffee shop.
I'm no lawyer and don't know much about copyright, so be careful with the kinds of decals or logos you are making.
The reason I like creating these decals so much is that they are small, can be completed fast, and sold for a good amount of money. Therefore, it's a good business idea.
Conclusion
We have reached the end of this best Cricut projects list. I bet you have many more ideas that you're dying to try out. I've gathered 8 of them, and these are the easiest and most profitable ones to make.
Here's my sure-fire tip for success. Pick one of these and do a few designs, and only after that start selling it. By following this road, you will be comfortable charging exactly what's it worth.
There are limitless possibilities with these Cricut machines. So far, they are the best in the market for home use. The pricing is OK, and they have an amazing supportive community who jump and help out at a moment's notice.
After you have mastered a few materials and know exactly how much time it would take to create a job, you have to master marketing. One of the fastest and most reliable ways to market yourself is through word of mouth and social media. People always want custom and personalized things to show off, and Cricut answers this need perfectly.
I'm glad that you have read this far. I wish you a fund and a successful crafting journey. If you have questions or tips, let me know.
Happy Crafting!
Frequently Asked Questions (FAQ):
What to make with a Cricut to sell?
The easiest thing to sell is vinyl decals. Cricut made it all too easy, and the barrier of entry is minimal. Besides this, you can read my whole article about fun Cricut projects that makes you a decent profit.
What kind of projects can you do with a Cricut?
By getting any Cricut machine, you get access to 100+ or even 300+ materials, so you will never run out of ideas to craft. You can check out my whole article about great Cricut projects to pursue.
What should my first Cricut project be?
Your first Cricut project should be the demo. This will allow you to quickly learn the ropes and get some early wins. After that, pick one material and master it.
Which are the best cutting machine for cricut crafts?
The best cutting machine for cricut crafts would be the cricut maker 3. The earlier cricut maker is just as good but the late model is way faster so you can do your cricut crafts lightning fast. What you will love to make with your cricut iron on vinyl, infusible ink, home decor ideas. It's super easy to get started because cricut design space is free so you can craft with many different materials such as paper, wood, stickers, fabric, customized coasters, flowers and many more.
Which is the most user friendly cricut machine?
That would be the cricut explore air 2. Even though there's the third generation out the cricut explore 2 remains the easiest one to use. The cricut maker is close second. You will be able to make and sell many project ideas and craft while keeping the cost down. It's the perfect solution for DIY creative art. The only reason why the cricut maker didn't win is because there are so many materials to choose from and people might get sidetracked.
What are the best cricut projects for beginners?
The best circut projects for beginners would be paper and vinyl cricut crafts. The best cricut machine for the job would be the cricut maker. Better yet you can go with the cricut maker 3 for faster cutting and longer workspace. It's also excellent for home decor craft projects.
Which is the best cricut maker from them all?
The best cricut maker is by far the 3 version as in cricut maker 3. It's faster quitter and it cut way longer than the previous generation. It's an excellent machine for cricut crafts.
Where can I find Cricut cut files?
The cut files can be found in design space or you can get the cut file free online. With the help of the cut file you can create amazing looking home decor elements. Or a free cut file will allow you to access infusible ink materials.