If you are looking for a fun and creative new project, why not try making your wood earrings using a Cricut Maker?
This DIY crafting tool is easy to use and allows you to cut, score, and etch designs onto all sorts of materials.
Wondering how to make wood earrings with Cricut?
In this article, we'll show you how to make wood earrings with a Cricut. You'll love making your own unique earrings for yourself and others!
How To Make Wood Earrings With Cricut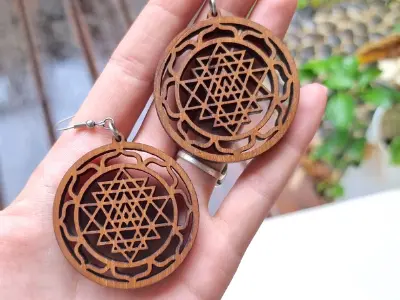 To make wood earrings on Cricut you need wood veneer, tape, a Cricut machine, a purple cutting mat, a knife blade, jump rings, and earring hooks.
Cricut wood veneers come in three types of wood: cherry, maple, and walnut. Use tape to attach the wood veneer to the strong grip (purple) cutting mat.
Choose your design and let Cricut cut the wood veneer to your shape.
If your design doesn't have a hole for the jump ring, use a punch or jewelry punch to make a hole at the top of the earring.
Finally, use a jump ring to connect the earring to an earring hook and you're done!
Read our related article on How to Make Acrylic Earrings With Cricut for more DIY jewelry ideas!
Details About Cutting Wood on the Cricut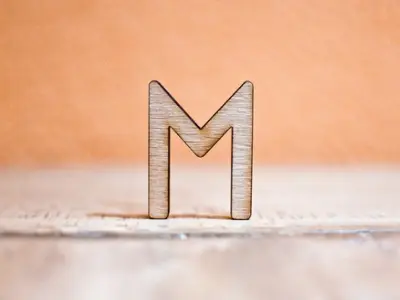 Here are a few tips about cutting wood to help you get the best results so your earrings have a professional finish.
Your local craft store sells wood veneers that can be used in your Cricut machine. You may need to use scissors to cut them to size.
Use the Cricut knife blade and one of the wood settings (basswood or balsa wood) to do the cutting.
Design Space app won't work for wood because the cuts take too long. You'll have to program the machine with your computer.
Mirror your image before cutting so that the cleanest cut side ends up facing outward on your finished earrings.
Use paint or markers to add color to your finished earrings. Cover them with a wood sealant or clear nail polish to give them shine and bring out wood grains.
Don't cut to the edge of your wood veneer. Leave about a pencil width at least so you can protect the blade from running off the edge and breaking.
Very intricate designs may break during cutting. Don't get discouraged if this happens. Try choosing a slightly more robust design.
Wood earrings cut from veneer are very easy to make. They can be as simple or as fancy as you like.
This is also a good technique for cutting out character earrings, personalized earrings, and fan-art earrings.
Read More: How to Create a Monogram in Design Space. This guide shares the steps to take to make personalized monograms!
Make Layered Wood Earrings With Cricut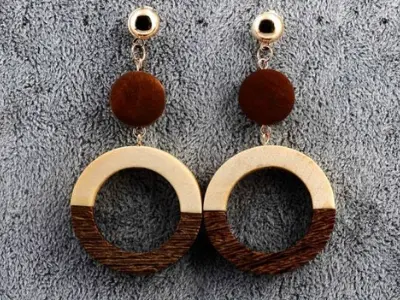 You can take your wood veneer earring skills up a notch by cutting pieces from various types of wood veneer and then using wood glue to put them together.
Purchase several types of wood veneer.
Choose a design on the Cricut that can be cut into several pieces. Begin by making an oval or circle earring and cutting the design in half.
Use the Cricut to cut half of each design in each type of wood.
Use the Cricut to cut a full design from one type of wood to use as a backing for the pieces.
Place the cut pieces carefully onto the whole pieces, lining up all the edges. Use wood glue to secure them.
Use fine sandpaper to smooth down the edges and joined areas of the wood.
Seal the wood with a wood sealer to give it a shine and bring out the beauty of the wood grain.
Use a screw eye pin to attach an earring hook to your wood design.
If your earring is small enough with a solid center, you can simply glue an earring post to the back and be done!
Learning to make wood earrings with a Cricut is fun, and you can add more wood cutouts to make long earrings or intricate designs.
Wood veneer earrings are easy to give and even sell online or at fairs!
Try using our earring instructions above to make a wood veneer chain earring. It's a more advanced project that is sure to get admiring comments!
Wrapping Up
Now that you know how to make wood earrings with your Cricut machine, it's time to get creative and start experimenting with different designs or craft projects.
Remember to use quality materials and take your time when crafting your earrings.
With a little practice, you'll be able to create unique and stylish wood earrings that will be the perfect addition to any outfit.