Monograms are a great way to add personality to your projects, and they're easy to create!
In this blog post, we'll show you how to make a monogram in Cricut Design Space.
We'll also provide some tips and tricks for making your monograms look their best.
Let's get started!
How to Make Monograms
Design Space is a fantastic program that allows you to create custom designs for your Cricut machine.
You can use Design Space to create monograms, as well as a wide variety of other design elements.
Here's how you can make your own monograms using Cricut Design Space:
Type Your Letters
When making monograms in Design Space, you'll first need to select the "Text" tool.
Then, you'll type in the letters that you want to use for your monogram.
Once you've typed in your letters, you can then adjust the font, size, and spacing of your text.
Edit The Monogram
Design Space also allows you to add special effects to your text, such as shadows or outlines.
You can also change colors and play around with the design.
Save and Send
After you're satisfied with your design, simply Save it and Send it to your Cricut machine.
You can use it to make personalized mugs, monogrammed t-shirts, notebooks, Cricut car decals, and so much more!
In just minutes, you'll have a beautiful monogram that you can use on a wide variety of projects!
Here is a video showing how to make monograms using Cricut Design Space:
Download Fonts for your Monogram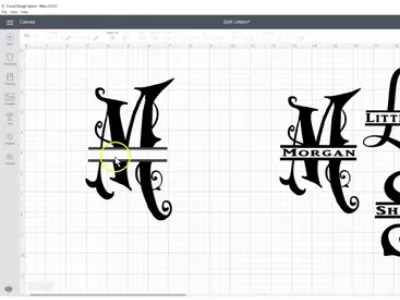 Monograms are a great way to add a personal touch to your papercrafts (like Cricut wedding invitations) and with the wide variety of fonts available, it's easy to find one that suits your style.
If you're using Cricut Design Space, there's no need to download any fonts – they're all available right within the software.
Just open up the Text tool and start browsing through the hundreds of fonts available.
When you find one you like, click on it and it will be added to your design.
Getting Fonts Online
However, if you're using another program or want to use a font that's not available in Design Space, you'll need to download it from the internet.
There are many places you can find free fonts online, but make sure you check the terms of use before downloading anything.
Once it's installed, the font will be available in any program that uses system fonts.
How to Resize Monogram Initials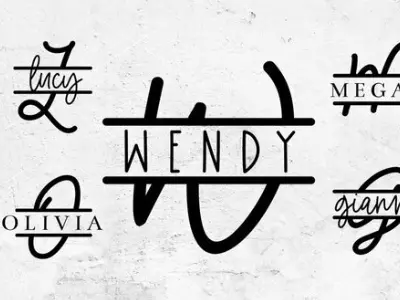 Rearranging and enlarging initials is a great way to customize a monogram project.
Here's how to do it within Design Space:
Select the letters you want to use. Then, click on the "Ungroup" button. This will allow you to move the letters around independently.
If you want to make the letters bigger or smaller, you can use the "Scale" tool. Just click on the letter you want to resize and enter the new dimensions.
Once you're happy with your design, click "Group" to put the letters back together.
You can then send your design to your Cricut machine and get started on your project!
Read our related article, 'How Do You Ungroup in Cricut Design Space?' if you're not sure how to do it!
Conclusion
Hopefully, this blog post has helped you and given you some ideas on how to make a monogram in Cricut Design Space.
Remember, there are many ways to personalize your projects, so have fun and be creative!
Thanks for reading!
Read More: