Designing and creating jewelry is a fun, artistic way to express your creativity.
One popular material that is commonly used for making jewelry pieces is acrylic.
Acrylic is a versatile and durable material that can be used in many different ways, from cutting into shapes for earrings and necklaces to using it as the substrate or backing of your designs.
Do you want to learn how to make acrylic earrings with Cricut machine? It's easier than you think!
How To Make Acrylic Earrings With Cricut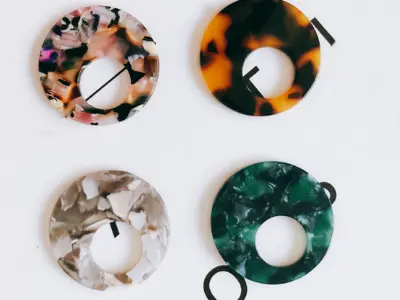 Purchase acrylic sheets in the color you want, or use clear sheets and color them with alcohol ink.
Load the design in Cricut Maker and tape your acrylic to a cutting mat.
Load the acrylic and cut it using 14 passes with the knife blade. After the earrings are cut, color them with permanent markers or alcohol ink.
Shrink the acrylic according to the manufacturer's directions.
Use a jewelry punch to make holes in the acrylic earrings then add jump rings and earring hooks. Your custom acrylic earrings are done!
The design possibilities for these types of earrings are almost endless with Cricut Maker.
Read our related article, Can You Cut Acrylic With Cricut? for more tips and tricks!
How Do I Cut Acrylic Sheets With a Cricut Maker?
We use the Cricut Maker 3 to cut our acrylic sheets. New to the Cricut Maker? Check out our in-depth review of the Cricut Maker 3!
Some acrylic sheets are thicker than other acrylic sheets, requiring more passes to cut through. Thin sheets can be cut with 2 or 3 passes on a regular cutting mat.
To cut thicker sheets, you will need to use a knife blade and cut under the basswood setting, this will generate 14 passes for clean and proper cuts.
Always tape your acrylic down to a clean Cricut mat so it doesn't slide during cutting.
If the acrylic sheet is 1mm thick or thicker, use the Chipwood or Basswood settings for a max of 25 passes, but even with these settings, the cuts will not be the cleanest.
What Type of Earrings Can I Cut on the Cricut Maker Machine?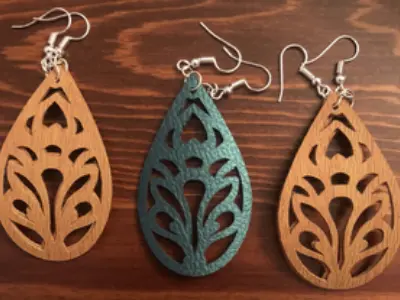 Acrylic earrings aren't the only type of earrings you can cut with a Cricut Maker!
The most common material for making earrings with Cricut Machine are suede, textured felt, faux leather, and leather.
You can purchase the purple or green mat if you wish to cut faux leather and felt. By the way, we wrote a guide on the best way to cut felt with Cricut Maker, so be sure to check that out.
Use the purple mat if you are cutting leather or acrylic. If the leather you use is thick, you'll need a deep-cut blade. 
Read our related article on How to Make Wood Earrings With Cricut for more ideas!
Wrapping Up
Making acrylic earrings with a Cricut machine is easy and fun!
With just a few supplies and a little bit of time, you can create beautiful earrings that are perfect for any occasion.
We love making acrylic earrings with our Cricut because the designs are robust yet intricate, so we can make interesting shapes, fan-art earrings, and just about anything imaginable.