Welcome to my Cricut Maker 3 Review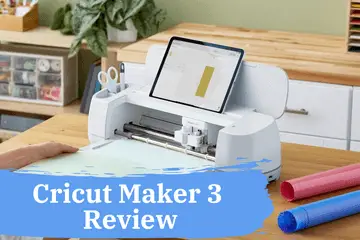 After spending the last 12 days designing, cutting, ironing, and sticking like a witch in her layer while my husband would half-jokingly warn me that one these days, the kids will ask him, "Dad, who's that lady on the picture next to you?" and he would answer "That's mom, honey…", I'm ready to reveal everything there is to know about the Cricut Maker 3.
My review goes like this: I will share with you who's this vinyl cutter is for and what it can do for you. And then, I will tell you its drawbacks, so you get the full picture.
Look:
Imagine creating amazing masterpieces without sticking the vinyl to mats, or working at night without disturbing your sleeping kids while enjoying the freedom of working with 300+ different materials. I will share everything with you.
For a few years, I've been a stay-at-home mom. I've quit my corporate job because it was dull and unfulfilling and started doing crafts to supplement my income. A few years later, I love it and wouldn't go back. During this time, I've become an expert, which is why I'm sharing my knowledge to make things easier for you.
Now, let's get some vinyl cut already!
Pros
Finally, a great way to get rid of all those pesky mats and cut lightning-fast
Bigger projects unlocked as you can cut up to 12 feet long
It's fast and quiet, which means you will be profitable in just a few weeks
Cons
The possibility to cut large projects up to 12 feet long is limited to smart materials only
This machine got pricier than it used to be, and offline cutting is difficult
Who is the Cricut Maker 3 for?
The Cricut Maker 3 is the ultimate crafting machine. You name the material you want, and it can probably cut it. So, this is the perfect machine to get started if you're new to crafting or if you want speed and a wide variety of materials to work with.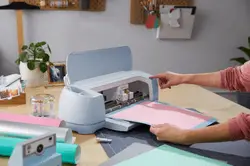 Best of all, you're not limited to small designs like you used to be. The "smart materials" are the next-gen items in the arsenal. Do you fancy creating wall art or banners up to 12 feet long? Now, you can do so.
Cricut has by far the most intuitive and easy-to-use software, making it beginner-friendly. Plus, you get some follow along with tutorials that get you up to speed in no time.
Can kids use it?
Of course, they can. If they can use a knife, rest assured that they will be able to carefully handle the cutting blades.
In other words, it is the perfect machine for anyone who wants to create vinyl, heat transfer vinyl, and dabble with leather, fabric, and stronger materials like balsa wood and chipboard.
Read More: How to Cut Chipboard With Cricut Maker. Whether you're new to Cricut, or just new to cutting chipboard, this is a great place to get started!
What can the Cricut Maker 3 do for you?
A better question would be, what can't it do? Make breakfast, maybe…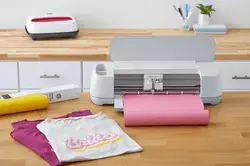 It's one of the most balanced machines on the market. It's fast and powerful at the same time. Its ability to handle leather and fabric and work with balsa wood and chipboard sounds unbelievable, doesn't it?
Well, good news. It's true because this machine can handle more than 300 different types of materials.
Besides, its 4,000g cutting power remains the same, making it the second most powerful machine on the market, right after the Silhouette Cameo, which is the reigning king.
In addition, Cricut made a speed upgrade. Now, the Maker can cut up to 8 inches per second (with smart materials only). With this speed upgrade, you can do more jobs in less time, thus earning money faster. Personally, I can't wait to use this machine during the Christmas rush. And if you're planning on starting a t-shirt business, then boy, will the speed update be a lifesaver!
The Cricut Maker 3 can do everything from drawing to cutting, etching, and embossing. Best of all, it can cut the most finicky fabric of them all. I've tested this out with tissue paper, and guess what?! It did a perfect cut.
I like the fact that Cricut took a jab at Silhouette. In their previous model, they had a roll feeder attachment. Now, they have two. Also, Silhouette had a cross cutter for fast and easy material savings, which Cricut has now implemented as well. However, it is only available with the feeder tool.
Read More: How to Make Stamps With Cricut. You can use stamps for different projects for your business, the holidays, events, and more! Here's how to make stamps with your Cricut machine.
Cricut Maker 3 shortcomings
Sadly it isn't the perfect machine. It has a few flaws that I would like to mention, so you get the full picture.
The cold shower comes with a speed upgrade. You can indeed cut up to twice as fast as with the previous model, but it only applies to smart materials. If you're using the mat, then there's no speed increase whatsoever.
Smart materials are also called matless cutting. The brand came up with a fancy name to make it sound cool. So far, based on my tests, only Cricut-provided materials are good with matless cutting. The problem is that when I injected the vinyl, it got wrinkled, which means the cut won't be good. The only near-good vinyl that I could found was from Oracal. It only had a minor wave in it. This means that if you want to enjoy the speed boost, you have to order from Cricut because there are no third-party suppliers on the market.
The last shortcoming that I have to mention is the price increase. Compared to the original Cricut Maker, this one costs $100 more. The only way to save a bit of money is by getting a Cricut bundle.
If you can look past these hiccups, then it is a very good machine to upgrade your crafting or get started with.
How to get the most out of the Cricut Maker 3?
To get the most out of the Cricut Maker 3, you should complete the demo projects. This is brilliant from Cricut's side because, in most cases, people give up at the first hurdle and refund their purchases. But with this asset, if someone follows some simple steps and gets their first win, they will continue despite the setbacks.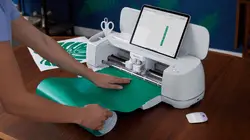 The setup is crucial before we can get to the first cuts, and of course, brace yourself for an update that might take up to an hour, depending on your internet speed.
Once you have completed the demo, pick a material and master it. I've been jumping from one material to the next for so long and did mistakes after mistakes. So, the best thing is to stick to one material until you master it.
Also, if you happen to get stuck at some point, reach out to the community or watch YouTube tutorials to get you through the hurdles.
Read More: How Long Does Cricut Last? If you're wondering how long you can expect your new Cricut machine to last, this guide is for you! We answer this question and share how to increase its lifespan.
What's new with the Cricut Maker 3?
There are a few new things on the Cricut Maker 3. Some reviews call this a feature, but I just call it a filler. What I mean is that Cricut has changed the start button logo from the Cricut logo to the play button because it was confusing people. To be honest, if that little thing is confusing for them, then I don't get how they have survived this long in life.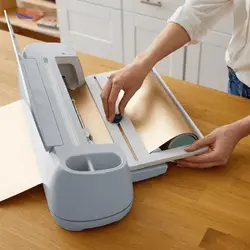 Now, let's discuss the real difference. Last year, Cricut released a tiny machine called the Cricut Joy and showcased its amazing speed boost and increased size. Since the public loved it so much, they have applied these features to the Cricut Maker 3.
Keep in mind that only the Cricut Maker 3 is compatible with smart materials, thus getting the 2x speed boost. Also, with this new machine, you can work with materials up to 12 feet long. For this, you need to purchase the additional feeder or feed roller, which goes for $50.
The last new thing is the motors, which are a tad bit quieter.
Cricut Maker vs. Cricut Maker 3: What's the difference?
The major difference between the Cricut Maker and the Cricut Maker 3 is the speed upgrade due to the smart materials. Plus, you can cut materials up to 12 feet long.
Finally, the Cricut Maker 3 is a bit quieter than the previous generation.
Cricut Maker vs. Cricut Maker 3: Is it worth the upgrade?
This depends on your line of work. If you can charge higher prices, then sure, it is worth it. Also, this machine is for those who take on a lot of orders. The big difference between the two machines is the $100 price tag, plus the cost of the smart materials.
Read More: What is a Cricut Imagine? We cover this popular machine in our guide!
Conclusion
We have reached the end of this Maker review. By now, you should have a clear picture and know whether or not this vinyl cutter is the right fit for you.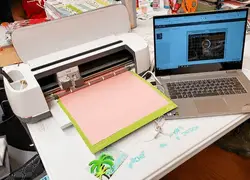 As you have seen in my review, I've tried to be impartial. The Maker 3 has a lot going for it. With the added support for using smart materials, you will be able to crank out projects faster than ever before. And we all know how important speed is when you're running an Etsy or eBay store.
On the other hand, this machine isn't cheap, so you will need an allocated budget for it. The only way to save money is by going for a bundle. Luckily, the guys and gals from Cricut thought of that as well. By getting the bundle, you will be able to save much more money than when buying stuff separately.
I personally had a blast cutting and crafting with it, and it's a keeper for me. I can't wait to do some wall art. Psst, here's my secret tip by the way. Wall art is highly profitable because many people want some in their homes and the supply is limited. So, if you want to bring in some good money, that's where you should start.
Lastly, Cricut is known for having stock issues, so jump on it as soon as possible or risk waiting for weeks on end.
As always, if you have any questions or tips, reach out to me and I will do my best to help you out.
Happy Crafting!
Frequently Asked Questions about the Cricut Maker 3 Review:
Is the Cricut maker worth it?
The Cricut Maker is definetly worth it. It has been proven to be a workhorse without break downs. Cricut is making some amazing products and always innovate. Access to 300+ materials I would say it's worth it all right.
Is there a new Cricut maker coming out?
Yes there's a new Cricut Maker coming out it's called the Cricut Maker 3 and it's available from the 10th of June
What is the best Cricut for Beginners?
For beginner the best circuit is the Joy. It's small and portable and get you rolling fast. If you want to upgrade for bigger sizes there's the Cricut Explore Air 2, Cricut Explore 3 and Cricut Maker 3.
What is the best Cricut bundle to buy?
By far the best cricut bundle to buy is the everything bundle. As the name suggests it everything is included.
What are the newest cricut machines on the market?
Last year they have released only one new cricut machine which is called the Cricut Joy. This year they went ballistic and launched the Cricut Maker 3 and Cricut Explore 3 at the same time. The Maker 3 became quickly the best cricut machine ever made.
What is the release date for the Explore 3 and the Maker 3?
The release date for Explore 3 and Maker 3 was on the 10th of June 2020.
What are cricut smart materials?
Cricut Smart materials are brand new smart materials that don't require a mat. For example there's smart vinyl, smart iron on and smart paper to name a few. Pick any smart material and you can enjoy twice as fast cutting speed. Both smart vinyl and smart iron on are exceptionally great materials to work with. They are affordable and easy to use. Keep in mind twice as fast cutting speed is for smart materials only.
What can the Cricut Maker 3 cut?
The Cricut Maker 3 can cut over 300 materials let it be, paper cardstock, vinyl paper, fabric, paper, cardstock. To a certain point the Cricut Maker 3 is very similar to the Explore 3. The main difference between the Maker 3 and the original maker is that your ability to cut super fast with the latest circut machine. The ability to cut without a mat is game changing. A lot of mats can be saved like this. Also not using mats means that you are saving money.
What is the maximum cutting length for the cricut Maker 3?
The maximum cutting length is 12 foot long. This is a massive improvement from the original maker that was limited to 24 inches.
What's the difference between cricut design space and cricut access?
Cricut design space is the software that helps create a project or multiple projects. You can choose your design and the materials you will be using. You can choose from more than 300 materials. By far Cricut design space is the easiest to use software. Design Space is so easy to use that even kids pick it up in matter of hours. Cricut access on the other hand is a digital subscription service. While access is assiated with a monthly fee that gives you a lot of perks. Design space is online only so you have to keep that in mind. Also Design space is absolutely free.
What features does the circut maker 3 comes with?
The maker 3 comes with different tools and most of these are different blades like the fine point blade, knife blade, rotary blade and scoring wheel. All in all there are 13 different tools that come with this system. These are sadly not backward compatible. As you have guessed the rotary blade is perfect for fabric projects and it can even cut tissue paper. The knife blade is for a tougher project you can work with cardstock or balsa wood. The knife blade is like an x-acto knife. The fine point blade is typically used for most jobs both the original maker and explore has this blade. The fine point blade is for vinyl paper projects. These blades are worth their weight in gold. For scoring even the thickest paper can be handled by this cutting machine.
Do I need a mat with the Maker 3?
If you need a mat or not it really depends on your needs. For example if you want to cut fabric then you will need a mat. On the other hand if you want to get rid of your mat for good then you have to use the smart items. These projects will be faster because you don't have to stick and unstick your material to and from the mat.
Where can I get design projects for my Maker 3 or the original maker?
There are ton of free websites where you can get fonts and figures for free. Also if you sign up for the subscription project then you get certain things for free.
What is the cutting power of the maker 3?
The cutting power didn't get a boost like the previous version. The power stays the same at 4000g which is sufficient enough to cut cardstock. fabric, paper, iron on materials, sticker. Let it be the original maker or other cricut machines you are choosing one of the bests in the industry for your projects.
Do I get the fine point blade, rotary blade with the cutting machine?
It depends if you buy the cutting machine alone then you have to buy it separately. If you choose to buy a bundle then in most cases the fine point blade, rotary blade is included with the cutting machine (machines). The tools haven't changed so they are compatible with the older system. This is the reason why I recommend the bundle so the blades are coming for free. The rotary blade is one of the longest lasting tools in the arsenal. This machine can handle sticker cardstock with ease.
What can you expect from the maker 3 review?
I've gave my very best and detailed info in this maker 3 review. The maer is a great cutting machine that is compatible with so many materials. Let your project be and iron on or sticker making this tool is compatible with it. Cricut's rotary blade is best in the business and it work with the maker system. Whatever you need to cut there are tools (tool) to help you out. Cutting has never been so easy and comfortable. If you have seen the features you know that the maker machine can handle sticker cardstock with ease. Thanks to the great compatible tools (tool) it can cut and keep on cutting thanks to the tools at it's disposal.
What happened with the cricut maker 2 and will there be a review?
Cricut decided to jump over the cricut maker 2 so there will be no review for that new machine. Cricut went with the cricut maker 3 machine so it's aligned with the explore index wise.
Can the maker 3 cricut explore 3 handle larger projects?
Yes bot the maker 3 cricut explore 3 can handle larger projects up to 12 foot max cut length for the first time. The brand new cricut maker 3 comes with everything you need to cut 2x faster up to 12 foot and cut without a mat.
What are the new smart materials for the new maker 3 the cricut explore 3?
The new smart materials for maker 3 the cricut explore 3 is the ability to cut without a mat or matless cutting. My favorite new smart material is the smart paper sticker cardstock which allows print then cut options.