Do you love cupcakes? Who doesn't, right? But sometimes, it's hard to find the perfect topper to top them off. Why not make your own?
The best part is that you don't have to buy a pack of matching toppers or get stuck paying several dollars apiece for unique ones.
You can make as many custom cupcake toppers as you want with Cricut!
In this blog post, we will show you how to make cupcake toppers with Cricut. It is simple to do and can be a lot of fun!
How To Make Cupcake Toppers With Cricut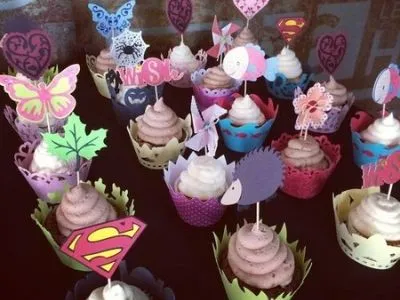 Purchase regular or glitter cardstock in colors, or printable cardstock for print then cut designs.
Be sure your glitter cardstock doesn't shed. Decide what size cupcake toppers you need and how many.
Use Cricut Design Space to choose images or logos from the Image Library or design your own and cut 2 of each in a mirror image on the Cricut. Weed the designs.
Glue the mirror images together with a long toothpick or popsicle stick in the middle with 3M Scrapbook Glue, Tacky Glue, hot glue, or another sturdy glue.
Once dry, insert them into the frosted cupcakes.
Supplies Needed to Make Cupcake Toppers
Glitter Card Stock: For cupcake toppers and cake toppers, use the Recollections brand glitter paper or Cricut card stocks that are strong, have a good cutting finish, and don't shed glitter.
Regular Card Stock: For cupcake toppers that you'll color in later or print then cut, regular cardstock is needed to make your design hold its shape during presentation. If you have cardstock from other fun Cricut projects you likely don't need to buy more.
Printable Vinyl: If you already have printable vinyl on hand, this is a great option for making cupcake toppers and you don't have to worry about it getting ruined by frosting or humidity.
Toothpicks: Use extra-long food-grade toothpicks for the cupcake toppers if necessary. If you're making cupcake toppers for little kids, lollipop sticks from your local craft shop are suggested rather than toothpicks.
Glue: We recommend 3M scrapbooking glue, Tacky glue, hot glue, or another firm glue so you won't have to worry about the topper falling apart when it's on the cupcake.
Read More: How to Use Cricut Glitter Iron On Vinyl. Learn how to apply glitter iron-ons to your projects!
Design the Cupcake Toppers
There are many ways to top your cupcakes – with unique designs, fonts of your choice, and personalized messages, the options using the Cricut are endless!
But how do you choose the right design and style for your cupcake toppers? Here are a few tips to help you get started:
The easiest place to find premade designs is in the Image Library in Design Space. Browse to find images you like or use Design Space to create special messages and designs with the drawing tools.
First, think about the overall look you want to achieve. Are you going for a fun and festive vibe, or something more elegant? This will help you narrow down your choices.
Next, consider the size of your cupcakes. If they're smaller in size, you'll want to choose a topper that's proportionate. Conversely, if you're cupcakes are larger, you can go for a bigger and bolder design.
Finally, don't be afraid to get creative! If you want your cupcake to stand out from the rest, try incorporating a unique element into your topper design. This could be anything from a special shape or material, to an eye-catching color scheme.
Choose Your Cupcake Topper Size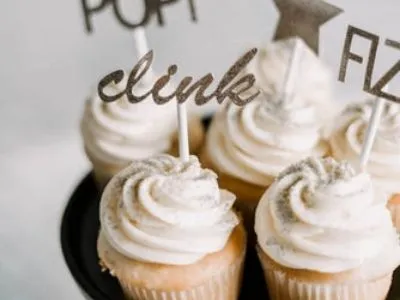 When choosing cupcake toppers, one of the most important factors to consider is size.
Cupcake toppers typically come in two main sizes: between 2.5 and 2.75 inches and between 1.5 and 2 inches.
For mini cupcakes, the ideal topper size is between 1.5 and 2 inches, as it will fit well on top without obscuring too much space on the rest of the cake.
Cricut really shines when cutting these intricate toppers.
For regular cupcakes or larger cakes, the ideal topper size is between 2.5 and 2.75 inches, as this will help ensure that your topper does not overwhelm the rest of your dessert.
Cut the Cupcake Toppers With a Cricut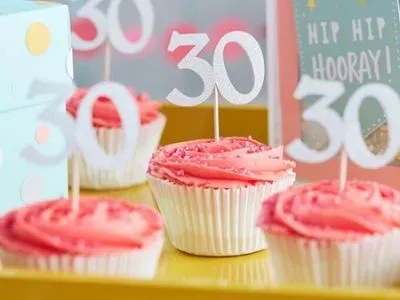 When it comes to making festive, delicious treats for parties or special occasions, nothing beats the appeal of a cute and whimsical cupcake.
But to truly complete the look and feel of your cupcakes and add a personal touch, you may want to consider using cut cupcake toppers, which are so easy to make on a Cricut machine.
To get started, select an appropriate design from the various options available in your Cricut software.
The design should be simple enough that it can be cut out easily on your Cricut device, but detailed enough that it stands out when it's placed on top of your cupcakes.
You can choose one design and cut as many as you need so they all match, or you can cut a unique design or color for each cupcake.
To make finished-looking toppers, program the Cricut to cut two of each design. One front-facing and one mirrored.
Then you can sandwich the two parts together and there won't be a "back" side to your toppers.
Then simply feed your vinyl or paper into the machine with the correct cutting blade, choose your settings, and press "cut."
Once the designs are cut, weed them carefully so they look perfect.
Assemble your cupcake toppers
Next, attach a toothpick to the back of each topper. You can use any sort of firm, tacky craft glue or hot glue.
If you're making double-sided cupcake toppers, then put a dab of clue on the back piece of the topper, place one end of the toothpick in the wet glue, then carefully place the front piece on and press down to seal.
Place Your Cupcake Toppers for the Perfect Finish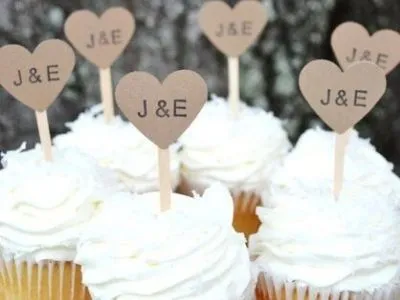 The last step is to insert the cupcake toppers into the cupcakes.
Depending on the type of frosting you make and the humidity of the area where they'll be served, you may want to wait to place the toppers.
A firm frosting like buttercream will hold them up longer than a soft whipped cream frosting.
Don't choose frosting based on your toppers, but wait and insert the toppers just before everyone arrives.
Wrapping Up
Cupcakes are such a simple treat, but fun frosting designs and whimsical or personalized cupcake toppers turn them into a personalized treat that everyone enjoys.
It's like getting a custom cake all to yourself.
So pull up Design Space and let your imagination run wild. Design your own cupcake toppers and cut them on your Cricut. This is a simple project that packs a big "Wow!"