Find Out Which Is the Best Cricut for Making Shirts and T-Shirts
With Cricut, you get the speed and a shortened learning curve…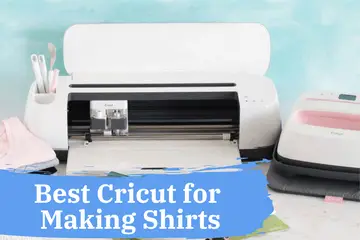 The Cricut brand is ideal for making Shirts.
Here's why: there are three reasons why they are the best. Cricut has created the fastest vinyl cutters on the market. This means that you can finish more orders at the same time.
The second reason would be intuitive and easy to use the software. With Cricut Design Studio, the learning curve is short, not like with other brands.
The third reason is Cricut has the most affordable accessories. This means that the cost of ownership is the lowest. Now they have created many machines over the years. Which one is the best?
Look:
To make great shirts, you need to have two tools at your disposal. The first one is the obvious one, which is the vinyl cutter. The second machine is the heat press. You're in luck Cricut excels in both departments.
By reading this article you will know exactly which the best cutter for shirts is. Plus, I have a few alternatives that would fit some special needs. Cricut has just one heat press, which is called the Easy Press 2. By getting it, you will be able to create perfect shirt and T-shirt designs.
First up, I will reveal to you which is the best cutter for you, and then I will share what you need to know about the Easy Press. This Cricut suggestion wouldn't be complete if I wouldn't offer you some alternatives for different needs.
Let's get this best Cricut cutter for Making shirts post started..
#1 Cricut Maker – Best Cricut for Making Shirts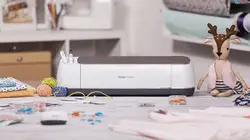 Maybe you get bored with shirts; then this machine will allow you to access over 300+ materials.
The Cricut Maker can do all the things that the Cricut Explore Air 2 can and a bit more. The cutting size is a bit bigger, 12" X 24". The 0.5" isn't much of a difference. Plus you can buy some specific tools for specific jobs.
For example, there's the rotary blade for fabric and the knife blade for stronger and thicker materials.
Besides these improvements, there are the looks and the docking station. These don't make a difference when you're cutting HTV.
On the other hand, if you want to work with multiple materials, it's a great choice. Maybe there's a slow season with shirts; then you can do decals or cards. It's a great way to compensate for seasonal ups and downs.
The accessories are the same as the Cricut Explore Air 2, so you're getting low operational costs.
My biggest gripe with the Cricut Maker is that they seem to be out of stock for months now. Sometimes there's just one color available. I've contacted their support, and even they didn't know when the supply will be fixed.
If you see the color you like in stock, get it, or it will be gone in a few days.
Pros
With 4000g of cutting power, it can cut through anything in your craft room.
It's the fastest electric cutting machine you can buy.
Accessories cost less so you can make higher profits.
Cons
Design Space software is mostly online only.
It's on the pricier side.
#2 Cricut Explore Air 2 – The Best Cricut Machine for Making Shirts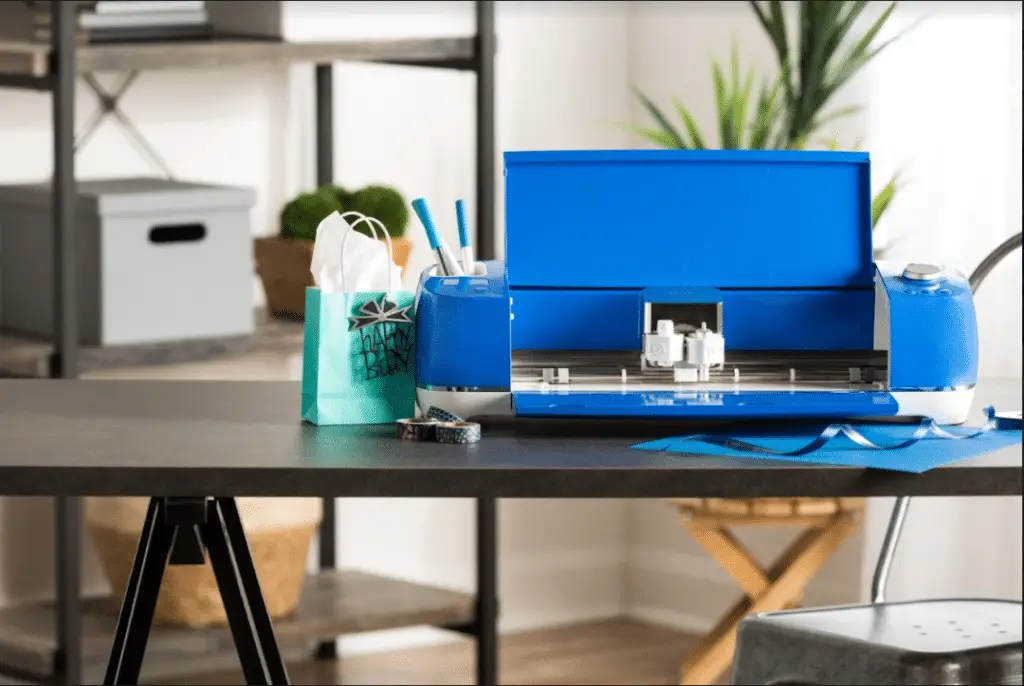 Even though the Cricut Explore Air 2 is the previous generation, it's the best choice for making shirts.
Here's why:
Since it's not the flagship model, it's more affordable. Plus, it has been battle-tested for many years, and it delivers time and time again.
To create great looking shit designs, you need to use heat transfer vinyl (HTV for short). Cricut Explore Air 2 can handle HTV very easily. It has a cutting force of 350g, so it's more than enough to cut vinyl.
The cutting size is 11.5 inches X 23.5 inches. This means that you can easily create designs for any shirt to your liking.
With the Explore Air 2, you're getting the double speed upgrade. It's twice as fast as other vinyl cutters. Plus, the sound is quite acceptable. As you know, typically vinyl cutters are loud, so working in the evening might bother the relatives.
With the Cricut Explore, you're getting noise reduction as well.
We all know that the software can make or break even the most perfect product. Cricut Design studio is super easy to use. You turn the dial to the desired material and hit the cut button after the design is done. Presto, it will be cut out in seconds.
The major biggie with Design studio is that you need a constant internet connection. This issue might prove a big one in areas where there's a lousy service. Not long ago, a reader of mine contacted me and asked for an alternative.
So far, we got that this Cricut machine is easy to use, and it works fast. What else do you need to know?
Operational costs pop into mind. You see, typically, brands sell machines at a loss and make big profits with accessories. The printer industry is known for this. Luckily it's not the case with Cricut. They have the lowest priced accessories on the market, let it be replacement blades, mats, and vinyl.
If you feel that this is the right cutting machine, you need to take action. For some time now, the stocks were running low. If they are available, get them ASAP, or you will have to wait weeks, if not months.
Pros
It's an affordable vinyl cutter that many great things under the hood.
It has dual carriage so that it can speed up the workflow.
It's easy to get started so that beginners will feel right at home.
Cons
It's a bit outdated machine, still a regular workhorse.
It doesn't have specialized blades like the Rotary or Knife.
#3 Cricut Easy Press 2 – The Best Heat Press for Home Use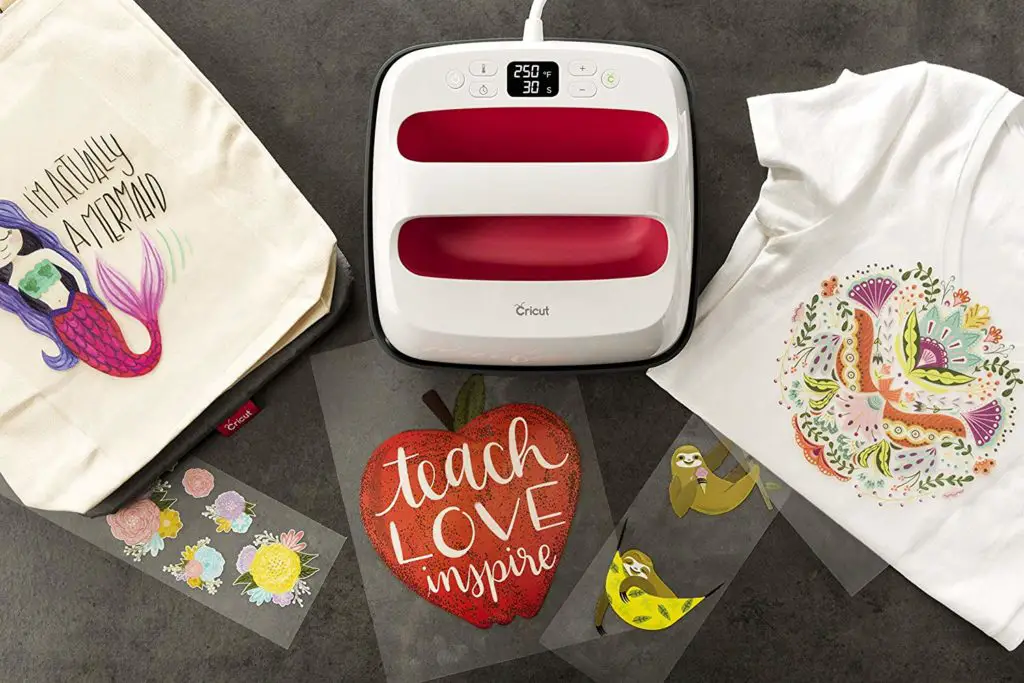 This heat press is the best choice between a pricey professional one and an inefficient home iron.
Ok, you have your HTV cut out. Now what? Well, you need a heat press to transfer the material on the shirt.
This micro review is to get to the point as fast as possible. If you're interested in the full review, check out my Cricut Easy Press 2 review for more info.
Wouldn't my traditional iron do the job?
Traditional irons were designed to generate steam and remove wrinkles. This is not efficient for creating shirts. To be fair, it can be done, and it will be a real pain plus, it will take a lot of time to get the same results as with the Easy Press 2.
Also, you might have more failures because the iron doesn't have a balanced heat surface. This means that you have to move the iron, so you cover every inch of the vinyl if you don't like that, it might peel off.
On the other hand, the Cricut Easy Press heats up in less than a minute, and it's light weight. There's a timer that tells you how long to press it down, and then you're done.
The heat is distributed evenly so that you will have flawless results every time.
Do I need a professional heat press?
The major weakness of the Cricut Easy Press heat press is that it's not suitable for bulk work. You will need a lot of elbow grease if you have to finish 100+ shirts.
With a professional heat press machine, you get two issues. These are expensive and take up a lot of space. Not to mention they take their sweet time to warm up.
Which size should I get?
There are three to choose from. There's the small one 6" x 7" this heats in less than a minute. There's the medium one 9" x 9". It heats up in less than 2 minutes. Finally, there's the big one 10" x 12", which heats up in less than 3 minutes.
I highly recommend getting the medium one or the big one. You can go with the smaller one, and then you have to press a typical shirt four times to make sure you got it right. This is wasted time.
Hot tip: No matter which size you get, make sure that you get the extra-large mats. These mats need to be bought separately.
As you can see, you can't live without the right heat press. Cricut made it light and simple to use. It will get you the best results every time. Get your Cricut heat press at the same time with your vinyl cutter.
Pros
It's a portable heat press which gets the job done super-fast.
It behaves like an industrial heat press without the huge space and major investment required.
The heat is distributed evenly, so the vinyl will stick perfectly every time.
Cons
It only works best on flat surfaces..
Bulk jobs will be difficult.
The Cricut Explore Air 2 was the best vinyl cutter for shirts. However, there are people with specific needs, so here are a few alternatives. For the Cricut Easy Press 2, there's no alternative.
#4 Cricut Joy – The Best Machine to Create T-Shirts on the Go
It's so tiny and cute… it can do so much.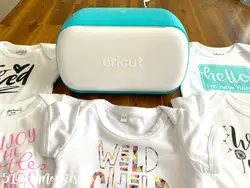 What kind of shirts can I do with this little thing?
It's a common question that I get from readers. The Cricut Joy is a niche product. It's for those crafters who are on the road or creating custom baby gear.
Imagine a baby shower; you can create designs on demand. Better yet, you might even upsell to other moms who are attending.
With the Cricut Joy, you can work on a 4.5" X 6.5" surface. It's only compatible with paper and vinyl. And yes, it can handle HTV with ease.
There are a couple of flaws with the Cricut Joy. There's no beating around the bush. It's expensive compared to the Cricut Explore Air 2. Secondly, they have thrown their low accessories advantage out the window.
It seems that the accessories are overpriced. Now you can save money if you buy your own HTV and then cut it down to size. Plus if you can charge higher prices, then you will be in profit.
As you can see, the Cricut Joy is a niche product. The best place to use it is either on trade shows, fairs, or baby showers. It's perfect for crafters on the go.
The Cricut Joy suffers from the same issue as the Cricut Maker. They seem to be out of stock all the time. Again if you see it and it's what you need to take action because it's gone in a matter of hours.
Pros
It's a great choice for kids and school crafting projects because it's so easy to use.
Lightweight and small great for people on the move.
You can get any project done in 15 minutes or less.
Cons
The accessories are overpriced.
Nor the blade or the cutting mat can be used in other Cricut machines.
Conclusions for the best Cricut Machine for Making Shirts
We have reached the end of this article. By now, you should know which the best match for your needs is.
The Cricut Maker came out the winner. It's affordable. It's fast and has low operational costs.
The Cricut Easypress 2 is the middle road between a cheap home iron and an expensive professional heat press.
With the help of these two machines, you can create shirts, t-shirts to your liking.
The Cricut Explore Air 2 and the Cricut Joy are valid contenders. Sadly they are the best choice for a few people. Also, they have many drawbacks, which the Cricut Explore Air 2 doesn't have.
I do not doubt that Cricut delivers, and you will be able to create great designs and sell them for a profit.
If you have any questions or feedback, let me know by contacting me. Until then…
Happy Tinkering!
Frequently Asked Questions (FAQ):
What is the best Cricut machine for making shirts?
The best Cricut machine for making shirts are these:
Cricut Explore Air 2
Cricut Maker
Cricut Joy
Can I make shirts with a Cricut?
Yes, Cricut is made for you to create shirts. No matter what type of shirt you want to make there's a Cricut cutting machine to help you. Any Cricut machine can handle iron on vinyl and heat transfer vinyl.
Most Versatile: Cricut Maker.
Best Cricut Machine Overall: Cricut Explore Air 2.
Most Compact: Cricut Joy.
Best Cricut Heat Press Machine: Cricut Easy Press 2.
Best Cricut Electric Pad – Cricut Bright Pad.
Can you make T-shirts with Cricut joy?
The Cricut Joy is perfect for making shirts. Since the Cricut joy is compact it's ideal for baby shirts or small designs on T-shirts. You can easily create custom designs for your loved ones.
Can you use Cricut easypress for shirt design?
Yes you can use the cricut easypress for shirt design. To get started collect the materials you need like iron on vinyl and heat transfer vinyl. The shirt design has to be prepared in a design software such as cricut design space. Once the shirt design is ready in the design software you want to cut it out with a cutting machine. To create the perfect shirt use iron on vinyl or heat transfer vinyl in the cutting machines. Once the design is cut used the weeding tool to remove the excess. The next step is to use the cricut easypress and iron on vinyl or heat transfer vinyl on the shirt. The cricut easypress will do the rest. You have to let it warm up and then press the cricut easypress on the design and you're done.
How much Cricut design space?
Cricut design space is free when you get started. Typically a Cricut cutting machine can handle more than 100 materials. By far the Cricut design space is the most user-friendly design soft out there. The Cricut cutting machines handle iron on vinyl superbly. If you want Cricut get access then you have to sign up for a monthly subscription plan. I highly recommend doing the demo project first so you get familiar with the Cricut design space. Make sure you get the weeding tool because that's sold separately. Keep in mind that the Cricut design space requires a constant internet connection. If you need to make frequent trips maybe an offline cutting machine would make more sense. If you want to cut more than iron on vinyl then the Maker is your safest bet. The weeding tool is sold separately FIY.
Last Updated on March 2, 2021 by Emily