Portable, wireless… Can you ask for more?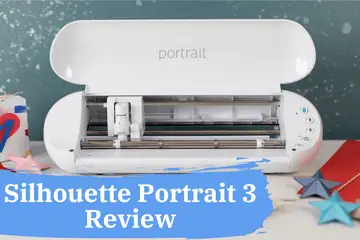 Silhouette is full of surprises. They have just released the new Silhouette Portrait 3. Last year, they took the vinyl cutting by storm with the latest Silhouette Cameo 4.
Did you know that the Portrait is the lightest and most user-friendly vinyl cutter you can go with? Not only that, it can handle cardstock and vinyl on the go.
Look:
The fastest way to make money with the Portrait 3 is by going to tradeshows, fairs, and even baby showers. All you have to do is cut, stick, and get paid.
Before we get any further, let me give you a quick preview.
It's an
affordable vinyl cutter
for those who love mobility. It's
lightweight
, and it can be controlled via Bluetooth. No more searching for misplaced wires or trying to untangle them! With the
Bluetooth
connection, you can craft in class.
It also comes with the Auto blade, which does the heavy lifting for you. Thanks to Silhouette Design Store, the machine will know the right adjustments for your project. This eliminates errors and wasted material.
Now, let's get this Silhouette Portrait 3 review started. If you stick with me until the end, I will tell you the pros and cons. Some of them are unexpected, to say the least.
PRODUCT
DETAILS
PRICE 

Best Affordable Choice

Silhouette Portrait 3

The Portrait 3 is an affordable beginner-friendly portable vinyl cutter, and it's easy to use.
The Auto Blade is a game changer, as it slashes the learning curve and eliminates the guessing game.
It comes Bluetooth enabled, and cuts paper, vinyl, cardstock, and many more materials with ease.
Cutting Power: 210g, Cutting Size: 8″ x 10 feet
Who is the Silhouette Portrait 3 vinyl Cutter for?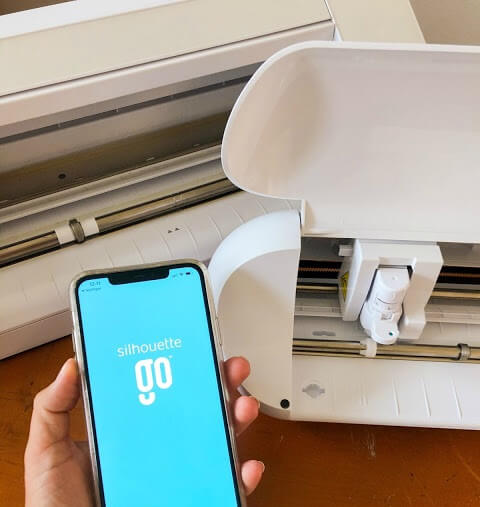 The Silhouette Portrait 3 is meant for basic crafting. Also, this is the ideal vinyl cutter for beginners. You can take the plunge, and test out crafting without breaking the bank.
This vinyl cutter is also for those who value mobility. Since the Portrait 3 is so light, you can easily carry it with you, wherever you're going. Thanks to the Bluetooth technology, you don't ever have to worry about wires either.
It's a great starter tool, and for quick cuts.
What can the Silhouette Portrait 3 vinyl cutting machine do for you?
This small vinyl cutter packs a punch.
First of all, the Portrait 3 is suited for vinyl, cardstock, and stickers. So if you want to work with these basic materials, this is the most affordable machine to work it with.
Also, many crafters are constantly on the go. For them, this machine is a godsend. It's light, so it can be easily carried. Plus, it has all the features needed to create designs on the fly.
The Portrait 3 also comes with a single carriage option. The only blade that works with the Portrait is the Auto Blade.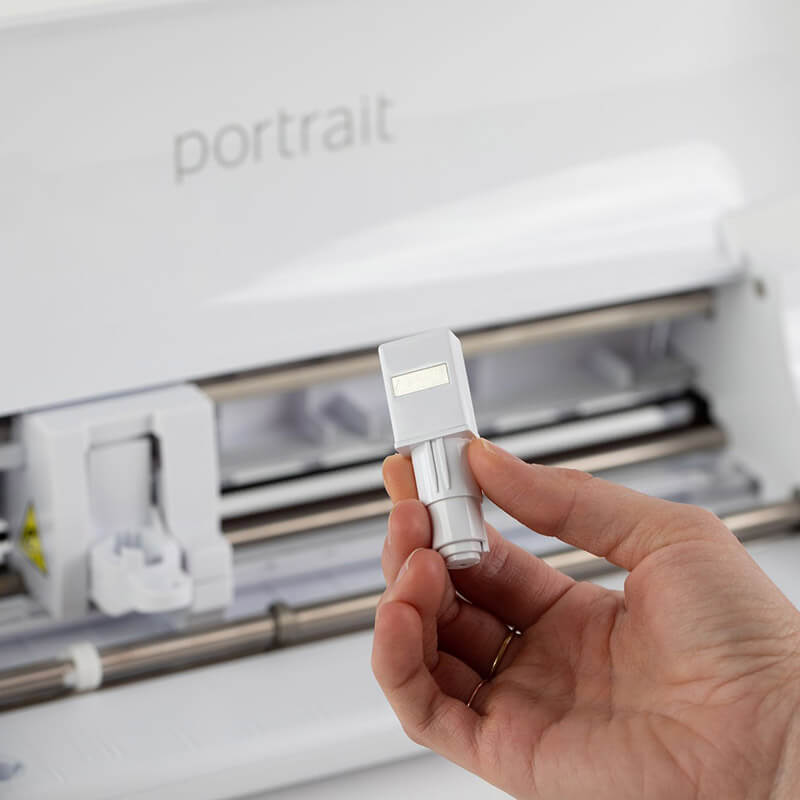 The beauty is hidden in plain sight. When you're working in the design Store, once you select the material you want to work with, the Portrait automatically adjusts the best cut settings. This eliminates errors and wasted materials.
As for the cutting mat that comes with the Portrait 3, it is 8 x 12 inches. You are not limited to 12 inches with certain vinyl sheets. If you have a roll feeder, you can extend your cutting space up to 60 feet. This cutter is ideal for repetitive or long jobs.
The Portrait 3 works with materials up to 2mm thick. Even though it works with a few materials, it can shine with different designs.
Another asset is that you won't need a dedicated laptop to create designs with the Silhouette Portrait 3. There's a mobile app for it. Thanks to the Bluetooth connection, you will be wire-free. You will be able to create designs with a few taps on your smartphone.
Finally, I want to mention that you can do cut without the mat. To do so, you will need to use vinyl that allows this type of cutting. Cutting like this, you will extend the life of your cutting mat.
What are the differences between Silhouette Portrait 2 vs Silhouette Portrait 3? Should you upgrade?
This is a tough one to crack. I've looked long and hard, and I haven't found any noticeable difference. They look the same, and the Silhouette Portrait 3 is a bit more expensive than the Portrait 2.
The main difference I found is that the Portrait 3 works as advertised. Many crafters complained about the previous version for having chewed up mats, and for the dodgy Bluetooth.
So if you want to save a few nerves, skip the second generation, and jump right to the newest one.
If you already have the second one, then it's a no-brainer: upgrade as soon as possible.
Silhouette Portrait 3 shortcomings
The Silhouette Portrait 3 has some flaws, which I will share with you so you can make the right choice. As you know, the perfect vinyl cutter does not exist. By knowing the shortcomings, you will have the full picture and will know if this is the right fit for you.
First, the Portrait 3 is a small and compact vinyl cutter. It can only handle vinyl and cardstock. If you want to work with more, you will need to get the Silhouette Cameo 4; the best working vinyl cutter made by Silhouette.
I've created a fresh post about it. You can read everything you need to know about the Silhouette Cameo 4 reviews here. This machine is meant for basic crafting only.
Second, Silhouette is not known for its user-friendly software. On the other hand, they have the best support in place.
Brace yourself. There's a steep learning curve with these machines. The bad part is that the online tutorials are weak. If you want to get started on the right foot, you're much better off with YouTube videos.
The biggest compromise you have to make with this vinyl cutter is the size of the vinyl sheet. The width has to be 8 inches. If you don't mind the money, then you can buy these sheets directly from Silhouette. If you want to save money, on the other hand, you have to trim it yourself.
This next issue is not directly related to the machine itself—I'm talking about Silhouette's studio software, Silhouette Design Store. Of course, it's free, and it's limited. But suppose you want to export AI or SVG format, you'll need to upgrade to a payment plan. Your only other choice is using different design software, where you create your designs and import them into Silhouette.
Finally, the Portrait 3 comes with a single carriage system. If you want to enjoy the dual carriage, you have to get the Cameo 4. The good news is that the Auto blade is compatible with the Cameo 4. If you later want to get that, the blades are the same, so they are interchangeable.
Now, these would be the drawbacks of having a Silhouette Portrait 3. If you're still with me, then it means you're interested. Good! So, let's move on to the next point.
How to get the most out of Silhouette Portrait 3 portable vinyl cutter?
Here are the steps you should take, so you get the best experience with your Portrait 3.
First, when you're unboxing it, make sure you remove every sticker. After that, you can register your machine to get access to the Silhouette Design Store. When you register, you get 50 free designs. And if you don't want to waste time designing, you can always purchase from the store; there are over 100,000 designs to choose from. But if you're a heavy user, it might be a good idea to sign up for a monthly subscription. Those are way better than paying for individual designs.
Then, as I've mentioned above, there's a learning curve. Initially, start with the demo, so you get your feet wet. After that, put the software through some tests. Finally, check out the mobile app as well. After you have all this, you can hit the road, and sell your designs.
One thing to keep in mind if you want to work on larger projects is that it's a good idea to invest in the roll feeder. By getting this upgrade, you can work on a surface that's 8 inches X 60 feet.
Thanks to the auto blade, finally, you will be able to get jobs done quickly without any guesswork whatsoever.
All in all, if you want to get started, are on a budget, and want to handle stickers, card stock and vinyl, the Silhouette Portrait 3 will be a great investment.
Pros
It's the most inexpensive starter vinyl cutter on the market.
It's lightweight, so it's easy to carry it anywhere.
It comes with Bluetooth connection, so you don't have to dangle any wires.
Cons
It's limited to vinyl and paper cutting.
You have to manually trim the vinyl or buy it from Silhouette, so it fits.
Conclusion for the Silhouette Portrait 3 Review
We have reached the end of this review. As you can see, the Portrait 3 has many positives, and a few negatives as well.
It's a great starter tool. Also, I would recommend it for kids as well. They will be able to learn a ton from a simple tool like this. Maybe they will even surprise you with a few unique designs.
It's a basic tool, and what it does its doing well. By starting with this vinyl cutter, you will be able to make a profit fast. If you want to upgrade, there are always professional machines to take on bigger jobs.
If you feel like this is the right fit for you, then get the Portrait 3 right now. The last time I've checked, there were only a few in stock, so hurry and get it while supply last.
Happy Crafting!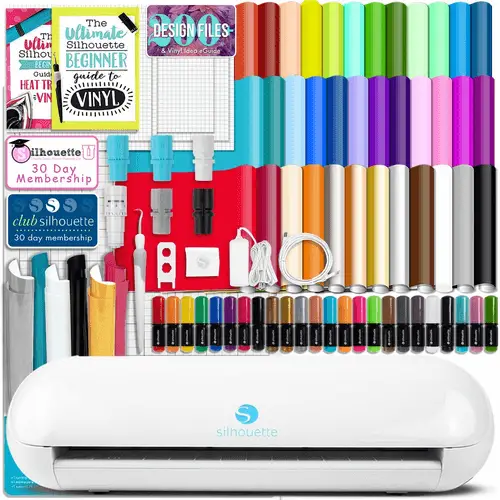 Frequently Asked Questions (FAQ):
What can the silhouette portrait do?
The silhouette Portrait is a great starter crafting machine. If you want to get the most out of it stick with vinyl, stickers, and car stock. With these materials, you will have success.
Is the silhouette or Cricut better?
Between the Silhouette Portrait and the Cricut Maker, hands down the Maker is the winner. Now Circut came out with the Cricut joy. Cricut joy and portrait are in the same category. Pretty soon I will make a comparison article about these two machine reviews. It will be a true portable silhouette vs cricut comparison. Now if you want to find out which is better the cameo 4 or the maker then you have to read my silhouette cameo 4 review. These die-cutting machines are all great the latest models tend to be the best choice.
What is the best silhouette machine to buy?
From the silhouette family, the best machine to buy is the silhouette cameo 4. Sadly the silhouette cameo 3 has been discontinued. You can't get the cameo 2 either. Now silhouette portrait 2 is quite buggy if you want the best portable machine then portrait 3 is the best choice. The last machine you can consider from silhouette America is the silhouette Curio that's for scoring and working with harder materials.
Which one is the easy to use vinyl cutting machines?
There's no easy choice. All of them have easy parts and have drawbacks. For example, the Cricut explore air 2 is a good heat transfer vinyl. On the other hand, the Cricut explore air 2 is not that fast. The silhouette cameo 3 is outdated still you can read my silhouette cameo 3 review over here. These are just the silhouette cutting machines. There's a whole selection of vinyl cutters and die-cutting machines. The Cricut machines are of great value.
What's the cutting force of the silhouette portrait 3?
The cutting force for the silhouette portrait 3 is 210g. The highest cutting force is done by cameo 4. So it's able to cut thicker materials. Such materials like paper and heat transfer material don't need big cutting force.
How hard is it to learn the silhouette studio software?
There's definitely a learning curve to the silhouette studio software. It's a good idea to do the demo first so you're not stuck from the get-go. Also, silhouette studio 4 has excellent support in place. When you're registering your die cutting machine you will get 1 month free of silhouette studio membership. All silhouette machines work with silhouette connect and the studio software. More info can be found on: silhouette school, swing design about the particular silhouette machine die cutter.
What is the silhouette cutting size?
This silhouette cutting size is 8.5 inches by 12 inches. If you get the roll feeder then you can extend the maximum length to 10 feet long. You can do the matless cutting (without a mat) with materials like vinyl. The cutting width for portrait 3 is set to 8.5 inches. If you want to work with wider materials you need to upgrade to the silhouette cameo 4 there are three levels of cutting width to choose from. The widest cutting width is 20 inches.
What kind of tool carriage does the silhouette die cutting machine uses?
The tool carriage is type b. This is the new version as in type b is used both in the silhouette portrait 3 and silhouette cameo 4 as well. With this new and improved tool carriage, you can house the fabric blade, fabric blade, ratchet blade, deep cut blade. The type B tool carriage comes with tool detection and tool adapters capabilities.
How good are these silhouette cutting machines?
These silhouette cutting machines can hold their ground easily. They have won awards for the best vinyl cutter, best heat transfer cutting machine, best Cricut, and best machine for a craft room.
What kind of cables comes with these silhouette die cutters?
In the package, they have included a power cable USB cable.
Which is better the silhouette portrait 3 or the silhouette cameo 4?
Pretty soon I will create a portrait 3 vs cameo 4. The portrait doesn't have dual carriage it can't work with different materials and print and cut is limited. The cutting force is just 210g. It lacks a serious storage compartment and it can't cut balsa wood. For a starter it's a great machine for advanced users there's the cameo 4. There's no touch screen for either of the machines. On the other hand with the silhouette cameo 4, you have a dual carriage, matless cutting, pixscan technology, print, and cut. With cameo 4 you get access to different types of blades such as: deep cut blade, ratchet blade, kraft blade. So the portrait vs cameo is soon to come. Adding registration marks to your design will help with easy detection. The matless cutting feature is fully supported.
Can you use sketch pens with the Portrait 3?
Yes you can use sketch pens with the Portrait. There have been some changes with them. Right now only the black sketch pens work with both the portrait and the cameo 4. If you want to cut materials like vinyl and paper than the portrait will be the best choice. If you want materials like balsa wood and craft foam the cameo is a sure bet. The cut lines are visible and makes the weeding easy. If you want to use both machines you can do that.
Read our related article on How to Use Sketch Pens With Silhouette Cameo if you're new to the process!