Cricut Bright Pad Review this is a must-read before you buy
I've just came across this Cricut Bright Pad so let's review it. As you are probably accustomed to my style I will give you the bird's eye view first. After that I will go into details.
Cricut Brightpad Specs
Let's see what does this Cricut Brightpad has for us.
| | |
| --- | --- |
| | Cricut Brightpad |
| Size | 9 x 11.5 inches |
| Weight | 1.75 pounds |
| Thickness | 0.25 inches |
| Surface | Polycarbonate, durable for weeding |
| Scratch Resistant | Yes |
| Brightness Settings | 5 Levels |
|  Brightness Strength | 400, 1300, 2200, 3100, 4000 lumens |
| USB Cord | 6 feet long |
| Backlit Buttons | Yes |
| Scratch Resistant | Yes |
| Non Slip Base | Yes |
| Battery Included | No |
| Color | Mint, Rose |
| Warranty | One Year |
| | |
Life Before Cricut Bright Pad
I was old school until I came across the Cricut Light Pad. By old school, I really mean old school. When I was tracing anything, I had two options to choose from.
Option one would be using a lamp. It was lit with an incandescent light bulb I've put a sheet of glass on it and started tracing. The only issue was that in a matter of minutes, the glass started to be scorching hot.
So I had to work fast. If I didn't manage to finish my tracing, I had to wait until the glass cooled down.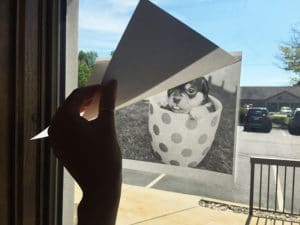 My second option was using the window. I've placed both papers on the glass and started tracing. I was using one of my hands holding the papers in place and with the free one I was drawing.
Was it easier or harder? Well, my hands went numb quite fast because I wasn't used to working in this angle plus I could do this when the sun was shining through the window. Other times it wouldn't have been viable.
Then I came across the Cricut Bright Pad. This has revolutionized the way I am doing the tracing. But wait it's not just for tracing only.
Is vinyl weeding a real hassle, isn't it? Finding the exact place (the cut lines) where you can start peeling off the excess not to mention if you are working with fine details, it quickly turns into a nightmare. This is where the Cricut Bright Pad really shines.
Best Uses for the Bright Pad
Cricut does a great job when it comes to cutting vinyl. No matter the quality you need to remove the excess material. Even with the best pickers, you need a good eye for it. The Cricut Bright Pad helps you with the bright light it emits. With this, you can find exactly what you need to remove.
This simple device managed to speed up my production speed significantly. This is why I've decided to create this Cricut Bright Pad Review.
Let's return to tracing. What do you do when you have to trace something out of a book? Well, you can rip out that page of course. But what if you don't have to do it anymore?
The Cricut Bright Pad is light and thin so you can easily fit it between the pages. Now you can trace from books with ease without having to rip out pages.
Are you doing the quilting? This is a great tool to use. Some crafters use it to thread the needle in the intense light. The brightness is more than sufficient to do it.
Do you create jewelry? Above the Cricut Bright Pad can help you easily fit pieces together. Are you creating stencils? The Brightpad will be you best friend when you have weed out your reusable stencils. The BrightPad can help you with other materials as well like thicker paper and glitter vinyl.
As you can see, Cricut light helps out a lot of crafters. Now let's take a look at the pad itself.
Are you interested in out cutters too? Check out this page where you can read about the best vinyl cutter machines on the market.
Unboxing plus Look & Feel
Once you unbox it, you will see that it resembles an Apple Ipad. It's so slick and beautiful. It's simple to use. All you have to do is plug it into a power source and press the power button and that's it. There are two more buttons which help you change the brightness level.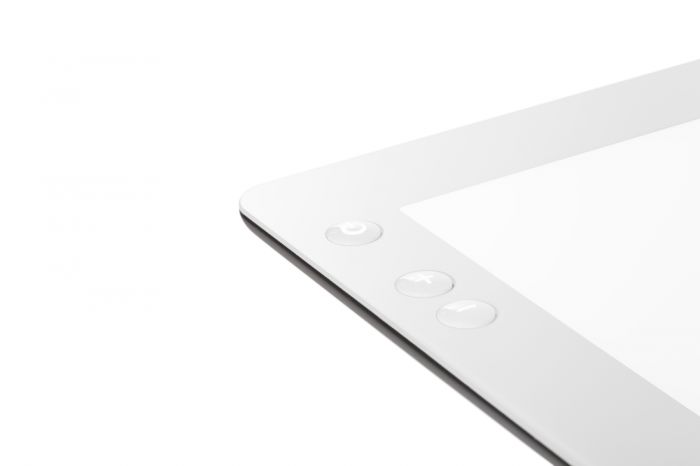 These three buttons have background lighting so you will be able to adjust or power down in the dark easily.
What kind of material is it built from? After testing it all, I can say is that it's from an extremely durable one.
Thanks to its size, it doesn't bend easily. Plus the quality materials help as well. For example, if you would compare it with CutterPillar Glow, you can clearly see the difference. When you press down on the CutterPillar the pad starts bends. That makes me edgy.
Anyways behind Cricut, there's reliable workmanship. Now I wouldn't suggest using it as a light-emitting cutting board. But you can safely use it without the fear of scratching it.
On the backside of the pad, there are silicone strips that stop it from sliding (non-slip base). When you put it down it stays there so you can work with ease.
Let's talk about the light as I mentioned before you can adjust the light settings. The Cricut Bright Pad has five levels of brightness. The color of the light is similar to sunshine. It's warm. Thanks to this color combination, you can see a lot of details through the thickest cardboard.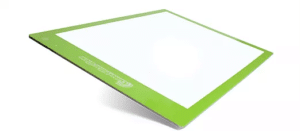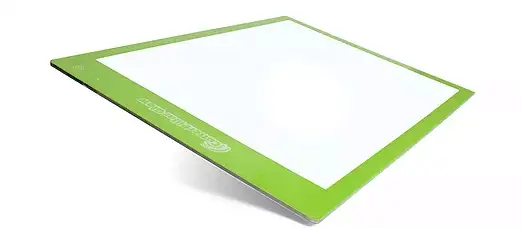 When you compare it with CutterPillar that machine only has three levels of brightness and they went with a much cooler color.  Even on the highest settings can't match Cricut Bright Pad.
If you are using it Cricut at the highest settings, it would probably cure the winter blues as well because it's so powerful.
Almost forgot to mention it comes in different colors. These guys at Cricut really know how to treat a customer right you can choose from Mint and Rose colored pads.
Thanks to the powerful light, you can work with many different papers. For example, the upper limit is at 140p paper. You can easily trace on water coloring paper and card stock as well. Since the lighting is LED, it won't get hot. This means that you don't have to be afraid of burning your hand as I did with my old school method.
Cricut Bright Pad Limitation (Con)
The only negative that I've found with the Cricut Bright Pad was that it doesn't have a built-in rechargeable battery bank. The CutterPillar Glow has, but you need to buy the premium version for that.
Cricut Bright Pad Highlight (Pros)
Here's the upside. You can plug it into any power source, and the Pad just works. You can use a power outlet, a USB port of any device plus any external power banks as well.
One important thing I wanted to mention is the length of the power cord. It's long. By long, I mean it's 6 feet long. So no matter where you plug it in, you will be able to work comfortably.
Here's a helpful tip. Use tape to fix the paper in place. So you don't have to worry about slipping.
Since you can adjust the brightness you can avoid eye strain.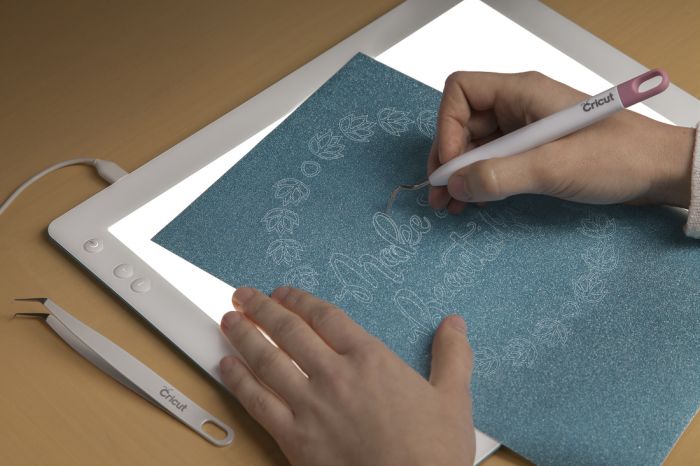 There are sometimes when you don't want to use a desk for tracing. Why not sit down in your sofa and put the pad in your lap? You can work in comfort. You see the size is perfect if you want to work in a more relaxed way. Cricut makes the life easier for crafters. Just look at all these great accessories they have come up with. One of my favorite ones is the Cricut Easy Press. It makes the industrial machines run for their money.
Do you want to find out more? Read this Cricut Easy Press tried and tested review.
Cricut Bright Pad Review Final Thoughts
This concludes my Cricut Bright Pad Review. The BrightPad is an excellent crafting companion. This light pad comes handy no matter which machine you own let it be the Cricut Maker or the Explore Air 2. If you have request or questions, feel free to reach out.
Happy crafting!
Frequent questions from our readers (FAQ):
What can you do with a Cricut bright pad?
There are multiple uses for the Cricut Bright Pad. First of all, it's a must have for weeding out your designs. I know how much I've struggled before the Bright Pad. The next best thing to use it for is to trace. Thanks to its 5 lighting strengths you can trace through some though paper as well.
What is Cricut weeding?
Weeding is the next process after you have used your Cricut machine to cut vinyl out. With the help of the Cricut bright pad, you can easily see the cut lines. You need to weed out your shape from the rest of the material. This is where the Cricut Brightpad comes into play. Though it's strong light you can easily see what to weed out and what to leave behind.