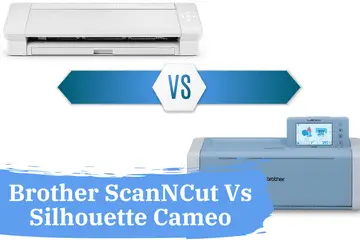 Both are excellent machines, but which of them is best for you?
Which of these will prevail? Brother ScanNCut or Silhouette Cameo?
Both Silhouette and Brother brought their A-game to this comparison. Both the Cameo and the ScanNcut comes with unique advantages. It will be your turn to decide which fits your needs best.
Look:
By reading this comparison to the end you will know without the shadow of doubt which vinyl cutting machine is right for you.
Between the BrotherScanNCut and the Silhouette Cameo, the winner is the Silhouette Cameo. Here's why:
Comparison of the Silhouette Cameo and Brother Scan and Cut
PRODUCT
DETAILS
PRICE 

Editor's Choice

Silhouette Cameo 4

The Cameo 4 is super simple to use, and the demo project gets you up to speed.
It's a fast machine that can handle paper, vinyl, HTV, and other materials with ease.
The Silhouette Studio offers many customization options. Thus, it has a bit of a learning curve; nothing that you can't handle after a few projects.

Brother ScanNCut

It's one of the easiest-to-use cutters. Thanks to the revolutionary auto blade, the learning curve is almost inexistent.
It's an almost noiseless cutting machine that focuses on true precision.
The built-in scanner is a game changer. You can easily cut printed paper or vinyl with it.
At first glance, the Brother Die Cutter comes across as a premium machine because of its price. I will lay out the information in an easy to follow table and provide more details afterward.
Let's get this Brother Silhouette fight started!
Before we get into the nitty-gritty, let me clear up some things for you.

We will compare Silhouette Cameo 3 with Brother ScanNCut 2 (also known as Brother Scan and Cut, or CM350). Many readers have requested for a comparison between these two cutting machines. There isn't much difference between Silhouette Cameo 2 and Silhouette cameo 3. The main difference is that Cameo 3 has a Bluetooth feature and some minor tweaks.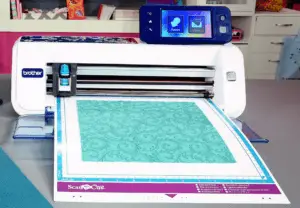 For Brother Cutter, there have been some noticeable changes. The LCD is bigger and more user-friendly. The model we're comparing is the CM350 because it can be purchased on Amazon easily. The CM650 version, however,  can't be purchased online and is also very expensive.
I've chosen these machines because anybody can purchase them easily through online stores.
Brother ScanNCut 2 size comparison with Silhouette Cameo 3
The Brother Vinyl Cutter seems smaller and lighter than the Cameo 3. It's taller because it has an anti-glare touchscreen on the top. Both machines can cut and draw.
Cameo has the PixScan software, which helps to digitize the images you want to multiply. Brother ScanNCut has a built-in scanner. Some crafters have complained that the scanner isn't accurate enough. It takes a lot of troubleshooting to get the scans right.
The Brother machine can do both black and white and colored scans. Also, when scanning in color, you can increase or decrease the color numbers to get the most accurate scan possible.
Both cutting machines have a learning curve to master.
You can cut thicker and sturdier materials. However, make sure that the material you are working with isn't more than 2mm thick because If the machine doesn't properly grip it, the mat can get damaged.
The cutting size is different for both machines. With an additional add-on, the Cameo 3 can cut on a vast surface. For the Brother, the default cutting mat is 12 x 12 inches. This can be extended to 24 inches with a bigger cutting mat.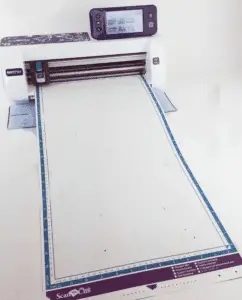 Brother Scan n Cut Extra Long Mat
Machine Capabilities Tested
Auto Blade:
Auto Blade is a great perk to have. You can set the cutting depth through the software. Remember, you need to set the blade height manually with both machines.
Cross Cutter:
The cross cutter is only available with the Cameo 3. This is a neat feature that cuts finished products. It's faster and cleaner than doing it with scissors.
Deep Cut Blade:
The Brother Vinyl cutting machine has a feature called Deep Cut Blade. These blades are bigger and wider than any other blades, hence the name. With these blades, you can easily cut leather, fabrics and thick papers. The auto blade is helpful, but you need to set the blade height manually. Some users are able to cut flexible wood pieces as well.
Can a Cameo 4 cut wood? A Cameo 4 can cut through wood, and we cover the different types and thicknesses it can handle for your projects in this guide!
Dual Carriage:
The Dual-Carriage is an important feature to have, but unfortunately, it's missing from the Brother Print and Cut machine. The Cameo 3 lets you use two tools simultaneously, i.e., two blades or two pens or even a pen and a blade. This helps you work faster, and saves you time on more complex designs.
It's easy to draw and cut it out with Cameo 3. You can set it up to do the drawing and cutting while you work on something else. You don't need to baby-sit the machine. But with the ScanNCut machine, you have to wait for it to finish drawing, then tinker with the software and change the pen to a blade before you can start the second part of the job.
For simple tasks, you don't need the Dual-Carriage feature. But if you have multiple complex tasks, it is a handy option to have.
Now, this is where the Brother ScanNCut shines. You don't need a desktop computer, laptop, or tablet. Everything can be done on the machine itself. You can edit, crop, resize, and move any object you want to create. If you are at a show or fair, you only need one power socket, and enough space for one machine.
Read More: How to Use Sure Cuts A Lot With Cricut Expression. We show you step-by-step how to get started with Sure Cuts A Lot!
Why Brother ScanNCut 2 takes the lead?
This is where the ScanNCut stands out. You don't need another machine to manipulate your work. I bet this is why it costs more than the Cameo 2. The Brother cutting machine has a big LCD, which you can navigate either with your fingers or a pen. You can edit scan or import images on this screen.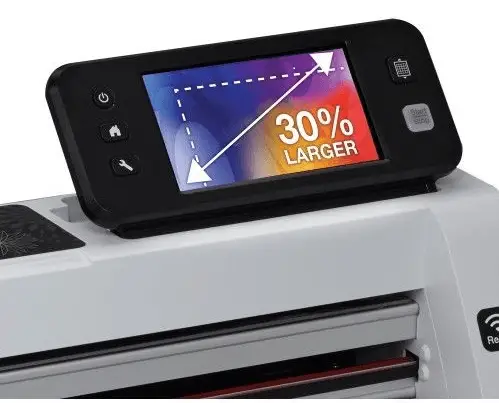 Looking for some help with your Brother Scanncut? Check out this Facebook Group
Both machines have preloaded templates to get you started. Brother has over 600 fonts and patterns while the Cameo has just about 100.
Cameo uses the Silhouette Studio software. It comes on a CD. Don't worry if you don't have a CD-ROM. You can download the latest version from the internet. I know many of you are into scrapbooking, and with the help of Silhouette Studio, you can create a silhouette scrapbook ScrapRack.
Which machine is better in the noise department?
Both machines are noisy. If you have read my other Silhouette reviews, you know that the whole family is loud. The Brother machine is just as noisy as the Cameo 3. If you want a less noisy machine, then I suggest you try the Cricut machine. But that's an article for another day.
The Cameo is not suited for late night work if somebody is sleeping nearby. The Scan and Cut are noisy but less intrusive.
I try to stay objective with these reviews, by disclosing the negatives to help you make the best choice. It wouldn't be fair if I only talked about the positives. It would rather be a product hype, not a true Brother ScanNCut Vs Silhouette Cameo comparison.
Silhouette Cameo vs Brother Scan and Cut Comparison Chart
Silhouette Cameo
Brother Scan and Cut
Size
22.5 x 6 x 8.5 inches
10.25 x 23 x 10.5 inches
Weight
13.95 pounds
8.6 pounds
Cutting Feature
Drawing Feature
Transform Images to Design
PixScan
Built in Scanner
Cutting force
210g
350g
Cutting Size
12 inches x 10 feet
12 x 12 inches (additional
24 inch add-on available)
Auto Blade
Cross Cutter
Deep Cut
Dual-Carriage
Max Material Thickness
2mm
2mm
Computer Needed
Preloaded Patterns
100
600+
Edit Images on Screen
Noise Level
Loud
Noisy
Price
The shortcomings of Brother Scan and Cut
It's more expensive than other similar cutting machines on the market. There is the CM650 version, which goes for a much higher price. It has over 600 patterns preloaded, but they are only basic designs. The Scanning feature is inconsistent, and it takes a lot of trial and error to get it right.
The mats lose stickiness fast. This means you need to replace them way too often. The accessory prices are 3x times higher than other cutting machines. There are difficulties when cutting thicker materials.
Also, there's an image issue. The pencil that helps navigate the touchscreen brings back memories from the palm pilot days. It's weird to see people still using it since almost everything has a touchscreen nowadays. If you're interested in a detailed Brother ScanNCut 2 Review check it out here.
The shortcomings of Silhouette Cameo 3
Now let's focus on the negatives, which crafters have discovered with the Silhouette Cameo 2. It wastes a lot of vinyl. And you can't use the whole 12-inch cutting space; it's much more suitable for 8 inches. Some crafters reported that they had issues connecting via Bluetooth.
This cordless connectivity is one of the great selling points of the machine, but it has failed in that department. Noise is also a big complaint, unfortunately.
Who has the Brother ScanNCut machine been designed for?
The Brother ScanNCut 2 is ideally suited for stampers. It does a great job cutting vinyl and paper. It is advertised to cut leather and fabric, but there's a steep learning curve to get that right. It is more expensive than other machines, yet, some crafters said they had recouped their investment in less than six weeks.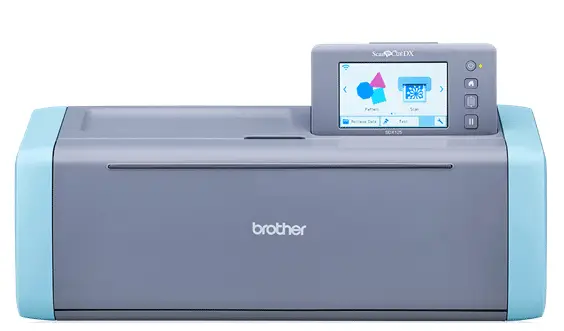 Click Image to see Reviews and Latest Price
Brother ScanNCut Machine
The Silhouette Cameo 3 is perfect for event planners and decor creators. It's a robust machine, and can work on complex projects speedily, thanks to its Dual-Carriage system.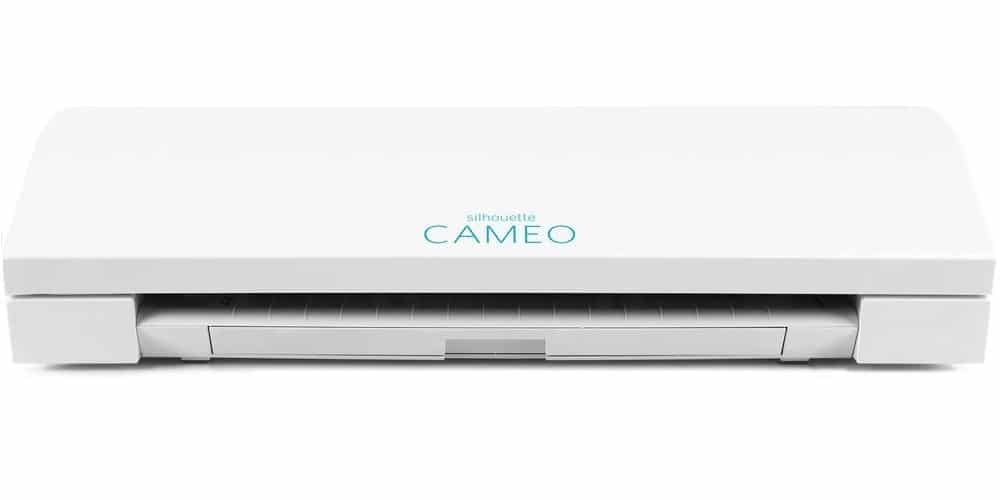 Click Image to see Reviews and Latest Price
So, there you have it. Now you have a fair idea about the capabilities of these two cutting machines, including their appeal and weaknesses.
My reviews differ from many others. Most reviews hype products without providing information about their faults, but I consider this unfair. It's better for you to know ahead of time than to get nasty surprises along the way. Are you looking for a more formidable comparison? Check out the Brother ScanNCut 2 vs Cricut Maker post.
Final thoughts on Silhouette Cameo vs Brother ScanNCut
This concludes my review about Brother ScanNCut vs. Silhouette Cameo 3. I hope you have found it valuable. I also hope that by now, you know which of these cutting machines is the right one for your needs.
If you have questions about Silhouette Cameo vs Brother ScanNCut, let me know in the comments below.
Happy crafting!
PRODUCT
DETAILS
PRICE 

Editor's Choice

Silhouette Cameo 4

The Cameo 4 is super simple to use, and the demo project gets you up to speed.
It's a fast machine that can handle paper, vinyl, HTV, and other materials with ease.
The Silhouette Studio offers many customization options. Thus, it has a bit of a learning curve; nothing that you can't handle after a few projects.

Brother ScanNCut

It's one of the easiest-to-use cutters. Thanks to the revolutionary auto blade, the learning curve is almost inexistent.
It's an almost noiseless cutting machine that focuses on true precision.
The built-in scanner is a game changer. You can easily cut printed paper or vinyl with it.
Silhouette Cameo 4 with Bluetooth, 12x12 Cutting Mat, Autoblade 2, 100 Designs and Silhouette Studio Software - White Edition
The Silhouette Cameo 4 -Blue Pattern Edition is the evolution in desktop cutting. Conveniently stored in the machine's compact pull-out drawer is a new built in roll feeder for quickly cutting vinyl and heat transfer material directly from a roll. On the back of the Cameo 4 You will find a built in cross cutter allowing for a clean straight edge cut on your vinyl roll for your next project.
The Cameo unique dual carriage allows for tool Type detection. The machine's ultra-smart system uses tool sensor technology that detects what tool you are using which then triggers the silhouette Studio software to adjust cut settings automatically.
The Cameo 4 stands apart from previous models with the new dual motor system, which allows you to cut in two distinct ways. Carriage one provides the Cameo 4 with unparalleled speed. It is operated from a solenoid motor that gives makers smooth and intricate cuts. Cameo 4 can cut or sketch up to 3x faster than previous models without sacrificing accuracy. Carriage two is operated by an entirely different style of motor that allows for unprecedented power.
Brother ScanNCut SDX125E Electronic DIY Cutting Machine with Scanner, Make Custom Stickers, Vinyl Wall Art, Greeting Cards and More with 682 Included Patterns
SCAN DRAWINGS AND MATERIALS: Brother ScanNCut is the only cutting machine series with a built-in scanner. Scan your drawing to convert it to a cut file, directly cut printed stickers, and precisely place designs without counting blocks
STUNNING DIY PROJECTS: Craft with 682 built-in designs including 100 quilting patterns and 9 fonts. Add custom designs and additional free patterns with the USB port and wireless capability, and customize and combine your projects with the easy-to-use 5" touchscreen LCD display
NO MATERIAL SELECTION REQUIRED The included ScanNCut DX auto blade and auto blade holder uses true automatic material sensor technology to detect the thickness of the material with no blade adjustment or material selection required. Always perform a trial/test cut to confirm a successful cut
Brother Scan n Cut vs Silhouette Cameo 3 (FAQ):
How much does a vinyl cutter cost?
Vinyl cutters are priced all over the map. Before you get to pricing make sure you know what tasks need to be done with the machine. After that, you can do price shopping.
What is the best cheap vinyl cutter?
When on the budget you want to get the most out of the best cheap vinyl cutter. Before you even consider looking at a machine make sure you know what you will be using it for. After that, you can look at the specs. If you are serious about doing vinyl jobs then you won't mind investing a few hundred dollars. And the best vinyl cutter would be in the Cricut family brand. Lifetime ownership cost is small, it has double speed and more silent than the rest.
What is the best vinyl cutter?
The best vinyl cutter at the moment is the Cricut Maker but soon Silhouette Cameo 4 will be launched and it looks superior to Cricut. We have to wait and see.
Will there be a Silhouette Cameo 4 review?
Yes if enough people are interested in I will write a Silhouette Cameo 4 review.
Does the brother scanncut have a built-in scanner?
Yes, the brother scanncut has a 600 dpi scanner. With the help of the design software, you can convert your creation into SVG file.
What's the difference between brother scanncut and Cricut Maker?
First of all the price. The Cricut maker is cheaper than the brother scanncut. The accessories like the Cricut mat are more affordable. The cutting tools are backward compatible with other Cricut machines like the Cricut expression. The starter kit comes with a rotary blade which makes fabric cutting super easy. The design space software gives design freedom to your liking. This cutting machine can handle heat transfer vinyl exceptionally well and you can do vinyl letters easily. The Cricut pens allow you to use the trace feature.
What is the best machine out there?
I have created a best article not long ago. Head over there and check out the product list. Also, I'm planning to create a comparison video for the craft cutter machines. Each machine has its own strength and weakness.
Is Silhouette Curio better than Cameo 3 cutting machine?
Well in certain aspect it is but in other it's not. The curio can cut tougher materials also like balsa wood. These two silhouette machines are complementary to each other. And both of them can be controlled via silhouette studio software. If you didn't know the silhouette studio designer comes free with the cutting machine. The silhouette sketch pens work great for markings.
Speaking of sketch pens, check out our article on How to Use Sketch Pens With Silhouette Cameo!
What are the highlights of the brother scanncut cutting machine?
The first thing is the LCD touch screen. It can do print and cut projects. The bundle package has a brother scanncut erasable pen set and a brother scanncut pen holder included.
Which cutter is better for multiple materials Cricut vs Silhouette vs Brother?
If you want to use your vinyl cutter machine with multiple materials the Cricut Maker is the right choice.
P.S. This is really the end of my comparison between silhouette cameo vs brother scanncut cutting machine. As you have seen both machines have their strengths and their weaknesses. Non the less they are useful for certain type of individuals.
I know you're not accustomed to reading negative things about machines. Yet I know by listing them you get a fairer view. How did you like my review? Did I miss anything? If so do comment below or contact me via email.
Stay tuned the next machine which I will review will be the Cricut Explore Air 2. I've received numerous requests to review this machine. In a few weeks time you can read my Cricut Explore Air 2 review right here. Until then…