Finally, a cutting machine that is quiet!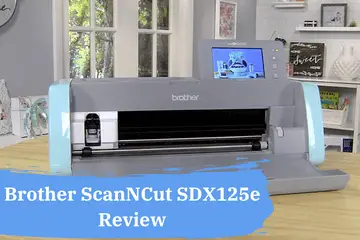 Brother has a new toy out, and it's called the ScanNCut SDX 125. They have raised the bar with this electronic cutting machine.
This cutter is not for everyone.
Look:
By reading this Brother ScanNCut SDX125 article, you will know if this is the right fit. You see, this machine caters to a select audience. If you're one of them, then this is the best machine that is on the market. However, if you're not, then it's just a money pit.
Before we get any further, let me give you a quick preview.
With the Brother ScanNCut SDX125, you get a fast and quiet machine. You can design and cut without the need for a laptop or computer. Finally, it supports matless cutting.
With the new Auto Blade, you don't have to adjust cutting depth manually. It will be done for you so that it will save you from headaches. Plus, it has a built in scanner for custom shapes and designs.
Let's get this Brother ScanNCut SDX125 review started. If you stick with me until the end, I will tell you the pros/cons. Some of them are unexpected, to say the least.
Who is the Brother ScanNCut SDX125 Electronic Cutter for?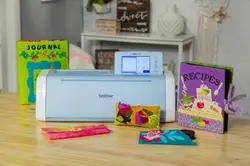 The Brother ScanNCut SDX125 cutter caters to a select few. It can cut, draw, and emboss. It supports the following materials: paper, vinyl, leather, and fabric.
This cutting machine is ideal for card makers and sticker makers. Thanks to the built in scanner, you can cut your custom design in a matter of seconds without the need of wasting time with smartphones, uploads, and editing.
It's for those crafters who are fed up with a failed cut and lost money. Thanks to the auto blade, this is a thing of the past.
It can handle bigger projects if there's a feed roller attached.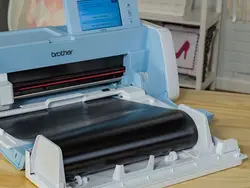 What can the Brother ScanNCut SDX125 Cutting Machine do for you?
What I loved about this Brother machine is that it's not just a facelift compared to ScanNcut 2. They have improved on many things and innovated a ton.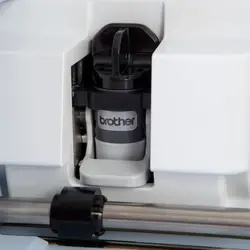 brotherThe Auto Blade is simply revolutionary. You don't have to tinker around in the software to find the right settings. This blade will detect it automatically. It's great news if you want to avoid failed cuts and ruined materials.
There's no more guesswork. You can trust this cutter.
I couldn't believe how quiet this cutter is. Many of my crafter friends are stay at home moms. Typically they can only get things done when the kids are asleep. Previously you could choose between a jet engine or a flying saucer for background sound.
Not with the new Brother. It's so quiet that you can easily work through the night without bothering anyone.
Also, the SDX 125 is faster than the older Scan N Cut 2. The projects will get done faster so you can make more profits.
The built in scanner is amazing. This add-on cuts downtime by a huge margin. If you go with Silhouette or Cricut, you will have to fiddle around with a smartphone. Then you have to upload and edit. Instantly a half an hour goes by without doing anything. With the Brother is straight forward.
You can scan your custom design, and you can store it on the machine for later use.
If you plan to work on bigger projects, then you will need the roll feeder. As you have probably seen, the default cutting size is 12" X 12". Another benefit of using the roll feeder is that you don't have to use a mat. This will cut down on operational costs.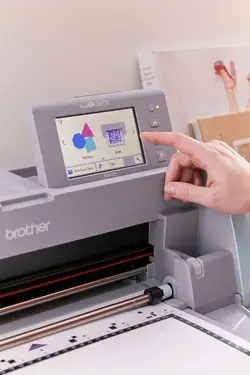 It's not a light machine; however, this is compensated by the software built, so no PC or laptop is needed. If you're on the go, this machine will be sufficient, and you won't have to haul around a heavy laptop too.
There's a crisp 5" LCD. With the pen, you can easily navigate through. This is such an old technology; it's time to upgrade this as well.
As you have seen, this Brother machine packs a real punch. The biggest selling point for many is the improved speed and quietness.
Brother ScanNCut SDX125 Electric Cutting Machine Shortcomings
Brother knows how to make a sturdy machine. However, it's not the perfect one. I will share everything with you so you will get the full picture.
The biggest issue with the Brother ScanNCut SDX125 is that there's a steep learning curve. The manual is great for the demo project, and that's it. You will be on your own after that. Luckily there are many crafters on YouTube who fill this void.
If you've used Cricut Design Space, you will be in for a rude awakening. The Brother software is not intuitive, and there will be trial and error.
Another biggie is the price. Brother is a high-end machine, and the accessories are priced accordingly. At the moment, Brother is the most expensive one of them all.
Many crafters reported that the mat stickiness fades way too fast. If you get the roll feeder, you will be able to do the matless cutting with vinyl. This is a huge money saver.
There's only one tool holder (single carriage). If you're drawing and cutting in the same project, you have to switch the tools manually, which is wasted time.
These would be the main issues with the Brother SDX125. As I mentioned before, this cutter is not for everyone. Now you have the full picture.
How To Get The Most Out Of Brother ScanNCut SDX125 Cutter?
Keep in mind that the Brother SDX125 has a steep learning curve. To have the best experience possible, make sure that you follow everything that the manual says initially.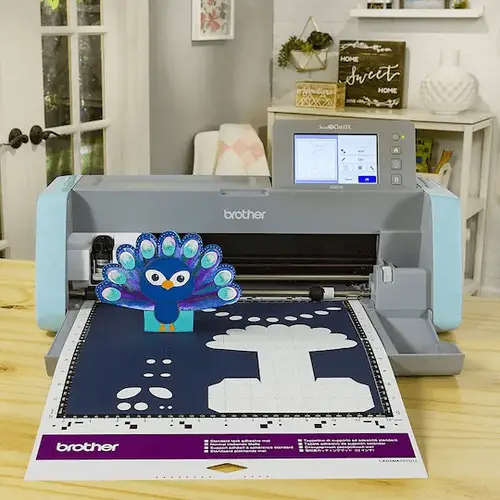 I also highly recommend doing the demo project.
Before we're getting to the part of turning the machine on, make sure you remove all stickers and protective materials. Previously there was a bug; I mean a feature that you had to turn the machine on first and then place the blade. If not, it would go haywire. This has been patched since then.
After you have unboxed it and connected it do the demo project. This will give you an early win so you can face possible challenges easier.
With the Brother, you're getting the half-cut option. This is great if you are testing new material. Sometimes the Auto Blade's judgment is off, so try that option first.
Since it's a high-end machine with expensive accessories, it's a good idea to position your crafting towards the high-end market. You might have fewer customers; however, the profit will be higher.
Pros
Thanks to the built in scanner, you can cut custom stamps and drawings..
It's super quiet so you can work during the night and it won't bother anyone.
The Auto blade adjusts settings, so no more ruined material and mat..
Cons
There's a steep learning curve to get started.
Accessories prices are the highest compared to any other brand.
Conclusion for the Brother ScanNCut SDX125 Review
We have reached the end of this Brother Review. As you have seen, this electric cutter has some great innovations going for it and some flaws as well.
No matter how savvy you would be with Brother, you will need to put in the work to get good at it.
The SDX125 has a specialty that many crafters can use to create amazing designs.
If you feel that this is the perfect fit, then take action now. You see, the last time I've checked, the stocks were low with this unit. If it's available, get it instantly, or you might miss out on it.
Maybe you want to share your experience, or you have questions? You can post them in the comment section below.
Until then,
Happy Crafting!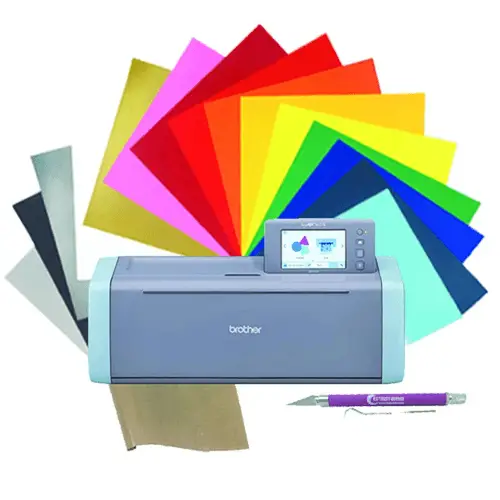 Frequently Asked Questions (FAQ):
Which is better Brother Scan N cut or Cricut?
The Brother Scanncut is not better than the Cricut Maker or the Cricut Explore Air 2. The only reason why Brother ScanNCut is worth considering is because of the built in scanner. This scanner has 600 dpi and can digitize your hand crafted designs. This is not possible with Cricut products.
What is the best scan N cut machine?
The best scan n cut machine used to be brother Scan and cut 2. They have retired this product. At the moment the best scan and cut is the brother scanncut dx and the sdx125 electronic cutting.
What is the latest Brother scan and cut?
The latest Brother scan and cut is the Brother SDX 125 scan n cut model. As an electronic cutting machine you can create and edit designs on the lcd touchscreen. The screen editing process is easy because it comes with 100 quilt patterns, 9 fonts and 682 built in designs.
What can you do on the brother scan and cut 5 inch lcd?
On the brother scan n cut 5 inch lcd screen you can cut and edit designs. With the scan n cut cutting machines you don't necessarily need a computer to operate it.
What's the #1 selling point for this new machine (brother scan n cut sdx125)?
The #1 selling point is that it's whisper quiet. Other scanncut machines and cutting machines in general are loud. It's such a refreshing feeling that these new cutting machines are whisper quiet and you can work through the night without bothering anyone.
What does the blade sensor technology mean for the brother cutting machines?
The blade sensor technology is one of a kind and previous models didn't have it. This means that you don't have to manually adjust anything which reduces failure. The blade sensor technology detects the thickness and adjusted the cutting power accordingly. You can always do a test cut if you want to be sure. These cutting machines are ideal for home and hobby. This tech comes with the auto blade feature.
What's the difference between previous models from brother scan and cut?
There are many new features compared with previous models of brother scan and cut. First thing is the blade sensor technology it only comes with the auto blade feature. Even though it's meant for home and hobby this brother scan and cut cutting machines can do so much more. It comes with a pen holder, blade holder., scanning mat and low tack adhesive. It can cut through 3mm thick materials. This means that the clearance level is 3 mm. You can connect to a computer via usb. The built in scanner has a 600 dpi resolution. The cutting dimensions are 12 x 12 inches this is quite decent for a cutting machine. Thanks to the built in designs you can get started in a jiffy. Did I mention there are 682 built in designs ready to use? They thought of everything with this cutting machine. The brother scanncut dx is the little brother.