Commercial Grade Vinyl Cutter Titan 3 Review Is it the Right Choice?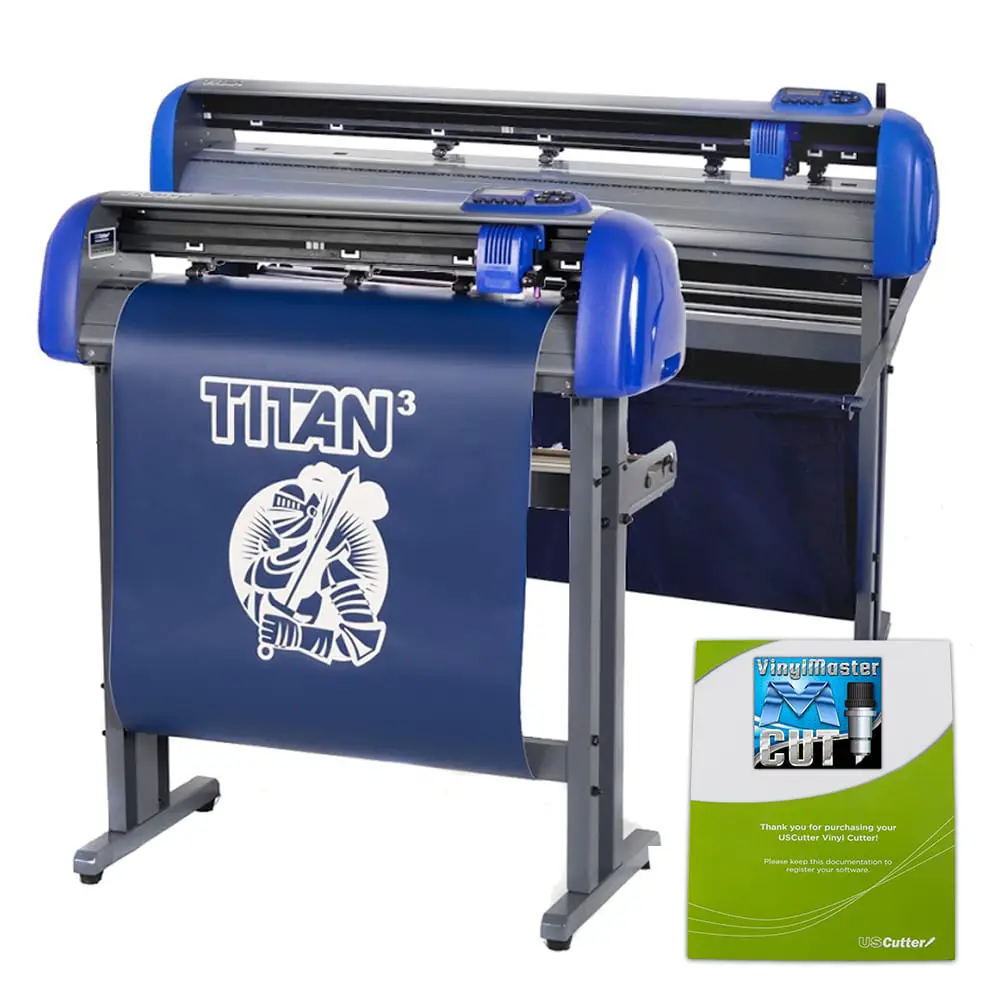 Click Image to see Reviews and Latest Price
Should you choose a commercial machine or stick with the desktop cutters?
Many of my readers requested me to do the USCutter Titan 3 Review. Your wish is my command. I've looked up the right vendor from whom to rent it. In a matter of days, the machine arrived.
This isn't my first commercial machine. Not long ago, I did a review for the Roland GX-24. If you want to check it out, you know where to click.
Having a commercial grade vinyl cutter is a blessing and a curse at the same time. It's a blessing because it's quiet and extremely fast. It's a curse because you need a lot of space to house it since I'm working with vinyl cutting as a hobby I had to set up the machine in my garage.
Let's a take a look at the Titan 3 and see what it can offer us.

Machine Technical Details
38.5 x 17.2 x 13.6 inches
Weight, Size, and Assembly
I've rented the 28-inch model because that's the only one that I could fit in my garage. So I had to leave my car on the driveway while I was testing this product.
Even the 28-inch model takes up a lot of space, but there are bigger versions like the 53 inch and the 68-inch model.
As the price tag hints it, the quality of the machine is superb. They haven't cut any corners, and it's made out of premium materials.
Let me tell you this; the Titan 3 is not a light machine with the 59 pounds. It will give you an ample workout. The packaging is deceiving. It looks like a rectangular box. Surprise after you have removed all the components you need to assemble it.
I've grabbed my screwdriver and got to work. The 50 pounds or so machine wasn't easy to add to the frame. That's why I keep my husband around to help me in these situations, just kidding love you, honey.
After I've finished the assembly, I was excited to see what this machine can do. I've pressed the Power on button on the LCD screen. Don't forget to add the material you're working with and adjust the pinch rollers to the appropriate width.
Noise levels and the Motors
Can you hear it?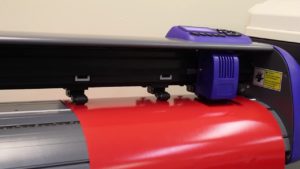 Exactly! It's quiet as a mouse. I've tried and tested numerous machines, and by far, this is the quietest one. I could probably sleep next to it if I have to though the garage isn't the most comfortable place to sleep.
I'm a great fan of the Cricut Maker, but that's like a jet engine taking off compared to the Titan 3. I believe the secret relies on the motors that they are using. You see, stepper motors are the most widespread in vinyl cutters. Stepper motors are cheap and reliable, but with them, you're sacrificing noise levels and speed.
The Titan 3 is equipped with Servo Motors. They are pricier than steppers. And it's worth every penny. Through the help of the servo motor the Titan can work fast and quiet at the same time.
Top Speed and Cutting Force
Can you imagine this?
In one second, the machine can cut 37 inches of Vinyl. I thought Cricut was fast, but compared to the Titan 3, it's a snail.
Full disclosure time. The theoretical max speed is measured in ideal circumstances in a straight line. Still, it's faster than any other machine I've tried.
The speed is limited to the design. If you have a highly detailed one, you will be sacrificing speed. For simple shapes, you can get quite close to top speed.
You have probably seen the fantastic cutting force of this machine. It can cut with 750g of pressure. That's wow. It's more than enough to cut Vinyl and paper as well.
ARMS Contour Cutting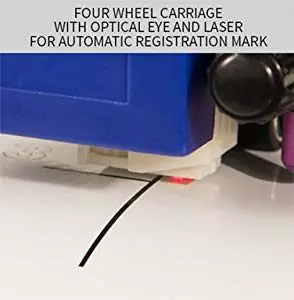 ARMS stands for Automatic Registration Mark Sensor. Yes, it's a mouthful, so let me break it down to you. It's a fancy way of saying that if you put marks at the corners of the page, the machine will do a great job of cutting out contours. The automatic contour cutting is a lifesaver when you have to do bulk jobs.
Let's say you have a lot of stickers to cut. First, you assemble them and print them out. Just before you hit the print button, you need to add marks to the corners so the machine can locate the stickers. In the software, you can define the tolerance size of the cuts.
Thanks to the optical eye, this machine is precise. I've done many test cuts, and they were flawless. Having this ARMS contour cutting is a must-have.
Vacuum Hold Down
Are you accustomed to sticky mats? What do you do when the mat is not sticky?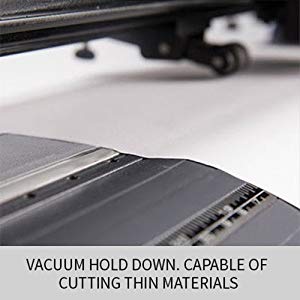 Well, you try to clean it or add a new adhesive layer. After you have done everything there's, you buy a new one.
This is the beauty of Titan 3 and other commercial vinyl cutters. No mats. Yes, no more unsticking protective sheets then keeping in mind to stick it back so flies and dust won't cover it up. The vacuum holds down is a fantastic tech. With the help of this, you can work on extremely long sheets.
The material won't slip, so you won't waste time and money redoing jobs. Once it's activated, the material is fixed in place.
There are thin materials that you might be working on. No problem. The accuracy and cutting stay the same. This is another great plus compared to desktop machines (Cricut, Silhouette, Brother).
Trial and Error with the Cutting Blade
Here's a bit of a snag. Calibrating the blade takes a lot of time. The desktop vinyl cutters have it easy. The technical guide tells you precisely the blade depth you need for every material. It's easy to calibrate, not to mention specific models have auto-calibrating blades.
For Titan 3, there's the good-old manual approach. First, you adjust the blade manually, and then by trial and error, you get it right. Now you have two choices. You can either do it on the machine. As in you, remove the blade, adjust it, and replace it doing the next test cut.
The problem with these solutions is if the blade is sticking out too much, it will cut through the material and scratch the machine. On the other hand, if it's too shallow, it won't cut deep enough. The only proof this option is the cutting force stays the same. So you might be able to calibrate it faster than the standard approach.
The second way to calibrate the blade is by pressing it down yourself. You might do faster calibrations, but there's no guarantee that your pressure will be the same every time.
The blade calibration is a real hassle. If you are using only one material, then once you did it, you won't have to change it.
Read More: Calibrating Cricut Maker. We walk you through how to calibrate your Cricut step-by-step!
Software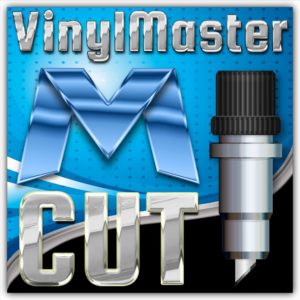 VinylMaster Cut software is the recommended soft, and it's only compatible with Vinyl. Why do you have to pay for the software? Because that's extra revenue for the company. I prefer the system that Silhouette or Cricut uses.
The software is free, but you have to pay for the designs if you don't want to make it yourself. Paying for software is so 20th-century tactic.
As you can see, Macs have no love what so ever. But there's a solution. You can buy a different program like Sure Cuts A Lot, which is Mac friendly.
Another weird thing I've noticed is that for specific software, you get unlimited usage license, but only one person can connect to the vinyl cutter.
Before we can get to the positives and negatives of the machine, here are a few things to keep in mind.
Hot Tips:
Have separate blades for different materials. Cutting paper makes the blades dull out faster. Make sure you don't mix and match the blades so you'll always have sharp blades.
How to keep your material straight no matter how long the job is? It's quite simple; really, all you need is perfect alignment. If you take my following advice, you will save a lot of time and money and not to mention frustration.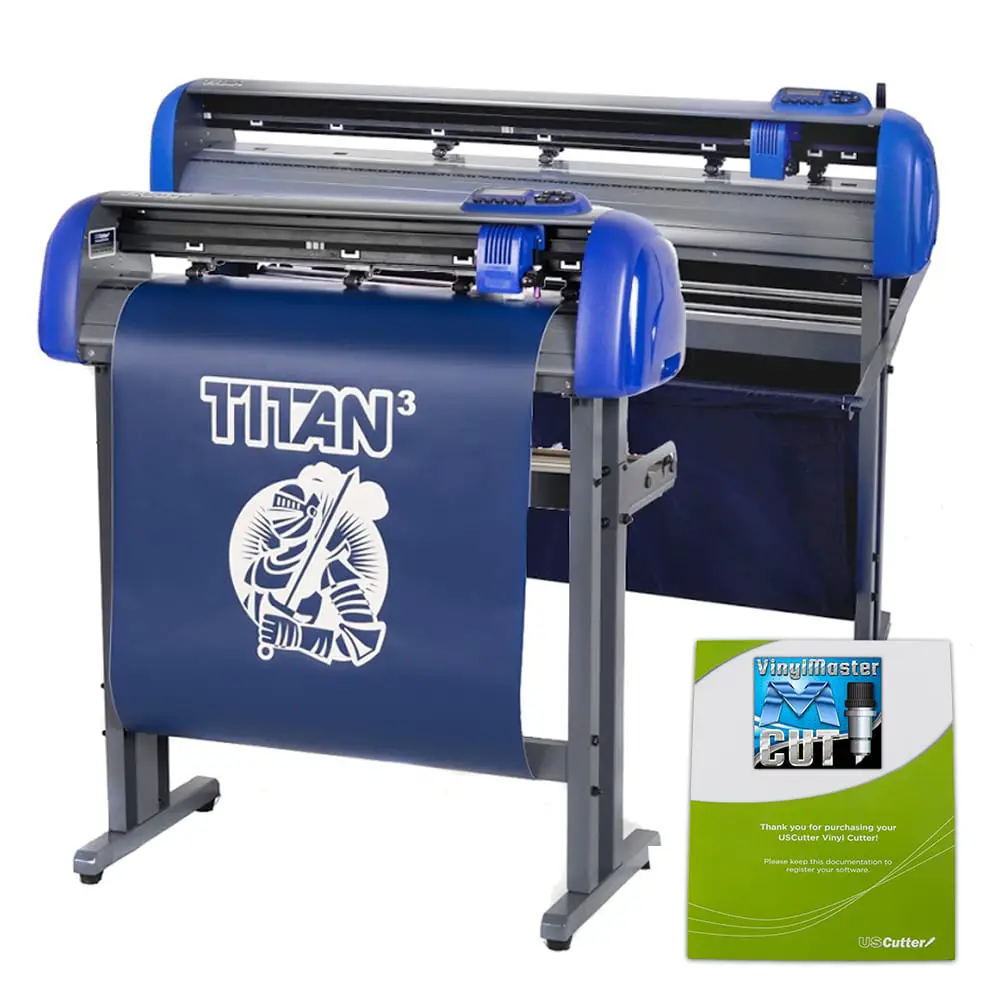 Here it goes. Position the material as best as you can. After that, start rolling out the material. It's a good idea to roll off a kind 6 feet. If there's any misalignment, you will see it by then. Fix it and redo this test again. Once you have adequate results, you can start the cutting process.

Click Image to see Reviews and Latest Price
UsCutter Titan 3 Highlights (Pros)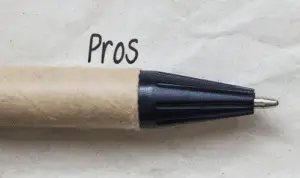 It's the quietest machine I had the pleasure of working with. I've mentioned this earlier the Cricut, which is considered as a quiet machine, sounds like a jet engine taking off compared to the Titan.
Thanks to the vacuum hold you won't have to mess around with mats.
The Titan 3 vinyl cutter is fast and can reach the top speed of 37 inches/second.
Vacuum hold keeps the material in place, and you can say goodbye to mats and whatnots. You will not need them.
It has a significant cutting force of 750g, which is more than enough for any vinyl and paper.
Last but not least, the material basket is an excellent addition since it catches unwanted stuff.
UsCutter Titan 3 Drawbacks (Cons)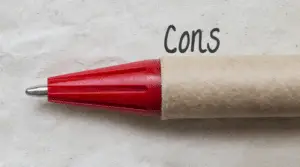 The blade calibration is a real pain. Specific machines made it user-friendly, but Titan is lagging.
You need a lot of space to work with. This is why I was forced to move into my garage. Since there's no wireless connection for the Titan 3, you need to use the good old fashioned USB cable. This means that I had to move my computer to the garage as well.
Since it's a commercial machine, it's not cheap. If you are starting, it might be a better idea to buy something more entry-level.
The Titan 3 vinyl cutter is lacking memory. It happened to me countless times that I shut down my computer while there was an ongoing job. The cutting had stopped. Grrr, I had to restart it. If you are working on intricate designs, it might fail if there's not enough memory available.
I've tried and tested this Titan 3 for a month or so. These are problems I've managed to dig out.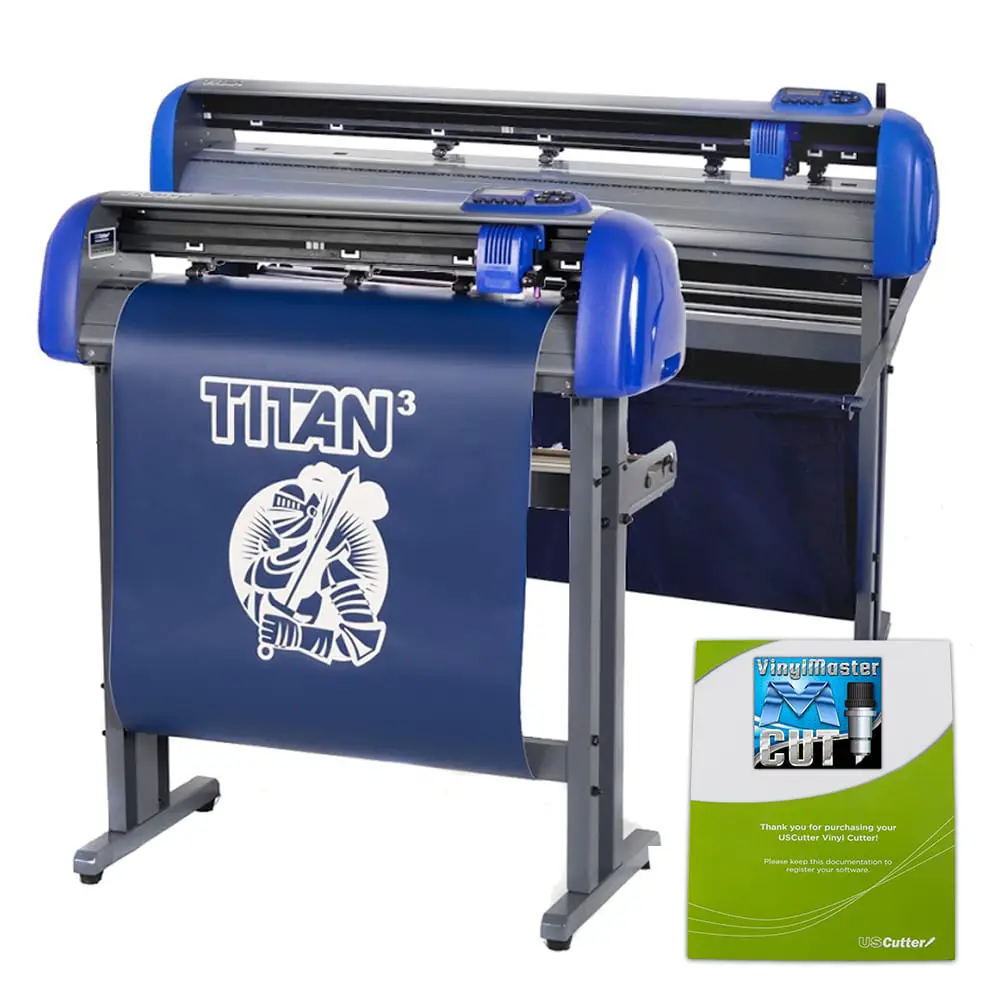 Dear reader, you have reached the end of this UsCutter Titan 3 Review.

Click here for reviews and latest price
Closing thoughts
All in all the Titan 3 vinyl cutter is an excellent machine. It's fast and quiet, and the price tag proves that. It has some minor issues here and there. For commercial applications, it's a good solution.
Since almost everybody who wrote to me asked if I could recommend the best vinyl cutting machine I've made a post about it.
Thank you for reading to the end of this UsCutter Titan 3 Review. Have you used this machine? What were your experiences? Are there other drawbacks I've forgotten to cover? Comment below.
Happy Crafting!
Frequent questions from our readers (FAQ):
There's no such thing as the best vinyl cutter. All vinyl cutters have flaws so sadly there's no perfect one either. You can find a good vinyl cutter depending on what are you working on. If you are planning to do commercial vinyl cutting then you need one that can handle industrial qualities. For this reason, I've created the best of the best machines check out the post mentioned above.
How do you use the Titan vinyl cutter?
Using the Titan vinyl cutter is quite easy. You power the machine up and load the desired material and hit cut. The harder thing is to calibrate the blade and learn the software. Once you have mastered both of them you can finish orders fast.
What is a vinyl printer cutter?
As the names suggest is a machine that is capable of doing two operations at the same time. These machines can print and then cut. You load the materials into the machine and first it will print the design. Then it will cut out the shapes. Major benefit would be that you're buying just machine there are no comparability or accuracy problems.