Roland GX-24 Vinyl Cutter Review the best value for the money?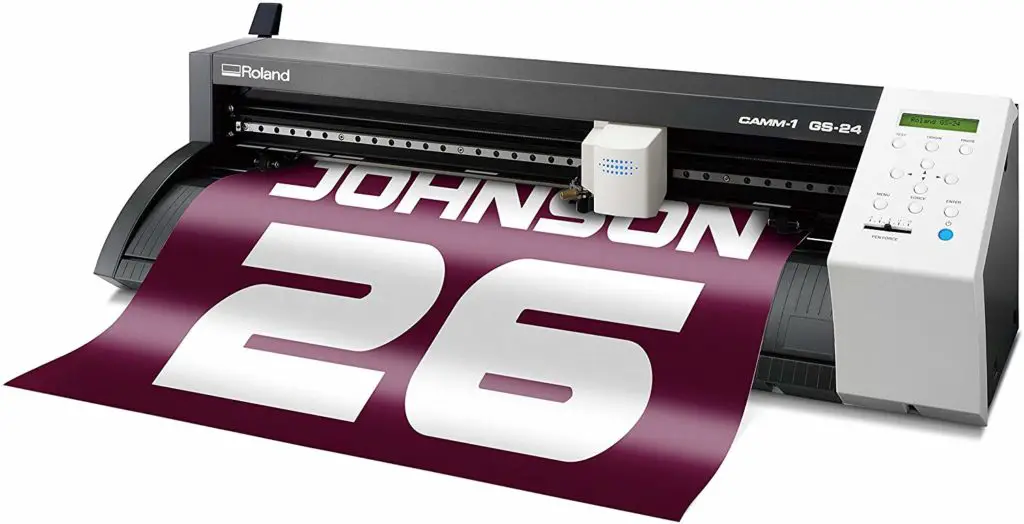 Click Image to see Reviews and Latest Price
It's that time of the week again. It's going to be about Roland GX-24 Vinyl Cutter Review. Here's a heads up. The Roland machines are not for the hobby crafters. This is for small businesses and for commercial entities.
You are probably familiar with my style. In this review, I won't hold back either. So brace yourself we're in for some choppy waters.
Since I'm a crafter myself, I'm more into the desktop type of applications. I've gotten numerous requests to do a review on the Roland GX-24 vinyl cutting machine. Confession time. I didn't buy a machine because it's out of my budget. My second confession is that I couldn't find the GS series, so I've rented the GX series instead.
This is what you need to know about the GX series; it's a significant improvement. GS is so the last generation, and the GX is the newest one you can get.
Before we dig into the nuts and bolts, here are the main specs that you need to know about the Roland GX 24.

Roland GS-24 Vinyl Cutter
This is a fantastic cutter for vinyl
NO RETURNS ON THIS it is new in the box
3 year manufacturers warranty
Machine Specifications
Look and Feel
My first impression about this vinyl cutter was that it's big. More likely, it's huge. I'm more accustomed to Cricut, Silhouette, and Brother. There was no room for this machine in my crafting room, so I had to set it up in my garage.
Do you want wireless connectivity? Yeah, me too. Since the machine was in the garage, I had to move my computer next to it, then came the fun and joy of running cables left and right. This machine is probably top of the line in the commercial field, but it feels so 2000.
Let's dig in and see what this machine can do.
Size and Weight
It's a big machine, 33.9 x 12.6 x 19.2 inches. The cutting size is 22.9 inches, and the widest material you can load is 29.5 inches.
As you have seen in the chart, it's a heavy machine weighing in 51 pounds. Once it's set up, it stays there. You won't be moving it around. Since I've rented this machine, it came partially assembled, so I didn't have to fiddle around with nuts and bolts and screws.
For curiosity's sake, I've checked out the manual to see how hard it would've been to assemble. Well, it kinda rivals IKEA furniture. You have to put some time into this, and hopefully, you have a screwdriver because none is included.
Everything is up and running. It's the moment of truth will it turn on. So far, so good the power is on, and the machine is operational.
Servo Motors and Sound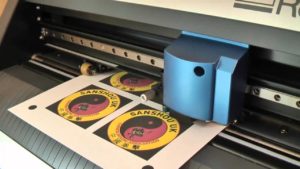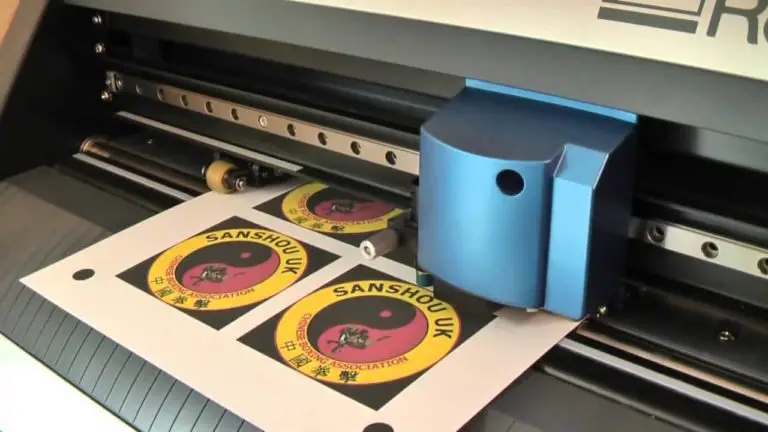 As the machine fired up, I was pleasantly surprised by the sound. It was a lot quieter than the rest of the desktop machines. Let me share with you why that is.
The Roland GX 24 vinyl cutter is equipped with servo motors. Most low-end machines use stepper motors, which are cheaper and louder. Here's what you need to know about buying a good vinyl cutting machine. The type of motor makes a huge difference. If you want to do a pro job, then you need to gravitate towards the higher end because only there have great motors.
The biggest benefits of servo motors are speed, noise, and accuracy. Stepper motors are cheap, and many subprime machines are using them. With a stepper motor, you can't achieve the speeds that the servo can. For example, the Roland GX-24 top speed is 20 inches a second. This speed isn't the very best. The Graphtech reaches 37 inches/second.
I assume that these speeds are tested in a straight line. These aren't' the true speed when you are working on designs. Matter of fact, this comes down to the complexity of the work that I've seen that these commercial grade machines are way faster than the desktop counterparts (Cricut, Silhouette, and Brother).
Cutting Surface
Most hobby machines are limited to 12 inches by 3 feet (if you look at the Silhouette machines). Now with the Roland, you are working with 22.5 inches, but you can go up to 53 inches. As you probably know, this vinyl cutter is not for those who are making a few stickers here and there.
What kind of materials can the Roland GX-24 cut? It can easily cut many Vinyl materials like the traditional ones and reflective ones. Also, you can cut paint masks and twill.
This machine has 350g of cutting force. It's more than enough to cut vinyl. Depending on the paper density, maybe it won't perform that well. But for that, you might need to do multiple passes. Or as it called: "multi cuts."
This covers the technical information about the Roland GX-24; further along, I will reveal it's strengths and weaknesses.
Roland GX 24 strengths (Pros):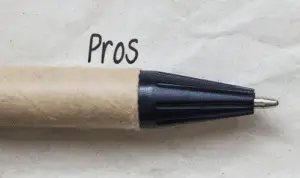 It's a fast and quiet machine thanks to servo motors.
It has a three-year warranty. This means that the machine is built to keep up with daily use. Not like the MH series, which has a 90 days warranty. Yes, I've double-checked. They only offer a 90 day one. Why would you sell a machine like that I don't know? Even the most simple machine on the marketplace has a one year warranty.
Here is the biggest strength of this machine, which is the optic eye.
You can print out stickers and anything digital, and with the help of the Roland vinyl cutting machine, you can make accurate cuts. Before the cutting process, all you need to do is edit the printed document, so it has three dots added to the corners of the paper.
These dots help the machine to triangulate the shapes. After that's done off, it goes and does its job.
Roland GX 24 shortcomings (Cons):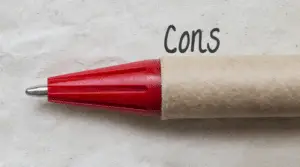 It's a heavy one, so you won't be carrying it along to different expos. For testing purposes, I've set it up in my garage, and once it got placed, it didn't move until my renting period expired.
The navigational software is PC based, so if you're a MAC user, you need to use different software. To show you how big of a dinosaur this machine is, they only use CDs for the software. So let's say you have lost the CD you need to buy a replacement one.
Either way, you have to update the software from their website. I mean, they are this backward?
Just wait. This will get worse.
The blade adjustment is a real pain. And this issue is not just with the Roland but with other machines as well. You need to adjust the blade height, so it doesn't cut through the material. If the blade is too shallow, then it won't cut the material.
I've seen some DIY approaches for setting the right depth. One would be setting a certain depth and then testing it on posted notes. Depending on how many layers it cuts through, you need to make different adjustments. The problem with this approach is that you might use too much or too little pressure.
The other approach would be using the machine. The pro of this approach is that you set the pressure, and it will be consistent. Now, if the blade is too visible, then it might cut through the whole material and scratch the machine. Just in case be next to the machine and hit the pause button.
For this issue, desktop vinyl cutters have a way elegant approach.
Out of curiosity, I've checked their warranty documentation. You won't believe what I've found.
If you happen to purchase a machine outside of the US, you are on your own. Let's say you have an issue, and you have used up all your free support time than you will be charged $60 / hour. They will send out a technician if you pay for everything plus $110 an hour. And they will only send replacement parts if you pay the shipping both ways.
If you're outside of the US, then either pick a different machine or have somebody on your side who can repair the machine. A desktop vinyl cutter has no chance to beat the Roland.
Hot Tip: For optimal working condition you should do maintenance once a month. This means you remove the blade holder and check for dirt. Also it's a good idea to add some machine oil to the blade. Once the cleaning process is done reload the blade holder and you are ready to go.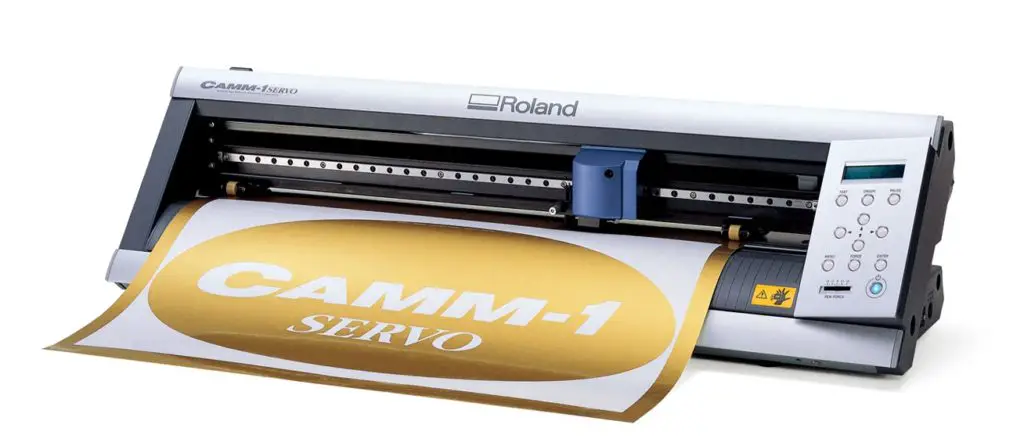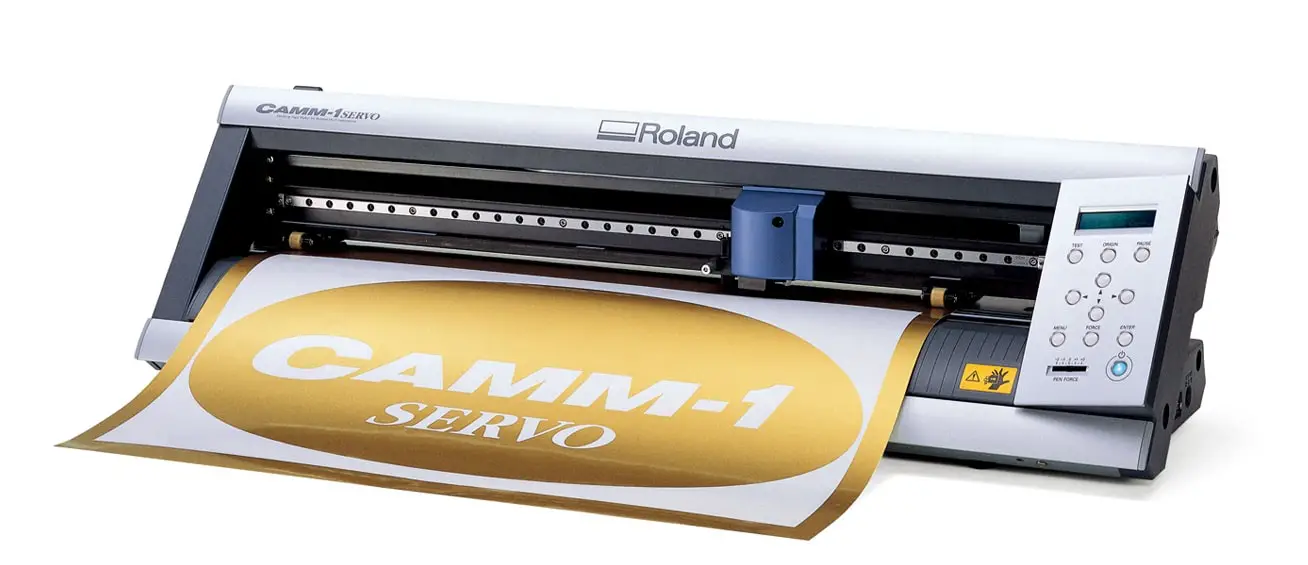 Click here for reviews and latest price
Closing thought about Roland GX
For extensive scale vinyl cutting, this machine is excellent. It's fast, and it's quiet. So for car/truck decals, it's your best friend. Also if you are planning to do t-shirts with this machine, you can do it in one go and not in 4.
As you have seen, this Roland GX-24 review was done for commercial players. If you are doing some hobby level projects, the price will be a significant barrier for entry.
I hope by reading this review, you have found out if this machine is for your needs or not. We have reached the end of this article. In the near future, I will be reviewing a few more commercial tools, so stay tuned.
Have you used the Roland GX-24? What kind of experiences did you have? Also, if you want me to review different machines, let me know. If enough people request it, I will get a machine and put it to the test.
The Roland  made it in my best of the best article. Check it out at Best Commercial Vinyl Cutter post.
Until then,
Happy Crafting!