Show off Your Skills With One of These Vinyl Letter Machines
There is so many which one to pick?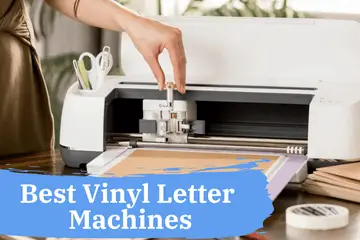 The most beautiful sound in the world hears one's name. What about seeing it?
Seeing your name on an item has the same effect. With the right lettering machine, you can customize anything from mugs to shirts. It's a growing industry.
Look:
Big brands won't go near customization because it will cost them dearly. Even though Coke did it with a marketing stunt, apparel companies have way too much to lose.
This is the perfect opportunity for the little guy to slice a piece out of the pie. I know the market is filled with cheap and expensive letter cutting machines. There are so many specs to compare that you can easily get lost.
Most crafters who want to personalize with letters wish for two things. The first one would be making the right choice. The second one is to start ASAP.
This is why I've created this best vinyl letter machine post. Reading it to the end, you will know without the shadow of a doubt which machine is the right fit for you.
I have spent many hours testing and eliminating letter-cutting machines. From all these tests and research, I have the best five you can go with.
Let's see which vinyl lettering machines it made on the list.
#1 Cricut Maker – Best Vinyl Letter Machine
When you want to go beyond letters made out of paper and vinyl.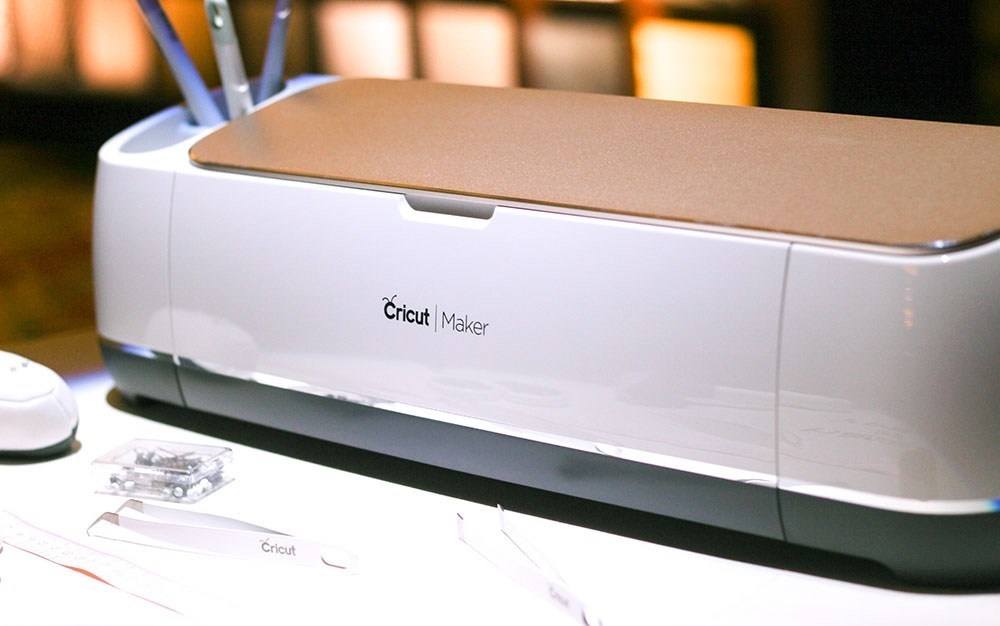 The Cricut Maker won the best Cricut letter machine for the.
Here's why:
The Cricut Design Space makes letter cutting a breeze. All you need to do is add the letter or words, select the font style you want, and hit the cut button. It's that simple.
From all the brands out there, Cricut is the most intuitive and easy to learn. While others boast of complexity with Cricut, you get a simple and fast workflow. The beauty of the Maker is that it can handle paper and vinyl, and so much more.
If you like to try out new things, you can expand your crafting to over 300 different materials. This cutter used to be the most powerful on the market with 4000g of cutting power. Now it's the second-best. With the Maker, you can easily cut chipboard and balsa wood.
As for lettering, you already know that the software is easy to use. The Maker gives you the option of using two tools at the same time. This is possible thanks to its dual carriage. You can draw and cut at the same time. You don't have to stop the process of changing tools.
Another reason to pick this machine is that it's fast. With the turbo mode, you get a 2x speed boost. If you need to finish a project fast, this is the best machine for the job.
Even though the Cricut Maker is on the pricier side, the accessories are the most affordable ones. in the long run, operational costs are lower.
For all these reasons, the Cricut Maker won the best Cricut lettering machine for the vinyl award.
Pros
With 4000g of cutting power, it can cut through anything in your craft room.
It's the fastest electric cutting machine you can buy.
Accessories cost less so you can make higher profits.
Cons
Design Space software is mostly online only.
It's on the pricier side.
#2 Silhouette Cameo 4 – Best Vinyl Letter Machine for Home Use
Hand down the best machine for lettering and not just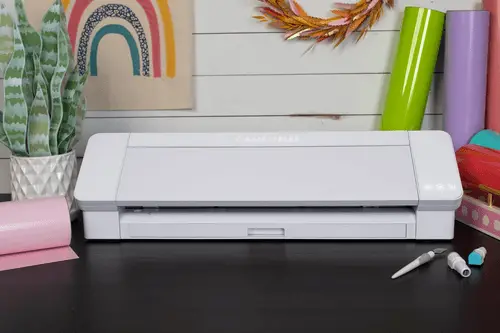 The Silhouette brand was lagging for many years. Now they have managed to get ahead. The Silhouette Cameo 4 is a game-changer. It's a welcome addition to anyone who works with lettering.
The Silhouette Cameo 4 won the best vinyl letter machine for home use award.
The best thing about this cutter is that you can tackle bigger projects without sinking a ton of money into a commercial vinyl cutter. You see, the Cameo 4 has a built in roll feeder, which means it can cut up to 10 feet long.
Besides working on a larger surface, it has two holsters. You can cut and draw at the same time. This upgrade speeds up the process. Everybody hates wasted material, and the Cameo has a cross cutter that swiftly cuts off the excess material.
The Silhouette Studio is a robust design surface. You will be able to create anything your heart desires. If you sign up with them, you get access to their entire database of fonts and designs. It's well worth it if you don't want to waste time.
My biggest gripe with the Silhouette is the inability to export SVG files. For that, you need to go with the business account. I almost forgot to mention. You can do the matless cutting with the Cameo 4. This means that no more wasted time on sticking and unsticking plus no more expensive mats need replacement.
The Silhouette Cameo 4 offers a lot more. Their cutting power is 5000g so that it can handle tougher and thicker materials. Whenever you want to break away from lettering, you can take it for a spin to handle 100+ materials.
Lately, there were some shorts in the supply. For a couple of days, the Silhouette Cameo 4 was out of stock, so if you feel that it's the right fit, get it before they run out.
Pros
The most versatile vinyl cutter ever made with 5000g can cut up to 3mm thick.
Built in roller feeder which allows handling big projects up to 10 feet long.
Blade detection system which avoids messing up projects.
Cons
The loading and unloading arrows are reversed.
If you want to export designs, you have to upgrade from the standard license.
#3 Cricut Explore Air 2 – Best Cricut Lettering Machine for Vinyl – Beginner Friendly
Cricut Design Software is so easy and intuitive that beginners love it.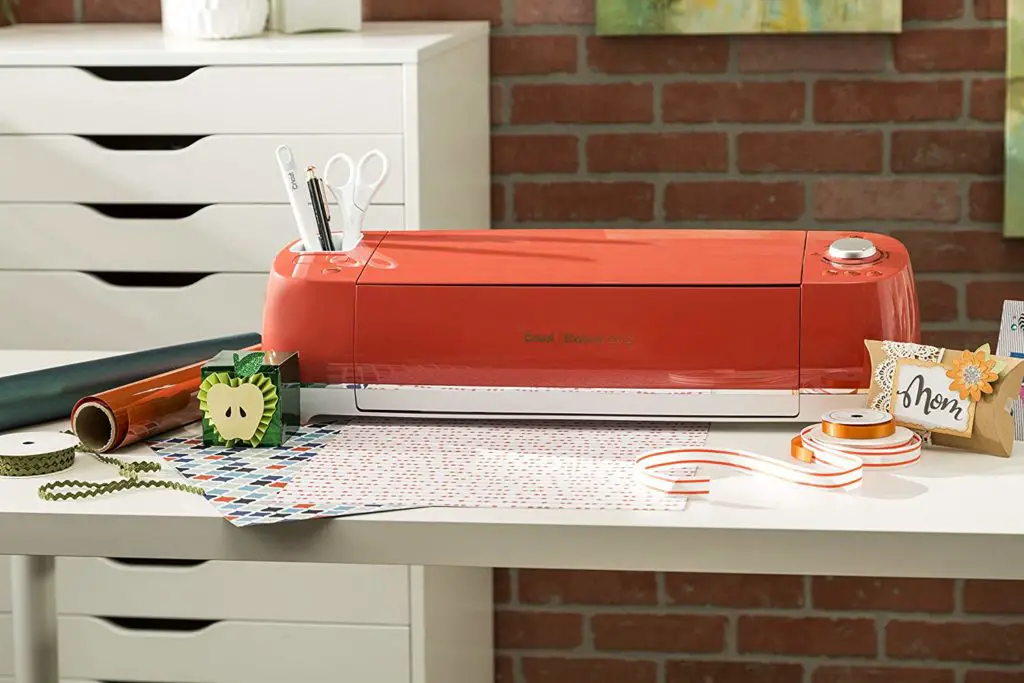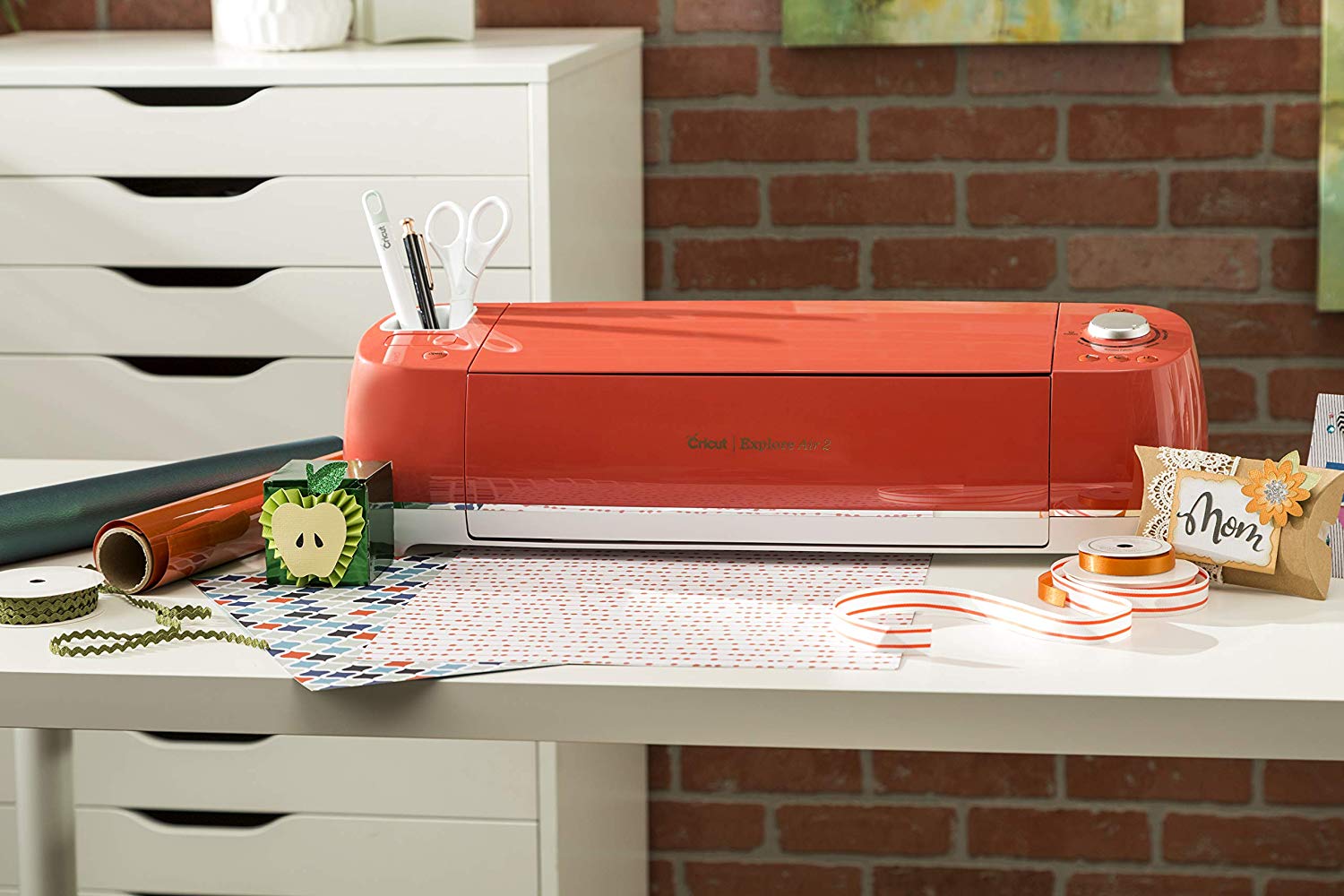 The Cricut Explore Air 2 won the best Cricut lettering machine for vinyl award.
It's so easy that you can't get it wrong. By far, Cricut's software is the most intuitive you can use. Anybody who's working with lettering can get you up to speed in no time.
Plus, there's a whole library of fonts and designs you get access to. When you register, you can have a few for free to give it a try. After that, you can sign up for a subscription or buy items individually.
The Cricut Explore Air 2 is very similar to the Silhouette Cameo 4. The main difference would be that the software is easier to use. With this Cricut machine, you get two holsters as well, which means you can cut and draw simultaneously.
You can spice your lettering up with some colors.
The size is the regular one for any desktop electric cutter. You can work up to 11.5 inches X 23.5 inches. This was the first Cricut machine that got a speed boost. It's two times faster than older designs.
The cutting power is 350g, which is more than enough to cut paper and vinyl for letters. If you want to beyond lettering, you can do that with this Explore Air 2. The only drawback would be that it's an older model, so the new specialized blades are not compatible.
Even though it can handle anything that newer machines can, the finished work might not be polished. I'm talking about fabrics and thicker and stronger materials. Paper and vinyl are flawless.
For all these reasons, the Cricut Explore Air 2 won the best vinyl letter cutter machine for vinyl award.
The last time I've checked, Cricut was out of stock for weeks. So if you know this is a good fit, get it if it's stock or have to wait weeks, if not months.
Pros
It's an affordable vinyl cutter that many great things under the hood.
It has dual carriage so that it can speed up the workflow.
It's easy to get started so that beginners will feel right at home.
Cons
It's a bit outdated machine, still a regular workhorse.
It doesn't have specialized blades like the Rotary or Knife.
#4 Brother ScanNCut SDX125 – The Best Vinyl Lettering Machine
With the built in scanner, you can multiply handmade letters with ease.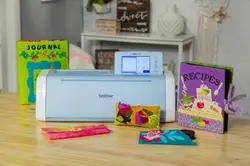 The Brother ScanNCut SDX125 won the best vinyl lettering machine award. This Brother machine isn't your everyday electronic letter cutter.
The problem with most cutters is that they are limited to the fonts you can use. With the Brother, it's different. You can cut even hand-drawn designs. You see, it comes with a built in scanner. It detects the design and stories it in its memory.
Another big plus for this ScanNcut is that you don't necessarily need a computer. You can do all these letters resizing and cutting on the LCD screen. If you're on the go, you only have to carry one machine.
What I loved about the SDX125 that it's quiet. It's so quiet that you can easily work at night without bothering anyone. This might seem like the perfect lettering machine, and it has a few flaws.
The first thing you will notice is the price and the accessory price. These are quite high. If you can get higher prices, then it shouldn't affect you. There's also a bit of a learning curve to get things rolling. With the auto blade, you can cut the time in half, if not more.
If you can accept these challenges, then this will be the perfect cutting machine for you. Imagine creating your fonts, and this little machine multiplies it with ease. You will be able to personalize many items without breaking a sweat.
If you feel that this is the right fit, then you have to move. The last time I've checked, there were supply issues. To get it as soon as possible, click the link below.
Pros
Thanks to the built in scanner, you can cut custom stamps and drawings.
It's super quiet so you can work during the night and it won't bother anyone.
The Auto blade adjusts settings, so no more ruined material and mat.
Cons
There's a learning curve to get started, nothing that kids can't handle.
Accessories prices are the highest compared to any other brand.
#5 US Cutter Titan 3 – Best Professional Vinyl Lettering Machine
It's a beast of machine fast and large format perfect for businesses.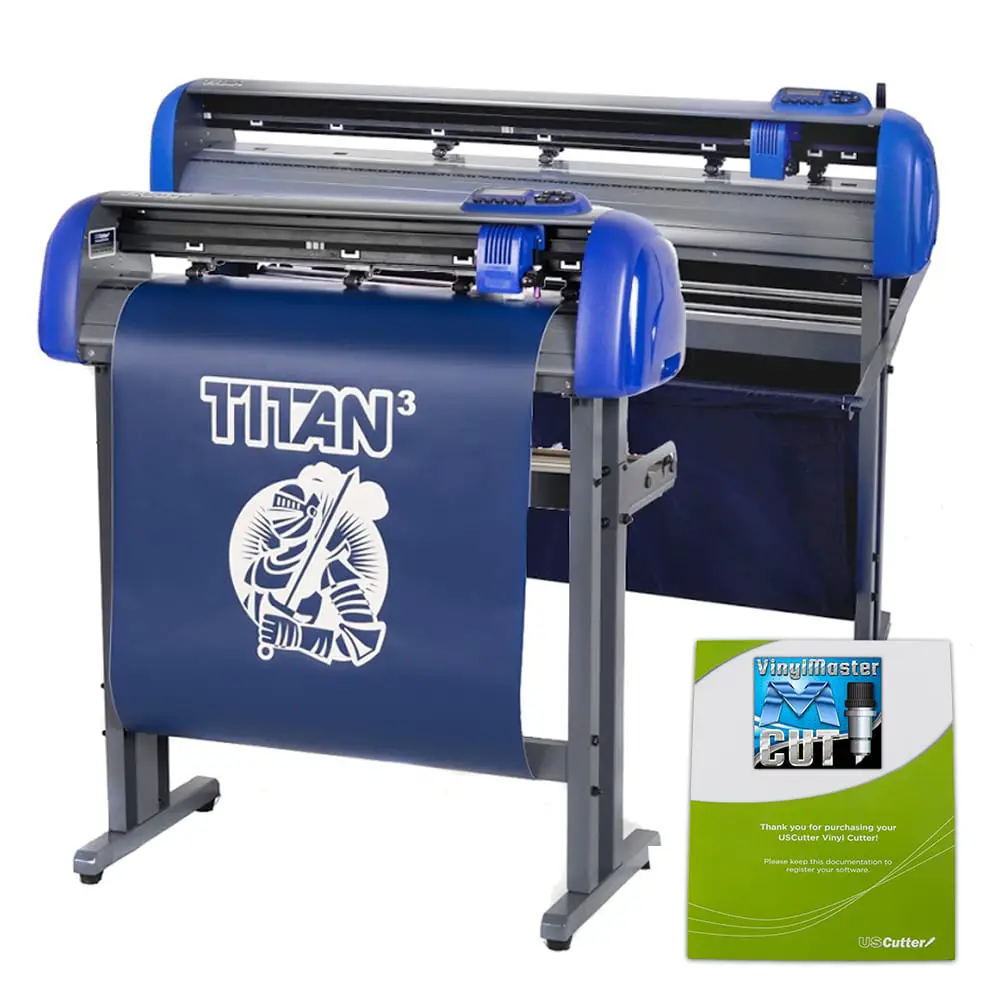 Let's face it the real money is made with big things. Adding vinyl lettering on a storefront or vehicles will bring more profits than making 10 personalized mugs. This is why the US Cutter Titan 3 won the Best Professional Vinyl Lettering Machine award.
Titan 3 is perfect for the job. It comes in three sizes 15", 28" and 53". I highly recommend the 28" version because that will allow you to take on bigger jobs without sinking too much money into it.
It's one of the fastest vinyl cutters on the market today. The top speed reaches 31.5 inches/second.
What I love about this vinyl cutter is that there's no need for a mat—no more messing around with sticking and unsticking and worrying if you can finish the job. There's a vacuum hold which keeps the vinyl from sliding.
There are a few drawbacks to this cutting machine. The biggest issue for my generation is that it's too old school. There's no wireless connectivity what so ever. Also, it's a real pain to calibrate the cutting blade. Luckily you don't have to change that too often.
If you're planning to go big or have a business, this is the way to go. Getting jobs done for businesses is not only gratifying but highly rewarding as well.
For all these reasons, the US Cutter Titan 3 has won the best professional vinyl letter machine award.
Pros
It's one of the quickest and quietest commercial cutters you can get
It comes with a vacuum hold, so your material will be held down, plus no time and money wasted on mats.
Thanks to its speed, you will be able to finish bulk projects in record time.
Cons
Blade calibration could be long and tedious.
You will need a lot of space to work with this machine.
Conclusions for the Best Vinyl Letter Cutter Machines
We have reached the end of this article. I have gone through almost half a dozen of machines, and I only presented those worth your time.
After all the tests, these five machines became the best you can go with. As you have seen, there's no perfect machine on the list. They all have flaws. Now it's your time to choose the one that fits your needs best.
Keep in mind that with anything new, it will be hard on the first try. This is why I highly recommend doing the demo projects to familiarize yourself with these letter cutters. By finishing the demos, you get early wins, and this will propel you forward.
If you have any questions or comments, feel free to reach out.
Happy Tinkering!
Frequently Asked Questions (FAQ):
What machine is best for vinyl lettering?
These are the best vinyl lettering machines:
The Best Vinyl Lettering Machine: Brother ScanNCut SDX125 vinyl cutter
Best Vinyl Letter Machine for Home Use: Silhouette Cameo 4 vinyl cutter
Best Vinyl Letter Cutter Machine for Beginners: Cricut Explore Air 2 vinyl cutter
Best Professional Vinyl Lettering Machine: US Cutter Titan 3 vinyl cutter
Best Cricut Lettering Machine for Vinyl: Cricut Maker vinyl cutter
What machine do you use to make vinyl decals?
To make vinyl decals you can go with either a Cricut or Silhouette vinyl cutting machine. By far the Silhouette Cameo 4 is the best and close behind is the Cricut Explore Air 2 vinyl lettering machine.
Can I make my own vinyl decals?
Yes you can easily create your own vinyl decals and vinyl stickers. After you have done editing your stickers you have to print it on vinyl paper. The last step is to cut out your vinyl decal or sticker with the help of a cutting machine.
What kind of cutting speed should I expect from vinyl lettering machines?
Cutting speed for vinyl lettering machines varies from brand to model. Usually the newer the cutting machine the faster it is. One of the faster machines is the uscutter mh series.
What kind of cutting speed can we expect from vinyl lettering machines?
Cutting force is the second most important thing to watch when considering vinyl lettering machines. For example the uscutter mh series is a fast and strong machine it can cut adhesive vinyl with ease. Last time i've checked you're getting adhesive vinyl with your initial order.
Should you go with a big or small vinyl lettering machines (vinyl cutter)?
The market is filled with vinyl lettering machines of all shapes and sizes. A vinyl cutting machine should be picked by function. For example, the uscutter mh series vinyl cutter is a great commercial one while the Cricut joy vinyl cutter is portable and small. If you're going with USCutter you might want to look into Roland compatible blade holder.
Last Updated on January 30, 2021 by Emily