It's review time again. And today I will put my magnifying glass on the Silhouette Cameo 3. As you are accustomed, this is not the run-of-the-mill type of review.
First, I will show you the bird's eye view of this machine. In just a few seconds, you will see the capabilities of the Silhouette Cameo 3 machine.
This isn't a perfect machine, either. It has flaws, and at the end, I will go in great details. By knowing the flaws, you can do an accurate assessment if this machine is the best choice for you.
Also, in the end, I will do a quick comparison between silhouette cameo 2 vs. 3. Just in case you have already had the silhouette cameo 2 and considering upgrading. Let's get to it.
What about the hidden Easter egg game in the machine? Sadly it was just a clever prank. A crafter faked the LCD screen to show that he managed to unlock a hidden tic-tac-toe game. I didn't check the date. Maybe he released the finding on April Fools. Let's get to more serious manners.
Here's the rundown of the machine.
| | |
| --- | --- |
| | Silhouette Cameo |
| Size | 22.5 x 6 x 8.5 inches |
| Weight | 13.95 pounds |
| Cutting Feature | Yes |
| Drawing Feature | Yes |
| Scan and Cut | PixScan |
| Cutting force | 210g |
| Cutting Size | 12 inches x 10 feet |
| Auto Blade | Yes |
| Cross Cutter | Yes |
| Dual-Carriage | Yes |
| Max Material Thickness | 2mm |
| Computer Connection Needed | Yes |
| Noise Level | Loud |
| Accessories Pricing | $$ |
| Recommended Retail Price | $299.99 |
If you already worked with or knew about the Silhouette Cameo 2, then you have probably spotted the differences.
What immediately grabbed my attention was the slick new design. It has much more curvature, and the lines aren't that straight. Plus the lid covers everything. This is great protection for the LCD screen.
Cameo 2 didn't have a protection screen, and some crafters learned a hard lesson from it.
I want to tell you one more thing about the slick design. The LCD blends so effortlessly into the machine; it has almost Apple-like features (almost that is). Now if you compare it with the Brother Scan and Cut 2 purely on design perspective Cameo is the winner. The Brother machine's LCD sticks out like a sore thumb.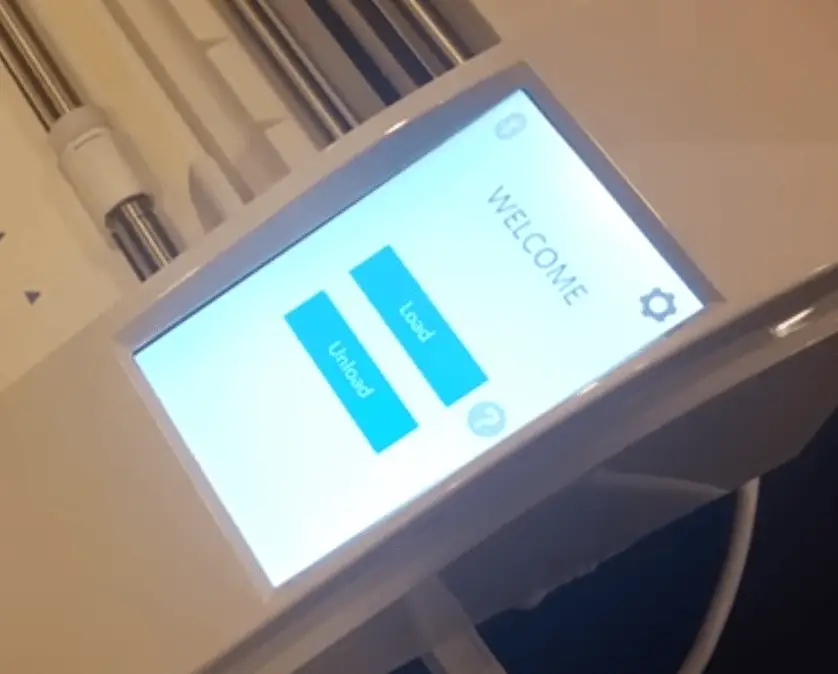 The Brother cutting machine has some superior features, but aesthetically it's a looser from my point of view. They could've done a better job with that LCD screen.
Cameo 3 has lots of storage space. They went above and beyond with this. Besides the storage space, there are arrows which help you align your mat perfectly. All these minor upgrades help out a lot.
By not wasting time on positioning your cutting mat, you can take on more projects, thus making more money.
Let's talk about size. It's a good 2 inches longer than its little brother.  (Are you interested in how well it is compared to Silhouette Portrait?) So before you buy, to make sure you have enough space to use the machine. The weight isn't too big because it weighs almost 14 pounds.
This has good and bad aspects as well. If it weighs less, it might mean that they have used low-quality parts. Luckily it's not the case.
If you are doing a lot of selling on the road like in fairs and expos than prepare yourself to carry this baby a lot.
Unboxing and first start: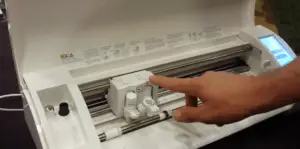 After you have started up for the first time, you probably need a firmware update. But before you get there, make sure that you increase the sleep time settings. You don't want it to shut itself down in the middle of a critical procedure. After you have updated the firmware, you can change the sleep time to your liking.
There are tutorials to get you started. You can watch these on the LCD screen. Even though these tutorials help, somewhat, there's a steep learning curve to master.
Another thing that surprised me was that there were no manuals in the box. Everything is online. Hmm, I wonder how many trees were saved with online only access?
Let's see what the Cameo 3 machine can do for you shall we?
It has two functions cutting and drawing. By using any ordinary pen, it can draw different patterns and use the fonts in the library. The cutting feature is versatile. Allegedly it can work with 100 different materials. I'm a bit skeptical because it has only 210g cutting power, more on this later.
The best materials to cut are paper and vinyl. Yes, I know that they advertise that it can do fabrics and balsa wood, but for that, there are better machines like the Cricut Maker.
I'm getting carried away, so I'm going back to the Silhouette Cameo 3 cutting machine Review.
It has Auto-Blade. This is a nifty little gadget that takes out the guesswork from your project. You insert the blade in the holster, and it will automatically detect the material you are using, and it will adjust the cutting depth accordingly.

The Cameo Auto-Blade eliminates human error and saves time as well.
How does it work? It's simple it taps the corner of the machine and figures out the proper cutting depth.
Hot Tip: Make sure after inserting the Auto-Blade that you secure it in the holster. If not, you could get a wrong read. Thus it might damage your mat and start over with the project.
Besides the Auto-Blade Cameo, three has other ones to choose from. Here's the list of blades:
Standard
Fabric
Deep cut
Premium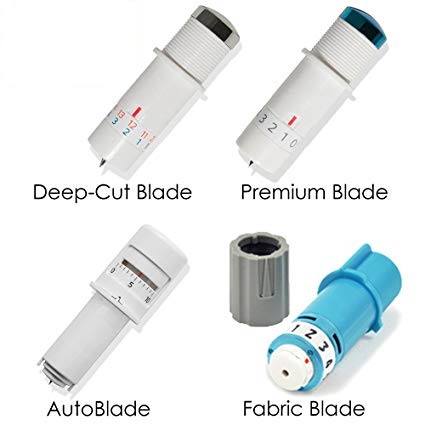 The standard blade is the most used of them all. You will be using it if you want to cut vinyl or paper. It's made out of a durable material called Carbide. It's sharp and durable perfect for the job.
The Fabric blade is the same as the standard one. The only difference is the housing, which is blue. Here's the truth. If you are cutting a lot of paper, the blade will get dull faster. This is why the fabric blade was created, so you have a sharp blade when you are working with fabric.
Since the paper tends dull blades, you should be prepared to change this one frequently.
Deep cut blade as the name suggests is for deeper cuts. It's perfect for foam and some more resistant materials. It can cut 2mm thick.
The premium blade is 3x longer than the other ones. It's super strong so that it will last longer. This means you don't have to buy that often. Plus you don't have to change your blade in the middle of the project because it stays sharper for a longer period.
The Silhouette Cameo 3 machine has a scan and cut feature. This means you can photograph your design / handmade pattern. Upload it to Design Studio. Then you can cut the required pattern. It's simple, and it's elegant.

You can use this technology if you have hand-drawn designs, fabric patterns to personalize, create your stamp patterns, and magazine cutouts.
With Cameo three, you are turning an analog image/pattern into a digital one. This is saved on your computer and in the future it can be used whenever it's needed.
The Silhouette Cameo three has the cutting power of 210g. For me, this was a disappointment. The company didn't improve on it. It's the same as Cameo 2 and most other machines in this category. With 210g you can't do much. Already there are contenders who have achieved 11x power and only cost $100 than the Cameo. Hopefully, in the next release, they will boost the cutting power as well.
Let's talk about cutting size. This is where the Cameo 3 shines. The size is huge. You have two mats to choose from 12 x 12 inch and 12 by 24 inch. Besides this, if you have a feeder system, then it can cut up to 10 feet. That's pretty big. I mean 12 inch by 10 feet that leaves you with a serious commission once the job is done.
One of the crafters has reported that he didn't manage to utilize the whole 12-inch width. For him, the blade didn't cut deep enough on the far side. It's good to keep this in mind. For him, the biggest cutting size he managed to achieve was 8 inches.
Cross Cutter is again a nifty little feature that helps you finish your projects strong. This blade makes a clean cut along the width of your mat. It's faster and cleaner than any scissor you can use. Somehow it comes natural, but many other machines don't have it. Once you get used to it, it's hard to live without it.
Do you believe in love at first sight? I do, and it happened when I learned about the Dual-Carry feature. This means that you can do two tasks at once. Let it be 2 drawings or two cutting, or mixed. The Cameo three can do it.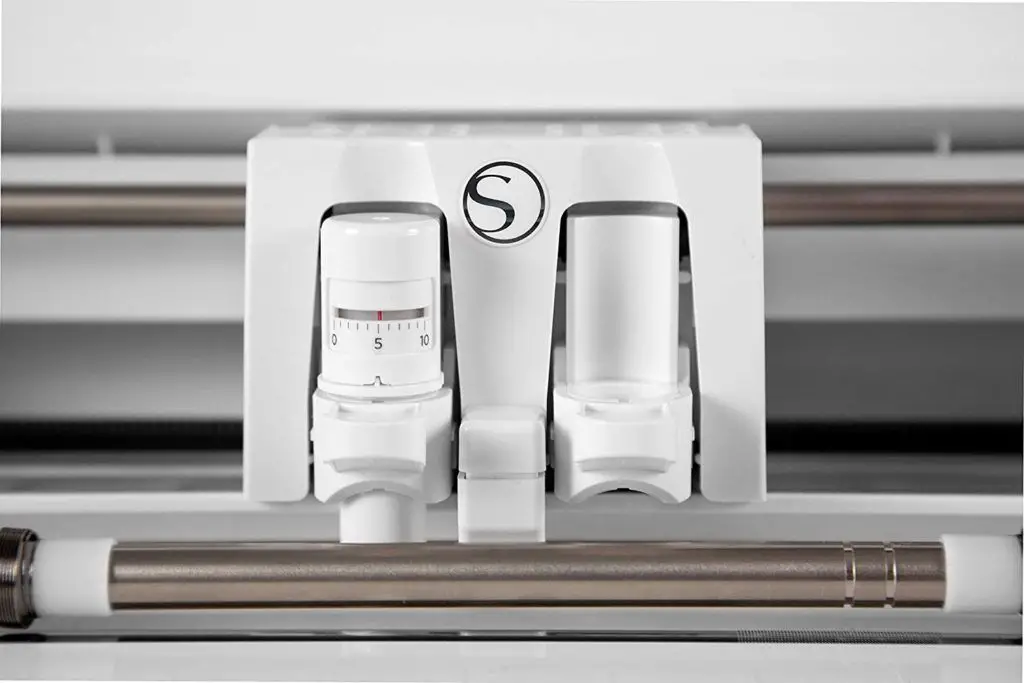 All you have to is add the two blades/pens into the holsters setup the machine and hit start. This saves you time because you don't have to babysit the machine and set the second task up. Plus you don't have to tinker with the software this eliminates human error.
While the machine is doing two tasks at once, I can do some other chores around the house.
One of the main differences between cameo 2 and 3 is increased material height. Now with Cameo 3, you can work with materials that are 2mm thick. This is a great improvement since the last generation.
Cameo 3 needs a constant computer connection. This means next to the Cameo; you need another device as well to work on events. Facture this in as well before you attend a fair. There are multiple connection options between the two devices. There's the usual cord method via USB. And you can use cordlessly via Bluetooth.
Most of us hate cords with a passion. They always get tangled, and God forbid if it gets stuck into something, then the machine could easily fall to the ground. Now there were numerous crafters complaining that they didn't manage to setup the Bluetooth connection.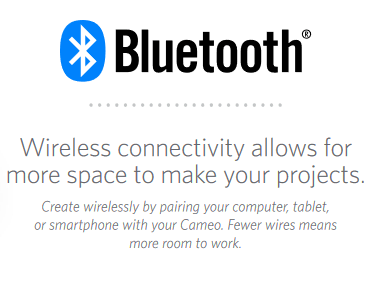 This is a real bummer because it's one of the major selling points of the Silhouette Cameo 3.
Let's take a look at the noise level. There's no way to sugarcoat it; it's loud. You won't be able to work during the evenings unless you are out in the shed or garage. Sadly this has become a feature for the Silhouette family. All of their devices are loud. If you don't believe me check out YouTube. Though many crafters cut the sound out, so they don't annoy the viewers, hopefully, by the next launch, they will do some progress in this department as well.
There's the initial investment in the machine but how much do the accessories cost. The best way to characterize it by saying it's fair. The Cricut Maker is cheaper, and the Brother Scan and Cut is expensive. Scratch that Brother is doing daylight robbery in the accessories department.
The materials have an average life span, and the prices are in the ok range.
Last but not least we are going to cover the speed of the Cameo 3. Sadly ever since Cricut Maker came out, every cutting machine on the market looks like as if it would be standing still. It has a 2x speed feature which leaves the competition in the dust.
Don't get me wrong it's not slow or anything. It's just average. With higher speeds, you could do more projects, thus making more money.
You were probably have been waiting for this now, what's wrong with the Cameo machine?
First of all, it's not user-friendly. There is a steep learning curve, even though the machine itself has built-in tutorials.
Then there's the Bluetooth connectivity issue. It supposed to be its main selling point, and many crafters reported that they simply couldn't set up the connection. They were left with the USB connection.
Another crafter said that you couldn't use the full 12-inch width. Because at the far side of the machine, the blade doesn't go deep enough.
There are certain materials which are a challenge to cut. For example, if you want to cut acetate, you need to go through it twice. This means you are wasting time.
If you want to cut Shrinky dink forget about it, not even four passes will cut the material. And it's so easy to fix it, just have more cutting power.
They bolster in their marketing message that it can work with 100+ materials. Hmm, I'm curious how did they count them all up? Like this: white paper, green paper, yellow paper, 50 shades of gray that's 53 already. It's clear that the Cameo works best with paper and vinyl. The rest of the materials are hard to work with. You need a lot of patients, and they do a lot of trial and errors.
Or you can purchase the convinient addon which is Silhouette Curio. (If you want to compare Silhouette Curio with Silhouette Cameo 3 check it out).
The last negative about the Silhouette Cameo is that it's noisy. This limits you when you can do projects if you don't have proper sound insulation.
That's it the dirty laundry is out there. This is why I like to tell you how it is so you don't have surprises after you have invested your hard earned cash in a machine. You have probably read a bunch of reviews, but how many of them talked about these issues like the Bluetooth connectivity and the machine being loud?
Some call it the ultimate DIY machine. Well, this might've been true when the Cameo 3 was released. Since then many new machines came on the market which stole the crown.
This concludes my Silhouette Cameo Review. Below I will talk about some of the reoccurring questions and what's the difference between cameo two vs. 3.
Cameo Silhouette 2 vs 3
| | | |
| --- | --- | --- |
| | Silhouette Cameo 3 | Silhouette Cameo 2 |
| PixScan Technology | Yes | Yes |
| Cutting force | 210g | 210g |
| Cutting Size | 12 inches x 10 feet | 12 x 12 inches |
| Auto Blade | Yes | No |
| Cross Cutter | Yes | No |
| Dual-Carriage | Yes | No |
| Max Material Thickness | 2mm | 0.8mm |
| Computer Connection Needed | Yes | No |
| Noise Level | Loud | Loud |
| Recommended Retail Price | $299.99 | $299.99 |
Frequently Asked Questions about the Silhouette Cameo three:
What's in the Silhouette Cameo Starter bundle?
It's a monster package it contains 1 Month Free subscription to Design Store
24 Silhouette Sketch Pens
24 Sheets
Auto Blade
12 x 12-inch cutting mat
Vinyl Trimmer, ratchet adjustment tool, Scraper, Hook, or Spatula tool.
The ultimate Silhouette beginner guide to Vinyl – By Silhouette School.
100 exclusive Silhouette designs.
Power and USB cords.
Silhouette beginner class.
Silhouette Cameo 3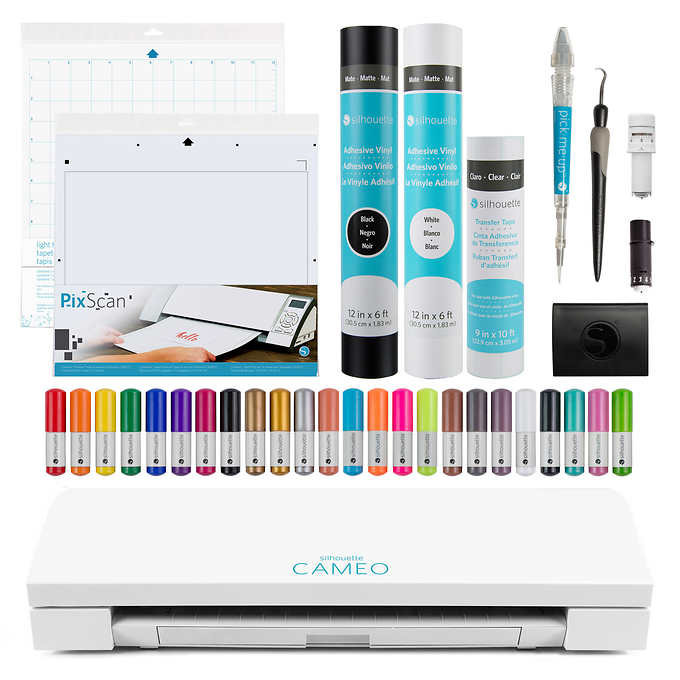 How thick can silhouette cameo cut?
If you're using the Deep Cut blade, you can cut as deeps as 2mm. But this depends on the material you are using.
What's the newest Silhouette Cameo?
At the moment, Cameo 3 is the latest one. Cameo 4 will be released in September of 2019.
What's the Silhouette Cameo 3 release date?
The Silhouette Cameo 3 was released in August 2016.
Can silhouette cameo cut balsa wood?
According to marketing, it can cut balsa wood. It's not as easy as it sounds, but it can be done.
Using Silhouette Cameo for Scrapbooking?
Yes, it's an excellent tool for Scrapbooking. Pixscan technology helps with scanning and cutting. Plus the blades work faster than any scissors you can wield.
What can you do with a Silhouette Cameo 3?
Anything related to paper and vinyl it can be done. Glass etching? Sure. You can also do decals. You can customize shirts and bags. You can create vinyl for cars and computers. And all this related to paper and vinyl.
How to use the Silhouette Cameo 3?
First of all, you need to pick the material you want to work with. Then find the ingredients. Follow the tutorials. If you are stuck, ask around on the forum.
All in all, it's a cheap machine, and it does what is advertised to do well almost. If you want to cut paper and vinyl and do it reliably, this is the perfect machine for you. It's excellent for small things up to 8 inches. If you're in the Event planning or Décor business, this is a handy tool to have. It speeds up and complements your skills.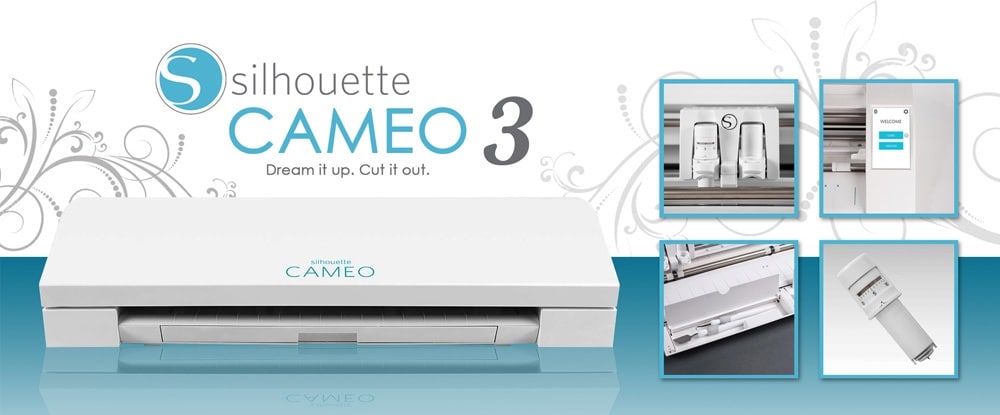 How did you like this Silhouette Cameo Review? Leave feedback below?