Silhouette Portrait vs Cameo which machine is the best choice for you?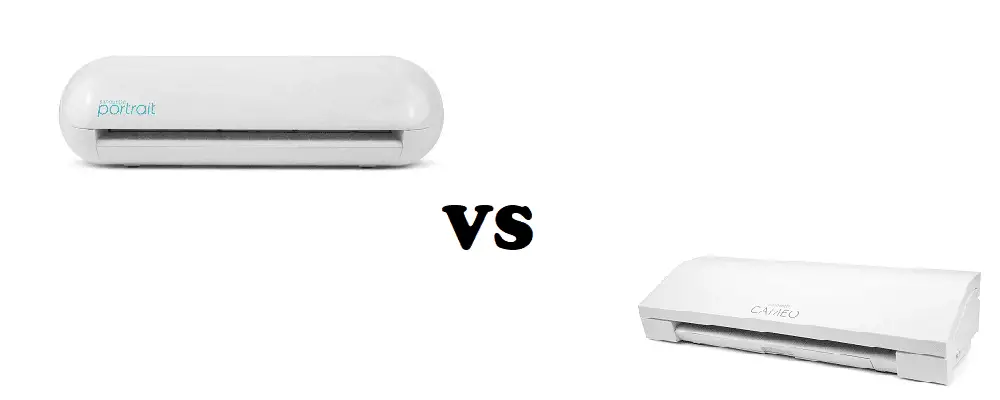 Here's another post putting two Silhouette cutters head to head.
By the end of this, you will know which will fit you like a glove.
They are similar die cutting machines. So before we get down and dirty check out the comparison chart.
At a first glimpse, Silhouette Portrait seems to be the little brother of Cameo. Is this true?
All this and more you will find out below.
| | | |
| --- | --- | --- |
| | Silhouette Cameo 3 | Silhouette Portrait |
| Size | 22.5 x 6 x 8.5 inches | 17.2 x 5.5 x 7 inches |
| Weight | 13.95 pounds | 3.53 pounds |
| Cutting Feature | Yes | Yes |
| Drawing Feature | Yes | Yes |
| PixScan Technology | Yes | Yes |
| Cutting force | 210g | 210g |
| Cutting Size | 12 inches x 10 feet | 8 inches x 10 feet |
| Auto Blade | Yes | Yes |
| Cross Cutter | Yes | No |
| Dual-Carriage | Yes | No |
| Max Material Thickness | 2mm | 2mm |
| Computer Connection Needed | No | Yes |
| Noise Level | Loud | Loud |
| LCD & Touchscreen | Yes | No |
| Bluetooth Connection | Yes | Yes |
| Recommended Retail Price | $299.99 | $199.99 |
As you have seen the Cameo vs. Portrait chart above three things pop into your eyes, these are the weight, cutting size and the price.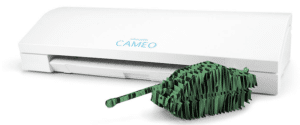 I will talk in detail about all of these features. Let's get started with the size. It's small. The Silhouette Portrait machine looks like the little brother of Cameo. Just for reference, I'm comparing the latest generation of these machines meaning Silhouette Portrait 2 and Silhouette Cameo 3.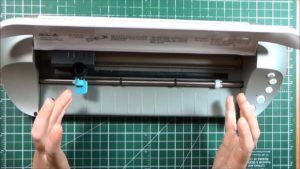 The main difference between Portrait 1 and 2 is the later one having Bluetooth connection capability. As far as I know, older versions like Cameo 1,2 have been discontinued. Sure you can find a few laying around on eBay, but the newer versions offer a lot more (plus you have free access to Design Store). By getting second-hand products, you won't be able to access the store for free.
Let's continue with the comparison test. The weight is significant. the Portrait is 10 pounds lighter than its bigger brother. This means it's much much easier to carry around. Speaking of brother do you want to know how Silhouette Cameo compares to Brother Scan and Cut?
Let's say you're doing exhibits and tradeshows that extra 10 pound that you don't have to carry around makes a big difference.
Now, both machines have cutting and drawing features. This means that you can pop either a cutter or a pen in the holder. So far so it's promising.
They both have the PixScan technology which means you can easily digitize your fabric patterns. All you need is your smartphone to take the photo and then upload it into the software, and you're done.
The cutting force is the same which is 210g. The thickest material you can insert is 2mm in size. This doesn't mean it can cut 2mm deep. It's less than that. There are only a few things both of these machines can cut (leather and thick materials are not included).
The cutting surface is the most important thing. It all comes down on what you're using it for. If you are doing small jobs like scrapbooking or creating greeting cards, then Silhouette Portrait is just perfect for you. As you can see they both can work on long roles up to 10 feet long.
The Auto Blade is a great feature to have. The machine automatically sets the cutting force, so you don't have to do it manually. It saves you time and eliminates human error.
The Cross Cutter option is for the Cameo die cutter only. This is another hidden gem which helps you make straight cross cuts on the material. It's faster and cleaner than using scissors.
I consider Dual-Carriage a must have nowadays. Sadly the Portrait Silhouette machine doesn't have that option. With Dual-Carriage you can have a cutter and a pen or two pens or other formats. So your work gets faster. You can get things done without this option, but it takes time.
You need to do additional settings in the software and so on.
This is the beauty of Silhouette Cameo you don't need a computer to run the jobs. This is handy at events where you don't have much space to work with. Also carrying around a laptop and cutting machine could be heavy.
Sadly both of the machines are loud. This seems to be running in the Silhouette family.
The Silhouette Portrait is basic. It has a few buttons, and that's it. On the other hand, Cameo has a touchscreen which helps you use the cutter without any computer connection what so ever.
They both have the options to connect via Bluetooth. Some users have reported that they never got it running.
The last item on the comparison table is price. As you can see the Portrait is at least $100 cheaper than the Cameo. For some this $100 makes the difference for some the extra hundred is well worth for the benefits.
Here are the negatives.
There's a steep learning curve, and they are not the most user-friendly machines out there. Plus they are loud. Forget about working during the night if you don't have sound insulation.
Many users have complained about the Bluetooth connectivity. They tried over and over again, and they didn't manage to set up the connection properly.
Here's another biggie to manage perfect line up; some users had to use a flashlight because the machine didn't detect the starting square.

In conclusion
What is a Silhouette Portrait cutting machine? It is a cheap starter that gets you off the ground fast. If you are working with paper and vinyl and you don't mind the luxury of the touchscreen than this is a perfect fit for you.

Who can use the Silhouette Portrait?
It's for crafters who are doing Decal jobs, or working with small vinyl sizes (up to 8inches) than this machine will serve you well. It's basic, and it works. It's cheaper by $100 than his big brother the Cameo.
Who should opt for Silhouette Cameo?
Crafters who are working on bigger projects than 8 inches it's perfect for them. Also, the Cameo has the Dual-Carry option which means that certain jobs will be done faster. You can do two passes which save you time.
Which is the best fit for you?
It all comes down to what you are using it for. Portrait is more like an entry-level product that's why it's cheaper. If you're doing more serious jobs than try the Cameo.