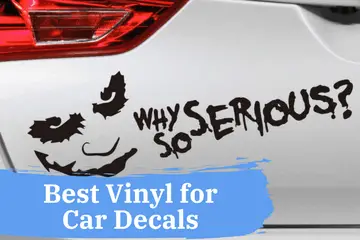 Welcome to the best vinyl for car decals Awards
For the past 3 days, I've been testing out different types of vinyl to see which the best one for car decals is. My husband caught me sneaking in rolls of vinyl into the garage. I've brushed him off, saying "just look after the kids. I'll be there in a bit". It wasn't a bit, sorry honey…
I've ranked the top 3 types of vinyl by price, longevity, stickiness,  ease of weeding, and size.
Look:
You can only make two mistakes with car decals. It will be your first and last one because the customer will leave you. The quality of the decal comes down to the vinyl quality. This is why I've done the heavy lifting for you. The 3 very best vinyl are listed below. No matter which you choose, you will get excellent quality.
After becoming a mom, I picked up crafting as a hobby. Fast forward a few years, and it has turned into an addiction. I love what I do, and it's so easy to have presents for those who you love.
I've put all my crafting experience in this review, so enjoy.
Let's cut some vinyl already!
Read More: How to Make Nail Decals With Cricut. Create customized nail art with your Cricut machine using our DIY guide!
Guys and Gals, we have a winner.
After testing all those vinyl roles, I have found the best that you can do car decals with. There's one big problem with vinyl, it's not that durable. That has changed with the Oracal brand.
They make the best permanent vinyl for car decals out there. There are multiple versions, like the 631, which is for temporary jobs, and then there's the 651, which is the permanent vinyl. It repels water, and it's UV resistant. This means that your car decal will last for many years. The manufacturer promises 5 years, and it's not uncommon to last for longer.
If you want to wrap your car, then the 751 will be your best choice. It's larger, and it's easier to use.
Here's why the Oracal 651 won:
It's thicker than the rest so that it can handle wear a tear for longer.
It's priced affordably, so you can create larger designs without any issues.
Once you put it on, it stays there for many years to come.
Now with all products, there are a few drawbacks as well. For example, the product image is misleading. For this reason, you always need to read the product description, or you get a bad experience. That's the biggest issue with this vinyl that the product image shows more rolls than you're actually receiving.
This is not a big issue with most people.
Just in case you want something cheaper, check out #2.
Read More: Cricut Window Cling VS Vinyl. What's the difference between window cling and removable vinyl? Learn more in this guide!
Pros
For long-lasting outdoor vinyl designs, it's the best. It last for 5 years+
It's a heavier vinyl so that it can face human and nature's force (scratches, scuffs)
It's water-resistant, so it will last you a long time
Cons
It's on the pricier side
It might not work with all vinyl cutting machines
Check Latest Price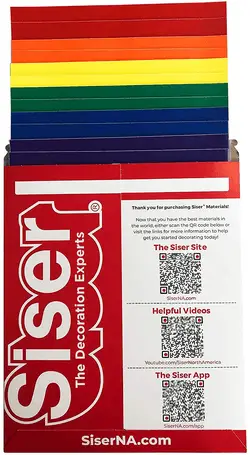 If you are on a budget, you have just found the perfect vinyl for the job. Who says that car decals have to be white or black only? Siser offers some great color options. To bring that extra bling out of the car, this is the best choice.
Besides being affordable, it's super easy to use. Many crafters reported that the weeding is easy, and it sticks well on any surface.
It's a permanent vinyl which means it will last for many years to come. Typically it lasts for 3-5 years and sometimes more. The quality is unbeatable at this price. Even complex art can be weeded out easily and applied without any hiccups.
It's thicker than regular vinyl, so it can handle the weather just fine. I've tested this Siser vinyl with both the Cricut Maker and the Silhouette Cameo 4. They had no issues cutting the vinyl.
The only negative that I could find with this vinyl was that it's not easy to remove. If it's cracked or chipped, then it might be a doozy to remove it.
Other than that, it's a keeper. Many crafters have made multiple purchases because it's that good.
Read More: How to Make Waterslide Decals With Cricut. New to waterslide paper? We discuss everything you need to know about using waterslide paper with your Cricut!
Pros
It's a great vinyl for car decals, and the price is pocket friendly
It's built to last for a long time. It's not uncommon to enjoy it for 3-5 years or even more.
Cons
It's not the easiest vinyl to remove.
Check Latest Price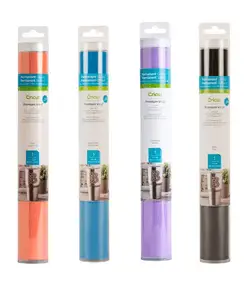 Cricut is known for two things. They are making the best vinyl cutters on the market, and their vinyl is unbeatable.
I've tested many vinyl rolls in the past few days. Cricut stands out from the rest. The thing is that generic vinyl rolls are ultra-thin. This means that if you are creating small designs during the weeding process, it my tear.
That means you will have to redo everything from scratch. With Cricut, it's different. It's sufficiently thick, and it's easy to weed. That's not all that Cricut can do for you. It's an excellent choice for car decals because it's long-lasting. It's not uncommon to last for 3 years or more.
In today's age, most people don't change their cars that frequently, so this vinyl will last while you own the car. The main attraction of this Premium Cricut vinyl is that it's already cut into size, so you don't have to trim the excess. Plus, there are sheets available as well, so that will save you time.
For window stickers, it's the best choice. Not only it looks great, but it lasts for many years. Many customers do repeat purchases because it's worth every penny.
If you want to create car decals and car stickers, this is a safe bet. A friend of mine even made Champagne flutes for a wedding party. It's quite versatile, and the colors are breathtaking.
Read our related article on How to Make Vinyl Labels With Cricut. Get organized with or step-by-step guide!
Pros
Creative people can use these vinyl to express themselves by using Hello Kitty or Star Wars design.
It's the easiest to use vinyl, especially if you have a Cricut machine.
The weeding process is a dream; it's so simple and beginner-friendly.
Cons
It's not the longest-lasting vinyl. You can expect 3 years of mileage.
The rolls are limited to only 48"
Check Latest Price
Conclusions
Yeay! It's the end. We have finished this best vinyl for car decals post. By now, you should know exactly which vinyl is right for you.
Even though I've started with boxes of vinyl, I'm left with only three. These were the very best and the least problematic. I had a blast testing them. As soon as one was not for my standards, I've discarded them immediately. That's why there are so few on my list.
Keep in mind that crafting is popular nowadays, and everybody is grabbing supplies. Make sure you buy it as soon as you land on the page or you risk waiting for weeks on end to refill the stock.
I will love to hear from you if you have any questions or tips.
Until then,
Happy Crafting!
Read our related article on How to Make Car Decals With Cricut Joy! We share everything you need to know to get started.
Frequently Asked Questions (FAQ):
What kind of vinyl do you use for car decals?
From my test, the Oracal 651 is the best vinyl for car decals. As I've said before you want to use as thick of vinyl as possible, so it lasts a long time. The best choice would be Oracal 651.
Is Cricut permanent vinyl good for car decals?
The permanent Cricut vinyl is a good choice; however, it doesn't last as long as the Oracal 651. The average life span is just 3 years.
Is premium vinyl good for car decals?
Premium vinyl is typically a good choice. The best one is the permanent ones for car decals. By far, Oracal is the best choice here.
can you use removable vinyl for car decals?
Yes, you absolutely can use removable vinyl for car decals! Naturally, since they are removable – don't expect them to stay on your car for as long as permanent. Expect removable vinyl to still stay on your car for at least a year.
This is probably the point, like if you're celebrating something and looking for a temporary solution (like a wedding!)
Is Cricut's permanent vinyl the same as 651?
The Cricut permanent vinyl is different from 651. The 651 is produced by Oracal.