Start Out On The Right Foot By Choosing One Of The Best Vinyl Cutter And Heat Press Combos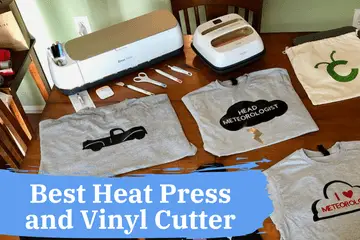 Welcome to the best vinyl cutter and heat press combo awards
After spending the last 15 days in semi-isolation and skipping on cooking, cleaning, and bedtime stories (sorry honey, I will make it up…), I have finally managed to find the best combo between a heat press and vinyl cutter.
I've selected these machines by looking at their speed, usability, user-friendliness, and the amount of space they are occupying.
Look:
For the past years, I've been a stay-at-home mom after quitting my corporate job. I have fallen in love with crafting and have become an expert over time. Even so, it took me this long to find the very best on the market.
After much personal sacrifice, I've found out which the best bundle is to create custom shirts and t-shirts and which one of these can handle sublimation printing with ease. These machines are top of the line and deliver flawless results. This is why I've chosen them.
Let's see who the winner is.
Read More: How to Do Sublimation Printing With Cricut. We show you step-by-step how to get started!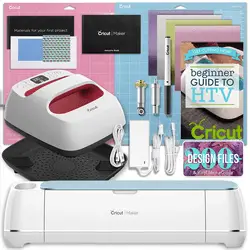 And we have a winner!
The Cricut Maker combined with the Cricut Easypress 2 is the ultimate machine combo to start your own t-shirt business. Best of all, it's the easiest to get started.
The Cricut Maker has the most intuitive and easy-to-use software, which can be operated by my granny from a simple tablet. Also, the Easypress 2 is so lightweight that even if you have arthritis, you can lift it or press it down.
This means that you don't need Hulk's strength to get you going. Besides all this, the Maker is one of the most versatile cutting machines I had ever got my hands on. It's powerful and gentle at the same time. Its 4000g of cutting force can easily cut and engrave balsa wood and chipboard; meanwhile, it can gently cut leather, fabrics, and even tissue paper.
So if you ever get bored of customized T-shirts, there's a brave new world out there to discover. The Maker can easily cut more than 300+ materials. It's the perfect size for a T-shirt with its 12×24" size, which reduces material waste.
The Easypress comes in three sizes, and I highly recommend getting the biggest one since it's a huge time saver.
The heat is evenly distributed to do sublimation prints, and HTV will stick firmly to the shirt. By the way, here's how to do sublimation with Cricut EasyPress if you're new to the process!
This machine combination is price effective, plus you don't need a full shed just to create a few shirts.
Here's why it has earned the top spot:
It's portable. The Easypress is lightweight, and the Maker can be taken on the road as well. Nothing beats creating a personalized t-shirt live.
Super easy to learn and use. The learning curve is almost nonexistent. If you know how to use a tablet, then the Design Software will be a piece of cake.
Fast and Easy. The Easypress 2 heats up fast and delivers perfect quality every time you use it. Even if you have arthritis, you will be able to create amazing-looking personalized t-shirts.
It's more than a vinyl cutter. With the Maker, you will be able to work with 300+ different materials. That's a big bang for your buck.
There are only a few drawbacks:
You will need a constant internet connection to use the Maker. If not, you are severely limited by their desktop app.
The EasyPress works best on flat surfaces, so you can only create clothing with it.
If I were you, I would jump on this immediately. You see, Cricut, for the past few months, had supply issues. So It's not uncommon to have to wait weeks, if not a full month, to get your vinyl cutter. Make sure that you buy it before stocks run out.
Maybe it's too small for your needs, then make sure you check out #2 on the list.
Read our related article, How to Print On Fabric With Cricut for more helpful tips and information!
Pros
Portable and you can amaze friends and family anywhere
Speedy machines both the EasyPress and the Maker are the fastest in the industry
It's not just for shirts and bags there's a whole new world of 300+ materials to explore
Cons
The EasyPress mostly works on flat surfaces
Since Cricut Design Space is web-based you will need a constant internet connection
Easypress 2 – Price
Cricut Maker -Price
#2 Mophorn Heat Press 15×15 and Vinyl Cutter 14 inch Plotter Machine – The best small business heat press and vinyl cutter combo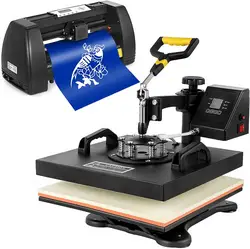 If you want to be serious about starting your own T-shirt business, then this machine combo will separate the boys from the man.
There's a big difference between creating as a hobby or a business. The quantities are larger. This is why I've picked the Mophorn as an alternative.
The cutter plotter is one of the fastest ones on the market, and you don't need to fiddle around with mats. You load your vinyl up, and you are ready to cut. It's this simple.
The heat press has a swing-away design. It's the safest machine to use because you are no way near the superheated plates.
Speed is crucial when you have a few hundred orders to deliver. With this machine combo, you can crank out a hundred custom shirts in a few hours. It's business, and time is money.
The Mophorn comes with a ton of cool features:
When you need speed, then this is your best bet. The heat press is a real workhorse while delivering professional results.
It's safe. The swing-away design keeps your hands away from the heat plate.
It's fast. The plotter doesn't need a mat to stick the vinyl on or off. This alone saves you a ton of time.
It's a simple process. Cut, weed and apply the HTV, and you're done.
As with any machine, there are a few drawbacks as well.
The vinyl cutter and plotter are not compatible with Macs or android. Also, it can only handle paper and vinyl.
The heat press requires a lot of room to operate so that you will need dedicated space for it. These machines are big so that they will be stationary.
If you want to start out on the right foot with your T-shirt business, then you have found the perfect machine combination. You can rest assured that you will offer a quick turnaround time, thus getting bigger profits.
Now, if you feel that this is the right fit, get it since stocks were low when the last time I've checked.
Pros
When you have to customize more than a dozen shirts this is the right choice
The swing away design keeps you safe from the heated surface and it's easy to lift
Super simple process you can't get it wrong even if you try
Cons
It's old-school so it's not mobile or Mac friendly
The heat press requires a lot of space keep this in mind
Check Latest Price
#3 SC2 Vinyl Cutter 34″ and 15″ x 15″ Heat Press Machine – The best commercial vinyl cutter and heat press bundle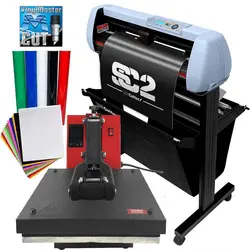 This machine combo is for the big leagues. The SC2 cutter is 32" wide, which will give you the least material waste possible. This can be translated for higher profits for you.
One of my readers reported that they had made more than $20,000 in profit just in the first few months. Talking about playing with the big boys.
The vinyl cutter is fast. There's no time to waste when you have a big order to go through.
The heat press is a clamshell design. The size is just perfect for a T-shirt. It heats up evenly, and you don't have to worry about burning the shirts. There's a timer that lets you know the perfect time to lift the plate to have the perfect shirt ready.
The guys and gals from UScutter have thought of everything. The heat press is covered with a non-stick material so your shirts won't stick or get destroyed.
Here are the great features that this combo provides:
Works out of the box. There's nothing fancy to do. Just plug them in, and you're set.
Beginners and experts love it. There's something that both beginners and experts will get to use.
Etsy shop or doing shirts for your church this machine combination is perfect for it.
Best investment. Both machines are real workhorses, so they will last for many years to come.
Of course, there are a few drawbacks, as expected:
The heat press has a burn-off smell initially. After a few attempts, the room won't be smelly anymore.
Since it's a fast cutter, you can expect it to be loud. It's the price you have to pay for speed and agility.
This machine combination is for those who want to be successful. The vinyl cutter and the heat press have everything for you to start on the right foot. You can easily scale and make the money you are meant to earn.
Now, if you feel that this machine combo is your fit, then jump on it while it's in stock, or you risk waiting for weeks on end.
Read More: How to Cut Glitter Vinyl With Cricut. We show you how to cut glitter vinyl in a few easy steps using your Cricut machine!
Pros
You need the right tools if you want to make a business out of it and it's the best choice
No assembly required in matter of minutes you are operational
Bulk job friendly you can crank out a hundred t-shirts in a few hours
Cons
It's the quietest vinyl cutter to work with
The heat press has an initial smell initially
Check Latest Price
Conclusions
We have reached the end of my best vinyl cutter and heat press combo. By now, you should know which of the options above fits your needs the best.
There's a good solution who want just a starter machine. There's something for those who have only a small crafting space. No matter your situation, one of the machines above will fit your needs perfectly.
It's time to take action. Last time I've checked, there were supply issues, so if the machine is in stock, jump on it immediately, or you risk waiting for weeks on end.
As usual, if you have questions or feedback, feel free to reach out to me.
Until then,
Happy Crafting!
Frequently Asked Questions (FAQ):
Do you need a vinyl cutter for the heat press?
To use a heat press, you won't need a standalone computer. In most cases, the heat press is managed from the machine itself.
What is the best vinyl cutter for a heat press?
The best vinyl cutter with a heat press combo is the Cricut maker paired with the Cricut Explore Air 2.
Can you use a heat press on vinyl?
Yes, it's called HTV or heat transfer vinyl. These are the typical vinyl that are compatible with heat presses.
How do you cut vinyl for heat transfer?
If you value speed and accuracy, then you will need a vinyl cutter for the heat transfer.