Sublimation printing is a popular printing technique used to create vibrant, high-quality images using a method that turns ink into a vapor that infuses into the application surface.
While this method can be quite complex and requires specialized equipment, Cricut has made it simple to do sublimation printing at home!
Let's explore how to do sublimation with Cricut.
How To Do Sublimation With Cricut – The Basics
Choose a sublimation transfer paper. There are various brands, but the Cricut sublimation paper is called Infusible Ink.
Load your design into Design Space, or choose one from the Image Library.
Cut the design on Infusible Ink, weed the transfer, then use the heat transfer tool to apply the design.
The heat causes the ink in the Infusible Ink paper to vaporize, becoming part of the fabric rather than sitting on top.
What Does Sublimation With Cricut Look Like?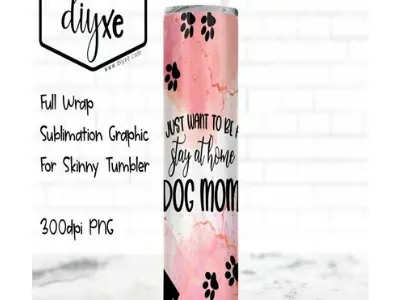 Sublimation using a Cricut machine and Infusible Ink creates designs that become part of the fabric you transfer them to rather than having a vinyl or fuzzy design fused on top of the fabric.
This technique allows you to customize tee shirts, sweaters, aprons, decor pillows, and just about anything you can think of, in a way where the graphic looks printed into the fabric professionally.
The Cricut does not print color onto the transfer paper, so you need to purchase Infusible Ink paper that has a color or pattern that you'd like on it.
If you want to print and cut custom artwork and fuse it into the fabric with a Cricut machine, you have to buy a sublimation printer.
A sublimation printer fuses the ink onto the transfer paper. Then you cut the design on the Cricut and use a heat transfer tool to apply it to your fabric.
This is usually too much of an investment for the at-home crafter, but for small businesses producing custom fabric items, it's definitely the way to go.
Supplies Needed To Do Sublimation With Cricut
There are a few things that you will need in order to do sublimation with your Cricut cutting machine, but they vary depending on the method you choose.
A sublimation printer and some sublimation transfer paper so that you can print the graphics or images on the desired materials (only needed for customized color printing)
Most projects can be done easily with Cricut Infusible Ink sheets, so purchase some in colors and patterns that you want.
Get Cricut Infusible Ink Pens and Markers to add custom color to your design before ironing it on.
You will need a heat press machine to apply the transfer to your fabric.
Get a lint roller to remove fuzz and debris from the fabric before doing your transfer.
Materials to print on. You can sublimate on fabric, canvas, tiles, wood, and other hard surfaces.
Read our related article, Is Cricut Infusible Ink the Same as Sublimation? We compare infusible ink and sublimation so you can see the differences!
Additional Tips for Sublimation With Cricut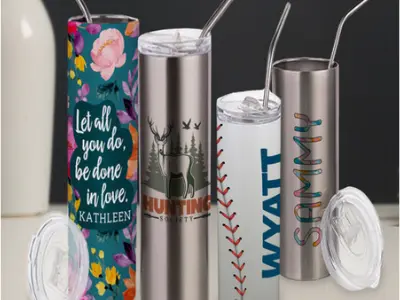 Once you have gathered the necessary materials and equipment for sublimation with Cricut printing at home, there are some additional tips and techniques that can help you achieve the best results.
Carefully read all manufacturer instructions for your Cricut machine and sublimation transfer paper. Be sure to follow all safety precautions.
Experiment with different types of materials to find what works best for your specific needs. Not all surfaces will be suitable for sublimation printing.
Always start by testing your design on a scrap piece of material before applying it to your finished surface. This will allow you to see how the image appears before committing to a final print.
As with any printing technique, there is no one right way to do sublimation with the Cricut cutting machine.
With careful experimentation and practice, however, you can create high-quality prints at home that are sure to impress.​
When done correctly, sublimation with Cricut can produce vibrant and professional-looking prints on a wide variety of surfaces, making it an incredibly versatile technique.
Read our related article on Cricut Infusible Ink Pens and Markers. See how infusible ink pens and markers are used in projects!
How To Do Sublimation With Cricut Step-by-Step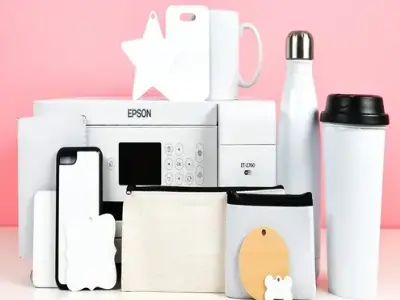 After you have gathered all of the necessary supplies, you will need to set up your Cricut machine for sublimation printing.
To do this, you will need to:
1. Install the correct blade adapter for your Cricut machine. For the Silhouette CAMEO 3, this is the pink blade adapter.
Read More: How Long Do Cricut Blades Last? Learn how to make your blades last longer and when to replace dull blades.
2. Load your cutting mat into your Cricut machine with the surface you wish to print on facing up.
3. Select the "print" setting on your Cricut machine and insert your sublimation paper into the printer.
4. Choose the design you wish to print from your design software and send it to your Cricut machine.
5. Cut out your design and remove it from your cutting mat.
6. Apply a transfer sheet to the top of your printed design, making sure that all areas are completely covered.
7. Place your print on the surface you wish to apply it to, and use a heat press or iron to apply even pressure for 3-5 minutes until the sublimation ink has fully transferred onto the surface.
8. Once the heat press is removed, allow your print to cool for at least 15 minutes before handling it directly. Then, you can remove any excess transfer paper and enjoy your beautiful sublimation print!
The process for using a sublimation printer is similar.
Follow the printer's directions for printing on the transfer paper with sublimation ink before transferring the project to the Cricut for cutting.
Wrapping Up
Cricut Infusible Ink is one of the most exciting products to work with because the designs you can create are infused into the blank you put them on, giving you the most professional finish possible.
While some choose to get a sublimation printer to create completely unique projects, the Infusible Ink products are perfect for most projects and easy for anyone to use.