Do you know how to make hand sanitizer labels with Cricut?
A great way to save money and ensure that you always have hand sanitizer is to make your own, but you'll need to label that bottle so nobody gets it mixed up.
If you print a label with the recipe on it, it will make it much faster to whip up the next batch when the bottle is empty, and guests who use it can know what they're putting on their hands.
With Cricut machines, you can even make professional-looking labels for your homemade hand sanitizer. Let's get started!
Make Hand Sanitizer Labels With Cricut – 2 Ways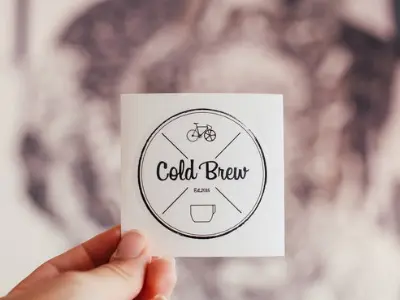 The first way to make hand sanitizer labels with Cricut is to use print and then cut.
You can print the desired text on a sheet of label paper and then cut around the text with the Cricut.
Make sure the text will fit inside the desired label shape. Use the Cricut grid to ensure the label will be cut directly over the text.
Alternatively, using the Cricut Joy Smart Label Paper, cut the desired label shape (use the Cricut to write on it as desired) and then apply it to the bottle.
No Transfer Tape needed.
The surface of the Smart Label paper allows you to write what you like on the label, so you can change the label as needed or use permanent Cricut Joy Ink pens.
Read More: How to Make Paper Sunflowers With Cricut. Sunflowers bring the sunshine wherever they are, and here's how to make your own paper sunflowers using Cricut!
Why Make Custom Hand Sanitizer Labels?
There are many different types and brands of hand sanitizers available.
Some people prefer to use natural or homemade hand sanitizers, while others prefer store-bought brands.
Either way, hand sanitizer is an effective way to clean your hands and prevent the spread of germs.
If you're planning an event, you may want to make personalized labels for the sanitizer bottles so they don't ruin the decorating scheme of your event.
In classrooms and public areas, a customized label can encourage people to use sanitizer instead of walking by.
Cricut makes professional-looking labels for your hand sanitizer bottles.
Read More: Cricut Wine Bottle Labels. If you're into labeling like we are, you'll love this guide on DIY wine bottle labels!
Supplies to Make Hand Sanitizer Labels With Cricut
First, you'll need to gather up all of the supplies that you'll need.
A bottle of hand sanitizer
A sheet of white label paper
Cricut cutting machine
Cricut Transfer Tape
Weeding tools
Steps to Make Hand Sanitizer Labels With Cricut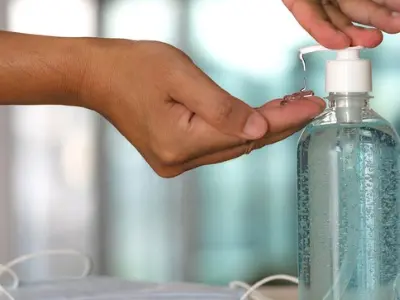 Step 1: Find Or Create A Design 
If you are creating your design, open up Cricut Design Space and get started.
When creating your layout, keep in mind that the label will be wrapped around a bottle so that the design is tall enough to fit the entire bottle or half of the bottle if using a front and back label.
Use a fabric measuring tape to measure the bottle so you know how big to make the label(s).
Step 2: Cut Out Your Design 
Now it's time to cut out your design.
Place your white label paper on the cutting mat and load it into your Cricut machine.
Then, select the material setting for "white sticker paper" and press "go."
Your design will start cutting out. Once it's finished, carefully remove the label from the cutting mat using the weeding tools.
Step 3: Apply Transfer Tape 
Now that your design is cut out, it's time to apply the transfer tape.
Cut a piece of transfer tape slightly larger than your design and peel off the backing.
Then, place the sticky side of the transfer tape onto your design and rub it down with your fingers to ensure that it is stuck on well.
Step 4: Apply To the Bottle 
Now that your design is on the transfer tape, it's time to apply it to the bottle.
Remove the backing from the transfer tape and place it on the bottle, making sure it is straight.
Rub the design with your fingers or a brayer for Cricut to ensure it's stuck on well before peeling away the transfer tape.
Hand Sanitizer Labels Tips and Tricks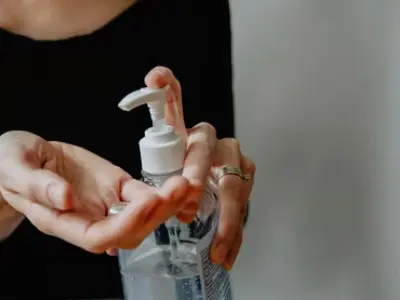 You can put anything you like on your custom hand sanitizer labels.
We like to put an encouraging note on our bottles along with a witty "brand" name for our sanitizer and a list of ingredients.
Here are a few more tips to get the best results from your hand sanitizer labels.
Choose the correct type of labels. You can use vinyl, paper, or fabric to make your labels. If you're using vinyl, make sure to use permanent adhesive vinyl so that your label will stay put.
Decide what design you want for your label. You can use a pre-made design from Cricut Design Space or create your custom design.
Cut out your labels. Once you have your design ready, simply cut it out using your Cricut machine. If you're using vinyl, make sure to mirror your design before cutting it out so it doesn't appear backward on the jar.
Protect your labels. If you're using vinyl, you can simply peel and stick your labels onto your hand sanitizer bottles. If you're using paper or fabric, you'll need to use something like Mod Podge to stick and seal the labels so they don't get ruined during use.
Consider making coordinating labels for your hand sanitizer, hand lotion, and handsoap in your bathrooms so guests can clean, sanitize and moisturize and the bottles won't ruin your decor.
Rachel Ray tackled the topic of homemade hand sanitizer with Dr. Ian Smith. Check out how to make your own. It's easier than you may think!
Frequently Asked Questions
Q: What Kind Of Paper Should I Use For My Labels?
A: You can use any type of paper you like, but we recommend using sticker paper or label paper.
This will make applying your labels to your hand sanitizer bottles easier and they'll last much longer.
Q: Can I Use Other Materials Besides Paper For My Labels?
A: Yes, you can also use vinyl, fabric, or even cardstock. Make sure that whatever material you choose is compatible with your cutting machine.
Vinyl, sticker paper, and label paper will last much longer than other materials.
Q: How Do I Apply My Labels To The Bottles?
A: If you use label paper, sticker paper, or adhesive vinyl they'll stick themselves to your bottles of sanitizer.
Q: Can I Print My Labels Instead?
A: Yes, you can print your labels using a printer and Avery labels.
However, we recommend using a cutting machine like a Cricut to cut out your labels.
This will give you more control over the size and shape of your labels and lets you use more robust materials like vinyl or label paper which will last through contact with water, soap, and sanitizer.
Wrapping Up
Making hand sanitizer labels with a Cricut machine is a great way to add a personal touch to your bottles.
You can use any design or font you like, and the process is relatively simple.
If you're planning to make a lot of labels and stickers, consider getting a Cricut Joy. It has label paper and other materials that don't need a mat for cutting.
Cricut crafting doesn't get any easier!