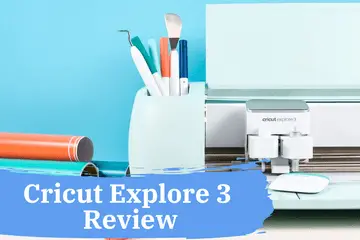 Welcome to my Cricut Explore 3 review!
After spending the last 12 days designing, cutting, sticking, decorating, testing, and talking on the phone with a family member, two days away from an intervention, I'm ready to reveal everything there's to know about the Cricut Explore 3.
Look:
Read along if you want to know the easiest ways to use this vinyl cutter to create decals, vinyl wall art, customized t-shirts, bags, and a few tougher materials. Plus, you can pick and choose among 100+ materials.
In my past life, I was a corporate drone. I've already forgotten about that and have since become a stay-at-home mom to my two kids. To supplement my income, I've gotten into crafting. I've tried and tested many machines and made costlier mistakes than I would dare to admit, just so you don't have to. I'm writing this review so you can determine whether or not this Cricut machine is the right fit for you.
Below, you will find out who is this Cricut machine for and what it can do. Of course, I will also share some of its drawbacks.
Now, let's get cutting!
Pros
Are you fed up with mats? Good news, with this vinyl cutter, no need for sticking and unsticking, and of course, you can get the grind off thanks to smart materials
Its ludicrous speed of 8 inches per second is amazing!
Finally, it makes longer cuts that allow you to create bigger projects up to 12 feet long
Cons
The price jumped way too high for my liking
Its fast speed is limited to smart materials
Who is the Cricut Explore 3 for?
The Cricut Explore 3 is by far the easiest to use and most beginner-friendly cutting machine. Although the previous generation, the Cricut Explore Air 2, was good, this one takes it to another level! Indeed, with this cutter, you're getting plug-and-play.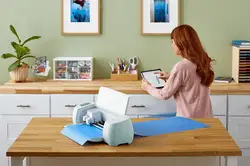 If you're new to crafting, it is an excellent machine to get started. It can handle over 100 different materials, which is more than enough to begin. Plus, you won't get the shiny object syndrome that I suffer from, which makes me jump from one material to the next.
Since it's a robust machine, you can expect to use it for many years to come.
What can the Cricut Explore 3 do for you?
First of all, you're getting access to 100+ materials. Therefore, you can draw, cut, score, and emboss everything from vinyl to chipboard.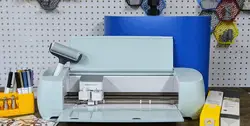 Besides, with the new length and speed upgrades, you can work on bigger projects.
My favorite one is vinyl wall art, a high-priced item that is selling like hotcakes. Plus, you can create thin banners and letterings as well.
Some other favorite markets for me to tap into are the passionate gamer and car-owner markets. People love their cars and gadgets. Thus, I always have a dozen or so orders regarding decals. Let it be for laptops or rides… I make them all. People are so happy with those they come back for more.
Also, if you want to get into the t-shirt business, it is a good machine to get you started as it's fast and quiet. But what else do you need? A heat press, of course! Although, that's another subject.
Whenever you can tap into a passionate market, go for it. Baby onesies are some of my favorite things to do. Plus, baby showers are real moneymakers. Thanks to the new speed upgrade, I can get stuff done lightning fast, which is ideal during such events.
Read our related article on How to Make Onesies With Cricut for a closer look into creating baby clothes with Cricut!
The Cricut Explore 3's shortcomings
This review wouldn't be complete if I jumped over the shortcomings. For some reason, this is actually my readers' favorite section, so I let them have it. I promise I won't disappoint with this one!
My biggest issue with the Cricut Explore 3 is its price. Yes, I understand, it's new and everything. But the brand went overboard with the pricing. While the price difference between the Maker and Maker 3 is $100, the difference between the two Explore machines is $130. That stings.
Here are a few things that could be explaining this price change. First, Cricut has slightly redesigned the cutter by removing the wheel. Although, this can both be a good or a bad thing.
By bad thing, I mean that you are forced to use the Cricut Design space to use the machine, essentially locking out third-party software. In 2021, Cricut even tried to implement a monthly fee, but quickly backpedaled as soon as it got hit by the community's backlash.
On the other hand, it's a good thing because it makes the design look modern and minimalistic. By removing the wheel, Cricut has eliminated the risk of user error.
Another drawback of this machine is the speed upgrade, which is limited to smart materials. Therefore, if you're not using smart materials, aka matless cutting, you are better off with the Explore Air 2.
Also, while the Maker is compatible with 13 different tools, the Cricut Explore 3 is still limited to six. The only reason why this machine exists is to be less expensive than the Maker.
How to get the most out of your Cricut Explore 3?
To get the most out of this machine, you have to use it. It's by far the most beginner-friendly vinyl cutter out there since it's as plug-and-play as it gets.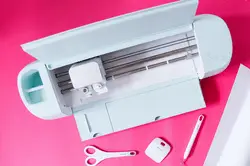 When you unbox the machine, make sure you remove all the stickers and protective film. Then, turn it on and upgrade it. Once that's done, start with the demo cut. If you follow the tutorial step by step, you get an early win, making it a lot easier to continue.
Once done, pick a material and learn to master it. I know by experience how tempting it is to jump from one material to another as I'm trying to control that urge every day. But the only way to get good at something is by practicing the hell out of it.
Vinyl is one of the easiest materials to get the hang of. Plus, you can create so many things with it, from decals to wall art and everything in between, whether small or big designs.
Whenever you're stuck, you can always reach out to the active community. People will be happy to help you out. Plus, there are many YouTube videos to help you over any humps that you may encounter.
What's new with the Cricut Explore 3?
The Cricut Explore 3 got a significant facelift. For instance, the rotary button is gone, and a nice docking space was created to hold a tablet. In other words, it's starting to look a lot like the Maker.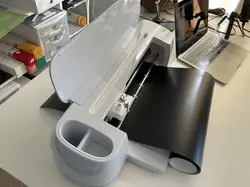 Besides its looks, changes have been made under the hood as well. For example, the motors have been changed, making it quieter than it used to be. This is great because you will be able to work late at night without disturbing the kids.
Finally, with the Cricut Explore 3, you get access to the speed upgrade offered by smart materials. Plus, you can cut up to 12 feet in length. As a bonus, you get a cross cutter to easily cut off the extra material.
Cricut Explore Air 2 vs. Cricut Explore 3: What's the difference?
The difference between the Cricut Explore Air 2 and the Cricut Explore 3 is significant. Here's the bird's-eye view.
First, as previously mentioned, the looks have changed, and it starts resembling the Maker. Also, there has been a big price jump. Now, you can use smart materials which offer matless cutting and 2x speed. Also, the cutting length has been extended to 12 feet.
As a bonus, it got quieter.
Cricut Explore Air 2 vs. Cricut Explore 3: Is it worth the upgrade?
Now, this question is a tough one to answer as it comes down to personal preferences. As I see it, this vinyl cutter is supposed to be in the mid-price range. It's for those who can't afford the Maker 3 and want to cut bigger sizes than the Joy can offer.
Overall, if you value speed and convenience and can charge higher prices to cover smart materials' costs, it's a good investment.
Conclusion
We have reached the end of this review. By now, it should be clear whether or not the Cricut Explore 3 is the right fit for you.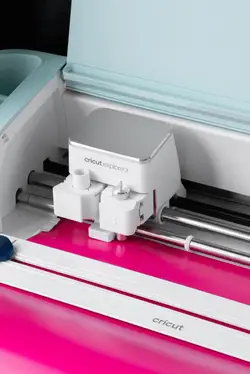 From the looks of things, Cricut has really outdone itself by releasing two machines simultaneously. No wonder there's market confusion. Indeed, the Explore 3 and the Maker 3 are quite similar but also have some key differences.
If you're suffering from the shiny object syndrome and tend to hop from one thing to another as I do, the Cricut Explore 3's handling of 100+ materials will be great for you. 
On a side yet important note, the Cricut products tend to run into supply issues, so grab one before someone else does.
As always, I'm here. So if you have questions or tips, feel free to reach out.
Happy Crafting!
Frequently Asked Questions (FAQ):
Is the Cricut Explore any good?
For a more detailed answer, check out my Cricut Explore review. In a nutshell, it's a good starting cutting machine. It's beginner-friendly and it allows you to cut materials up to 12 feet long. Plus, it's excellent for wall decorations, short banners, and of course, vinyl for all shapes and sizes.
What is the best Cricut machine to buy in 2021?
The best Cricut machine to buy in 2021 is the Cricut Maker 3. It is the latest and best product among the Cricut lineup. You can't go wrong with the flagship model.
What is the best Cricut for beginners?
The best Cricut for beginners would either be the Cricut Joy if you want to work with small stuff and value speed, or the Cricut Explore Air 2 if you want to get started while on a budget. The latter is quite cost-effective and the perfect machine to start a crafting career or hobby.
What is the best Cricut bundle to buy?
The best Cricut bundle to buy is the "Everything" bundle. As its name suggests, it includes everything you will ever need. This bundle comes with huge savings.
What are these new cricut smart materials?
These new Cricut smart materials are accessories that don't require any mat what so ever. For example there's the new smart vinyl which is loaded up in the cricut explore 3 machine and you don't have to use a cutting mat. As you know when you're using a cutting mat you have to always stick your material to it and after that remove it. This is why when you cut without a mat you're saving a lot of time. Plus the cutting mat is an expense. On the other hand these new smart materials are ready to go. My favorite is the new smart vinyl because I use that the most. There are other new smart materials as well like vinyl iron on is one of the new features.
Which are the most popular cricut machines on the market today?
Last year cricut's team released the cricut joy and this year it was time for the cricut maker 3 and also 3 cricut explore (explore 3 cricut). By far the most popular cricut machines are the new cricut explore 3 and the cricut maker 3. This is why i've done the review cricut explore to get you on the right track. The cricut explore air 2 is still alive and kicking.
Should I get the cricut maker 3 or the cricut explore 3?
It's true that the cricut explore 3 is less expensive than the cricut maker 3 and both of them are compatible with smart materials. These new smart materials allow you to cut without a mat. The cricut explore 3 can cut many different materials and you can cut 100 materials and more. While the cricut maker 3 can access 300 materials including fabric, balsa wood, paper, bonded fabric, to name a few. Both of them can cuts up to 12 feet long vinyl (12 foot long). The new explore 3 is compatible with 6 tools while the maker 3 is compatible with 13 tools like cut draw score including cardstock vinyl. So both machines are ideal tools for cutting larger projects and come with everything you need cutting writing related materials. The ability to cut so many different materials is unheard of.
How good is Cricut's design space app?
By far the best feature of Cricut's is the design space app. It's so simple and easy to use that kids and the elderly will be able to learn it quickly.
Do I need a different design space program for my explore 3 machine?
Nope the design space program is unique that it serves all cricut's machines at once. Plus it's online so you don't have to worry about updates.
What are these new smart materials I keep hearing about the explore 3 machine?
The explore 3 machine allows you to do projects that don't need a mat. It cuts up to 12 foot long so you can handle larger projects. You're getting access to 6 tools to cut paper, vinyl iron, bonded fabric, paper