It's So Easy to Make a Profit From Stickers So Find Out Which Are the Best Printers for Stickers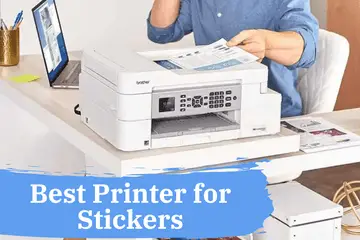 Welcome to the best printer for vinyl sticker making
After spending more than 12 hours testing and trying printers, I've finally found those printers that do an excellent job with stickers.
Before I enrolled in this quest, my hubby asked me what these printers are doing in the garage. Just look after the kids while I sort it out, ok?
Look:
I left my corporate job years ago to be a stay-at-home mom. I've picked up crafting as a hobby, and I became quite good at it. I love what I do, and it's a great side hustle. So many readers asked for printer recommendations, so I've accepted the challenge.
These printers were personally tested by me with a lot of personal sacrifices. I have ranked these printers by cost, print quality, printing speed, and reliability.
Buying a great printer comes down to the space available and your budget. I've looked at these needs and made my top choices accordingly.
So let's print some stickers already!
Read More: How to Cut Glitter Vinyl With Cricut. Your machine just not cutting it? We show you how to cut glitter vinyl in with your Cricut machine (EASY!)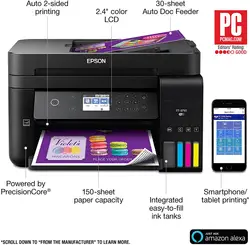 We have the winner, dear crafters.
By far, the best printer for sticker making is Epson. I hate printers with a passion because they are a money pit. This relationship changed when Epson introduced its eco-tank designs.
No more keeping 2-3 cartridges as spares to feel safe that I can finish the print job. For stickers, this is an amazing machine. The most important aspect of any printer is the quality and the speed.
I used to recommend the ET-3750, but the 3850 is the newer model/version. If you look at the price, ironically the older printer is now more expensive, so we recommend the 3850 instead.
The 3850 has a slightly higher page print speed (.5 ppm) and faster double sided printing as well (but who wants that for vinyl stickers lol) than the older model.
Using this Epson printer, you will have flawless stickers coming out every time without the fear of running out of ink. Best of all, you're getting 2 years' worth of ink with the order. Even if you run out of ink which is hardly unlikely, refilling won't cost you an arm and a leg.
There are no wires (besides the power cord). Craft rooms can be hectic sometimes, and we don't need dangling wires left and right. The wireless works perfectly, and you can even print stickers from your phone. How cool is that?
Here are the reasons why it got the top spot:
Almost professional print job. This printer is as close as you can get to professional looking sticker making
It's comfortable and convenient. With the wireless setup, you can print from anywhere, even from your phone or via email.
It's super economical in the long run. Since there are no cartridges, you're not investing in a money pit
Compact. It will fit on most tables, and you will have enough room for your computer and vinyl cutter as well
Of course, there are a few drawbacks
For some, the tray may seem a  bit small. Epson says it can hold 150 pages. In my experience, it's closer to 100.
If you love the latest generation, then you will be disappointed because there's no touch screen.
Since it's an Ecotank, if and an inkjet printer if you don't use the printer often, there is a chance your ink will dry up. It's still the best inkjet printer for stickers though!
This Epson WorkForce is a real workhorse. I have one for so many years, and I had no issues whatsoever. So far, I only had to fill up the black ink once.
If I were you, I would jump on it instantly since it's in high demand and they have experienced stock issues.
Now, if you want something a bit "beefier" and more expensive, check out #2
Pros
Finally a printer that doesn't bleed your pockets dry
Compact it requires only a small space to operate it
Super easy to use even my grandmother would have an easy time with it
Cons
The tray is small holding only around 100 pages
The look and feel is a bit outdated
Check Latest Price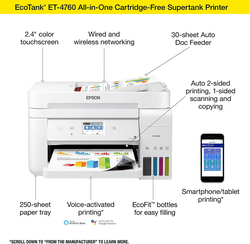 If you don't have much space, then this Epson printer is a lifesaver. It's compact, so you will be able to add a vinyl cutter or two next to it with no issues.
Even though it's a bit pricier than other printers, this Epson comes with a huge advantage. By buying it now, you're getting two years' worth of ink. Not only that, the eco-tank design is light on your pocket. You will get a lot more ink for a fraction of cartridge costs.
How good is this printer for stickers? Well, the colors are perfect, and the quality is unmatched.
It can handle thicker materials like vinyl with ease. The design comes out flawlessly. The colors aren't smudged or anything. It's a small and effective machine.
Here is a list of benefits why it's an amazing investment:
It doesn't burn a hole in your pocket every time you have to print something. There's 2 years' worth of ink in the box.
It's even more economical in the long run. The ink is much cheaper than any cartridge system.
No rocket science diploma is needed. The printer is easy to set up and easy to use.
It's an excellent choice for sticker making.
There are a few drawbacks as well.
The screen is extremely tiny; if you have butterfingers, then you might have difficulties using it.
The ink levels are not that visible. You will need a flashlight just to make sure you have enough.
You can't go any cheaper than this because you will be sacrificing quality. If you feel that this is the right fit, then take the offer and run with it. It's a very popular product, and supply issues are common.
This is number 2 as it's basically the same printer, the same specs and everything, it's just that the 4850 comes with the ability for "ReadyPrint" which is basically a rental program for your printer and ink – not something that I'm interested in!
Read More: Can You Make Stickers With Silhouette Cameo? Put your Cameo to good use with this guide to making planner stickers!
Pros
For sticker making is the best option
Easy to setup and easy to operate no learning curve
It's a huge money saver over the long run
Cons
The screen is small
Ink levels are hard to see
Check Latest Price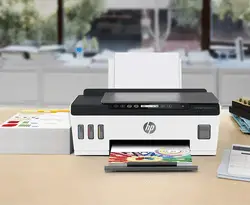 It's the speediest printer on my list.
With 11 pages per minute, it's the fastest printer I've worked with.  What you need to know about this HP printer is that it's super easy to use.
It's so much fun that my 89-year-old aunt is having a blast with it. She's not making stickers, but she is printing many photos, and if she can handle it, so can you.
The software is user-friendly, and you don't really need any tutorials. As for sticker printing, it's an amazing machine. Besides being fast, it delivers authentic colors. It's as close to the digital file in print format as it can be. What else is noteworthy is the long-lasting printed colors. This is some high-grade ink because it remains on the sticker for months to come.
It's Amazon Echo compatible. This means that you can give Alexa commands, and she will have your printed sticker ready in no time.
Here are the top features you should definitely look at:
You can have your stickers printed on the go, thanks to the wireless setup. You can use your phone or Alexa to get the job done.
Refilling is easy, and it's no way you can spill the ink.
Finally, HP turned to the light and endorsed tank printing because cartridges are sinkholes
Two years of ink is a hell of a bonus to get
Of course, there are some negatives for this printer:
The tray is small. For bulk jobs, you will have to reload frequently.
Two-sided printing is off the table. You have to manually flip the pages. This isn't an issue for sticker painting because that's just one-sided.
If you feel that this printer is the right fit, then take action now. Since most people are working from home and teaching from home, there's a big demand for this printer. Last time I've checked, there were less than 3 printers in stock.  Get them while they are available.
Pros
Easy and no mess refilling with ink
Two years worth of ink included
State of the art design clean look and user friendly
Cons
The tray is small
There's no two sided printing
Check Latest Price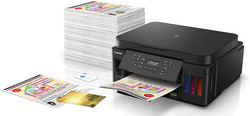 This is the smallest budget and yet still workable printer for stickers I could find. I know not many can afford the big bucks that mainstream brands demand, so this is for you.
What I love about his Canon is that it's compatible with Win and Mac as well. So no matter what software you have, you will be able to print stickers with ease.
It's one of the easiest to use printers so fall. All you need is to scan the QR code, and you have a walkthrough with the system setup.
The print quality is excellent, so you can safely use it for stickers and photos as well. Even better, if you have a Cricut Maker, you can create a puzzle from different pictures.
Read our related article, How to Make Stickers With Cricut Joy. This short guide shares everything you need to know!
Here are the cool benefits that you have to check out:
Since we're talking about cartridge-free printers, this Canon is from the same league. Cheap to maintain and refill.
Printing in full color, you will get around 6 pages per minute which are sufficient for stickers.
This, too, can be paired with Alexa, and you will be able to print with ease whatever you wish.
It's not the perfect printer because I've found a few flaws.
The LCD is so tiny that I almost need glasses to see what's shown on it.
There's no touch screen. So everything is done by pressing on arrows way too many times.
This Canon printer is a great one for people on the budget. Since it's so affordable, no wonder that everybody is grabbing it up, so if you feel that he is the right fit, then jump on it, or you might have to wait a few weeks to get it.
Pros
The most affordable printer for stickers ever made
Finally a tankless Canon printer for the masses
It's compatible with Alexa how cool is that?
Cons
Very small LCD scree
No touchscreen
Check Latest Price
Does Reddit Agree with me On The Best Printer for Vinyl Stickers?
I looked through all the Reddit posts where people were asking the community about the best printers for stickers.
I only counted votes where models were mentioned, and where there were many questions and some mentions of printers.
Keep in mind, I looked at all the posts, and some threads were over 2 years old, so the models aren't the most current.
As you see in the table below, on average, the Ecotank significantly beats out the other closes Pixma line at 42% of the popular Reddit vote, even if you totaled all the Pixma brands together:
Printer Brand
Votes
Percentage
of Votes
hp envy photo 7855
1
5%
Canon pixma ix6820
2
11%
epson xp 8600
1
5%
Epson EcoTank ET-3760
8
42%
Canon Pixma G620
3
16%
Canon Pixma TS6320
1
5%
Canon G6020
2
11%
Pixma TS8120
1
5%
Total Votes
19
100%
Conclusions
We have reached the end of the best printer for vinyl stickers article.  By now, you probably have a favorite machine picket out. Now I've already mentioned this before there are serious supply issues on the websites.
This means that you should buy them immediately if they are in stock, or you might have to wait for weeks.  With all the things going on, everybody is on the market buying printers, so no wonder they are flying off the shelves.
No matter which you choose, you will be in good hands. The stickers will come out perfectly.
And as usual, if you have feedback or questions, you can reach out to me.
Until then,
Happy crafting!
Frequently Asked Question (FAQ):
What kind of printer is used for vinyl stickers?
The printer you need for vinyl stickers is an inkjet one.
What printer is best for making stickers?
The best printer for making stickers is the Epson EcoTank ET-4760. It has everything you need to create high-quality stickers
Can you print vinyl stickers with a normal printer?
To get the best-looking vinyl stickers, you will need an inkjet printer.
What do I need to print vinyl decals?
To create vinyl decals, you will need a vinyl cutter and design software. Also, you will need an inkjet printer, and that's it.