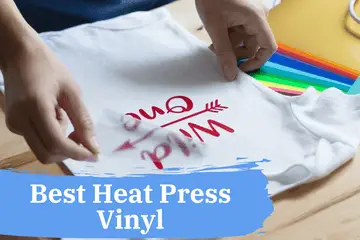 Welcome to the best Heat Transfer Vinyl Awards
After spending more than 14 hours researching the best vinyl and my husband asking me, "honey, why on earth did you buy a lifetime supply of vinyl?" I have found the best vinyl to work with if you're doing heat transfer.
My answer to him was to take care of the kids while I wrap this up. Anyways I'm ranking the top 3 types of vinyl by price, stickiness, longevity, and size.
Look:
No matter how good your vinyl cutter is, if the vinyl is of low quality, the result will be bad. Even worse, you might even lose customers. This is why I have spent all this time researching the very best vinyl on the market today.
After leaving my corporate job, I've become a stay-at-home mom. Also, I've picked up crafting as a hobby. Fast forward a few years, and I'm like to call myself a professional.
Even so, it took me quite some time to test all the brands out there. I've done the heavy lifting for you, so pick any of the vinyl below, and you will be able to create amazing htv designs.
Let's cut some vinyl already!
Read More: How to Make Patches With Cricut. Create your own cute patches for clothes, bags, and more using our guide!
#1 Siser EasyWeed Heat Transfer Iron On Vinyl – The best heat transfer vinyl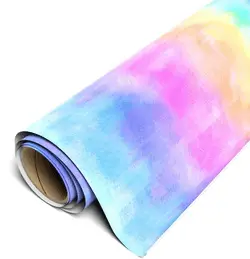 We have a winner. The Siser EasyWeed HTV is the best in its class. No matter if you want to start a t-shirt business, or customize tote bags or even dazzle your friends at baby showers, this HTV will deliver perfect quality every time.
The biggest issue with these vinyl rolls is poor shipping. Siser thought of everything the rolls are transported in tubes. This way, no matter what happens, the vinyl will be safe from harm.
Siser offers high quality and multiple color options, and best of all, it's durable. I've tested this vinyl, and it stays strong even after a full year of washing.
This HTV vinyl is perfect for beginners and pros alike. The secret behind its popularity is the easy weeding. Generic HTV vinyl tends to break with delicate designs. Siser is different. It's long-lasting, and there were no tears.
By far, they have the best support around. I wanted to change my ordered color, and they were fast and efficient. In the end, I got the exact color that I wanted.
If you're just getting started, I have great news it works with traditional irons. I highly suggest upgrading to a professional heat press because it will save you a lot of time.
There are a few drawbacks to this HTV. It's pricey, and this is understandable because it's easy to weed and easy to use. Also, it only comes in small sizes.
If you're looking for a more affordable one, check out #2.
Pros
It's perfect for t-shirts, onesies, bags, and other fabrics
The easiest to weed and apply vinyl you can choose today
It can handle the washing machine well it last for many years to come
Cons
It's on the pricier side.
It caters to desktop vinyl cutting machines because the width is small.
#2 Cricut Everyday Iron-On HTV Vinyl for T-Shirts – Best Heat Transfer Vinyl For Shirts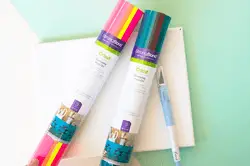 For a T-shirt business, you need the best vinyl possible. This is what Cricut delivered. It's not only economical, but it comes in amazing colors.
Cricut did a great thing with these HTV rolls, and this is that they have cut it down to size. So no more wasted time or wasted materials. For your T-shirt business, you will need a good vinyl cutter and a heat press as well. Forget about using your home iron because you will go nuts if you have to deliver a bulk order.
The vinyl cutter your best choice would be the Cricut Maker, and for heat press, you can go with the Cricut EasyPress 2 or any other commercial heat press.
Before you get started, always read the instructions first and do a few tests as well, it's important to know that the Cricut HTV vinyl is cold peel only. This means that you have to wait for it to cool down completely and only after that remove the transfer tape.
As for best practices, it's a good idea to preheat the shirt, and once the application is made, do the other side for a few seconds.
It's not the easiest HTV to work with. You will be in a world of pain if you have a home iron because it's impossible to get the temperature right on those things.
The Cricut Everyday Iron-on HTV vinyl is by far the best choice for shirts.
Pros
The color selection is amazing. You can truly create the best designs
You make the right choice with this vinyl because it's super durable
Whenever you're stuck, there's a strong online community to get you out of a jam
Cons
Large rolls are limited to basic colors
The transfer time is longer, and a higher temp is needed.
#3 V2 Pro Hyper Glitter Heat Transfer Film Vinyl HTV – Best Budget Heat Transfer Vinyl (HTV)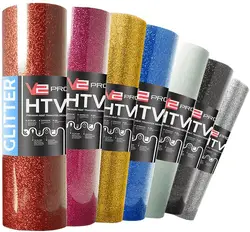 If you're on a budget, then the V2 Pro is your best choice for HTV. This vinyl comes with many pros and one big con and more than a bit later.
The colors are simply beautiful. No matter what you want to customize, it will bring that extra bling to it. The glitter roll has blown me away. I mean, it looks so cute on onesies that I can't have enough of them.
Warning! When you're cutting the glitter vinyl, make sure you place the glitter side down. I know it's contrary to our experience, and this is how V2 has designed it. Otherwise, you might get the cut wrong.
I love this vinyl because it's excellent for mother's day's gift. I have sold a truckload of mugs and shirts before mother's day. It might be the glitter, or it might be something else, and it was selling like hotcakes.
The vinyl is resistant. As a test, I have washed a few customized clothes and the vinyl sticks strongly. Almost forgot to mention. The V2 HTV is one of those few types of vinyl that are hot peels. This means that you don't have to wait for eternity just to peel off the transfer tape. As soon as it's cooled down to touch, you can peel it.
The biggie with this vinyl is that it's hard to weed. You will need some experience with it, or you will struggle. However, it's the cheapest one on the market that's worth it.
Read More: How to Use Cricut Glitter Iron On Vinyl. We show you how to apply glitter iron-ons to your projects!
Pros
If you're looking for an affordable and fun to use, this is the one
High-quality vinyl that lasts through many wash cycles
Cons
It's not the easiest to weed.
Conclusions
We have reached the end of this article. By now, you should know exactly which the best heat transfer vinyl is for your needs.
I have tried and tested many brands, and I had to eliminate many of them because they were garbage. This is why I have a short and sweet list. From the top3, you can easily find what suits your needs best.
Just a heads up, since crafting is on the upswing, supplies have been running out of stock. So if you see them being available, get them because the waiting time is long.
As usual, if you have tips or tricks to share, let me know. I'm always open to suggestions.
Until then,
Happy Crafting
Frequently Asked Questions (FAQ):
Is Siser vinyl better than Cricut?
It comes down to personal choice. You get more vinyl with Siser, and Cricut offers the most color options.
What is the best quality heat transfer paper?
There are numerous great heat transfer papers to choose from AVERY, Koala, PrintWorks.
Is Siser vinyl good?
From my testing, Siser vinyl is the best choice for HTV
How well does heat transfer vinyl hold up?
Most heat transfer vinyl holds up to many washes and years to come. Also, keep in mind you get what you pay for.