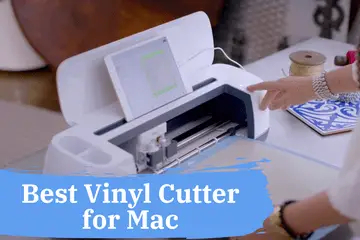 Welcome to the best vinyl cutters for Mac Owners
After spending 14 evenings of trying and testing, I finally found the perfect cutter for Mac users. All this research came at a cost. I had to skip bedtime stories, so my hubby had to fill in for me. Thank you, honey, and I'll make it up to you.
I'm ranking the 4 best vinyl cutters on the market that are compatible with Macs based on ease of use, materials options, precision, speed, and noise levels.
Look:
Finding the perfect vinyl cutter that's compatible with your Mac comes down to two things: Your budget and your artistic needs.
I've eliminated all the Stone Age vinyl cutters, and only the very best remained. Having a Mac is not a disadvantage because you will create amazing greeting cards, decals, stencils, and many more.
Let's cut something…
In A Hurry? Here Is Our Top 3 Recommended Vinyl Cutter for Your Mac


Beginner-friendly: The ultimate vinyl cutter for beginners, hobbyists, and home business


For True Artisans: The only choice for artisans and tinkerers needing total creative freedom with any material

For Commercial Use: A game-changer for professionals. Fast, powerful, and accurate – handles projects up to 10-feet.
#1 Cricut Maker – The Best Vinyl Cutter for Mac Users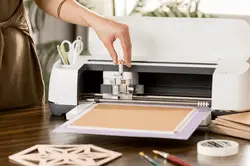 Fellow Crafters, we have a WINNER!
After all the tests, the Cricut maker came out as the ultimate winner. Indeed, no other vinyl cutter came even close to this baby.
Since you're a Mac user, you are in for a special treat. With Cricut, you don't have to download any type of software since everything is online.
You can control your Cricut Maker from your favorite browser. So there are no risks of viruses or having outdated software. The software is called Cricut Design Space, and it's so simple that even my grandma could use it on a tablet.
It can't be any simpler than this. Plus, there are a ton of how-to videos if you get stuck, which is not likely.
If you're an expert crafter or even if you're a beginner, the Cricut Maker is an excellent way to start on the right foot. Maybe you want to start your own Etsy store or show off your works on Instagram then. If I were you, I would be going with this baby.
Speaking of babies, you can create so many cute things for a baby shower. With the Maker, you will be able to create personalized shirts and onesies. Besides this, you can personalize cups, mugs and create signs with ease. You can cut fabric and leather s you can amaze your friends and family with your creativity.
Here's the reason why it's #1 on my list:
Compatible with a Mac: For Mac's is the perfect vinyl cutter. There's no software to download, and worrying about keeping it up to date.
Intuitive and fun: The Cricut Design Space is easy to use. Everything is basic so that you can get up to speed in no time.
It cuts everything: You name it, and Cricut Maker will probably be able to cut it since it support over 300+ materials.
Quiet, fast, and precise: When I put the Maker head to head with other cutters, it became the fastest and most precise machine. Plus, it's a lot quieter than the rest.
The only drawbacks that I could find were:
Since the software is browser-based you will need a constant internet connection. There's an offline app that you can use, but that's severely limited.
The Cricut Design Software is free, and the special fonts and designs are hidden behind a paywall.
If this machine is too much and you're looking for a more affordable one, make sure you check #2 on my list.
People are buying it like crazy so hurry and get it because it will be out of stock soon.
Pros
Easy to use, the learning curve is minimal.
Can cut 300+ different materials
It cuts the smallest shapes with perfect precision.
Materials like vinyl, paper, fabric, leather, and others are handled with ease.
If you want to create vinyl decals, craft stencils, design cards, and more, all this can be done using just the Maker.
Cons
Design software online only, doesn't work offline
Hidden fees when you use the software (optional purchase)
Check Latest Price
#2 Cricut Explore Air 2 – The Best Beginner Cutter for Mac Owners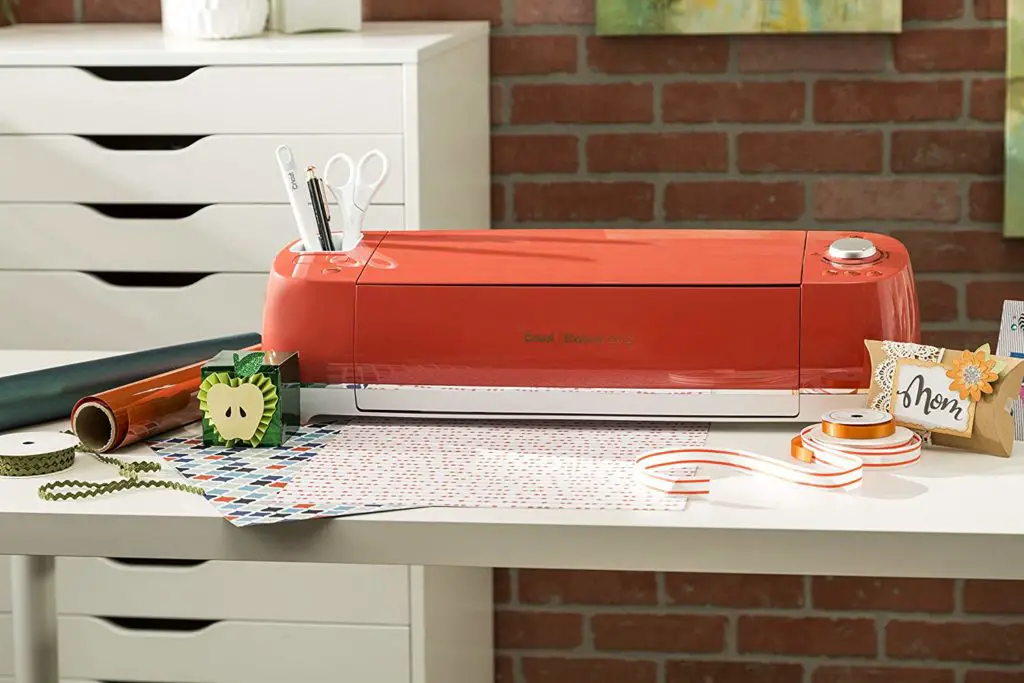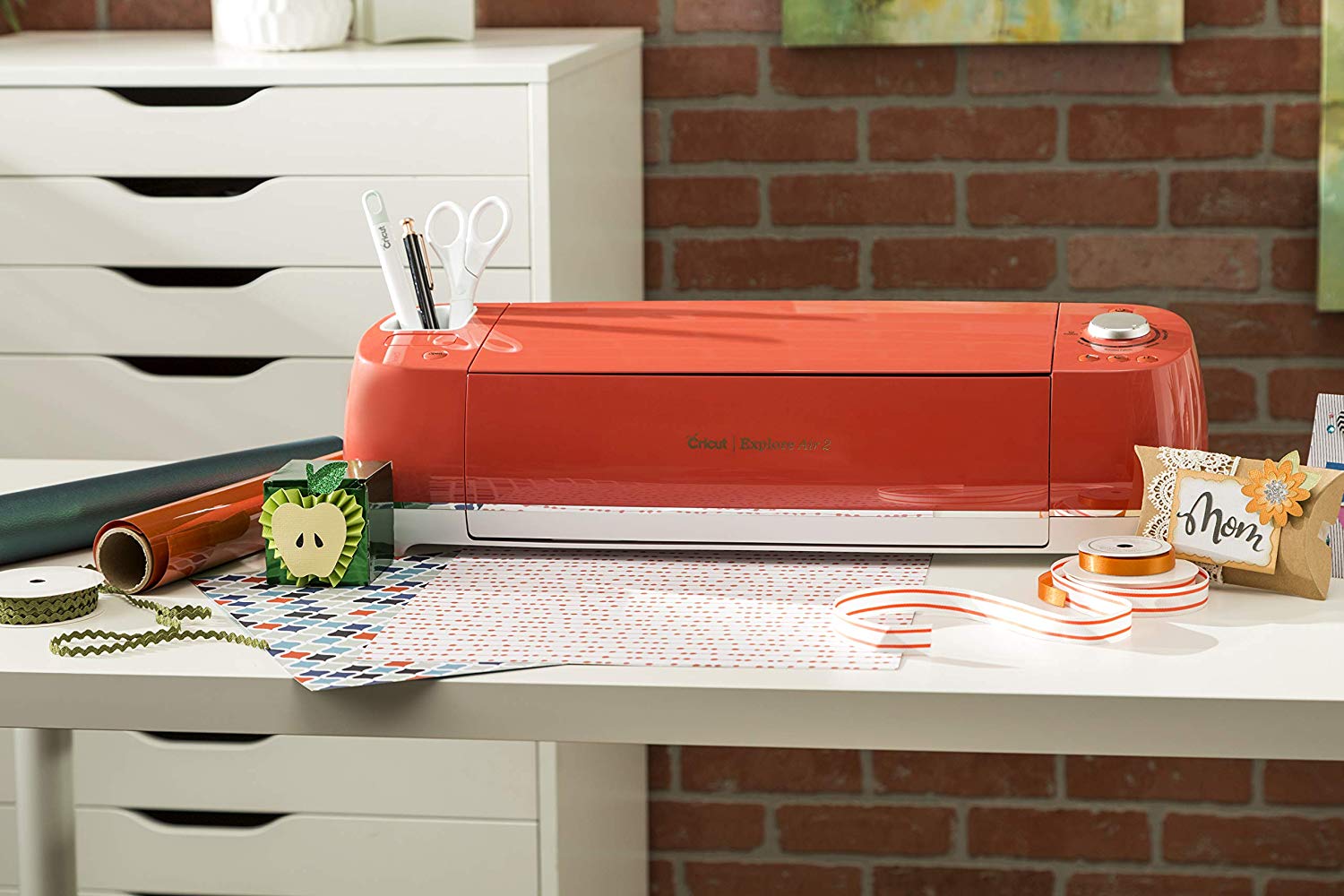 Cricut understands beginners and people on a budget. This is why Cricut Explore Air 2 exists.
You can't go wrong with this vinyl cutter if you're just starting. It's fully compatible with any Mac that you have.
After unboxing the Explore Air 2, you will be ready to cut in just a few minutes. Let it be greeting cards or vinyl decals. This machine will do a fabulous job with them. Crafting doesn't stop with paper or vinyl. You can cut thicker and harder materials since this machine has 400g of cutting power.
Compared to the Cricut Explore Air 2 programming, the thermostat is hard. All jokes aside, it's that simple to use.
Here are the reasons why it's the runner up:
Granny Friendly: If grandma can use it with ease, then you won't have any problems whatsoever.
Great Multitasker: With the Cricut Explore Air 2, you can do two things at once. You can draw and cut at the same time without the need to change between tools.
It's affordable: It's one of the most budget-friendly cutters on the market. With this low price, you will be in profit in a matter of weeks.
The Cricut Explore Air 2 is compatible with Macs; and it's affordable and it's super easy to use. Best of all, you can't go wrong with this vinyl cutting machine.
The drawback that I've found:
It's missing the specialized blades that the Maker has. This means that it can do almost the same things as the Maker, only it's not that accurate.
The Design Software is free, and the rest of the goodies like fonts and creations are hidden behind a paywall.
Pros
Can cut 300+ different materials. The Explore Air 2 does a great job with paper, vinyl, and other materials.
Easy to learn and easy to use
Design Space is brain-dead simple to use with a minimal learning curve.
Cons
Design software online only, doesn't work offline
Hidden fees when you use the software (optional purchase)
Check Latest Price
#3 Silhouette Cameo 4 – Best Value Vinyl Cutter for Mac Fans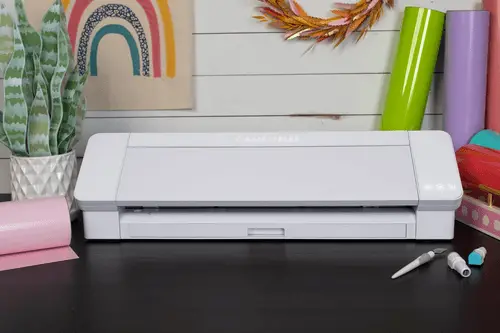 We have another winner right here.
The Cameo 4 is the strongest vinyl cutter on the market which means you can do an amazing job with cutting chipboard and balsa wood.
Besides being strong, it can handle gentle materials with finesse. And you have probably guessed that it's compatible with your Mac.
The Silhouette is a bit different on the software part. You have to install the software. Typically you will be getting a CD with the machine. Who has a CD reader nowadays? Just in case you don't have one, no worries, you can download it from the official website.
 Now, what can this vinyl cutter do for me?
I'm glad you asked. This is the ideal cutter for those who want to work on bigger projects without spending a fortune on industrial vinyl cutters. Instead of cutting a few inches of materials, the Cameo 4 can handle up to 10 feet thanks to its built-in feed roller.
It's the ultimate versatile machine. Cutting the smallest vinyl stickers up to 10 feet long advertisements can handle everything you can throw at it.
They have learned from previous mistakes, and they have developed their specialized blades just like Cricut did.
If you want to cut thick and strong materials like chipboard or balsa wood, you can use 5000g of cutting force. Now, if you want to cut fabric or leather, you can use the rotary blade. The Cameo 4 delivers on s many levels.
Here are the drawbacks:
For some odd reason, the loading and unloading arrows are switched. And it's not just me many people who have reviewed it have noticed.
The software was built in the marketplace, which is mostly paid. Plus, if you want to export your designs, you will have to sign up for a monthly subscription.
If you love what you have heard about the Silhouette Cameo 4, then you need to hurry since it's almost out of stock. Get it now.
Pros
The most versatile vinyl cutter ever made. With 5000g of cutting force, it can cut up to 3mm thick.
Its built-in roller feeder, which allows you to handle big projects up to 10 feet long.
Its blade detection system, which avoids messing up projects.
Cons
The loading and unloading arrows are reversed.
If you want to export designs, you have to upgrade from the standard license.
Check Latest Price
#4 Cricut Joy – Best Portable Cutter for Mac Users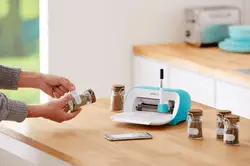 The Cricut Joy is the ultimate play vinyl cutter. Nothing beats the feeling of accomplishment than showing off your skills live in front of friends and family.
Since it's part of the Cricut family, you can easily use it with a Mac. Since the Cricut Desing Space is web-based, any Mac will be compatible with it. Best of all, you don't have to update because it's done in the background for you.
This little thing can handle up to 20 feet of material. Now, if you have to cut multiple stickers or vinyl, then it's a handy tool to have.
It's lightweight, so you can easily carry it wherever you're going. Did I mention you don't need any wires whatsoever? Yes, the Cricut Joy indeed works through Bluetooth, so there are no dangling wires.
The Cricut Joy, besides being portable it's the ideal cutting machine for custom card makers. There's nothing that telegraphs thoughtfulness other than a personalized card.
Cricut came up with a bunch of new things like smart materials. You will be able to cut without the use of a mat. That's one less of an expanse you have to worry about.
The drawbacks of the Cricut Joy:
There's no beating around the bush. It's an expensive machine. Sadly it can only cut just a few inches wide, and the price is damn near where Cricut Maker is
The accessories are expensive as well. Previous Cricut models had the lowest prices on the market.
As you have seen, the Cricut Joy has many things going for it and it has a few drawbacks. If you feel that the Joy is the ideal machine for you, then take action now because stocks are low.
Pros
It's a great choice for kids and school crafting projects because it's so easy to use.
Lightweight and small great for people on the move.
You can get any project done in 15 minutes or less.
Cons
The accessories are overpriced.
Nor the blade or the cutting mat can be used in other Cricut machines.
Check Latest Price
Conclusions for the best vinyl cutters for Macs
Fellow crafters, we have reached the end of this post. By now, you already know which vinyl cutter is the best fit. I know everybody has different needs and wants. This is why I've chosen 4 different options.
Maybe you want a vinyl cutter that can do anything and everything. Or maybe you are a beginner, and you don't want to venture into the deep. Maybe you want something portable and easy to use, then there's a perfect cutter for you above.
Here's the hard truth stocks are dwindling. I'm looking at the item list daily, and there are many occasions when they are out of stock. So if your preferred machine is in stock, jump and get it, or you risk waiting for weeks, if not more.
As always, if you have questions or tips, let me know.
Until then,
Happy Crafting!
Frequently Asked Questions (FAQ):
What vinyl cutter is compatible with Mac?
The best vinyl cutters compatible with Macs are Cricut Maker, Cricut Explore Air 2, Silhouette Cameo 4, and Cricut Joy.
What is the best cutting machine for vinyl?
The best cutting machine for vinyl by far is the Cricut Maker.
Does VinylMaster work on Mac?
Yes, the VinylMaster is compatible with Macs. All you have to do is download the MAC VinylMaster Cut Contour Cut Software.
What is the best free vinyl cutting software?
The best free vinyl cutting software would be Sure Cuts A Lot (SCAL). As a runner up I would mention Inkscape and Easy Cut Studio.