These Are the People Who Inspire Me Everyday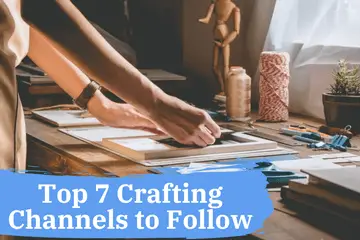 Here's my secret stash…
Many of you, dear readers have contacted me regarding inspirational figures in the crafting field.
Before the holidays, I thought I would share with you my favorite people who I learn from. You see most of the creative ideas that I come up are not mine.
Look:
Here's my painfully honest admission. I pick up ideas from Youtube and Pinterest. I know the road to becoming good crafters is long and hard. There's a steep learning curve no matter if you're using vinyl cutters or other tools. 
Luckily some people have paved the way for us. By following these gals, you will be able to cut down on trial and error big time.
Let's get this award ceremony started:
#1 Alexis Middleton AKA Persia Lou​
 
Alexis isn't someone who has millions of followers, and she still made it top of my list. She's full of energy, and I can feel her creativity beaming through the screen.
No matter if you're interested in crochet or vinyl cutting you can learn a ton from her. Besides these skills, you can learn how to create amazing DIY home décor, paper crafts and vinyl crafts.
She's the perfect person to get kids involved in crafting. Her projects are so simple and fun to do. On a rainy afternoon, crafting is a great boredom killer. Show some love for Alexis and her craft.
#2 Christina Dennis AKA The DIY Mommy
 
She's not your average mom. She's super mom when it comes to crafting. Not only this but she's budget-friendly, so anyone can find something cool to craft on her channel.
I have fallen in love with her renovation and before & after videos. She can turn a small dim-lit place into a palace. Don't get me started on the organization she has tips and tricks up her sleeve.
Warning! Don't go on her recipes page because you will regret it. You should definitely stay away from the dessert section. I've tried a few easy recipes, and they got me hooked to try the others. The apple butter recipe was a home run.
#3 Kimberly Coffin AKA Sweet Red Poppy
 
If you're stuck with your Cricut and nothing seems to work she's the gal for you. She has great tutorials about Cricut vinyl cutters.
She lives and breathes Cricut. Following her tutorial about Cricut's infusible ink makes the job all too easy. That's just one of her videos she has many more to bring you up to speed.
Holidays are the hardest. Luckily Kimberly has some great ideas for you to try. Just visit her site and check out her holiday crafting tips. The Halloween mask was simply gorgeous, and her Valentine ideas have ignited my marriage.
#4 Jennifer Marx AKA Jennifer Maker
 
Jennifer is the real deal if you want something done with paper or vinyl. I love her videos she's full of joy and energy. I thought I'd seen it all and then she surprises me with personalized socks.
I couldn't resist, and following her lead, I have customized a few of my husband's socks. He wasn't that amused, and the kids had a blast.
Besides vinyl and paper, she has great tutorials on glass etching. There's the hard way, and there's Jennifer's way. I vote for Jennifer all the way. Finally, I have to mention her 3D paper toys. Even though it's not my thing, I managed to create the penguin bomb with ease.
#5 Melissa Viscount AKA Silhouette School
She's the absolute expert when it comes to Silhouette machines. Not only she has dozens of tutorial videos she has written 10 books about Silhouette cutters.
Melissa has the best guides about Silhouette machines. No matter what kind of snag you have, her videos will get you through. Best of all she's not a one-trick pony. You can learn everything about heat presses, printers and many more.
Here are the biggest issues with most experts; there's no beginner's guide. With Melissa, it's different she has a section just for those who are new to crafting. He videos will help you get your feet wet and get those amazing crafts done fast.
#6 Amy AKA Leap of Faith Crafting
 
Amy specializes in Cricut machines. From her videos, I've learned so much. Thanks to her tips now, I can create a puzzle from a picture. No more waiting weeks and paying a small fortune to get one done.
Another cool trick I picked up from her was how to customize baseball caps. As you know, applying HTV on a cap is not the easiest thing in the world. Amy's tricks and tips got me through a few humps.
Amy being a mom, is always looking to save money. She has a dedicated section on her site about frugal living. I was surprised by how much you can save if you make things by yourself.
 
Paige is my last darling on my list. She's my all-time favorite British crafter. Paige has a keen eye for fashion. She's multi-talented. Besides teaching us everything, there's to know about Cricut, she has great fashion tips as well.
Vinyl cutting, sewing and fashion is there anything that she can't do?
I can't wait to see how 2021 unfolded for her. You see on the 1st of January she has posted her goals and resolutions for this year. I found her blog a bit late and thanks to this post I'm planning to do mine and sticking to it all through 2021.
Thanks for reading this post.
If you feel that I've missed someone or you have other favorites please share with me. I might update this list, or I will create a new one. Maybe a second award ceremony will help other up and coming crafters and content creators.
Happy Crafting!