What's All the Fuss About This Cricut Easy Press Review?
Click Image to see Reviews and Latest Price
It's nothing more than an ironing machine…
Cricut is a well-known and well-respected brand. So what are they doing in the ironing business?
Do you need a fancy iron? Is it just a fresh design or there's more to it? All this and more will be covered in this review.
I have two rules before I start a job. First, I create sufficient space for me to work. Without space, it's tough to get things done on time. And I lose a lot of time by shoving things left and right. My second rule is I should always have the right equipment. Again this comes down to time with a lousy tool I can waste time and eventually lose my patience.
Look:
After getting the Cricut Easy Press, I've done a bunch of tests to see if it stands up for the hype.
You can't argue it's a pretty machine. But can it face off an industrial grade one? If you are familiar with my style, you will know that I leave no stone unturned and as always I will cover the negatives as well.
Let's get started with this Cricut Easy Press Review.
Sale
Cricut Easy Press Versions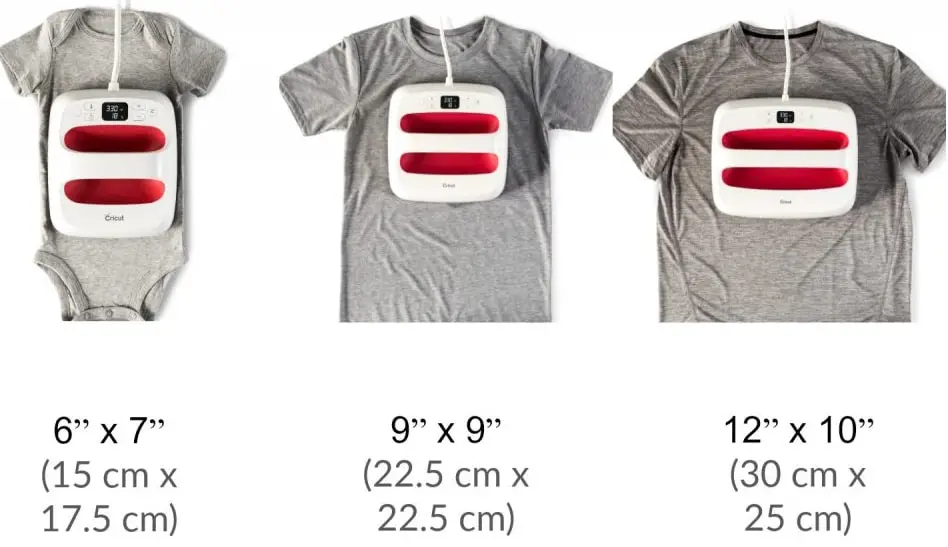 The latest version of the Cricut Easy Press machine is version two. I will be talking about that because it's the freshest. To my knowledge, the first version is in the process of being phased out. In a bit, I will compare the two versions side by side. So if you are planning to upgrade, you will see if it's worth it or not.
First of all who's the Cricut Easy Press for?
This depends on what you are working on. Do you add decals to fabrics or different materials? Then the Cricut Easy Press is for you. If you are stuck with your maker here's a perfect step by step guide on how to use the Cricut Maker.
Could you use it as an easy and safe portable iron for your own clothes but why? This machine was created specifically for crafters who are working in the iron on niche.
If you are a newcomer, don't sweat. There are useful tips that will get you started. Before I got my Cricut Easy Press, I looked on the market, and I didn't find a better product when it comes down to value and price.
Why is the Cricut Easy Press different than the rest of the ironing tools out there?
Let's look at a traditional iron and the Cricut Easy Press. First of all, new ironing machines tend to have holes in them so they can let steam out. This is good for clothes, but it's pretty bad for iron-on vinyl.
You see those small holes don't are cold. So if you are using a traditional iron to stick vinyl on a t-shirt you need to move it left and right plus press down hard. The time it takes to make sure you have ironed a shirt is more than using an industrial machine or Cricut Easy Press.
Imagine if you press it down and leave it for 30 seconds. If the vinyl happens to be right under a hole, it won't stick, and when you remove the transfer tape.
Two things can happen: you catch it at the right time, and you can put the transfer tape back and start the ironing process all over again, thus losing time. Or it gets worse you can destroy the design and losing the shirt. That's an expense that can be avoided.
Cricut Easypress Compared to Industrial Heat Presses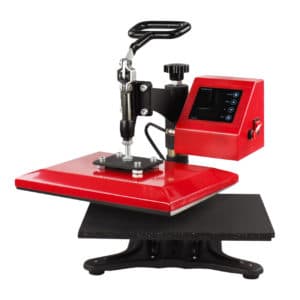 Let's look at industrial scale irons. These supposed to be the best of the best. Well, not quite. There are a few drawbacks. I can think of two: one they cost a lot plus you need a lot of room to maneuver.
And if you have seen one industrial iron you have seen them all. There are no holes, so the heat is universally dispersed. This is good because you don't have to move around that heavy plate.
This is where Cricut Easy Press comes into play. It brings the best out of the two worlds. It borrows certain features from home irons and industrial-grade ones.
Plus it looks cool. The sleek white and that red colors make it pop. If you own any Cricut machines, you know how much importance they put on the looks. I wouldn't miss the mark if I said that they are the Apple of the Crafting/ Vinyl world.
Just take a look at their Cricut Maker machine. It's a beauty to look at. And what's under the hood is even more impressive. To date, it's best tabletop vinyl cutting machine on the market. Also the earlier version which is the Cricut Explore Air 2 is a formidable contender. If you need a bit of guidance check out my how to use explore air 2 guide.
But if you're interested in vinyl cutting or the Cricut maker check out my post here. Or if you like to see the best vinyl cutters click here. I've done a series of reviews and comparison tests as well.
Let's get back to our Cricut Easy Press review.
As you have seen on the pictures, the Cricut Easy Press doesn't have any holes what so ever. This means that the heat is dispersed evenly. All you have to do is set the right temperature to wait for the machine to reach it. Place it on the desired spot. Then add medium pressure to it and wait for the designated seconds. You're done.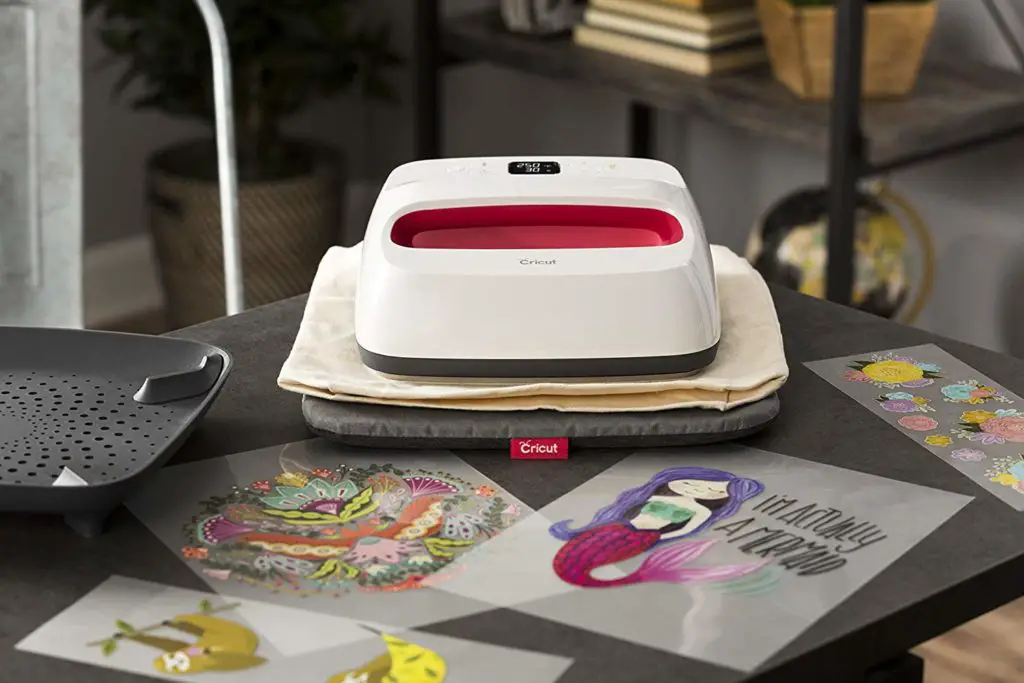 Click Image to see Reviews and Latest Price
Cricut Easy Press Overview
Weight and Portability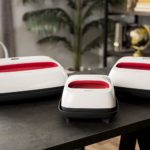 Did I mention that the Cricut Easy Press is light? You can easily hold it with one hand. This makes portability one of its best features.
Since it's easy to carry, you can go to baby showers or any events and create your designs live. Nothing makes a crowd gather and get their purses out than a live demo.
All you need is one maybe two people to stand and watch you work, and in a matter of minutes, people will be swarming around you placing orders.
Let's take a look at the machine itself.
As I mentioned before, Cricut Easy Press 2 is getting reviewed in this article. This is their latest version. In a bit, I will tell everything there's to know about the differences between version 1 and version 2.
At the moment there are four sizes to choose from. There's an adorable iron called the mini for which I will dedicate a separate part of this review.
As I mentioned earlier, the Cricut Easy Press is aesthetically pleasing. The handle is sturdy, and you can easily press down with one or both hands.
How to use the Easy Press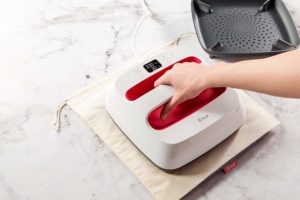 Let's take a look at the controls. You plug in your machine and press the power button. After that, you set the desired temperature. But first, get out the recommended settings guide, so you know what the ideal temperature is for your project.
The Cricut logo will be orange until it reaches the desired temperature. When the logo turns green, it will make a sound signalling it's ready. You place the Cricut Easy Press on the material you're working on and apply medium pressure.
Don't forget to press the countdown button. The machine will signal with a sound when you should lift the iron.
What I've noticed as a small difference between the two versions is this: the newest has a brighter display. This doesn't affect performance in any way or form.
With the plus and minus buttons, you can set the desired temperatures. And by pressing on the thermometer, you can change the settings form Fahrenheit to Celsius. There's the timer that lets you know when the right time to lift the circuit off the material is.
It has a protective plastic case where you are storing the machine. The engineers who have created this machine looked at it from all angles. You can't burn yourself because the protective case covers all sides. Plus you can put your hand directly below the protective case, and you won't burn it.
Here's an important note to remember. Even if it's safe, you should keep an eye on kids if they are around. As you know, kids are curious, and accidents tend to happen.
What Should You Use the Cricut Easy Press On?
The primary materials to use it on is fabrics. It's hands down the best machine to apply vinyl on them. Also, it's a great tool to use on any flat surface. For example, you could add personalized decals on plates. If you feel adventurous, you could use it even on mugs.
For fabrics, this is the ideal machine. It heats up quickly. It doesn't take more than 60 seconds, but it depends on which machine you have purchased as you know, the bigger the machine, the more time it takes.
Plus their new feature is that you can heat it to 405 degrees Fahrenheit.
Good to Know Before You Buy
Are you considering buying a Cricut Easy Press?
First of all, decide on what kind of material and what size of materials you will be using on. If you are mainly focused on baby stuff like onesies then getting the biggest 10X16 inches would be overkill.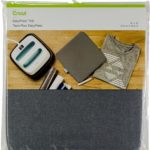 Do you remember my second rule? Have the right machine for the job. If you are focusing on small designs, then the smaller machine will suffice. Now if you are working with adult T-shirts, then the biggest is the best.
Also, it comes down on the vinyl design as well. If it's a full A4 format, you need to apply the machine multiple times.
For example, if you are covering the whole T-shirt, then you will need at least four presses if it's a smaller design that fits on less than 10X16 than only one pressing should do it.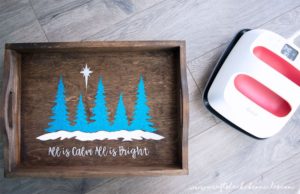 Are you applying vinyl to wood or glass? You can use the Cricut Easy Press with ease. Don't forget to adjust the setting s for the right material.
No reviews would be perfect without Cricut Easy Press negatives.
First of all, it's not the cheapest machine on the market. Still, it's far superior to others. I believe the price is well justified because it saves a lot of time with the ironing process.
Anyways this is the negative part, not the justification part.
You need to buy the mats separately for the Cricut Easy Press. Maybe there are some deals where you can save some money on them. Of course, each size has its equivalent mat.
Should you buy the same size as your Cricut Easy Press?
Well, it's a tough choice. Yes and maybe the biggest one is good as well. This will help you if later on, you will be working on a bigger surface.
Cricut Easy Press Limitations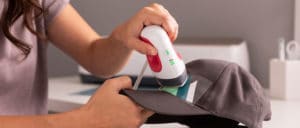 The biggest issue with Cricut Easy Press is that it can only work on flat surfaces. Adding vinyl to a baseball cap will be a real pain in the neck.
I mean I've seen some solutions but either way you will be losing a lot of time doing those jobs. One of the tricks I've seen used was adding a towel to fill the baseball cap out. By the time you get it right, many minutes will pass.
Forget about doing this for bulk orders. It will be extremely difficult. Another place where Cricut Easy Press falls short is the mug department.
Since it's not a flat surface, it will take some time to get it right. Plus you will lose time against a professional industrial machine.
You will have to use the smallest Cricut Easy Press heat press machine, and you will have to apply it multiple times to be sure that the vinyl sticks to the mug.
On the other hand, if you are customizing plates, you can do it easily with Cricut Easy Press. But it comes down to two conditions.
First of all, the plate has to be flat as you have read before it's hard to add vinyl with Cricut Easy Press on curved surfaces.
Second, it's best to use a transparent plate because you will be adding the vinyl on the outer side. Of course, if you want to see it, you need a transparent plate.
How do you like the article so far? Are you ready for what's coming up next? Yes, it's what you have been waiting for. It's the comparison part of this review.
First, I will compare the old version of Cricut Easy Press to the newest one. Then I will compare it with the traditional iron and industrial machine. You will see how the Cricut Easy Press faces these challenges. So let's get to it.
Cricut Easy Press Vs. Cricut Easy Press 2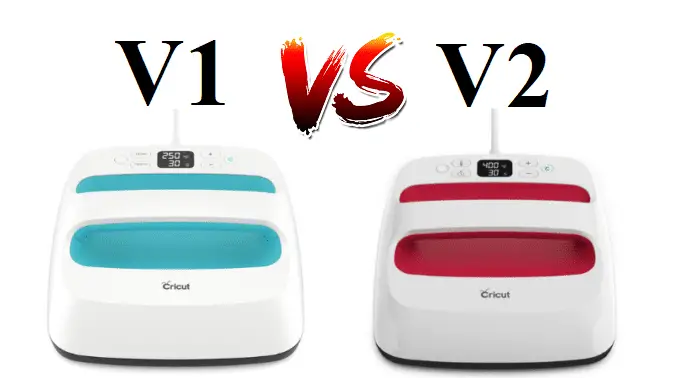 There are some small, and there are some bigger differences between the two generations. First of all Cricut Easy Press V1 came only in one size and V2 has four sizes already from the smallest to the largest one.
Here's another difference the latest version can memorize the last preset data. This means that you don't have to input the same settings over and over.
Both machines have a 10 minutes safety off. There has been a small aesthetic change to the buttons, but that doesn't affect the workings of the machine.
On the V2 the LCD brightness is higher.
Now here are the structural differences between the two. The ironing plate is thicker on the newer version. And it heats up way faster than the older one. They hit it out of the park when it comes to heating up you'll see this when I compare it with the industrial machine.
Cricut Easy Press V1 was fast, and they managed to do it faster. The smaller size machine reaches 305 degrees Fahrenheit in around 60 seconds. So it shaves a full minute of. Now the bigger the machine, the more times is to heat up. The biggest one as in the 10×12 it takes around 3 minutes to reach operating temperature.
That blew me away. You can save so much time with the newer version.
Another significant structural change happened to the protective case. It has become thicker plus the venting holes have been redesigned, so the Cricut Easy Press 2 cools down 60% faster than the older version.
We have concluded the sibling rivalry let's see how does this heat press fare against a traditional iron?
Cricut Easy Press Vs. Iron

The iron will be way cheaper than the Cricut heat press machine. There's no going around that. But have you asked what the cost of being cheap is? Yes, you are saving money upfront, but what about later on. When it takes more time to iron on the vinyl?
As I mentioned earlier, the holes in the home ironing machines are its most significant drawbacks. Since there's no heat and you happen to put the vinyl under it, there will be no adhesion. So you have to move it around a lot. This will make the ironing time longer.
If you are working by the hour, you will have to work harder.
There's no timer for old school ironing machines, so you know how much you have to keep it pressed down. It will put a lot of stress on your wrist plus you have to move it around a lot. I hope you won't plan to take on bulk orders because you will end up in a world of pain.
As you can see, traditional iron is not the right machine for the job. This crosses my second rule. Always have the right tool. If you are serious about making money with a vinyl cutters then you need to read this guide ASAP.
Let's see how the Cricut heat press fairs against a professional machine.
Cricut Easy Press Vs. Industrial Ironing Machine

Industrial machines were created so you can easily do bulk jobs. But what if the Cricut could make them run for the money.
Here are the main differences. First of all, industrial ironing machines cost a lot more than Cricut. Well, that wouldn't be a problem if it would be the only one.
The second issue I've mentioned above is that you need to have a lot of space to operate. Most of these machines don't have safety features, so they are dangerous for adults not to count kids.
They are slow. For example, to heat a plate, it's not unusual to wait 20 minutes or more. Plus you need a lot of force to operate the machine.
Comparing this to Cricut it's a light machine the biggest one only ways 8.3 ponds you can easily carry it with you. So you can do live demos wherever you go.
Cricut Easy Press is faster and user-friendly. And from my experience, the temperature is more accurate. I've seen other crafters burning clothes because the industrial machine's thermostat called it a day.
Don't get me wrong industrial machines have their place. If you are at home doing it as a side gig, then the Cricut Easy Press heat press would be the best option for you.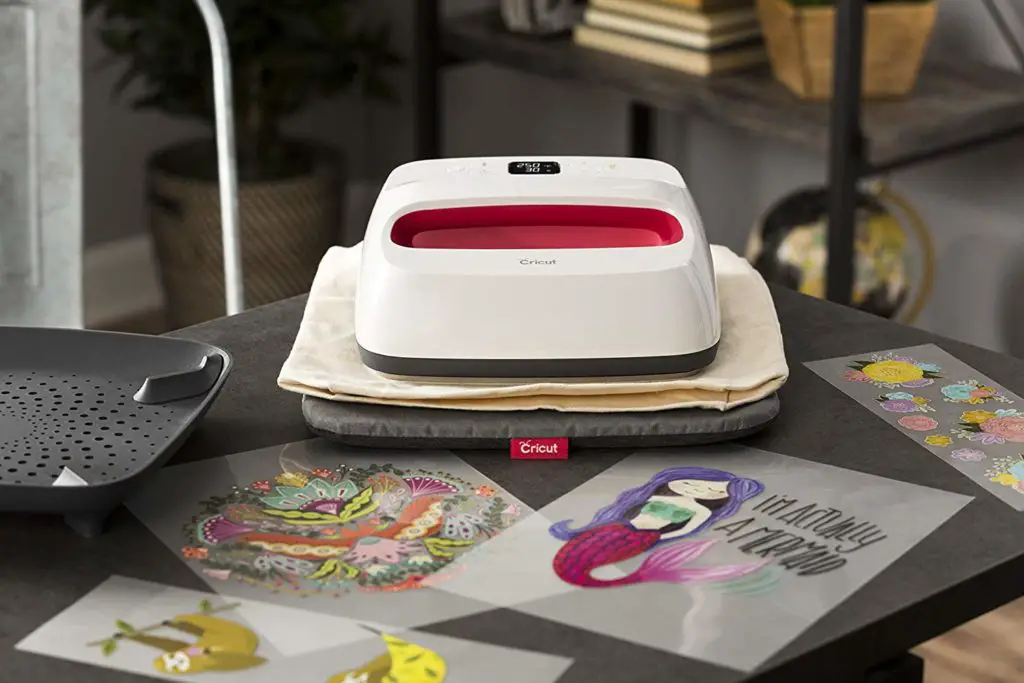 Click Image to see Reviews and Latest Price
Cricut Easy Press Mini Review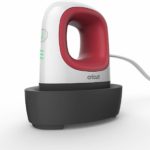 Initially, I didn't want to dedicate a separate section for the mini. But it's so cute I felt compelled to do it.
Besides being cute, what else can it do?
Cricut Easy Press Mini heat press can be used to do two crucial things: fixing vinyl issues and working on smaller items like baby clothes shoes and anything with a curvature.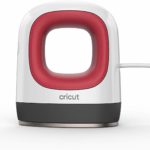 Since the mini is so small, you can quickly fix vinyl issues. For instance, if a part of the design has fallen off and you don't want to chug the shirt up as a loss, you can fix it. All you have to do is add the missing part and press on the mini. Make sure the iron doesn't touch the other vinyl parts because it might melt it off, thus making the problem worse.
Besides fixing you can use it for personalizing baby clothing.
Since the Cricut irons and not curvature friendly, the mini is the smallest one that can help you in this department. It so small it can fit most curvatures like mugs and shoes. The fact is that you will have to apply it multiple times and it will get the job done.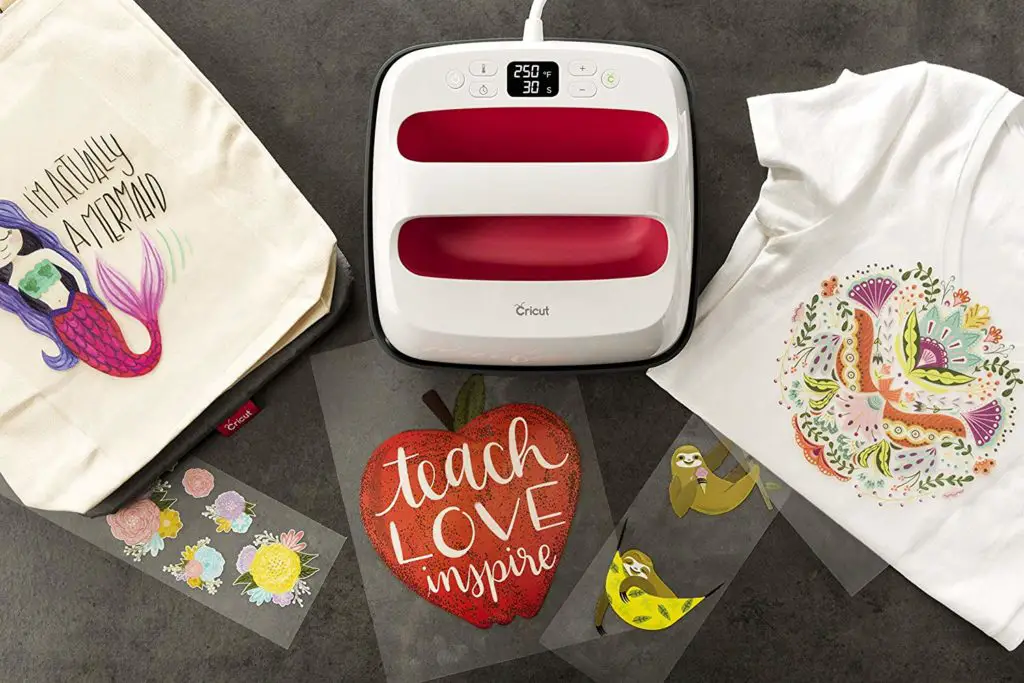 Final Thoughts on Cricut Easy Press Two
This concludes my review of Cricut Easy Press heat press. Let me know if I missed anything. Also, please share your experiences. The more you share, the more we learn.
See you in the next post.
Happy Crafting!
Sale
Frequent questions from our readers (FAQ):
What is the Cricut easy press for?
The Cricut Easy press is for those crafters who are working on heat transfer projects. The Cricut EasyPress 2 was designed to get this jobs done as fast and as easy as possible every time.
What is the best Cricut EasyPress to buy?
The best Cricut EasyPress to buy is the Cricut EasyPress 2. There are three sizes with the Cricut Easypress 2. You can choose from the small, medium or large. For extra small or fine works there's also the Cricut Mini. The best option is the biggest one if you're doing heat transfer t-shirts. With two presses you have done the shirt. If you're going with a smaller one you will have to do four or more presses which costs you time.
Is the Cricut EasyPress 2 worth it?
Yes the Cricut EasyPress 2 is worth it. It beats the household iron with ease. Plus it can compete with the traditional heat press. The thing is that with the household iron it takes a lot of time to get a simple heat transfer job done. Hence it's cheap. On the other hand the traditional heat press takes a lot of time to heat up and the heat settings aren't that adjustable. Just like with anything else there's a list of pros and cons.
Is the Cricut easy press better than iron?
The Cricut Easy press is way better than the household iron. Here's the main pros and cons for the household iron it's cheap and it will take a lot of time to finish a simple t-shirt. Since the household iron has holes you have to move it constantly so the heat is spread out evenly. Or else you might get certain parts to peel off the shirt. On the other hand the easypress 2 delivers the same heat on the whole surface. Plus it comes with a safety base and a 10 minutes auto shut off.  Not to mention it's easy to store.
What does Cricut easy press do?
With the help of Cricut Easy Press you can achieve industrial grade heat pressing at the fraction of the cost. Best of all you don't need a large operational space. Extra bonus you don't need strength to operate the machine.
Is the Cricut EasyPress 2 worth it?
In general it's worth it. It's at an affordable price. It will get the job done. It heats up fast. Now if you are customizing mugs or baseball caps (anything that's curved) the Easy press isn't worth it for you. If you are in those niches then you need to look for a different heat press.
What size Cricut easy press should I get?
This depends on what size you are working on. Either way I recommend to get the mini Easy press because that can help you fix errors thus cutting losses.
Do I need the Cricut EasyPress mat?
Yes. You need it because it's designed to help you work faster. My suggestion would be to get the biggest mat you can. It will help you in the long run.
What can the Cricut Easypress 2 do better than other heat presses?
The pros and cons for heat presses are as follow. Pick any traditional heat press and you will know that it's pricey and takes up a lot of space. Plus these heat presses takes their sweet time to heat up. As you know time is money. Even with the lowest heat settings you have to wait almost a half an hour. With the cricut easypress 2 it's done in under 60 seconds. That's a huge time saver right there. Plus it's small so it's easy to store. The safety base will keep you from harms way no matter the heat settings. Also the safety base will help with the cool down as well. There has been a lot of improvement with the safety base between v1 and v2. Not to mention the 10 minutes shut off which is for safety purposes as well. The heat presses are great for bulk work. If you need to do a few hundred t-shirts than the heat presses are the way to go.
How well does the cricut easypress 2 handle heat transfer vinyl?
The cricut easypress 2 was made for heat transfer vinyl. No matter on what kind of surface you want to apply the heat transfer vinyl the easypress will do a great job delivering.
Last Updated on November 11, 2020 by Emily