Over Here You Will Find the Best Vinyl for Cricut Machines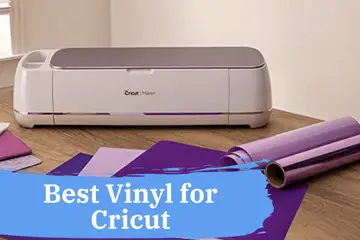 Welcome to the best vinyl for Cricut Awards
Fellow Cricut owners, I've spent the last 19 hours testing vinyl rolls, so you don't have to. Meanwhile, I have lied to my husband and skipped a few bedtime stories just to finish this review (sorry honey…)
While testing almost a truckload of vinyl rolls, I've ranked them by finished quality, durability, ease of weeding, and affordability.
Look:
Since you already have a Cricut machine, you can't just put any vinyl in it. To save you many headaches, I've compiled a list below that shows the best of the best.
After two kids, I really needed a hobby to relax, and I've picked up crafting. It's a great way to teach kids some valuable lessons and to create amazing gifts for anyone. Plus, if you incline, you can turn it into a business.
I've eliminated all the crappy vinyl, and only the best remains. No matter which one you choose, you will be in safe hands.
Let's cut some vinyl already!
Read our related article, How to Tell if Cricut Vinyl is Permanent or Removable for another look into Cricut Vinyl types!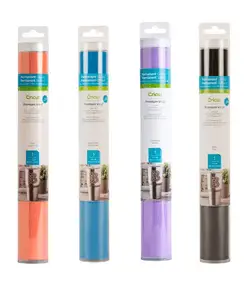 And we have a winner.
Cricut is making one of the best vinyl out there. I've gone through many vinyl rolls until I started writing this post.  Here are the highlights of why this premium vinyl is the best.
You need to consider a few things when you're choosing your vinyl. The biggest question to answer is how easy it is to weed. You see, generic brands are terrible at this. They are either impossible to weed, or they tear.
Cricut is different. Plus, being a permanent vinyl, means that you can safely use it outside for many years. Typically this vinyl lasts for 3 years. Depending on your environment, it can go a lot longer.
Maybe you want to do some car decals or stickers; then this vinyl will perform amazingly well. Another great benefit of the Cricut brand is that it's coming precut. So you don't have to trim and lose excess material.
The color options are the best I've seen so far. You can't go wrong with Cricut. When I was preparing for this review, I have ordered some generic vinyl. Well, the quality difference is evident. The generic is so the thing that it's almost see-through.  This vinyl won't last long.
The number one reason you know if it's a good vinyl or not is by checking if there are repeat purchases. And guess what, Cricut has a ton of them. For all these reasons this is the best choice for Cricut machines.
If you need a longer-lasting vinyl, then check out #2.
Read More: How to Make Patches With Cricut. Patches are perfect for personalizing jackets, jeans, bags, and more! Here's how to make them with your Cricut Machine.
Pros
Creative people can use this vinyl to express themselves by using Hello Kitty or Star Wars design.
It's the easiest to use vinyl, especially if you have a Cricut machine.
The weeding process is a dream; it's so simple and beginner-friendly
Cons
It's not the longest-lasting vinyl. You can expect 3 years of mileage
The rolls are limited to only 48"
Check Latest Price
#2 ORACAL 651 Multi-Color Vinyl Starter Kit – The best professional vinyl for Cricut
Oracal is different from Cricut. It's meant for professionals. For example, the Oracal 651 vinyl is the best choice for vinyl decals. According to the manufacturer, it will last you for 5 years and then some.
That's a hell of an investment for a cool-looking car.
On the other hand, if you want to wrap your car, your best choice would be the Oracal 751.
The Oracal 651 is perfect for any Cricut machine. It's a bit thicker than any traditional vinyl, and this is a good thing since it will handle the harsh elements a lot better.
You see, with the Oracal 651, you can create amazing and long-lasting car decals. Not only that, you can create stickers as we. Thanks to its thickness, it can handle scuffs and scratches like a champ. Plus, it's water repellent and UV resistant, so no matter where you live, this vinyl will last for many years.
The only drawback that I could find with this vinyl is that you need to cut it down to size to use it with your Cricut machine. This means that you will waste a bit of material.
This can be easily countered by charging more for your services.
The Oracal vinyl is the professional's choice, and it doesn't have to be. Even a beginner can put this vinyl to good use.
Pros
For long-lasting outdoor vinyl designs, it's the best. It lasts for 5 years+
It's a heavier vinyl so that it can face human and nature's force (scratches, scuffs
It's water-resistant so that it will last you a long time
Cons
It's on the pricier side
It might not work with all vinyl cutting machines
Check Latest Price
#3 Cricut Everyday Iron-On HTV Vinyl for T-Shirts – Best Heat Transfer Vinyl For Shirts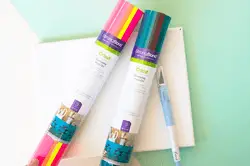 Maybe you're looking for the best HTV vinyl for Cricut? Then you have found just the thing.
Cricut has created a vinyl that is a great choice for heat transfer. Brace yourself. It behaves differently like the rest. Also, here's a heads up if you have a regular iron, it will be a real pain to get consistent with it.
This is why I highly recommend either getting the Cricut EasyPress 2 or a professional heat press. Home irons don't cut it anymore.
For a t-shirt business having great vinyl is mandatory. I've heard my fair share of horror stories with bulk orders and last-minute dashes to deliver. This is why you need to do some tests before you get a sizeable order.
Another interesting thing is that this package doesn't come with the Cricut brand, so I had to investigate to see if this is the real deal. Yes, Cricut confirmed that they sell it.
To create the best-looking t-shirts and tote bags I highly recommend reading the instructions. Plus, keep this in mind: peel it back only when it has cooled down.
There are some extra steps for getting a flawless design on fabrics. First of all, it's a great idea to preheat the material and once you've applied the vinyl, then do the other side as well for a few seconds.
This is how you end up with a great design deserving high bucks.
Read our related article, Why is My Cricut Not Cutting Through Vinyl? If you're encountering difficulties, this guide may be able to help!
Pros
The color selection is amazing. You can truly create the best designs
You make the right choice with this vinyl because it's super durable
Whenever you're stuck, there's a strong online community to get you out of a jam
Cons
Large rolls are limited to basic colors
The transfer time is longer, and a higher temp is needed.
Check Latest Price
Conclusions
We have reached the end, fellow crafters. I hope you had a blast reading my research on the best vinyl for Cricut. Besides my personal sacrifice, it was fun trying and testing all these vinyl. Now I have to go and make up with my husband.
Anyways these three are the very best what the vinyl world has to offer for crafters. There are other brands and names that I've eliminated because they had way too many problems.
My final piece of advice is to buy the vinyl as soon as you land on the page. Crafting is getting more popular every month, and supply shortages are not uncommon.
If you have questions or tips, feel free to reach out; I'm here to help.
Until then,
Happy Crafting!
Read More: Cricut Window Cling VS Vinyl. Discover what separates window cling and removable vinyl in this guide!
Frequently Asked Questions (FAQ):
What is the best vinyl to use with Cricut?
So far Oracal brand produces the very best vinyl for Cricut machines. Their longevity is the best in the industry.
Is oracal vinyl better than Cricut?
Yes, oracal is better than Cricut because it lasts longer and can handle the weather for many years.
Where is the best place to buy vinyl for Cricut?
The best place to buy vinyl for Cricut is either on amazon or search the main site for special deals.
What is the best brand of vinyl?
The best brand of vinyl so far is Oracal. Their very best are 631, 651, and 671.